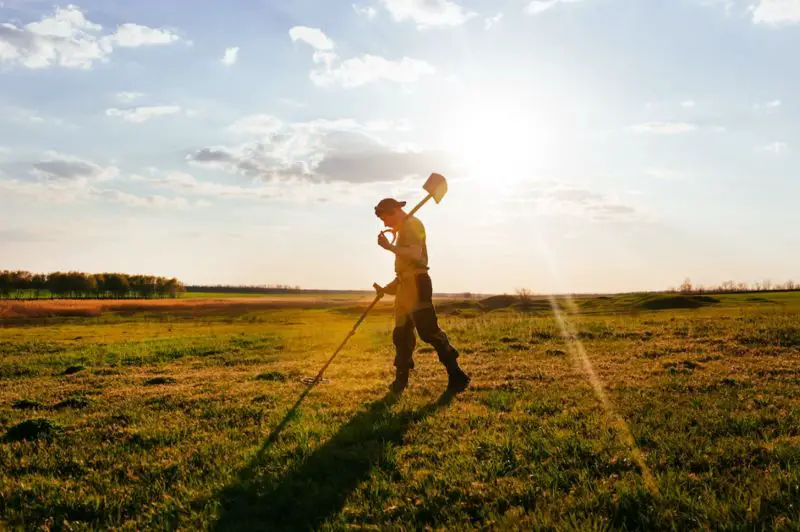 People naturally yearn to delve deeper into their interests, connect with like-minded individuals, and immerse themselves in captivating documentaries and series. Metal detectorists and treasure hunters are no exception. If you assumed that there is a scarcity of shows highlighting the metal-detecting hobby or narrating stories tied to it, you couldn't be more mistaken!
In reality, there is a generous selection of metal detecting shows, spanning from older classics to the latest releases, encompassing both series and documentaries. Does the prospect intrigue you? If so, indulge in the list below! Most of the best treasure-hunting shows can be found in the following compilation.
1. Diggers
One of the most beloved treasure-hunting shows among detectorists is, without a doubt, Diggers created by National Geographics. In this series, two metal detecting enthusiasts, commonly known as "King George" Wyant and Tim "The Ringmaster" Saylor, travel across the country uncovering historical treasures, sharing captivating stories, meeting with landowners, historians, and archaeologists, and discussing significant historical events and discoveries. This Reality TV show is entirely authentic, with the detectorists portraying themselves and sharing their genuine experiences. Whether you are a beginner metal detectorist or simply interested in history, you will undoubtedly gain valuable insights and knowledge from this show. Diggers is not just entertaining; it is also incredibly educational.
2. Dig Wars
This captivating series showcases three teams of experienced and seasoned metal detectorists. Each team, composed of two individuals, competes against one another in a thrilling quest to unearth historically valuable finds – antiquities – faster than their rivals. The show is not only exciting and enjoyable but also provides educational content. However, it also sparks controversy as the treasure hunting teams are granted permits to metal detect in incredible locations solely for the purpose of the TV show. Unfortunately, they tend to treat relics and antiquities as mere "loot," valuing them solely based on their price. Regrettably, their activities often result in damage to archaeological sites.
3. Digging for Britain
Digging for Britain on BBC is an engaging documentary that chronicles the journeys of metal detectorists and archaeologists as they delve into the rich history of Britain through its fascinating objects. The show boasts a team of knowledgeable experts who, one artifact at a time, unravel the captivating tales of our past. It's not just educational, but also entertaining, making it the ideal choice to enjoy with your children during those lengthy car rides back from school!
If you want to see the best metal-detecting finds, check out this BBC documentary. Don't worry if BBC USA isn't available in your area. You just need a BBC iPlayer VPN that can remove the restriction from the service. Most use VeePN for this, you should try it too. The service easily copes with unblocking any content with geographic restrictions.
4. The Curse of Oak Island
This Reality TV show revolves around a team of detectorists and treasure hunters on a quest to uncover the legendary treasure of Oak Island in Canada. Oak Island has long been a subject of fascination due to its treasure legends and mysterious discoveries. Throughout the 19th century, numerous treasure seekers explored the island in search of extraordinary artifacts, including the Holy Grail and the Ark of the Covenant, as per local legends. The Curse of the Oak Island series follows the journey of brothers Marty and Rick Lagina, who acquired a controlling interest in Oak Island Tours to initiate their investigation. Through captivating storytelling, the series sheds light on the island's history, previous research attempts, and the diverse methods employed in the pursuit of treasures.
5. The Detectorists
Have you seen "The Detector" on Netflix? It's like watching an indie film! If you find metal detecting enjoyable rather than laborious, this show is perfect for you. Although you may need Firefox free VPN to unblock access. but it's definitely worth it. The story revolves around Andy, who's been captivated by treasure hunting for years. Though luck had previously eluded him, everything changes now! Alongside his friend Lance, Andy embarks on an exciting journey to uncover medieval artifacts buried deep beneath the earth's surface. However, their adventure leads them into all sorts of trouble, dealing with unexpected discoveries, complicated relationships, and old flames. It's brilliantly executed, leaving us eagerly awaiting season three!
6. Hoard Hunters
This show revolves around a team of treasure hunters named Gordon Heritage and Gary Brun, alongside archaeologist Mike Webber. In each episode, they embark on a quest to uncover new locations in the UK and uncover fascinating historical sites, artifacts, and untangle ancient mysteries. By making educated guesses about potential hoard locations, revisiting previously discovered spots, and exploring new territory, they offer an engaging and educational treasure-hunting experience that delves into the captivating world of British history.
Conclusion
Searching for metal is practically the only opportunity in the modern world to feel like a treasure hunter. Moreover, you really have a chance to find a treasure that will make you rich. Such stories are not isolated. The pleasure of the search and the explosion of emotions from the find – this is something that once felt, it is impossible to forget. Movies will remind you of that feeling.