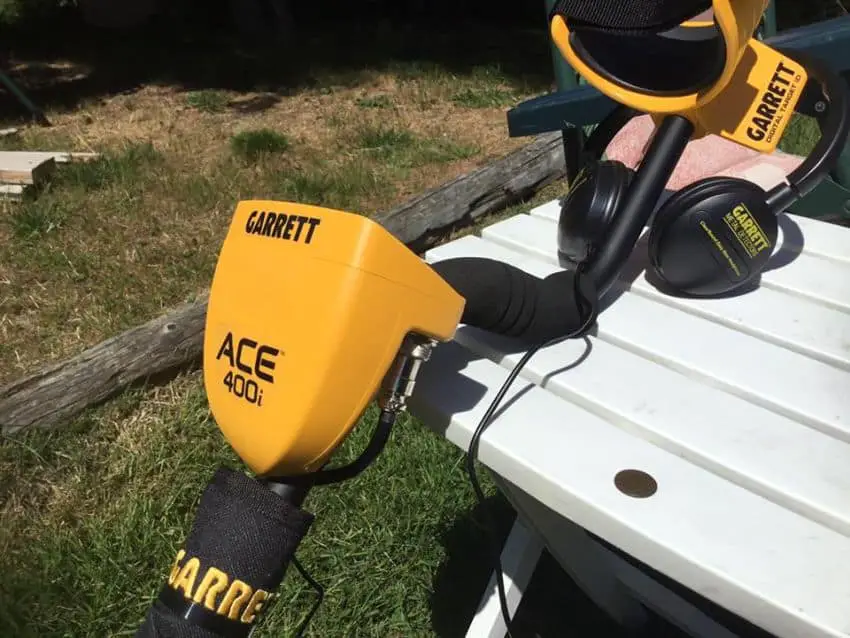 As a metal detecting beginner, the best machine you can start with is an all-purpose model! Indeed, there are many models that are dedicated for a specific kind of targets (Gold Machines for example), but these are reserved for those who are really experienced and know exactly what they are doing …
… Please note that multi-purpose detectors can also be used by experienced hobbyists and can even help you pick highly valuable targets including Gold!
In this article, I breakdown 5 of my favorite metal detectors that can lead you to many different types of finds.
Let's dive in!
1. Garrett ACE 400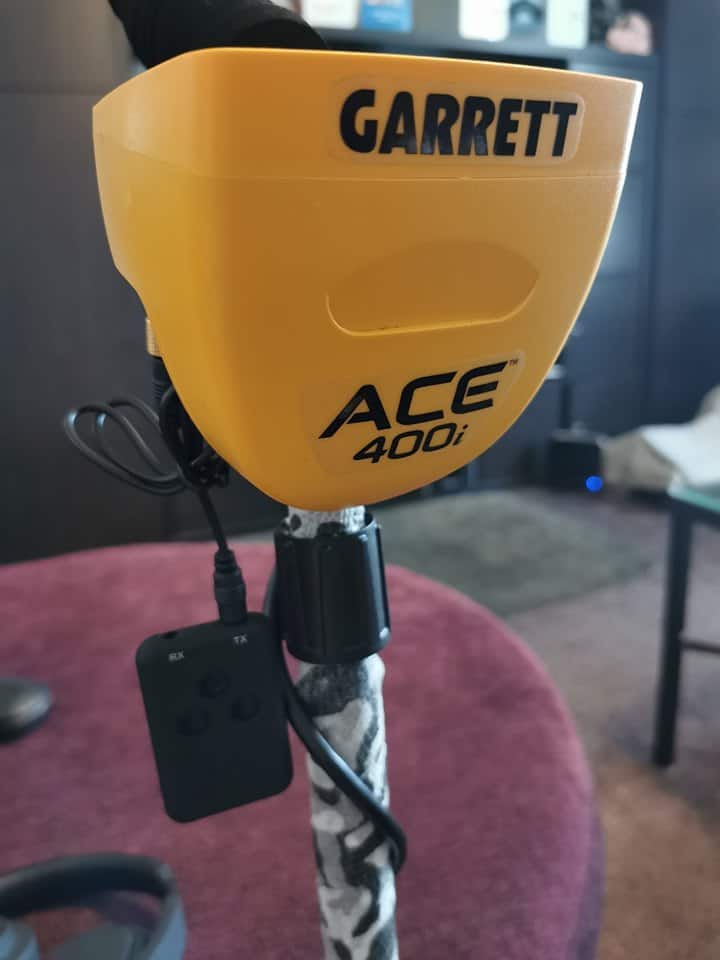 The Garrett ACE 400 (Check it Here on Amazon) comes loaded with a wide range of features such as iron audio, digital target ID, notch discrimination, lightweight design, and many others.
The detector is lightweight, well-balanced, has a comfortable armrest, and also comes with movable construction units.
It is a VLF single frequency detector and has an operating frequency of 10 kHz. It is powered by four AA batteries and has a search time of around 25 hours, depending on what settings you are using.
The ACE 400 comes with several pre-set search modes, including:
Zero-Disc: This mode is not a pure all-metal search mode, but it has a very similar purpose. It allows you to search for every type of metal with zero discrimination. You can use this zero disc mode when you want to find any type of metallic items without knowing what metal material it is made of.
Jewelry mode: This search mode helps separate a majority of iron trash while honing in on items such as necklaces, bracelets, and rings.
Coins: This mode will eliminate trash items such as pull-tabs, foil, and other junk items to help you search for coins only. However, this mode may end up missing medium-sized jewelry.
Relics: The relics mode will eliminate any smaller iron items while zeroing in on potentially lower conductivity targets. These typically include items made from lead, brass, and bronze.
Custom mode: It allows you to enter your own notch discrimination settings. Once you select the custom mode, you can easily use the Accept/Reject discrimination buttons to help you eliminate the metals that you do not want to find.
All these search modes help make the ACE 400 one of the leading metal detectors on the market.
| | |
| --- | --- |
| Pros | Cons |
| Iron Audio | No Ground Balance |
| Easy to use | Included headphones are of an average quality |
| Affortable | Not kids friendly |
| Clear Digital Target ID |   |
| Comes with a large DD Coil |   |
2. Garrett AT Pro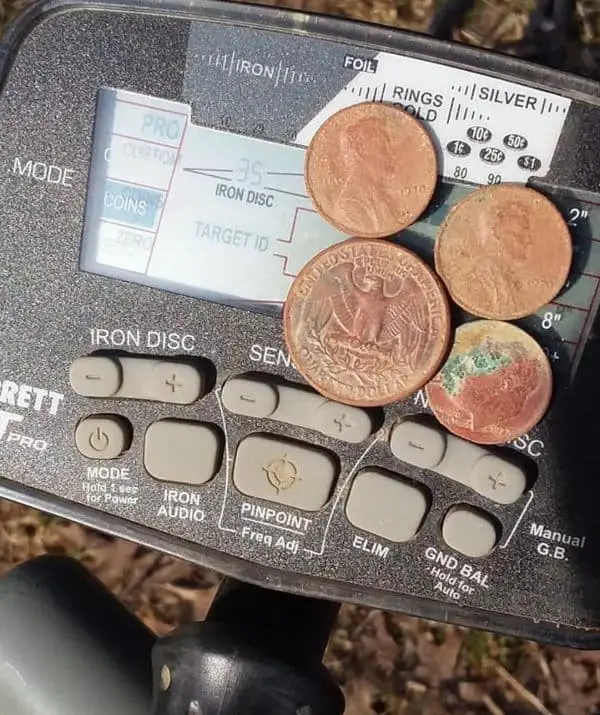 The AT Pro (Check it Here on Amazon) is one of the most popular metal detectors for coin hunting, relic hunting, and jewelry hunting.
Some of the prominent features of the Garrett AT Pro include:
Iron Audio
Manual and automatic ground balance
Notch discrimination
Separate pinpointing mode
Numerical target ID
Simple to use
The detector comes with an 8.5″ x 11″ DD PROformance search coil, which provides excellent target separation and depth for any stock coil.  The detector is also fully waterproof up to 10 feet of water.
The Garrett AT Pro has managed to pack a lot of features into this lightweight machine, and despite the full range of settings available on this machine, it is still relatively simple to use.
Here are some of the pros of cons of this all-purpose metal detector:
| | |
| --- | --- |
| Pros | Cons |
| Manual and Auto Ground Balance | No Backlight display |
| Fully Waterproof | Headphones sold separately |
| Iron Audio | Single frequency |
| Proportional audio | Might be perceived quite costly |
| Lightweight |   |
| Solid Discrimination |   |
| Instant response time |   |
3. Fisher F75
The Fisher 75 (Check it Here on Amazon) is a serious competitor of the AT Pro when it comes to the multipurpose capabilities.
Below, its main features:
Both manual and automatic ground balance
Digital shielding technology is used for suppressing electromagnetic interference. It comes in handy when detecting near powerlines or other detectors.
Powered by four AA batteries
Has a run-time of 40 hours, though this also depends on what settings you are using
It has a 14 kHz operating frequency, which provides excellent sensitivity to find small objects such as coins – this is why the Fisher 75 is one of the best choices for finding coins, relics, and jewelry.
It has a 0-99 numerical target ID based on the metal's conductivity
It comes with three search modes, including two all-metal modes and one discrimination mode.
You can adjust the sensitivity of the device depending on the ground conditions.
There is a menu setting to adjust the number of tones. You can select from a single tone up to four tones, depending on target conductivity.
There is also a delta pitch audio tone which is useful when hunting for relics
| | |
| --- | --- |
| Pros | Cons |
| Very Ergonomic | Slightly noisier |
| Superior Target Separation |   |
| Large LCD screen |   |
| Magnetic mineralization bar graph readout |   |
| Backlight |   |
| Battery high autonomy |   |
| Interference proof |   |
4. Nokta Makro Simplex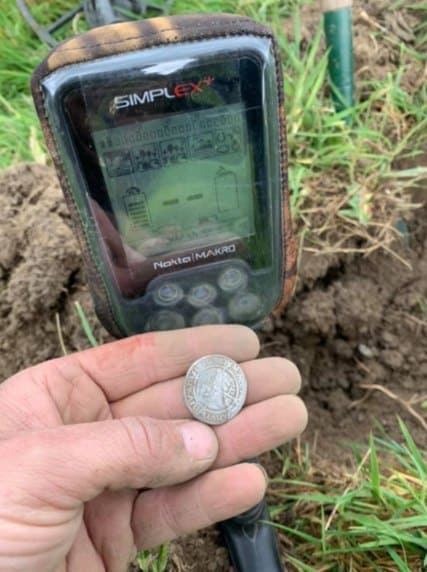 The Nokta Simplex+  is a great all-purpose model that comes with a complete set of features!
Check a complete review of the Nokta Makro Simplex+
It comes with some really cool features that were earlier only found in the more expensive machines.
This reasonably new detector has also quickly become one of the top metal detectors for beginners due to the simple controls.
Below its main features:
Operate on a VLF technology
Has a DD coil, which is one of the most efficient and universal search coil configurations
Has a separate saltwater search mode
Has both auto and manual ground balance
Waterproof and can be submerged up to 10 feet
It also has a vibration mode which is very useful in loud environments such as the windy seacoast
It comes with wireless headphones, and the software can be updated
Here are some of its pros and cons:
| | |
| --- | --- |
| Pros | Cons |
| Affordable compared to its rich features | Might suffer quite a bit detecting very deep targets |
| Possibility to Update the software |   |
| Great for saltwater |   |
5. Minelab Equinox 600
The Minelab Equinox 600 (Check it Here on Amazon) is a solid multi-frequency detector that serves can serve pretty much any purpose.
Known as Multi-IQ (multi-frequency), this feature allows you to search simultaneously across several frequencies. You can use low frequencies to get more depth on larger targets, while higher frequencies will be more sensitive to find smaller targets.
You can function across the entire spectrum of frequencies at the same time to get maximum results. However, the 20 kHz and 40 kHz frequencies are not available as single operating frequencies in the Equinox 600.
The Equinox 600 comes with three single frequencies of 5 kHz, 10 kHz, and 15 kHz, allowing you to get three times the range of 5 to 15 kHz.
The benefit of this type of technology is that you will be able to cover a much broader range of targets when the detector is operating in the Multi-IQ mode than you can in a single frequency mode.
However, if there is excessive ground noise present at any particular location, then switching to Equinox's single frequency can help you eliminate any problems.
| | |
| --- | --- |
| Pros | Cons |
| Lightweight design | Lack adjustable length |
| Intuitive for beginners | Comes without a wireless in the kit |
| Fully waterproof up to 10 feet |   |
| Usually comes with 3 years of warranty |   |
Final Thoughts …
Hope this articles has given you some solid and reliable models that you can chose from!
I tried to pick different models from different manufacturers so I can expand your vision quite a bit.
BTW, Recently I've written this complete list of metal detecting places and locations! You will find it extremely useful if you are lacking of places to explore.