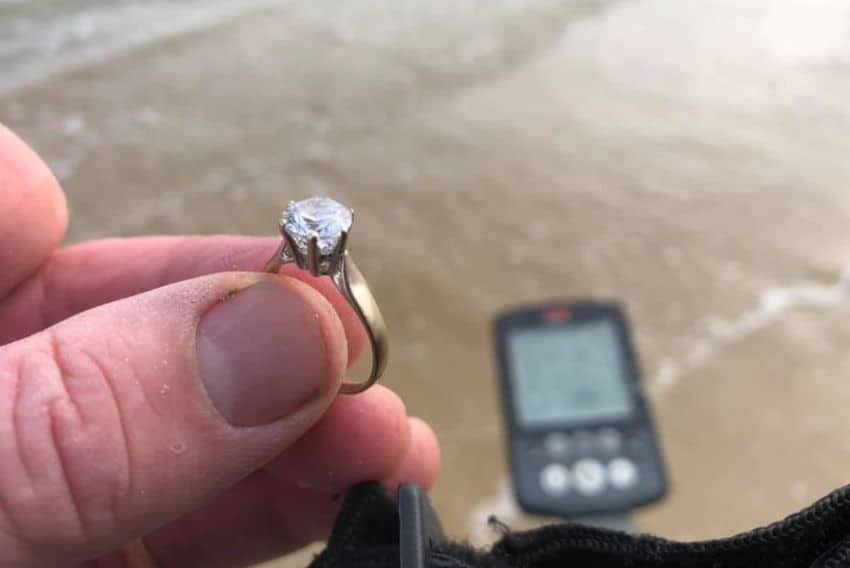 Finding jewelry using metal detectors is really common, especially if you target places that hold enough crowds.
However, picking the right detector to help you for that is also important!
Don't get me wrong, pretty much any modern metal detector can help you come across such finds, but those I've included below are much adapted and more capable to do so.
So let's dive in!
Fisher F22 (Budget Choice)
The Fisher F22 (Check it Here on Amazon) offers the best value for money in this list!
To find jewelry, your machine needs to perform really well in sand (especially wet sand), and that's the case for the F22. Indeed, it does quite well avoiding picking those false signals on wet sand (Many entry-level detectors have this issue).
Using this machine under bad weather should not be a concern at all, since it is weatherproof. Plus, the VDI screen and the target ids are clear and very well visible whenever you swing over a piece of jewelry (ring, earing …)
If you are on a budget, then that's a solid choice!
| | |
| --- | --- |
| Pros | Cons |
| Affordable price | Doesn't come with the ground balance feature |
| Performs well in wet sand | |
| Easy to use | |
| Weatherproof | |
Garrett Ace 300 (Popular Choice)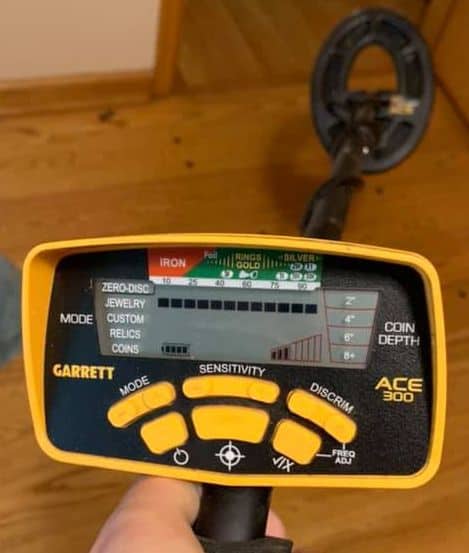 The Garrett Ace 300 (Check it Here on Amazon) offers some helpful features that just make it a grade above most entry-level devices. The machine's interface is perfect for beginners and pro users alike.
This depends on from where you are buying, but usually, the package of this detector includes an Ace 300 headphone, a weather coverup, and a coil cover!
The Garrett Ace 300 on a frequency of 8kHz that you can adjust to 4 other minor levels. This frequency is adapted for most kinds of jewelry you might want to come across!
Better yet, it can go 8″ deep (sometimes a quite more) which is more than enough to pick buried targets.
The metal detector comes up with 5 different detection modes, and the zero-disc mode will help you to turn on all 12 discrimination pixels.
| | |
| --- | --- |
| Pros | Cons |
| Very reliable | Ground Balance is fixed & not adjustable |
| Easy to use | Control box is not waterproof |
| Could be used for all kinds of finds | |
| Includes pinpoint mode | |
| Waterproof searchcoil | |
Garrett AT Max (Expert Choice)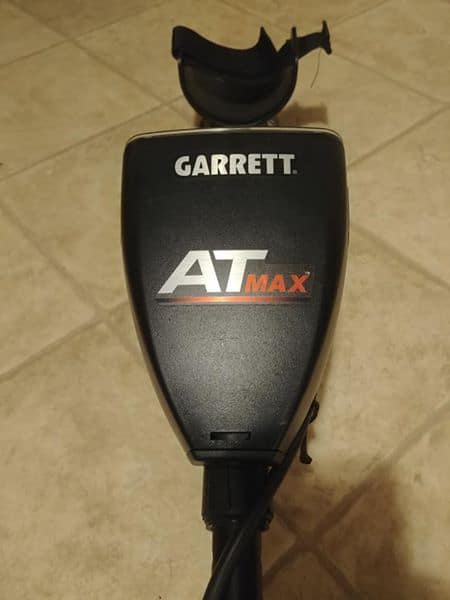 The Garrett AT Max (Check it Here on Amazon) is the big brother of the famous AT Pro!
This is a VLF detector that is also fully waterproof (up to 10 feet underwater). The machine weighs just 3lbs, and it is powered by 4 AA batteries!
Thus you can use it to search for jewelry underwater (fresh or saltwater). Indeed many people tend to loose jewelry underwater (of course I always encourage you to return things to their owner!)
The 13.6kHz frequency makes this metal detector one of the best options for detecting a wide range of targets like brass, Nickel, coins, and of course jewelry.
| | |
| --- | --- |
| Pros | Cons |
| Include really clear digital target ID | Not recommended for Gold Prospecting |
| Come with backlight | |
| High frequency that covers most finds | |
| Really Robust Machine over all | |
Minelab Equinox 800 (My Favourite Choice)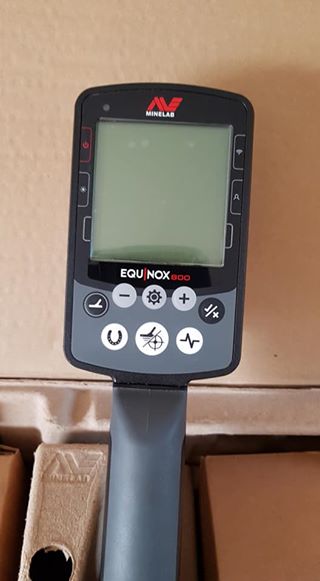 The Minelab Equinox 800 (Check it Here on Amazon) is simply my favourite machine hands down!
From first look the machine might seem geeky and hard to use. However, that's just not the case!
Indeed, the display it comes with is very simply and easy to understand regardless of your level of expertise. The buttons are just high quality and the navigation is second to none (OMG, I feel like a sales person lol, but really that's just the reality)!
Lots of information is also available on the LCD screen. The target ID, frequency display, and Discrimination settings are some of the best options offered by the Minelab Equinox 800.
Although the product is not priced cheaply, it won't break your bank either!
The Equinox 800 includes 4 different search modes: park, beach, field, and gold. In fact, if you are looking for jewelry most likely you will find it in mineral rich ground like sand or even in trashy places like parks…
… Thus, generally you will need to use either the park or beach mode for such a target. However, I always invite you to try out other settings to fine tune the machine for your likings and expectations!
The battery operating capacity is almost 12 hours, and it comes up with a rechargeable battery.
The Equinox 800 is also well equipped with the Multi-IQ frequency technology. Thus, it offers more strength while searching for a wide range of targets all at the same time!
The only thing that you may not love too much about the Equinox 800 is that it comes up with a new method of charging the battery. This means it uses a magnetic connector for charging the lithium battery.
| | |
| --- | --- |
| Pros | Cons |
| Multi-frequency capability | Some people might find it quite pricey |
| No pre-set is needed to start using the machine | |
| Fully waterproof up to 3 feet (even a bit more) | |
| Solid option to find pure Gold | |
| Really easy to use | |
XP Deus (Best Choice for seasoned detectorists)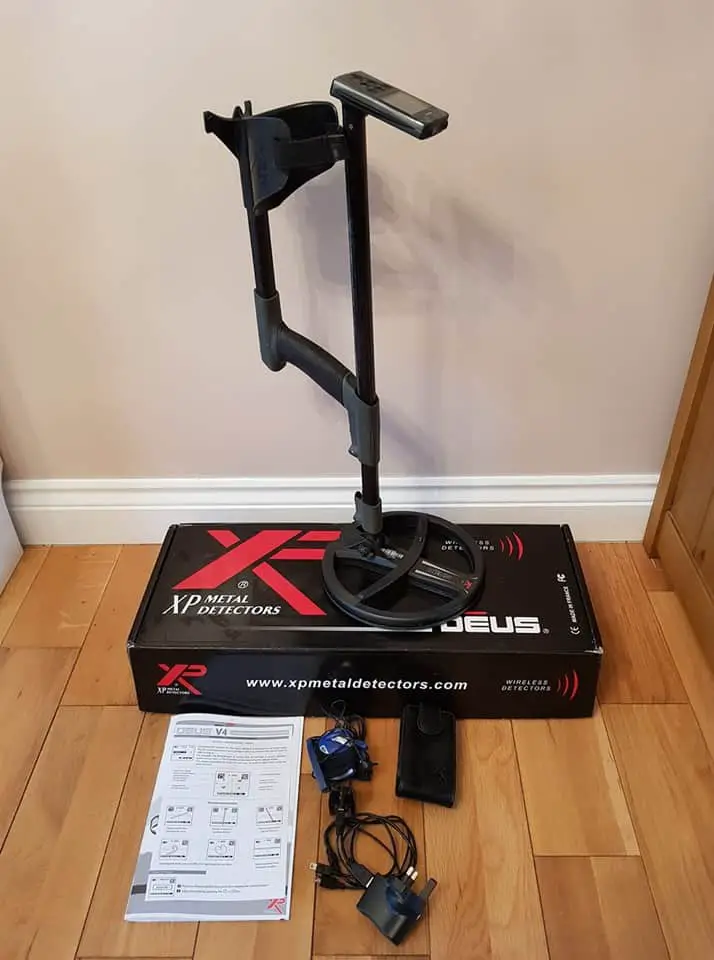 The XP Deus is one of the best metal detectors that offer maximum efficiency to experienced detectorists!
It is a selectable-frequency metal detector whose frequency ranges from 4 kHz to 80kHz. Thus, this maximum range of frequency will allow you to detect all metallic targets you can imagine including rings, earrings, bracelets ….
The built-in ultra-miniature electronic circuit has a high capacity LiPo battery. This LiPo battery can easily work for almost 15 hours without any power lag.
Although the XP Deus is not a multi-frequency metal detector, it offers the best VLF detectors. The selectable frequencies can be in operation but one at a time.
The 3-dimensional element design of the Deus can allow the search coil to work as a detector. This model has a separate digital signature processor and a battery source.
The Deus is an expensive detector, and you can get this one if you want the best feature for your treasure hunting activity.
The search coil of the XP Deus offers waterproof property up to 20 feet, but the remote-controlled control box and the headphones are not waterproof. Thus, it must not be submerged.
The Deus offers a lightweight system, and it comes up with the best remote control property. The total set up the property of the XP Deus is almost 2.15 lbs.
The product comes with a 5-year manufacturing warranty. But the battery, charger, and connectors are covered only for two years.
| | |
| --- | --- |
| Pros | Cons |
| Ultra-miniature electronic circuit | Not adapted for Total Beginners |
| Beautiful and practical design | |
| Really lightweight | |
| Can unearth any target | |
| Fully Wireless system | |
Final Thoughts …
Hope this article has answered most of your questions and helped you make a well informed choice on the machine you actually need to pick up jewelry, regardless of the location you are dealing with …
… If so, please let me know what you've chosen and why!