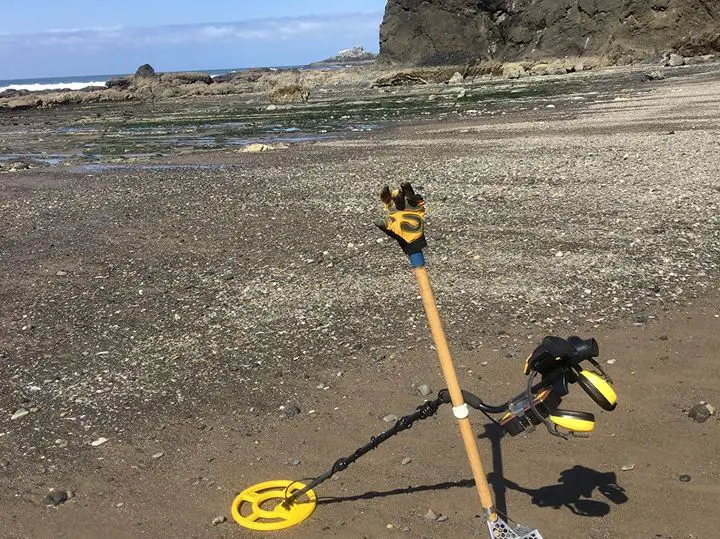 Metal detectors prices could be intimidating for some people who might not have access to a big budget!
Luckily many detection Brands and Providers offer machines that are not that expensive yet they come with many useful features that will allow you to pick up almost any valuable find out there …
… In this article, I include 5 mid-priced metal detectors that won't not cost you a lot of money, yet will help you be successful using any one of them.
Without further ado, let's dive in!
1. Garrett Ace 250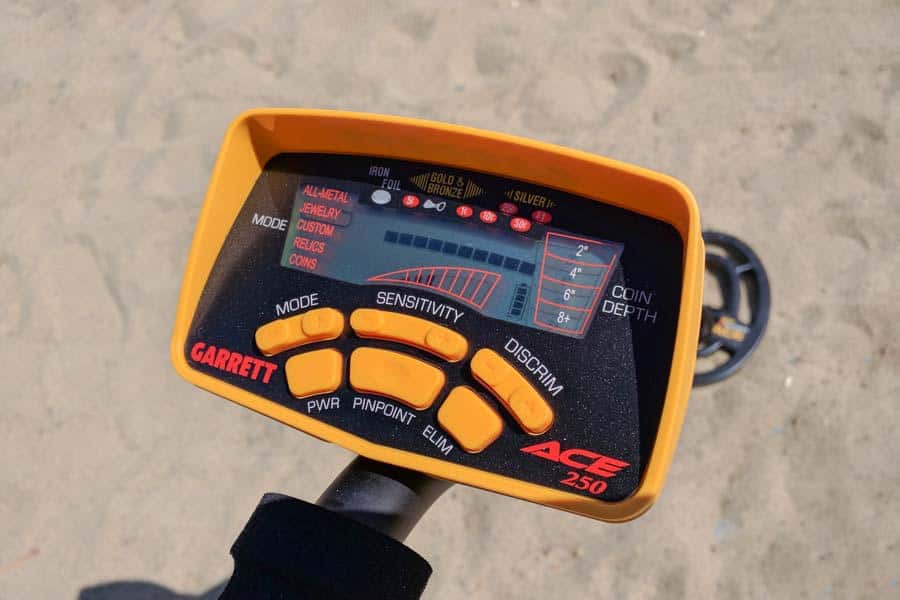 Weighing just 2.7 lbs, the Garrett Ace 250 (Check it Here on Amazon) is one of the most used machines in the last couple years!
It is an entry-level model with 6.5kHz operating frequency. The latter is more than enough for coin hunting as well as Jewelry hunting.
Since the metal detector is lightweight, it does not cause any pain in your arms while you are using it.
The Garrett Metal detectors run on 4AA batteries that are easily rechargeable. With a new battery, you can easily get 20-25 hours of run time.
In a very inexpensive package, this metal detector is built with a three-piece design. In addition to this, it also comes up with an elbow rest for maximum comfort.
The control of this metal detector is pretty easy to reach, and the panel doesn't feel fiddly when you are using it.
Although the ace series of Garrett does not include a numerical target ID, it includes a graphical target display that comes up with 12 segments.
The useful feature of the Garrett Ace 250 is its three audio tone levels that help you to identify different types of metals.
| | |
| --- | --- |
| Pros | Cons |
| Pinpoint mode for more accuracy | Not Great search Depth |
| Waterproof search coil |   |
| Solid value for money (Mid-Priced) |   |
| Easy to use |   |
2. Garrett Ace Apex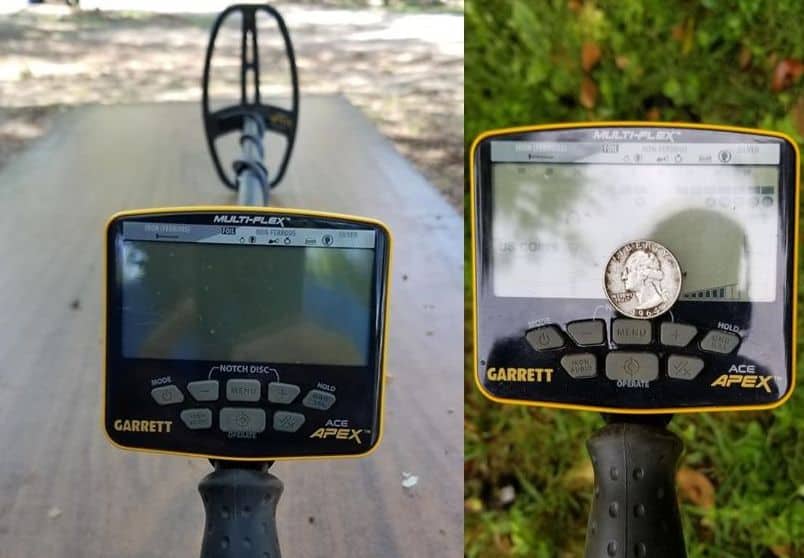 The Garrett Ace Apex (Check it Here on Amazon) is a new addition to the Garett Ace!
This is one of the most innovative metal detectors that is equipped with Multi-Flex technology.
The latter provides the ability to detect using several frequencies at the same time!
This metal detector is available with six detection modes. All these detection modes can be used in different conditions depending upon the area and the landscape.
One of the best features of the Garrett Ace Apex metal detectors is its binary audio system that provides five distinct audio tones.
The ground balance is another best feature of the Garrett Ace apex as it comes up with a high resolution 175 points of ground balance resolutions that fit landscapes of all types.
The Garrett Ace apex is designed as per modern guidelines to make it easy to be used in gardens, parks, and other areas where you want to detect metals. One of the most distinctive features of this metal detector is the large-sized LCD, which provides you with ease of reading digital numbers.
The built-in rechargeable battery of the metal detector provides you with almost 15 hours of use.
Thus, if you are looking for a metal detector that is equipped with modern design and details, GarrettAce Apex is one of the best options to go.
| | |
| --- | --- |
| Pros | Cons |
| Easy to adjust volume control | Sorry, but didn't identify a Con so far! Let me know if you identify any! |
| Beautiful design |   |
| Includes an hybrid audio system |   |
| 6 detection modes |   |
| Multi-frequency technology |   |
3. Minelab Vanquish 440
The Minelab Vanquish (Check it Here on Amazon) is one of the lightest metal detectors that weighs almost around 2.6 lbs.
The metal detector is available with 3 distinct tones. These tones include low, medium, and high. Minelab has come up with an option for users to provide preferred settings. The operational feature of this metal detector is quite amazing, and the multi-IQ technology that comes up with the Equinox series is the best part about Minelab Vanquish.
The Minelab Vanquish 440 can detect beach, park, and field with the same target ID on the LED display as the Equinox series.
This metal detector is truly at home when it comes to the saltwater environment. Even in the discrimination mode, the metal detector was quiet and stable throughout wet sand.
| | |
| --- | --- |
| Pros | Cons |
| User-friendly | Control box is not waterproof |
| Lightweight |   |
| Good depth |   |
| Include multi-IQ (aka multi frequency) Technology |   |
4. Bounty Hunter Land Ranger Pro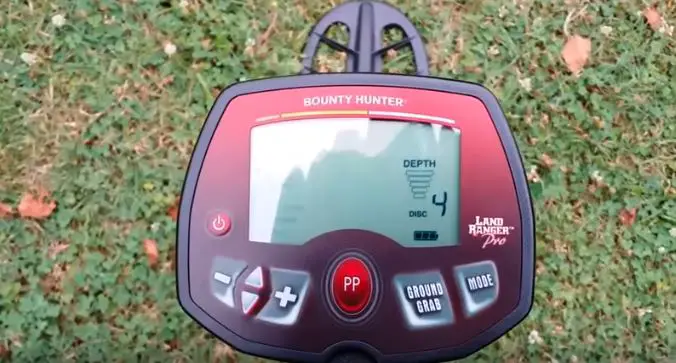 Although looking at the price details, it may seem an entry-level metal detector, but its functioning is nothing like an entry-level detector!
Indeed, the Land Ranger Pro (Check it Here on Amazon) offers high-level performances comparable to other machines that are twice priced!
It has some of the best performing features that push the bounds of its price class. Features like metal mode enhanced V-Break, and computerized ground Grab are the best features that garner attention from all types of users.
The Bounty Hunter Land Ranger Pro is a VLF single frequency unit. It operates at a frequency of 7.69 kHz, which is one of the best options for all kinds of metal hunting.
The ten sensitivity settings offer the best options and flexibility to users. The overall length of the metal detector is also adjustable, which makes it one of the best options among all types of detectors.
The maximum depth detection of this metal detector is 10″, but many users have claimed that they have found coins even below this depth.
The pitch and volume control are another big advantage associated with this metal detector.
The pitch and the volume of the metal detector vary according to the target depth and the type of metal identified.
| | |
| --- | --- |
| Pros | Cons |
| Budget-friendly (midpriced) | No dedicated pinpoint option is available |
| Ergonomic user interface |   |
| Pitch and sound adjustment feature |   |
| 10 sensitivity setting levels |   |
5. Fisher F44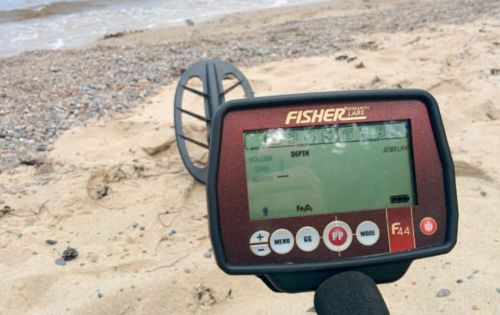 The Fisher F44 (Check it Here on Amazon) is a weatherproof, versatile, and powerful machine! It comes with adjustable Iron Audio that helps you to quickly differentiate between the trash and valuable metals.
The control box of the Fisher F44 is weatherproof, which means it won't get affected due to any sudden weather changes.
It also offers manual as well as automatic ground balance which will allow you to detect in conductive soil quite easily.
The five search modes will help to identify metals from different depths.
The user interface is pretty decent, and you will be able to quickly identify how to operate this machine.
The backlight included is really helpful while hunting in the dark. In addition to the nine segment discrimination scale on the screen that will allow you to determine the type of metal you might have found.
| | |
| --- | --- |
| Pros | Cons |
| Backlight | The machine might struggle in salty water |
| Easy to use |   |
| Moderate price |   |
| Manual & Automatic Ground Balance |   |
Final Thoughts …
I've tried, as much as I could, to only include the machines that are well priced for mid-budgeted people who are still looking for metal detectors with solid capabilities …
… Hopefully, this will help you to choose your next treasure hunting partner!