Hunting for Gold (especially in its pure form) is the most intriguing aspects of this hobby! Yet it definitely requires special equipment to get the job done like a High Operating Frequency Metal Detector and a Quality Pinpointer …
… In this Post I am going to focus on the pinpointer models you will need to increase your chances of picking out more Gold Finds!
Obviously, Pinpointers are extremely important if you want to save time digging holes more than necessary and to recover your targets significantly faster!
As far as I am concerned, This is my favorite Gold Pinpointer Period (Check it Here on Amazon)!
1. Garrett Pro-Pointer AT Waterproof Pinpointer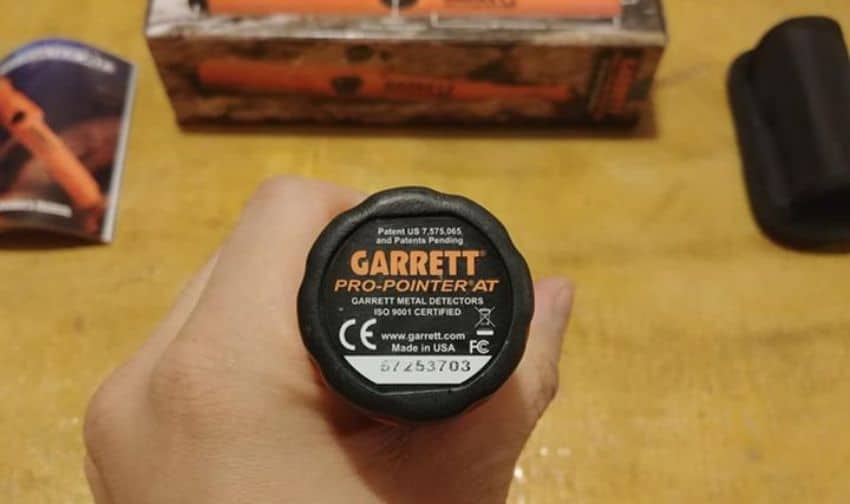 This pinpointer (Check it Here on Amazon) is considered to be the gold standard model!
Indeed, The Garrett Pro-Pointer is fully submersible underwater and can be used for gold prospecting with great effectiveness.
One of its biggest advantages is that you can use it for hunting across all terrains and still keep the same output.
Below some of the most relevant features of the Garrett Pro-Pointer:
Fully waterproof and could be submerged up to 20 feet.
The orange color was chosen carefully to help it stand out and provides extra visibility underwater and at night.
It has a seriously high sensitivity which makes it adapted for small sized elements like Gold nuggets.
3 sensitivity levels (low, medium and high) that you can set and play up with depending on the target size and depth you are dealing with.
Fast retune to instantly tune out any environmental noise and also narrows the detection field for the precise location of a larger target.
There is also a Lost Pro-Pointer Alarm in the pinpoint. This means that after 5 minutes with no button presses, the pinpointer will start emitting periodic warning chirps to help you locate it.
It comes with automatic power off after 5 minutes of warning chirps, saving the battery.
Has a flashlight for using in low light areas.
The only disadvantage that I can tell is that it only has one button for all functions, which makes it a bit confusing at the very beginning.
2. Deteknix XPointer
The XPointer from Deteknix (Check it Here on Amazon) looks very similar to Garrett's Pro Pointer and even comes in the bright orange color.
In fact, even many of the features of Deteknix XPointer are the same as the Garrett Model, but the most significant difference is that the XPointer is cheaper (Check its Price) than the Pro-Pointer most of the time.
Keep in mind that this model is being manufactured by a Chinese-based facility which explains pretty much the lower price!
The best feature of the XPointer is that it almost never gives a false signal, and this is extremely important while looking for Gold especially in conductive soil.
Also, this feature has proved to be very helpful when sifting through dirt in a hole because you don't need to worry about getting a false signal when you are pressing down too hard.
More features you should know about:
It comes with a brighter LED light as compared to the Pro Pointer AT.
Unlike other models, the XPointer is available in different colors, including orange, camo, black, and grey. The most common one is orange though (probably the most popular too).
Very light, about 4.7 oz. and comes with only a year's worth of warranty, which some people find to be a bit of a disadvantage.
Another disadvantage of this pinpointer is that it is not fully waterproof.
3. Minelab Pro-Find 35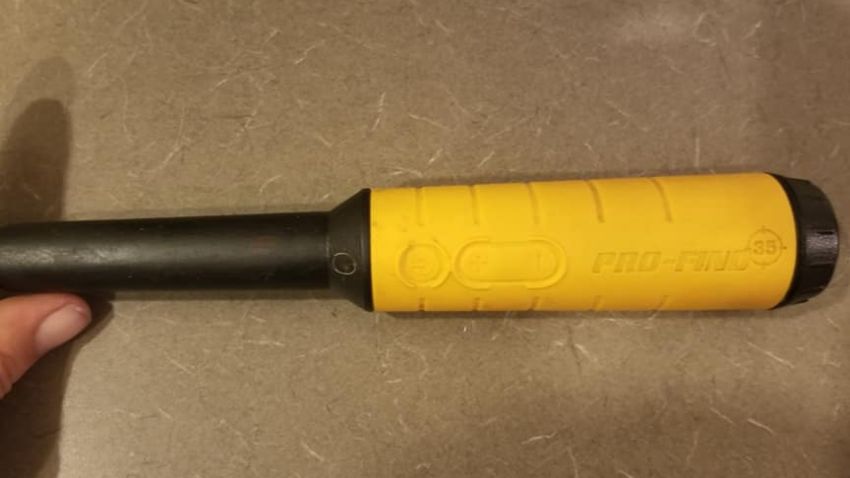 The Pro Find 35 (Check it Here on Amazon) is notorious for its ability to locate even the smaller targets inside a crevice or a small hole … This is really useful especially when your metal detector coil is unable to fit in and also while searching for Gold!
It has two different responses that help you identify between:
Ferrous junk (caps for e.g.)
And nonferrous treasure (silver, gold .. for e.g.)
Also, I would highly suggest the use of this model in 2 cases:
Your Detector doesn't support discrimination capabilities.
If you need a second opinion on whether the target is valuable or just junk.
The pinpointer also comes with 5 sensitivity levels, which allows you to precisely adjust the level for achieving maximum depth and minimum noise in all/most ground conditions.
Sensitivity is easily adjustable as the pinpointer has separate +/- buttons.
Finally, this pinpointer is fully waterproof up to 10 feet, which is more than enough if you are an underwater detection fan!
4. Nokta Waterproof Pinpointer
One of the best and well-known additions to the market, the Nokta Pinpointer (Check it Here on Amazon), was released in the last few years, in fact, one of the first mainstream pinpointers to be fully waterproof.
The company, Nokta, is  has grown rapidly due to the superior quality of its products!
The NoktaPinpointer is a solid competitor of the Pro Pointer, as it is also fully waterproof, with multiple levels of sensitivity!
It also comes with three different modes including:
Audio-only
Vibration only
Both audio and vibration.
Also you will beneficiate from 2 replaceable hard-shell cases …
One of the cases is a basic cover
The other comes with a scarping blade to help you sift through the dirt and soil.
These are similar to coil covers, but only for your pinpointer. They are very useful for protecting your device and significantly extending its life.
At the best of my knowledge it also comes with:
Finds bag
Belt holster
Large carry case equipped with a shoulder strap.
Keep in mind that most pinpointers out there are sold with a belt holster only.
It weights about at 8.3 ounces (light yet still above the average weight), also it has a 30-hour battery life and comes with a two-year warranty.
The only cons that I really can think of are:
Buttons could be a bit difficult to learn at the beginning.
It is waterproof up to 3 feet only.
5. DetectorPro Land or Sea Waterproof Pulse Pinpointer
This model (Check it Here on Amazon) is very good at precisely pinpointing the target regardless of their size.
It will certainly help you locate valuable targets such as coins, rings, jewelry, gold, and even relics …
… This Pinpointer stands out when it comes to water usage as it is is fully waterproof up to 20 feet underwater! (If you are a Scuba Diver, Here you Go!)
Another unique feature is its pulse induction circuitry that allows you to have an extremely smooth operation in both fresh and saltwater. (BTW, you can check some pulse induction technology base metal detectors)
It has 3 different alarming signals one a target is detect, these include:
Sound, Signal Light, and Vibrate
Sound and Signal Light
Vibrate and Signal Light (in cases of silent search)
Below a short summary of the already discussed features:
Circuitry Type: Pulse Induction
Target Alert: Vibrate, Sound, and LED signal light
Waterproof: Yes, fully submersible to 20 feet
LED Signal Light
Comes with a two-year warranty
Weight: < 1 lb.
Batter Requirements: 2 AA Batteries
Length: 10 Inches
Conclusion
Hope I didn't sound too boring in this Post lol! Anyway, all the models I've list above are really very good …
… I have no doubt in my mind that any one of these pinpointers will lead you to locate more gold finds!
So, yea, good luck with your pick and happy Hunting!
If you are looking for metal detectors recommendations, please have a look at these gold machines!