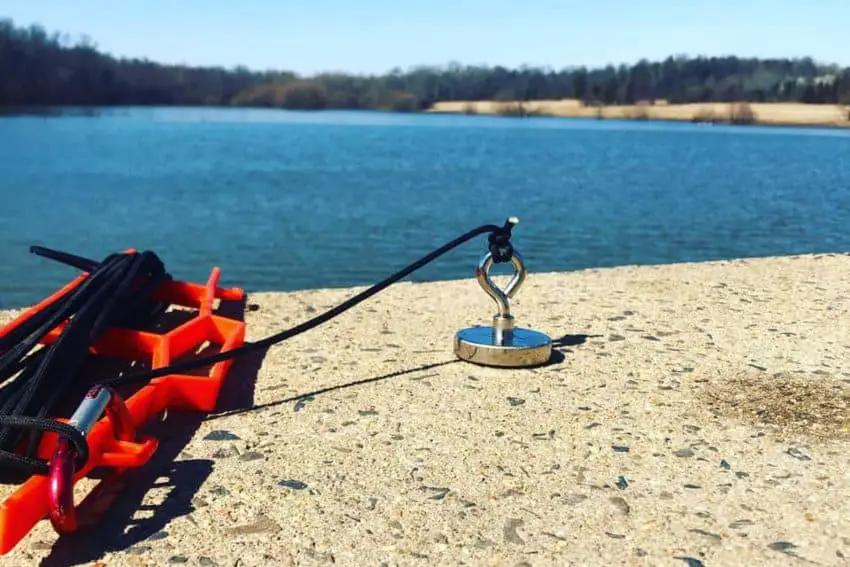 Magnet Fishing is one of those hobbies where the cost of entry is very low! For example, a budget around 100 bucks is more than enough to get most of the equipment you will need to get started …
… However, I understand that some people who would love to try this hobby at a certain point could have a very very limited budget.
That's why in this Post, I list 7 of the best cheap fishing magnets that you can possibly get Today!
7. S28esong Round Neodymium Fishing Magnet
The S28esong d10 round magnet (Check it Here on Amazon) is probably the least expensive fishing magnet on this list. And, also one of the smallest too. Although small, it is still a great little magnet to get into the hobby.
It is made out of neodymium and measures 12.6 x 3.9 x 3.1 inches. It only weighs 0.32 ounces. Don't let its small size offput you because it still has enough for magnet fishing – at least around small creek beds.
This cheap magnet is Ni+Cu+Ni triple layer coated, which is the best coating available for magnets. This type of coating provides a shiny and rust resistant coating that prevents chipping or cracking.
All magnets sold by s28esong come with an eyebolt so you can attach a rope to the magnet.
Those looking for a lightweight, pocket magnet for quick fishing trips, then this magnet should be one to consider.
6. CMS Magnetics Powerful Cup Magnet
Unlike most fishing magnets you'll come across, CMS Magnetics makes their magnets (Check it Here on Amazon) out of grade C8 ceramic encased inside of a steel cup. Typically, you'll want to find a magnet made out of N52, but for the price this magnet is worth buying.
It's another relatively small magnet measuring at 2.6″ (66.5 mm) with 0.27″ (6.5 mm) center hole. The total thickness is 0.35″ (9 mm). Unfortunately, no eyebolt is attached. However, you can still tie a rope through the middle of the hole.
You won't be pulling anything large out of the water with this magnet. Stick to shallow water or creek bedsides if you want to have any success with this type of magnet. That doesn't mean you shouldn't keep one of these in your pocket for quick fishing.
This inexpensive magnet has a pulling force of 80lbs, which should help you find some light, loose treasure. Plus, it's chrome plated with a shiny finish that will last the life of the magnet.
5. CMS Magnetics Strong Cup Magnet Neodymium 112lb
CMS Magnetics is making another appearance on this list, except this time with a neodymium magnet instead (Check it Here on Amazon) of their C8 ceramic. Why should you own this magnet? Because it packs a lot of strength in such a small magnet.
First off, 112lbs of pulling force in 2.9 x 2.1 x 1.1 inches is impressive. Will you pull out a shopping cart from underwater with this magnet? No, you won't. But you will get out more metal than the previous magnets listed.
There is one complaint about these low cost magnets, and that's the #10 countersunk holes instead of an eyebolt. That's because these were meant for tool storage, as with most smaller magnets, and include wood screws to attach to surfaces.
You could get creative and attach your own eyebolt or tie rope through the hole. Either way, this is a powerful pocket magnet you should try for yourself.
4. Bar Magnets Rare Earth Neodymium Grade N45
Unlike all the other magnets on this list, this one is bar shaped (Check it Here on Amazon). Cup magnets seem to dominate the fishing magnet community, however any magnet fisherman will tell you it's always a good idea to have multiple types of magnets for different jobs.
The bar magnet are really cheap and perfect for combing more ground than other types of magnets such as the traditional cup magnet. This one is 4.3 x 3.5 x 1.8 inches and weighs 3.68 ounces. There is no eyebolt, but there are two #6 countersunk holes.
Each bar magnet is triple coated with ni+Cu+Ni 3 for maximum protecting against chipping and rust.
What about the pulling force? Well, it has a pulling force of 31lbs spread throughout the magnet. For what it lacks in pulling force it makes up with more surface area.
The package includes two magnets, North and South, that attach together to make one. Be careful because if the wedge between the magnets is removed it will definitely smash fingers.
3. Wukong Magnetic Hooks, 5 Pack Fishing Magnets
Now this is a deal, you get a 5-pack of neodymium D1 magnets (Check it Here on Amazon) with an attachable eyebolt. These are brushed nickel, but still have a protective coating to prevent chipping and rust.
Let's first talk about the strength of one of these little magnets, vertical is 75lbs and horizontal is 20lbs. That's a lot of power for a 1.26" diameter magnet.
Individually, they are strong for their size, but the reason these are on the list besides their strength is the value you get.
Imagine not one magnet in the water, but five at a time. You can see how quickly you can cover more ground. Or, if an object is lodged deep, you can grab a hold from different angles to help retrieve it.
One idea is to loop all five through one rope to have a multi-surface magnet.
Also, magnets go missing all the time. This would make the best option for the fisherman on a budget that is always losing their magnets.
2. Neosmuk 2" Fishing Magnet
We are moving into larger, stronger magnets with Neosmuk's 2" fishing magnet (Check it Here on Amazon). And by strong, I mean really strong when compared to the list up to this point. This 2" fishing magnet can pull up to 260lbs vertically.
The construction is made out of a neodymium magnet encased in carbon steel. The hole of the eyebolt is 0.68" and is enough for most ropes.
If you are new to magnet fishing, just know that 260lbs is strong and you'll need a flathead screwdriver to pry this magnet off steel. Why is this important, because your first trip out will be unpleasant if you accidentally get stuck somewhere and can't get your magnet back.
This magnet is great for beginners that don't want to invest too much too soon in the hobby. For the more advanced, this would make for a good back up magnet.
1. Dakin Fishing Magnet Kit
This kit is the best option for beginners and beyond (Check it Here on Amazon). For the price you get everything you need in an entry level kit that will get you out in the water as soon as possible. The kit comes with a N52 2.36" magnet and 35ft thick nylon rope.
The magnet is rated at 440lbs vertical pull force. This is a good starting point when it comes to magnet strength.
Learn a strong knot because this magnet will be latched on pretty tight. Although the rope is attached with a carabiner, you should be on the safe side and know a few good knots.
As with all the other magnets, this one plated to prevent chipping and rust. No mention of triple plating though.
With the strength of the magnet in mind, when pulling in the magnet users have detached the eyebolt and lost the magnet. So, grab you some Loctite before your first trip out with this kit. In fact, use Loctite on all your eyebolts to be safe.
Conclusion
Hope these cheap fishing magnets I am listing here sound good for you! One of the reasons I am putting this Post together is to encourage you to get you started in this hobby …
… We are not talking here about golf! This hobby is really inexpensive to get into, so here you go, let me know when you are going to start!!