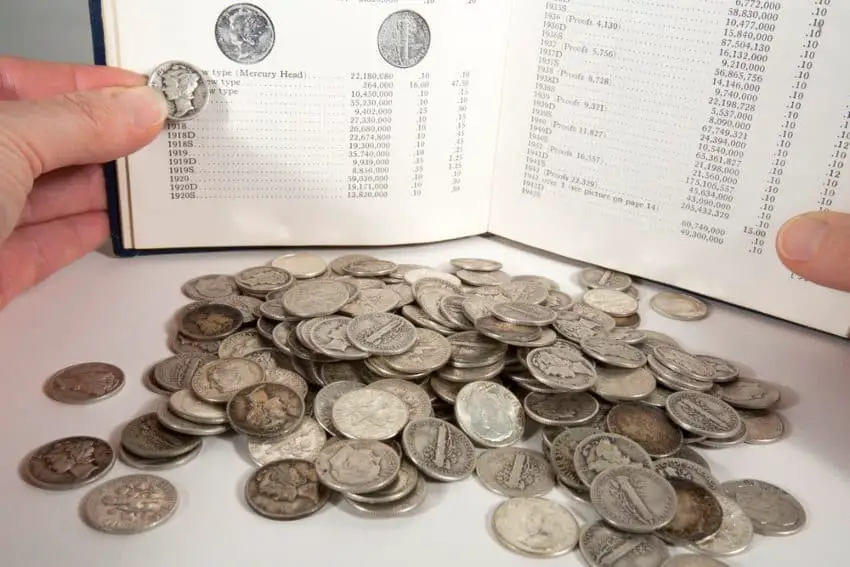 Coin collecting is an activity where books can be very helpful—even essential. From beginners to dealers, you'll find successful collectors have reference materials they can count on.
So, since really I want you to have access to the best and trustworthy resources out there, I made sure that the following Coin Collecting Books are the Best you can actually Get!
As far as I am concerned, This is My Favorite Book Period (Check it Here on Amazon)!
14 Best Coin Collecting Books
For Beginners
1. Whitman Guide to Coin Collecting by Kenneth Bressett
This is a thorough but easy-to-understand book (Check it Here on Amazon) from a former president of the American Numismatic Association. It is targeted at new collectors and explains the basics of the hobby, from identifying and assessing coins to caring for a collection.
The legendary Ken Bressett helps newbies fall in love with this activity through his engaging and approachable writing style. Get answers to beginner questions like:
What makes a coin valuable?
How do you find coins for your collection?
2. Coin Collecting for Dummies by Neil S. Berman and Ron Guth
When the popular For Dummies series tackles coin collecting (Check this Book Here on Amazon), you get surprisingly helpful results. Written by two coin dealers who have been in the business for decades, this introductory guide covers important beginner topics such as:
How to buy coins safely
Choosing a focus for your coin collection
How to resell your coins
The book describes the basics of assessing coins and explains how not to get fooled by fake coins. It is printed in black and white and not intended to be a photographic guide but rather get new collectors started with foundational knowledge.
For more helpful beginner information, I invite you to have a look at this easy to read coin collecting guide!
For Kids
3. A Kid's Guide to Collecting Coins by Arlyn G. Sieber
This accessible guide (Check it Here on Amazon) from a longtime coin writer and collector is perfect for 10 to 12 year-olds. It has fun facts, colorful images, and tips on starting your first collection. Kids will learn about:
The history of currency
How coins are made
Reasons to collect coins
The guide is a great way to introduce curious kids to a lifelong hobby shared by millions. After reading it, they'll be telling all their friends interesting coin facts. They might even teach you a thing or two!
4. Coin Collecting for Kids by Steve Otfinoski
This stiff board book with spiral binding (Check it Here on Amazon) does double duty—teaching about coins and providing a space for kids to start their first collection. In between the facts about coins there are slots for kids to add their own coins, from pennies and dimes to state quarters.
This book will get kids engaged and immediately enjoying one of the most fun parts of the hobby: the hunt…
… They'll be searching all your change for a coin of their birth year or the oldest coin they can find. This book represents a very good way for Parents and grandparents to keep their little ones busy doing useful stuff!
To learn more about this aspect, then I would like that you check this simple coin collection article for kids!
To Identify Coins
5. A Guide Book of United States Coins 2020 by Jeff Garrett
The world's best-selling coin price guide (Check it Here on Amazon) is a must-have for the serious collector. With over 30,000 prices and plenty of color photographs, it is recommended by coin dealers.
Though primarily about identifying and valuing coins, the guide does include some interesting historical stories and important tips for collectors such as how to avoid counterfeits…
… Also known as "the official Red Book," the guide has been in print for over 70 years and is updated annually with the latest information in the industry.
6. Strike It Rich With Pocket Change by Ken Potter and Brian Allen
Get in on the excitement of the hunt by learning how to discover mint errors on everyday circulating coins. This book (Check it Here on Amazon) shows collectors that age is not the only determining factor in coin rarity and actual value.
This award-winning book pays for itself certainly!
Study up and see if you can spot a double strike or edge error. You'll know exactly what to look for to cash in or add some interesting finds to your collection.
Learn more about the coin that you should consider collecting!
For Advanced Collectors
7. Making the Grade by Beth Deisher
This guide (Check it Here on Amazon) provides in-depth instruction on grading more than 80 of the most commonly collected US coins. This book will certainly serve as grading assistant for you…
… The full-color, highly detailed photos illustrate the grading principles and what to look for. The guide includes:
A history of each coin series
Grading specifics for each coin series
Color-coded coin maps from a highly respected coin grader
High-point maps from an experienced coin authenticator
8. The Coin Collector's Survival Manual by Scott A. Traver
Scott Traver is a coin dealer, former vice president of the American Numismatic Association, and has served as a coin valuation consultant to the Federal Trade Commission.
This book (Check it Here on Amazon) contains details on buying, selling, and investing in coins to guide you through the marketplace. It is packed with information, including how to avoid scams, methods for detecting doctored coins, ways to store your coins safely, and etiquette tips for coin shows.
Even long-time collectors could benefit from Traver's advice.
You can also learn about rare coins and how to find them!
For Ancient Coins
9. 100 Greatest Ancient Coins by Harlan Berk
One of the best-known ancient coin dealers takes you on a private tour of fascinating Greek and Roman coins (Check the Book Here on Amazon). Each coin has full-color enlarged photographs and a well-researched history presented. For those who love the history and artistry of coins, this book is a must-have.
In addition to the interesting historical information, there are practical details on assessing, authenticating, and purchasing ancient coins. Whether you're just getting started in the world of ancient coins or are a seasoned collector, you'll be impressed by the level of detail included in these pages.
10. Handbook of Ancient Greek and Roman Coins by Zander H. Klawans
This book (Check it Here on Amazon) provides a broad overview of Greek and Roman coins and is especially suited for those just getting into ancient coin collecting. It contains many black and white photographs and concise histories of coins from this time.
Some of the most helpful information included in the book are the instructions on how to read the abbreviations and markings on ancient coins. Other details that will be of use to the ancient coin collector include:
Chronological guide to ancient rulers
Mythological and religious data
Guide of coins by city
You can learn more about antique/ancient coins and how to collect them!
For Coin Dealers
11. Official American Numismatic Association Grading Standards for United States Coins by Kenneth Bressett
This is the only grading guide (Check it Here on Amazon) endorsed by the American Numismatic Association. It contains every US coin minted since 1793 and is printed in full color from cover to cover.
An essential guide for any coin dealer to have on hand, it explains the standards in grading with plenty of examples. No dealer wants to lose money or get into a squabble with a customer, so it's important to have the latest grading standards available as a reference.
12. Grading Coins by Photographs by Q. David Bowers
David Bowers was named one of the numismatists of the century and has won more writing awards from the Numismatic Literary Guild than any other writer. His book (Check it Here on Amazon) on grading receives rave reviews not just for its grading advice and samples but also for its expert commentary.
Coin dealers, especially those operating over the internet, will be wise to refer to this book. The author has an accessible writing style, and the pages are also chock full of excellent references to other sources.
Gold coins are generally easy to grade!
For Worldwide Coins
13. 2020 Standard Catalog of World Coins 1901-2000 by Tracy L Schmidt
This impressive guide (Check it Here on Amazon) boasts including one million prices and over 60,000 photos. Its sheer size and coverage make it arguably the best source for identifying worldwide coins. There are companion editions available for coins dated 2001 to Present and 1801 to 1900.
Over 120 experts contributed to this comprehensive guide, which includes globally recognized identification numbers for world coins to aid in identification. The world coin collector should definitely have a copy of this mammoth resource on their shelf.
14. Collecting World Coins, 1901-Present by George S. Cuhaj
This catalog (Check it Here on Amazon) has over 1,100 pages of information on world coins and nearly 20,000 coin illustrations. It serves as an excellent resource for any collector looking to identify world coins or learn more about expanding their collection.
The detailed coin measurements and descriptions can also help coin dealers know for certain what coin they have on their hands. Overall, it's a solid world coin reference book.
You can learn more about world coins and what you should do to collect them!
Finally … Why Is It Important to Read Coin Collecting Books?
Coin collecting involves a learning curve, and it's best to educate yourself so you will be able to make good decisions when buying and selling coins!
No one wants to end up spending money on a doctored or counterfeit coin.
In addition, coin identification books can help guide you as a collector in the right direction before they even know what to search for on an internet search. Coin guides are also easy to bring along when going to a coin show or other events!
Many of the reference books described here are written by collectors and dealers with decades of experience. The wisdom from these experienced numismatics can help collectors newer to the hobby or those expanding their coin knowledge for sure.
Conclusion
Hope that at least one of these books has resonated with you! Indeed, I've tried to include all possible categories (from beginners to seasoned collectors) so I will be able to cover an area you might be interested in…
… Also, if you've read one of these books before, that would be great if you let me know below what are your thoughts!
Finally, if you are in the fence and don't know whether this activity is the right one, then I highly invite you to check these reasons why Numismatics is a great activity!