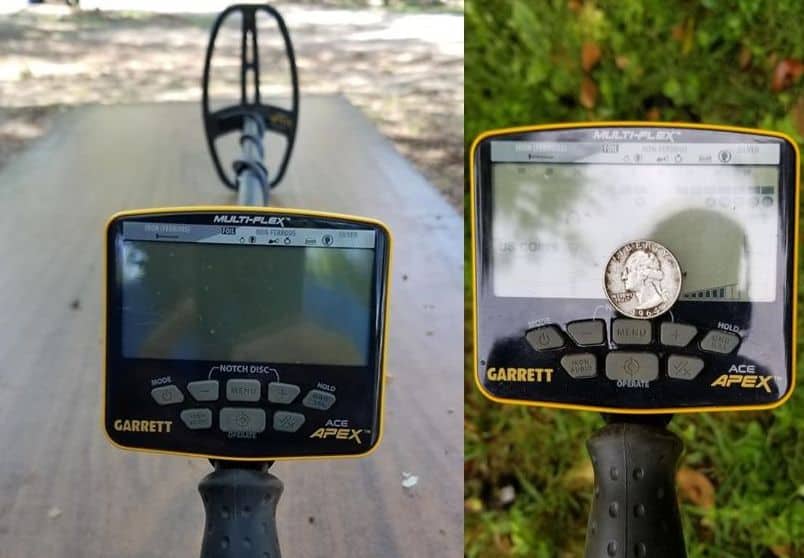 The Garrett Ace Apex is a new addition from the Garrett House to the Ace series (150, 250, 300, 400, 400i, Euro)! I do really believe that the company has set the bar even higher for other competitors (Especially Minelab & Nokta) by releasing this model featuring a ton of capabilities at a very reasonable price (Check current price here on Amazon) …
… This article will help you understand what the machine is all about so you will make an informed decision whether this detector is for you or not!
Let's dive in.
Who should buy the Garrett Ace Apex?
From my perspective this model is literally for everybody interested in the hobby whether you are an experienced, mid-level or even a beginner detectorist!
Indeed, it is simple enough and won't take you more than couple of hours testing it to understand most of the features it brings to the table.
This machine is also well fitted for those who love hunting in hard ground conditions (like the conductive soil)! In fact, the multi-flex feature (I will explain it in the next paragraph) and the ground balance combined discrimination capability makes the machine do a great job a see valuable elements right through little particles.
Garrett Ace Apex Key Features
1. Operating Frequency (Multi-Flex)
The Garrett ACE Apex comes with the multi-flex feature which means the ability to operate at several frequencies. In this case, the machine can operate on 4 different ones:
5 kHz
10 kHz
15 kHz
20 kHz
This new detector from Garrett provides users with the flexibility to easily switch between single and multi-frequency!
Furthermore, the addition of high-resolution ground balance, this device can be used even in various mineralized conditions, allowing you to find almost anything on the list.
2. Modes
It is possible to choose from one of the six detection modes that best fits your conditions and parameters.
Selecting the correct search mode also depends on the terrain type, targets you want to find, expected size, and depth. The available detection mode in the ACE Apex include:
Zero
Coins
US Coins
Jewelry
Relics
Custom
Apart from these detection modes, there is also a Pinpointer detection mode, and a non-motion, All-metal mode for precisely locate the position of a detected target.
3. Discrimination and Ground Balancing
The detector comes with automatic and manual ground balance settings, allowing you to adjust to even highly mineralized grounds.
The ground balance feature in this top-end metal detector is excellent, and the machine performs correctly due to the high-resolution 175 points of ground balance resolution that fits all-terrain types, from saltwater to ferrous ground.
The 175-point high-resolution ground balance allows this detector to adapt quickly to challenging soil conditions, moving effortlessly from highly mineralized soil to saltwater.
At the same time, the machine has hi-resolution discrimination. The Notch Discrimination feature of the ACE Apex metal detector allows the user to discriminate easily between the different metal types with 20 levels of discrimination, out of which 8 of them are for iron.
4. Battery life
This model has a built-in rechargeable lithium-ion battery that provides up to approximately 15 hours of use.
However, the battery life also depends on the search mode being used, the search coil, and the overall settings.
There is a USB charger that you get along with the detector when you buy.
5. Depth
The ACE Apex provides an excellent depth on a wide variety of targets, and it has 8 sensitivity/depth adjustments.
The exact depth measurements vary depending on the target type and ground conditions. Enhanced electronics, a 13.6 kHz operating frequency, and eight Sensitivity/Depth adjustments allow the user to detect a wide range of targets—including silver coins, gold jewelry, and brass relics—deeper than other Garrett AT detectors.
6. Target ID (VDI Chart)
This advanced metal detector from Garrett shows on its screen a unique identifier number known as the digital target identifier (Target ID), the number ranging from 0 to 99.
The numbers indicate the electric conductivity of the metal to give the detectorist an idea about what type of metal type you have found under the ground.
The value of the identifier ID changes according to the metal you have found. Detectorists who have a lot of expertise and experience are able to associate the various target IDs to specific metal types.
This number also depends on various factors such as search frequency, detection mode selected, ground balance, and soil type.
The VDI chart for the ACE Apex metal detector is as follows, but keep in mind that since this is a new detector, the list will get updated at regular intervals.
| | |
| --- | --- |
| Target Type | Target ID |
| Crown Bottle Cap | 43 |
| Nickel | 51-53 |
| War Nickel | 52-53 |
| Pull Tab | 55 |
| US Gold Quarter Eagle | 60 |
| Flying Eagle Cent | 60-61 |
| Copper / Nickel Indian Head Penny | 60-61 |
| Three Cent Silver | 66-70 |
| Indian Head Penny | 67-68 |
| Zinc Penny | 75 |
| Seated Liberty Half Dime | 76 |
| 2 Cent Piece | 80 |
| Wheat Penny | 80-81 |
| Clad Dime | 81-82 |
| Silver Dime | 82-83 |
| Silver Cross | 86 |
| Half Cent | 86-87 |
| Clad Quarter | 86-87 |
| Silver Quarter | 88-89 |
| 20 Cent Piece | 89 |
| Large Cent | 90 |
| 1968 Kennedy Half Dollar | 91-92 |
| Half Dollar | 93-94 |
| Silver Dollar | 99 |
 7. Coils
The ACE Apex metal detector comes with a completely waterproof Viper 6″ x 11″ Double-D search coil.
This is a new type of coil from the company as the existing ACE search coils were not compatible with the new Apex metal detector due to the new multi-frequency technology of the Apex.
At the same time, the new Viper coil cannot be used with the other ACE detectors. The coil also comes with a coil cover.
The 11″ coil is big enough to even cover plowed fields, but the narrow 6″ footprint will also allow you to easily separate targets in trash and iron-infested areas.
Even the Apex control box is fully rainproof. The Viper coil has been designed as a low impedance, broad-bandwidth coil to support the new Apex Multi-Flex frequency technology.
Is it possible to update the machine's Software?
As of now, there has been no mention of whether the Apex software can be updated.
However, the detector can be charged with a mini-USB connector, so many believe that the possibility of a software update option exists, and Garrett has not mentioned it.
Nevertheless, similar to other Garrett machines, it is doubtful that the software can be updated.
Accessories (Headphones and more…)
One of the unique features of the ACE Apex is its Z-Lynk wireless headphone technology. The Apex metal detector features wireless Z-Lynk technology, and it is available with and without the MS-3 wireless headphones.
The detector also has a 1/8″ headphone jack that allows you to connect any of your favored wired headphones. Z-Lynk technology is up to six times faster than Bluetooth, allowing you to hear the audio tone from your target almost instantly as soon as you swing your detector over it.
Warranty
The Garrett ACE Apex comes with 2 years of manufacturers' warranty. However, the warranty is on limited parts and labor involved. The detector is manufactured in the United States.
Garrett ACE Apex – Feedback on Different Ground Conditions …
1. On the Beach (Saltwater Beaches)
The detector has a unique beach saltwater mode that lets you use it on saltwater beaches with ease, especially since there is high mineralization is high in such places.
When used on the beach, the ACE Apex is able to notch out the iron targets in the ground with ease, and in the saltwater mode, you can look for higher range targets, helping you find large aluminum and silver targets.
2. Underwater
The detector has a weatherproof design for dusty, humid, or wet environments; and it is fully submersible to 10-foot depth.
The Garrett ACE Apex has a rainproof control box, while its lower shaft and searchcoil are fully submersible. However, waterproof headphones must be used if the headphones are submerged in water.
The standard headphones provided with the ACE Apex cannot be submerged. However, the cord leading to the headset is submersible.
3. Gold hunting in HIGHLY Mineralized Soil
The Apex's 18 kHz frequency allows enhanced detection of small gold nuggets, even in highly mineralized soil. However, this is not the best detector for gold hunting.
Ideas on the Garrett Ace Apex troubleshooting
As it is a very new detector on the market, potential issues are yet to be determined and understood.
I will, hopefully, update this part when new issues will arise! Also, please if you know any issues related to this machine, please let me know.
Final Thoughts …
Despite being new on the market, the Garrett ACE Apex has rapidly gained popularity even if the company did little marketing to this model!
To be honest, I am not that surprised because we all know what Garrett brings to the table.
Finally, if this machine's capabilities have resonated with you, then you can Check it Here on Amazon.
Hope this short article was helpful!