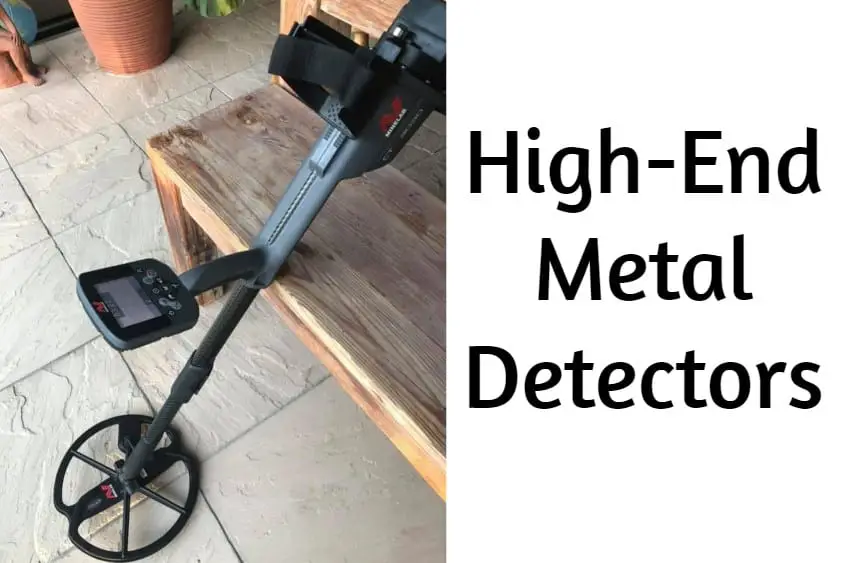 Metal Detecting is a Fun Hobby if you are looking for finds like coins, jewelry and even relics! However, if you are looking for High-end Finds like Gold, Treasure, … then there is no way around having a High-end Metal Detector …
… Indeed, the most valuable finds out there are often located in tough ground conditions. And these High Quality Detectors are the ones that are able to see these types of grounds!
In this post, I list the Best High-end detectors that you should consider using if you want to pick up the Finest Finds in your surrounding!
Best High-end Metal Detectors
1. Garrett ATX

The Garrett ATX (Check it Here on Amazon) is one of the best high-end detection devices available on the market.
This is a Pulse Induction model that enables you to scan the area, searching through each inch of the land, and you don't even need to change the search coils or play with the search modes.
It is perfect for those who want to detect on different terrains, be it dry, sandy, or wet!
The detector has enhanced sensitivity to allow you to find even the tiniest of gold nuggets.
Below the most notable features of this machine:
12 inch DD fully waterproof search coil
Comes with a travel case
Has a mono deep seeker search coil that is 20 inches wide
It is topped with a hard case to make it according to military-grade standards
Powered by rechargeable AA alkaline batteries
It is totally waterproof and can be submerged to the depth of 10 feet (3 meters)
Comes with motion and non-motion modes
The shaft is fully collapsible, and the detector can be used with the shaft either fully extended or fully folded
It has a superior ground balance system to allow users to use the detector anywhere – from the highly mineralized ground to saltwater. You can do all this without needing to switch any of the unique modes or change the search coils.
Overall, this model is wet suited for treasure hunters!
2. Garrett AT Gold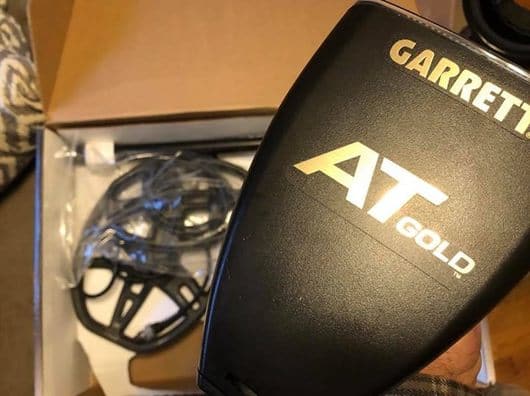 The Garrett AT Gold is not as costly as the previous one (Check its Price Here on Amazon), yet it is still considered as a High-end model.
This model is a solid asset for those searching for raw or proceeded Gold!
Here are the features of the machine:
Fully waterproof but does not perform that well on saltwater as it does on other terrains.
It performs well on highly mineralized soil, where gold nuggets are commonly found.
This machine uses four AA batteries
Comes with a built-in internal speaker, and also has a jack to allow you to insert a headphone
Has three pre-programmed modes, which include all-metal, disc 1, and disc 2. The disc modes use the tone ID feature with three different audio tones to discriminate against what metal the device has located.
Comes with a pinpoint mode, acting like as non-motion pinpointer
Features a fast-setting automatic ground balance and also has a manual option.
It stands apart in its ability to set a ground balance window. This adjustable setting allows you to specify a range instead of only one set value.
Provides 44 levels of iron discrimination, meaning you can fine-tune the settings to makes it discriminate against trash and more likely to find gold nuggets.
The Garrett AT Gold is definitely a Solid model for those who want to dip their feet on the Gold Prospecting Aspect at a reasonable cost.
3. XP Deus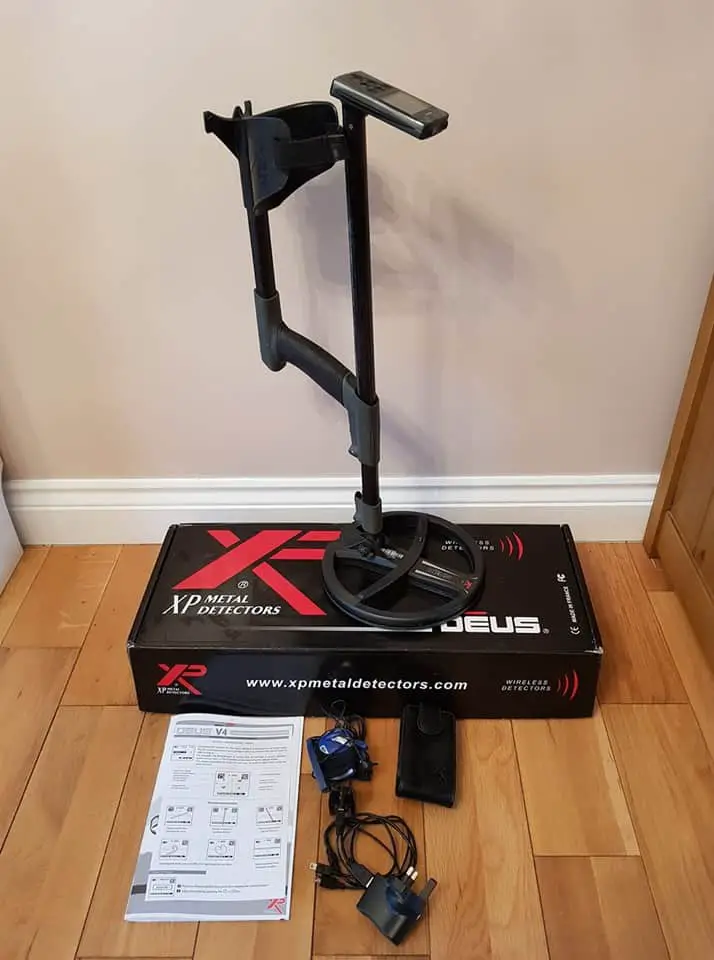 The XP Deus (Check it Here on Amazon) is reliable high-end wireless metal detector!
The machine's ground balance allows you to hunt almost anywhere including saltwater beaches or highly conductive soil.
Below the XP Deus Key features:
Wireless technology (Coil, Control Box, Headphones …)
Precise visual and audio discrimination
Operate on multiple frequencies
Comes with 17 search modes
Lightweight – only weighs around 2 pounds
Has 11 inch completely waterproof DD coil
Headphones are Weatherproof
The shaft has a foldable design
The stem can be folded for easy travel and story
You can change the headphones through a USB connection
Headphones help isolate all background noise and are also equipped with an ear cup that makes it comfortable to wear them for long hours
One of the best features of this machine is lifetime upgrades. The manufacturer allows you to buy the device once and then upgrade the software for life. This saves you from the trouble of having to buy a new detector every couple of years.
It is ideal for finding any types of finds, from jewelry hunting to gold prospecting, the XP Deus can do it all.
4. Minelab CTX 3030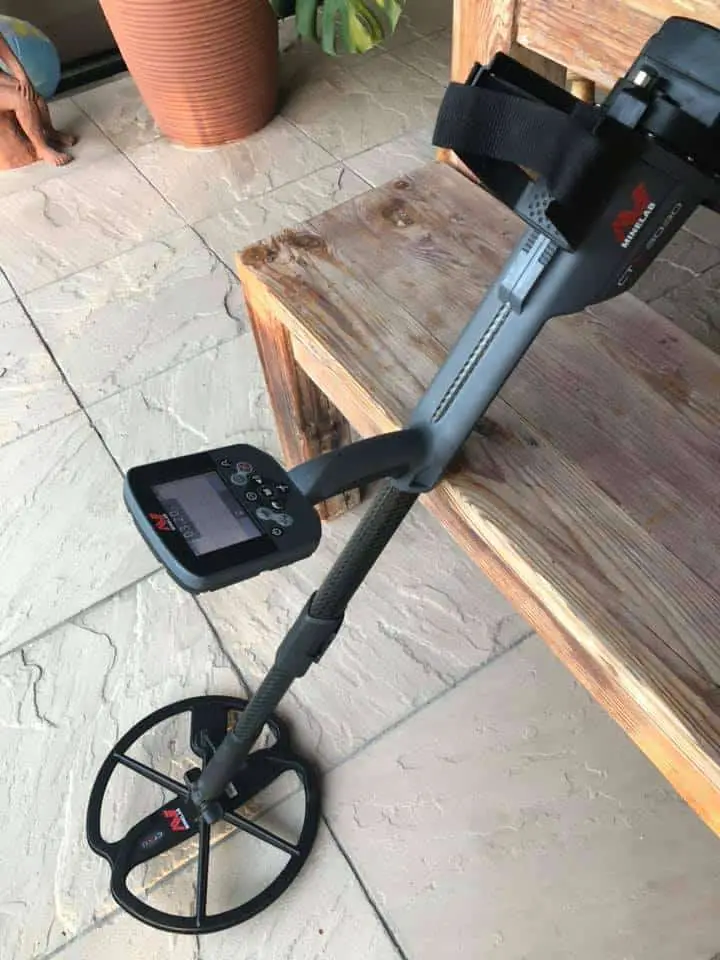 The Minelab CTX 3030 (Check it Here on Amazon) is one of the High Models suggested by the Minelab Hous.
The learning curve for this machine is quite steep, so, you will need to give it some time to fully learn it!
Below some of the many features this machine has:
It is fully waterproof up to a depth of 10 feet
While it is not ideal for diving, you can use for detecting in creeks, rivers, or the beach
Four audio types are there including smooth, long, pitch hold, and normal
Comes with Minelab's FBS technology that combines multiple frequencies between 1.5 to 100 kHz to help you find deeper targets more easily.
There is a minimal noticeable delay in target ID, making it one of the fastest devices in the market.
5 pre-set search modes, including coins, beach, relics, silver, and high trash.
You can customize up to 5 custom programs
FeCo discrimination feature allows the detector to classify targets better as it analyzes both the ferrous and conduction properties of the target, showing them on the LCD. There are also pre-set search modes so that the discrimination can happen automatically without you have to mess around with the pattern manually.
It has built-in GP and PC mapping
Has both manual and automatic sensitivity modes
Adjustable noise cancellation and automatic ground balance
I won't suggest using this machine if you are a total newbie, since it is quite expensive, however, this one would be a nice fit if this is your second or third machine.
5. Minelab Excalibur 2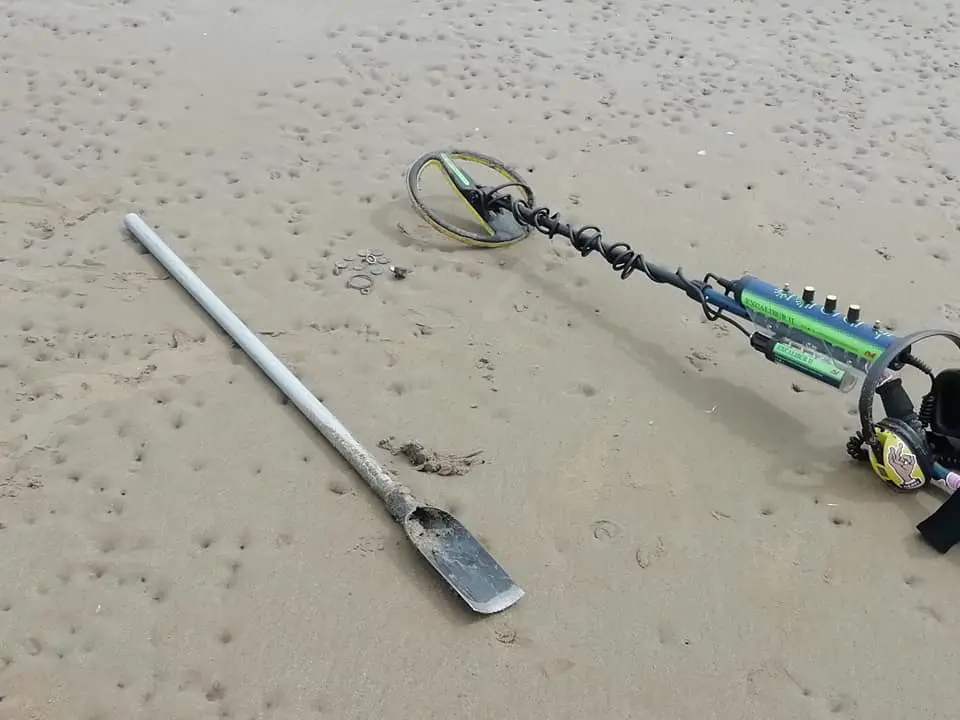 The Minelab Excalibur 2 (Check it Here on Amazon) is definitely a High end underwater detector!
It comes equipped with Minelab's unique Broad Band Spectrum (BBS) technology, which combines a superior ground rejecting capability. This makes it even more effective underwater.
The machine is excellent for searching on the beach, diving for a shipwreck, and for wading for treasures in shallow water.
Below some features you should know about this model:
Operate on multiple frequencies ranging between 1.5 kHz to 25.5 kHz
The device has excellent ground canceling and eliminates false signals from detecting in saltwater
It has automatic ground compensation
Comes with effective and simple discrimination
It has variable discrimination that allows it to ignore most junk targets, but still allows the detection of other metals such as gold and silver.
Comes with a slimline search coil with options available in both 8 inches and 10 inches to allow for improved machine balance and reduced weight
It uses a Lithium-Ion rechargeable battery pack, and it can run for 12 hours with one charge
It is completely waterproof, and it has an underwater depth of up to 200 feet, or 66 meters, one of the highest you can find in other comparable underwater detectors
It also comes equipped with Minelab's RCB technology that helps amplify weaker target signals inside the coil, reduces background noise, and also boosts faint and deep objects
If intending to search for treasure underwater, then the Excalibur 2 is probably the very best model you should be using.
6. Minelab Equinox 800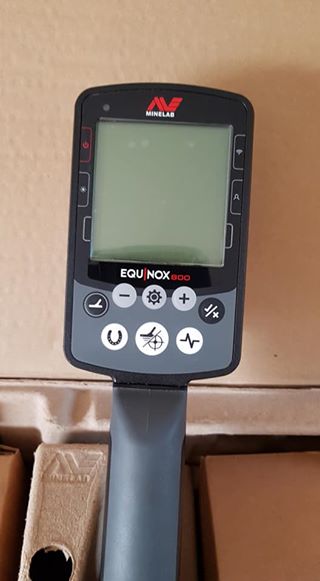 The Equinox 800 (Check it Here on Amazon) is considered to be an excellent all-around yet High performing metal detector.
Below are the features you should know about it
Comes with the Multi-IQ technology, which allows the detector to operate and search simultaneously at several different frequencies.
It has 5 different operating frequencies – 5 kHz, 10 kHz, 15 kHz, 40 kHz.
Comes with 4 detection modes including park, beach, field, and gold
Has four preset factory programs, but there is also a customizable search program
The device has a large backlit screen, and there are also different backlight options including an automatic one
It has background noise cancellation technology
The device comes with an 11 inch DD search coil
This is my favorite Machine by the way! The one thing I like about it to be honest, is that it can be used by true beginners and also by seasoned detectorists who are looking for actual treasures!
If you've got one, you don't really need to upgrade for another one.
When should opt for High End Detectors?
Buying a detector depends a lot on your budget, your expertise, and your expectations.
For example, if you only want to metal detect for fun and with no pressure to find any high-value targets, then an inexpensive and starting level device should be sufficient to meet your expectations.
However, if you have other expectations, then investing on a high performing model can prove to be well worth the money.
Below few reasons to consider such a machine!
If you are looking for highly valuable targets such as gold nuggets
If you want a robust detector that will last for many years to come
If you are a technology nerd, and love dealing with advanced machines.
If you want a machine that can operate in extreme condition and even underwater
If you plan to use your device in all types of terrains and weather, including rain and highly conductive soil
Conclusion
Having a higher-end detection machine is not a necessity! Especially if you are a beginner …
… Your decision has to be based primarily on what you are looking to get out of your detector and, of course, how much you are willing to pay for it.
Finally, if you are looking to learn more about the hobby overall, then you really should have a look at these metal detection tips! You will learn a lot!