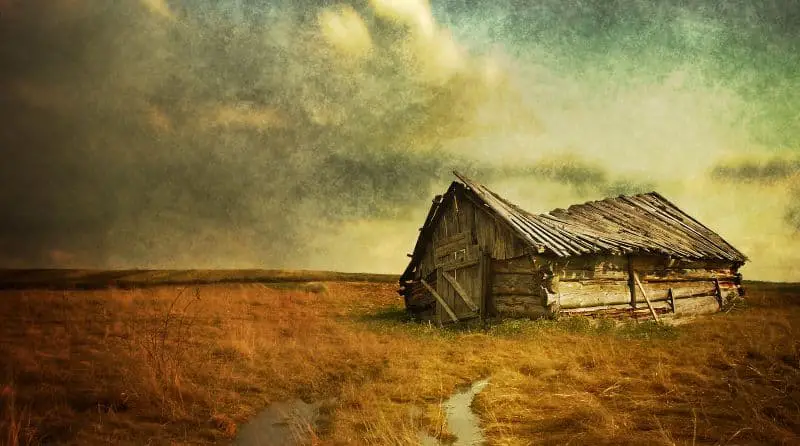 When people go for metal detecting sites, they usually target places like beaches, fields, parks and even sometimes around lakes and creeks. However, few of them go for untapped places like Old house sites …
In fact, these kind of untapped places are usually where your next big treasure could be waiting for you!
In this article, I help you with some tips to find old house sites where you can metal detect and hopefully find some highly valuable targets!
Tips to find old house sites for metal detecting
If you want to metal detect at old house sites, the first step would be to do extensive research on the internet!
There are many websites that can help you with this. For example, the Gaia GPS website is a great tool to research where old home sites and structures are located (hopefully close to your area) …
You can get a current satellite view as well as historical views!
Another website is Historic Aerials, and this also provides you with great maps of the areas to point out where the old home sites are located …
Many detectorists are also using Google Earth for finding old home sites. Old aerial photos are by far one of the best ways to search for old home sites.
Of course, searching through old maps at the library is always the easiest way to find locations of old house sites.
Researching through old newspapers, archives for real estate, land records, birth and obituaries for addresses that no longer exist, and finding out if any of the properties are still owned by local people. These are some of the tips you can keep in mind when searching for old house sites.
If you are outside and you come across a place with a lot of bricks and nails, it is a pretty good indicator that it used to be an old house site.
Plants that appear to be out of place are also a good clue. Certain plants like daffodils, roses, etc., will keep on growing near these old home sites even when they are no longer tended to.
Working around rivers or creek beds is another great idea. Remember that people would naturally flock towards a water source in the olden days and build their houses nearby.
This is why it's a good idea to explore the places near any water body. While searching in large wooded areas, try to imagine that you are living in the 1700s or 1800s.
Now think about any potential places where you would consider building a house that would have a nice level area, access to water, and also an easy way in and out.
Metal Detector recommendation for Old house sites …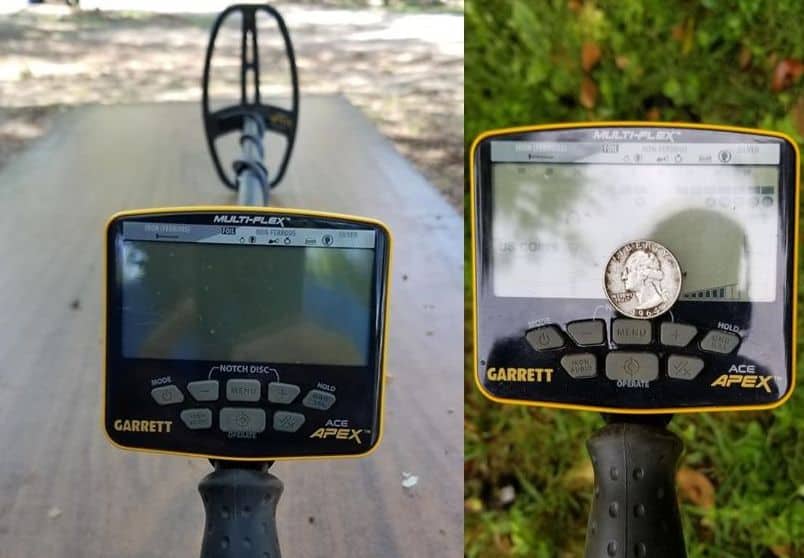 Since its launch in July 2020, the Garrett ACE Apex (Check it Here on Amazon), with its wide range of advanced features and frequency options have caught the fancy of veteran treasure hunters and drawn various positive reactions from users.
The ACE Apex is a multi-frequency detector weighing just 1.13 kg (2.5 pounds), that also boasts of a hybrid audio system, a rechargeable lithium-ion battery, and a high-resolution ground balance that makes it easier than ever to identify various valuable targets.
This is why it is one of the best and most affordable detectors to use for finding house sites.
The Garrett ACE Apex metal detector comes with four single frequencies of:
5 kHz
10 kHz
15 kHz
20 kHz
It also has two multi-frequency options – one standard and one that is geared specifically for saltwater beaches.
In the international and United States coin search modes of the detector, you can easily take this detector with you anywhere in the world to detect without any issue.
States & Countries known by old houses!
Some of the oldest houses in the US can be found in Pennsylvania, Massachusetts, and the areas around New York.
In Pennsylvania, the city of Pottsville is known to have houses that were built nearly 70 years ago. In fact, as per data from the US Census Bureau's American Community Survey, a typical home in Pottsville dates all the way back to 1941.
In Massachusetts, Boston is the city that has the oldest median age of houses. Settled in the year 1630 by Puritan settlers from England, Boston has always played a significant role in American history.
Today, Boston is one of the cities that has some of the oldest houses in the country. So if you want to metal detect at old house sites, and are willing to travel, then head over to Boston to have a great time searching through years of history.
The median age of houses in Boston is 110 years, while the median year built for homes is 1910.
On the way to New York, Newark is another prominent city with a deep historical footprint. The city's history goes back to the influential Portuguese community and a fascinating past that had a combination of Tudor, Victorian, Mediterann3ewan, and Romanesque houses.
The median age of houses in Newark is 98 years, with the median year for construction of houses being 1922.
When it comes to countries with the oldest house sites, Ireland, the UK, Iran, India, Vietnam, Turkey, France, Spain, Greece, China, and Peru find prominent mention.
Some of the house sites in these places date all the way back to 3500 BC, while there are some sites in Turkey that were first built in 7500 BC or even older.
Common finds in and around old house sites
You could find a wide variety of items when you are out metal detecting at old house sites, including unique coins, antique objects, gold, and more if you are lucky.
Some of the finds that people commonly locate with a metal detector at such sites include:
Coins
Jewelry
Pocket knives
Bottle caps
Lighters
Belt buckles and buttons
Glass bottles – as unlikely it seems, but antique glass bottles are also found with metal detectors.
Heirlooms, toys, and home decor – family heirlooms, home decor items such as ornaments, picture frames, tableware, mirrors, and precious metal toys are also found frequently.
Some have found very antique coins, rare collectible items, and even objects of historic importance while metal detecting at house sites, though this is a rare occurrence.
Do you need a permit/permission to search old houses?
There are some types of private properties that do not need you to take prior permission …
However, you must found out from the local authorities whether that particular old house is registered as a historical site, is built on tribal land, or is listed as part of an archaeology site
A bit of research will be needed here. There are no specific laws that govern metal detecting at old house sites except for property trespass laws. So if you can find out the owner of the old house, it is better to seek permission beforehand.
Final Thoughts …
The goal of this article is to encourage you to try new places other than the traditional ones like beaches. Those kinds of places are the ones that can really yield the best possible finds …
Otherwise if you stay limited to what almost everybody else's doing, then you shouldn't expect really much different results from what you are used to find.