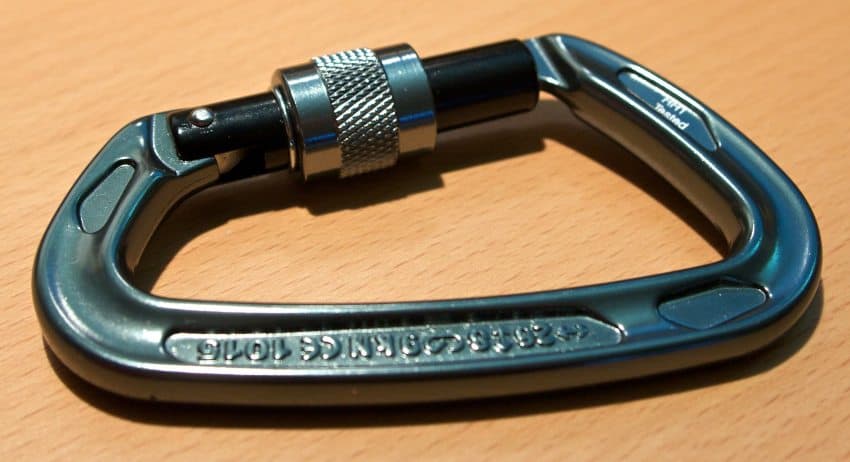 One of the things I like about Magnet Fishing as a hobby is the fact that it doesn't require a lot of gear! And even the little equipment it requires is very affordable it terms of price …
… In this Post, I breakdown couple of magnet fishing carabiners that you should consider to make sure you will be able to catch your targets efficiently using your magnet.
1. Mad Rock Super Tech Screw gate Locking Carabiner
This carabiner (Check it Here on Amazon) is a good choice to put the magnet and rope together for a more extended period. The durable construction and 19mm gate clearance make it ideal to use for this hobby.
It is lightweight and comes with D-shaped construction to last longer. Also, it is made using the aircraft grade 7075-T6 aluminum material.
Its screw gate will open up to 19 mm so that you can push the paracord into it. It is the gate clearance rate that is perfect for different types of ropes.
The key lock nose and smooth locking of the rope in the hook would make it a superior quality one to use for magnet fishing. No matter whatsoever may be the weight of the treasure; it can withstand.
It is lightweight yet stronger compared to the other models! It can hold the weight of up to 24 KN. The lock mechanism will prevent the load from slipping and falling down. The silver gate and black body will make it look stylish.
2. Rallt Aluminum Wire Gate Carabiner
This model (Check it Here on Amazon) is available at an affordable price. It is sturdy, lightweight, durable, and reliable …
… In addition to magnet fishing, you can still use it for multiple purposes, such as hammocks, camping, hiking, and backpacking. It helps you to get the job done efficiently.
It rigidly holds the rope and the magnet. You can pull as much weight as you can without taking a toll on the carabiner.
The two wired carabiner would hold the weight up to 2248 pounds. These are made using superior quality aluminum material and are coated with a matte finish.
It is free from corrosion and rust. The gates of the carabiner are made with the help of 304-grade stainless steel material.
3. Gold Lion Gear Carabiner Clip Set
This model (Check it Here on Amazon) is made using the superior quality steel alloy that makes it highly sturdy and durable …
… Though the fact it is made using the steel material, it is lightweight and not prone to rust and corrosion.
It allows you to lift the weight of up to 4000 lbs. It is perfect to be used for all kinds of outdoor activities.
The tactical locking system allows you to clip and loose when required using a single hand. The smart locking system offers additional security and never let the rope to go out of the hook. It keeps the gears secured.
It can be used in a wide range of applications such as hammock straps, fishing, camping, hiking, and so on.
4. Outmate Aluminum D-Ring Locking Carabiner
This Carabiner (Check it Here on Amazon) comes with the locking mechanism, which makes it a perfect choice for this hobby!
It won't let your efforts go waste as it holds the rope and magnet tightly. The aluminum D-ring is made using aero-grade aluminum alloy.
It is lightweight, durable, and is resistant to corrosion and abrasion. All the sets of rings that you get with the carabiner would be in D-shape, which is ideal for carrying our magnet fishing.
Its design is quite simple but it comes with a pretty impressive polish finishing.
The carabiner is 78 mm in length, 40 mm in width, and 7mm in diameter. It is easy to attach to the loops, backpacks, and cords.
5. STURME Carabiner Clip Aluminum D-Ring
This is another decent multiple purposes carabiner (Check it Here on Amazon) that you can utilize for most of your outdoor activities including magnet fishing, hiking, camping as well as others.
It can lasts for a long time due to the quality materiel it is made out from. Indeed, you can happily attach this to the tent rope, backpack, or sports bottles to avoid losing them.
The carabiner is stiff and lightweight. It is made using an aluminum alloy that it is free from rust and damages.
The locking mechanism will keep the gears highly safe. It is elegantly strong and comes with a design that I personally like!
Final Thoughts
Here you have it, hope these couple of models were as good as you were expecting! Just make sure you pick something that is solid enough that you can use for several purposes …
… Finally, for more equipment, don't forget to have a look at this magnet fishing gear list. There are many things to discover!