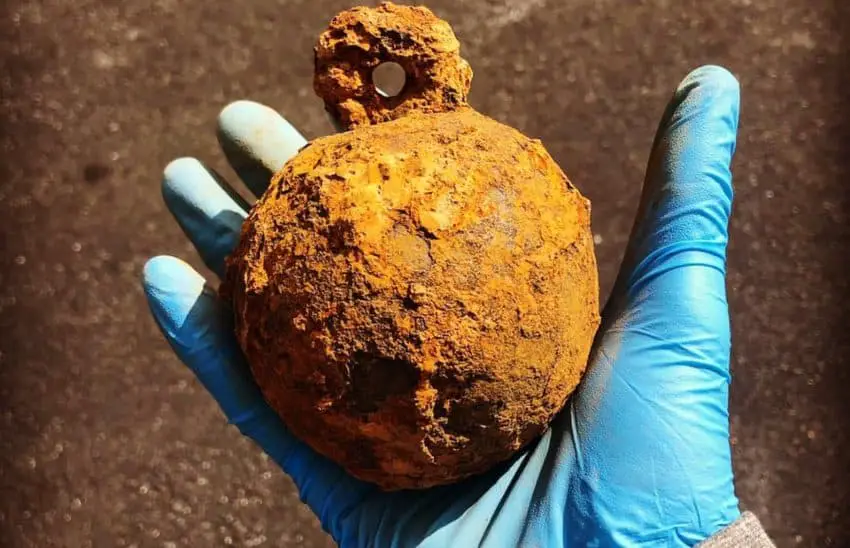 I can't emphasize enough how important gloves are while magnet fishing! Indeed, most objects you are going to pick up are full of mud and debris …
… So, you will need quality gloves to remove that and keep your hands clean and safe!
The gloves will also protect your hands from rope burns, murky water, and metal waste.
In this short Post I share with you 5 Best Magnet Fishing Gloves …
1. Thermo Plus Safety Gloves
If you are looking for durable and sturdy gloves, then these Gloves (Check them Here on Amazon) are a great option!
It gives a good grip even when you are holding wet or dry objects. It is reliable while holding the rope rigidly and clean the debris stick to the coins, relics, or artifacts attached to the magnet.
It offers a good flexibility, ability, and ample comfort.
As far as I've checked, these gloves have no harmful substances, so you can afford wearing them long enough.
Finally, they offer excellent wet and dry grip. Thus you can wear them for a long time without feeling any suffocation for hands.
Good to mention, that if you are magnet fishing in cold weather, this pair should keep your hands warm!
2. Magreel Fishing Gloves
These good looking gloves (Check them Here on Amazon) are made using the polyester fabric teamed up with the plush pad. You can use the gloves in different weather conditions. It is windproof and water repellant.
The three cut design allows you to expose two fingers and a thumb outside to access the phones and other things.
It is pretty functional and easy to maintain.
This pair will keep your hands warm in the cold weather wearing these gloves and comfortably carry out metal fishing.
With the hook and loop fasteners, you can adjust the wrist's circumference at your convenience.
You can quickly pull off the gloves with the help of the tab designed for middle and ring fingers. Also, you can wash it with the hand.
Regardless of the wear and tear, this pair is really durable!
3. Goture Outdoor Gloves with Cover
These gloves (Check them Here on Amazon) are primarily designed for outdoor activities like hiking, yet you can use them just fine for metal fishing especially during winter, autumn, and spring.
The best part of the gloves is that it allows you to remove the forefinger and thumb out without completely removing the gloves to use your phone or maneuver small objects.
Basically, they are made using the neoprene fabric that is sturdy and durable. It also keeps your hands dry and warm.
The material with which the palm of the gloves of artificial leather. It helps you to pull the metal objects and hold them without slipping from the hands.
The inside material will keep your hands warm during biting cold season. It protects the hands while hunting for metals in the sea, lake, or river.
4. Stormr Strykr Neoprene Glove
This pair (Check it Here on Amazon) was basically designed for ice fishing under extreme circumstances! Yet, you can still use it for metal fishing in similar conditions …
… It is made using neoprene material that is resistant to water.
However, to improve the gloves' longevity, you must not submerge the gloves in the water. It is resistant to rip.
The stress points on the fingers, i.e., the index finger and the thumb are made of flexible material to offer high durability and protection.
Though your metal fishing trips are longer, the gloves remain sturdy and will not wear out. It offers high flexibility by providing you with wrist closure.
The gloves will provide finger mobility. The material is non-porous and resistant to all weather conditions. It gives an excellent grip to hold the rope after wearing gloves.
5. KastKing Mist Fishing Gloves
These gloves (Check them Here on Amazon) are anti-slippery, so there is less chance of you losing control of the rope!
You can use your Smartphone without even pulling off the gloves …
… It is made using the fleece-lined back and neoprene that wicks moisture from the hands and never makes you feel suffocated.
The fitting slots in two fingers along the thumb allow you to expose only the tips in cold weather conditions.
The hook and loop material enables you to open the tips of two fingers and a thumb to change the hook or check the Smartphone without pulling off the gloves completely.
There is a unique material with which the fingertips are made. It allows you to touch the screen without exposing your fingers to dust or grime. It is perfect for metal fishing, hunting, regular fishing, and so on.
The gloves are perfect for keeping your hand warm in the cold conditions. There is extra gripping offered by the gloves in all weather conditions. Despite extreme wear and tear, it lasts longer.
Conclusion
These were my selection of gloves, hope that one of those will resonate with you!
Finally, I highly recommend you have a look at this Magnet Fishing Gear List … You will get to know the full required tools and accessories for this wonderful hobby!