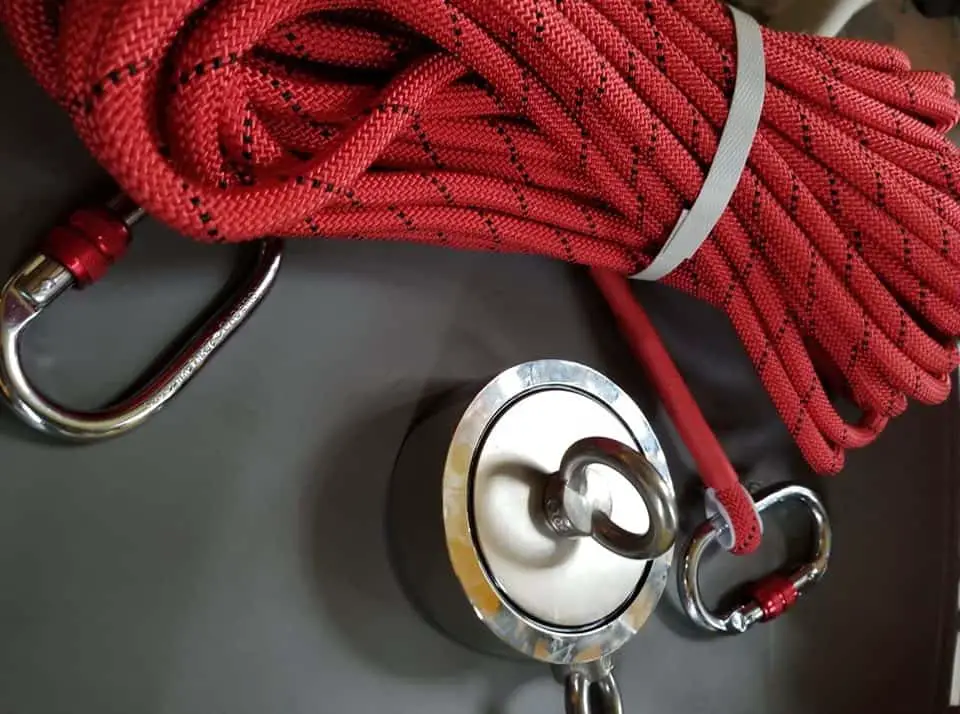 Magnet fishing is one of the few outdoor hobbies that does not require a lot of equipment! And even the little equipment it requires is really very cheap …
… One of those is a durable & strong rope to hook your magnet to your target!
This might not seem to be very important, however, using a cheap and/or a bad quality paracord is definitely a bad idea. Otherwise, you are going through the risk of losing your beloved magnet deep underwater if the rope/paracord breaks.
Below, I recommend 5 magnet fishing ropes to help you in your journey!
1. OUTDOOR Rope Planet Mil-Spec 550lb
This model (Check it Here on Amazon) is made out of Nylon, very durable and really affordable!
It can last for a long time despite extreme wear and tear! Also, it can hold the weight up to 550 lb.
The best part is that it is exclusively designed for metal fishing!
The type III commercial grade one is durable, tough, and last for a more extended period. The cord is also made with nylon and has seven strand cores that offer the highest strength.
Good to mention that this model is available in a wide range of lengths and colors.
It can hold the knots well. When the rope is stuck in the debris, the elasticity will help you learn whether or not you have discovered something under the water.
2. TOUGH-GRID 550lb
This paracord (Check it Here on Amazon) is 100% pure nylon made and it is perfectly adapted for magnet fishing.
It is strong, durable, lightweight and available in different lengths!
In addition to this hobby, you can pretty much use it for outdoor activity that requires using a rope.
It is strong enough (550 lbs) that it will allow you to tie it to the hammock, hang a bear bag, do farm work, or replace the boot laces.
You can use this cord for tying down. It is a military-grade model that can really help you pull valuable targets of massive weight from the water.
When you get a bag or tube, you can carry it in the backpack, and the 500 to 1000 spool is perfect for survival.
It has triple strands and is made using double-strand construction. The tough grid paracord will let you and your family leaves with peace when you take it outdoors for hiking and camping.
3. PARACORD PLANET 550 lb
This model (Check it Here on Amazon) will certainly help you picking up more finds using your magnet!
The tensile strength of the paracord is 750 pounds (from what I've heard, it could be a lower than that) and is used for various purposes. Some manufacturers use this cord to manufacture parachutes due to its strength.
The good design of this rope would keep the flatness and compression at bay. The best part of this cord is that it is resistant to mildew, abrasion, UV rays and sunlight, which could otherwise take a toll on the integrity of the rope.
It is available in different lengths. Based on the depth of hunting, you can buy the length of the rope that ranges from 10 to 1000 spools. However, for magnet fishing you will need the rope of 50 to 100 spools.
The rope can resist all kinds of rots and will last for a more extended period compared to the ropes made of other fibers. The more durable rope would make it perfect for magnet fishing.
The military-grade design would never let the rope to snap. 11 interior strands are used to improve the strength of the paracord. It is cost-effective and lightweight.
4. WUKONG Rock Climbing Rope & Carabiner for metal fishing
This model (Check it Here on Amazon) will be best suited for you if you are looking for targets really deep inside the water.
It is made using nylon and polyester material that protects the rope from mildew, fading, rot, and tear.
The exterior of the rope is made using the breaking functionality. It is simple to stop the rope when you are using it other than for magnet fishing.
You will get a 20 meters rope that is of high tensile strength. It can hold 550 pounds of weight without getting damaged or breakage.
The diameter of the rope is six millimeters that it can hold the rope robustly and make it stay stronger for a more extended period despite getting exposed to extreme weather and when it gets snapped on the rocks.
You can use it for other purposes such as hiking, climbing, or to tie the boat to take it to the dock when it under repair.
The carabiner is more robust and can hold a lot of weight. It is a perfect rope to be used by the beginner or professional metal fishing hunters. It can also be used by the kids safely for metal fishing.
5. HomTop Magnet Fishing Rope with Carabiner
This rope (Check it Here on Amazon) has a tensile strength of around 500 kilograms. It will help you to pull out the metal objects that are heavier with ease.
However, you cannot use this type of rope for climbing or other purposes. It is best made for metal fishing with right length.
You can use the rope for hunting for treasure up to 20 meters. The diameter of the rope ranges from 6 to 8 millimeters. The extra width offered by this rope allows you to pull the goods from the lake or pond with ease.
The anti-fray design of the rope will avoid the water from damaging your rope. It protects the magnets from getting snapped off while using.
The rope will pull the items that are stick to the magnet. Besides this, it won't let the magnet to get lost in the deep of the lake. Though you go for fishing in the hot weather, the rope remains stronger and will not get worn out.
Conclusion
Hope these models have given you an idea on what you need to pick when it comes to paracords …
… The most important thing for me is to pick whatever you think is good for you, then start you journey!
Starting is the most important, then after that you can start being fancy about it.