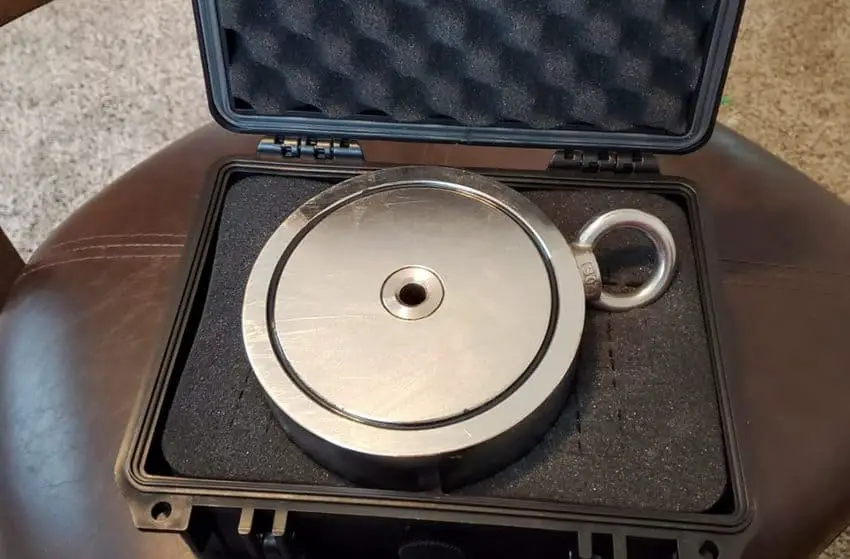 Fishing magnets are all about strengths! In other words, the stronger they the better chances you will have to pick up  more and potentially highly valuable finds …
… In this post, I will breakdown 9 Strongest Fishing Magnets that will help you come up with really good finds!
1. BIGTEDDY Super Strong Fishing Magnet
This magnet (Check it Here on Amazon) is really durable and quite easy to use. It comes with a shiny surface and it also has rust resistant capabilities.
It is available with a diameter of 2.36 inches and it offers strong pull force. The fishing magnet can hold up to 250 lbs of weight and it can easily pull this weight under an ideal condition.
When it comes to the price, this model is pretty affordable as compared to other fishing magnets available in the market.
| | |
| --- | --- |
| Pros | Cons |
| Compact Size | Slightly lower power lifting |
| Adapted for lakes and rivers | |
| Lightweight | |
2. 575 Pulling Force Magnet
This is one of the strongest magnets (Check it Here on Amazon) that comes up with a pulling force of 575 lbs. It is made up of three elements called neodymium, boron, and iron.
It also has a countersunk hole that can be used with bolts, hooks, and screws.
The magnet is coated with a steel cup. Thus, it won't get affected by rust.
The magnet has a lightweight feel. Thus all kinds of fishermen can use the magnet with maximum ease.
| | |
| --- | --- |
| Pros | Cons |
| Easy to handle | Nothing really |
| Can lift heavyweight quite easily | |
| Lightweight | |
3. Brute Magnetics Fishing magnet
This magnet (Check it Here on Amazon) comes with a high lifting power of 889 lbs. Suitable for different purposes like for fishing, lifting, and hanging heavy weight items.
The coated steel cup on the magnet prevents all kinds of chipping and cracking of the magnet.
Brute uses only the best quality materials in manufacturing of all kinds of fishing magnets. This model is also known by its longevity.
The magnet by Brute Magnetics can be used not only for fishing but also to clean up water in the rivers and to get rid of metals thrown into water bodies.
| | |
| --- | --- |
| Pros | Cons |
| Countersunk to avoid any hassles in use | Newbies could find it a bit complicated to use |
| Very high lifting power | |
4. DIYMAG Super Strong Neodymium Magnet
This fishing magnet (Check it Here on Amazon) uses a strong Neodymium magnet as its base material …
… Although different other magnets can be found in the market with similar magnetic properties, the best coating on the fishing magnet offers longevity and better usefulness.
The magnet can be used on multipurpose … Thus, it can be used for lifting, hanging, and also as a screw.
| | |
| --- | --- |
| Pros | Cons |
| Available with protective cap, that holds magnetism for lifetime | More adapted for pros |
| Good Price | |
5. Mutuactor Super Powerful Magnet
This model (Check it Here on Amazon) by Mutuactor is made up of the best quality N42 Neodymium magnet and stainless steel.
It holds all magnetism in the bottom of the magnet and thus, it increases and improves the magnetic property of the product.
The steel cup included in the fishing magnet prevents all kinds of cracking and chipping.
| | |
| --- | --- |
| Pros | Cons |
| Made from quality material | Screw could get in the way when extra pressue applied |
| Steel cop for added protection | |
6. Wukong double sides magnet
This double sided magnet (Check it Here on Amazon) by Wukong comes up with a powerful pull capacity of more than 660 lbs.
Since this one is double sided it provides more surface area for catching targets. Product comes up with shiny and protective coating that can provide rust resistance and thus, it prevents chipping and cracking in all conditions.
The company also offers return and refund policies for its customers. Thus, you will always be in a win-win situation when thinking about purchasing a fishing magnet from Wukong.
| | |
| --- | --- |
| Pros | Cons |
| Can easily pull up heavy weight items | Could be dangerous for kids |
| Focused magnetic bottom | |
| Removable eye bolt for easy use | |
7. DAKIN 440 lbs Pull Force Fishing Magnet
This magnet (Check it Here on Amazon) by DAKIN is one of the strongest and powerful magnets available.
It is covered with especially designed materials and coverings to prevent all kinds of rusts and corrosion.
The magnet can not only be used for fishing purposes, it can also be used for other tasks like pulling metal waste from underwater.
The product also comes up with a strong nylon rope. Thus, you get two items at a single price.
| | |
| --- | --- |
| Pros | Cons |
| Made from nest quality material | Could love some of its magnetism capabilities over time |
| High levels of magnetism for best fishing experience | |
| Satisfaction levels are quite high | |
8. Master magnetics Powerful magnet
Although this magnet (Check it Here on Amazon) does not come up with the best pulling capability, it can be used for a variety of purposes.
It offers a string magnetism, and thus, you can use it for fishing as well as other purposes.
It is very easy to carry as it is small in size. Thus, you can easily carry it in your pocket when you are thinking about going fishing.
| | |
| --- | --- |
| Pros | Cons |
| Strong magnetism | Couldn't be used in high temperatures exceeding 180 degree fahrenheit |
| Multipurpose use | |
| Easy to carry | |
9. Kingkong Magnetics Fishing Magnet
I personally like this model (Check it Here on Amazon), it has a beautiful  and aggressive design! It offers a strong magnetic pull that will help you come up with even better and more targets …
… The product is made up of best quality Neodymium thus; it won't lose its magnetism even over many years of usage.
The magnet is also plated with steel and which offers more longevity and less maintenance. Even after using it for years, you won't find any kind of corrosion or rust on the fishing magnet.
| | |
| --- | --- |
| Pros | Cons |
| Very Strong | The assembling of parts could be a bit challenging |
| Coating of steel to prevent rust and corrosion | |
| Multipurpose use | |
Conclusion
Really hope that these magnets were strong enough for your liking! However, to be able to use these kinds of magnets, you need to have some good skills and throwing techniques …
… Have a look at these magnet fishing tips to learn more!
Thank you and have a nice day.