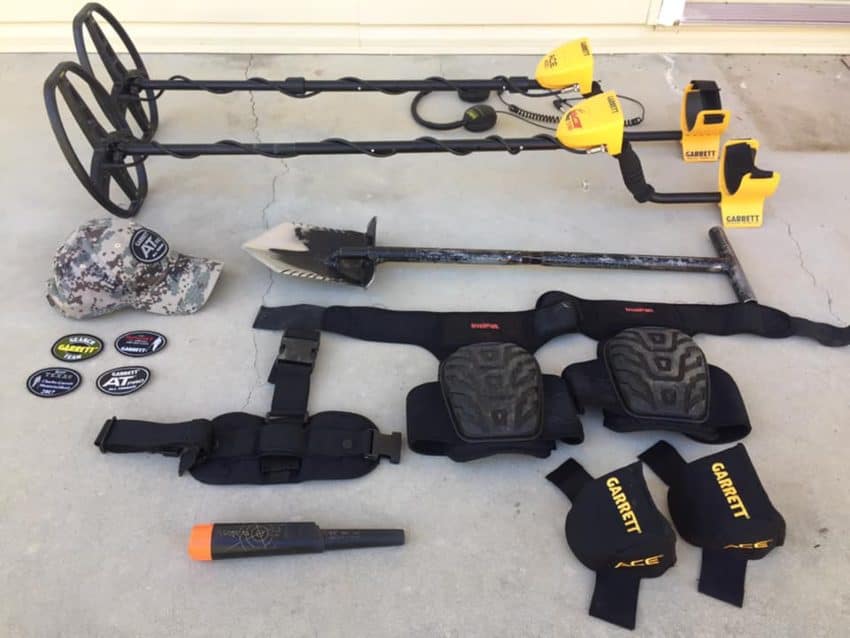 Garrett Electronics for Metal detecting is pretty much like AT&T for Telecommunication! They are simply the historical manufacturer of Metal Detectors and they are the ones who have put this activity on the map …
… That's why, I've thought that I really should put together this Post where I list the Best Garrett Metal Detectors out there!
This will give you a comprehensive and useful idea on what this Company brings to the table.
Let's dive in!
6. Garrett ACE 300 (All purpose)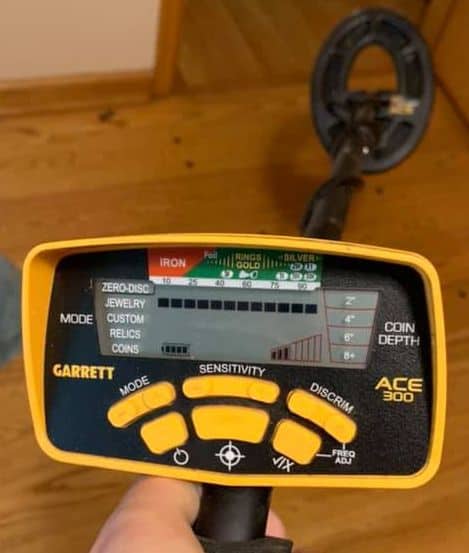 The Garrett ACE 300 (Check it Here on Amazon) is a VLF single frequency entry level detector that is good in terms of quality.
This detector is more geared towards those who are entering the hobby as beginners, but this does not mean that it is not designed for seasoned users.
The machine is sturdy, easy to assemble and intuitive. It brings several useful features such as a continuous depth indicator, one-touch treasure hunting, five search modes, and pinpoint targeting.
The pinpoint feature works best when you are using the detector in gravel or sand.
The modes you can choose from include:
All metal
Coins
Jewelry
Relic
Custom
The custom search mode allows you to enter your own search parameters, yet you should not use it at first until you get familiar with the already existing modes.
It comes with a PROformance DD 8.5 inch x 11-inch search coil. The latter operate quite well in most ground types.
The iron resolution feature will help you distinguish iron targets! Indeed, it has an extensive iron range and is able to identify different types of iron. This ensures more accuracy while searching for coins and jewelry.
5. Garrett ACE 400 (Great for Coins and Relics)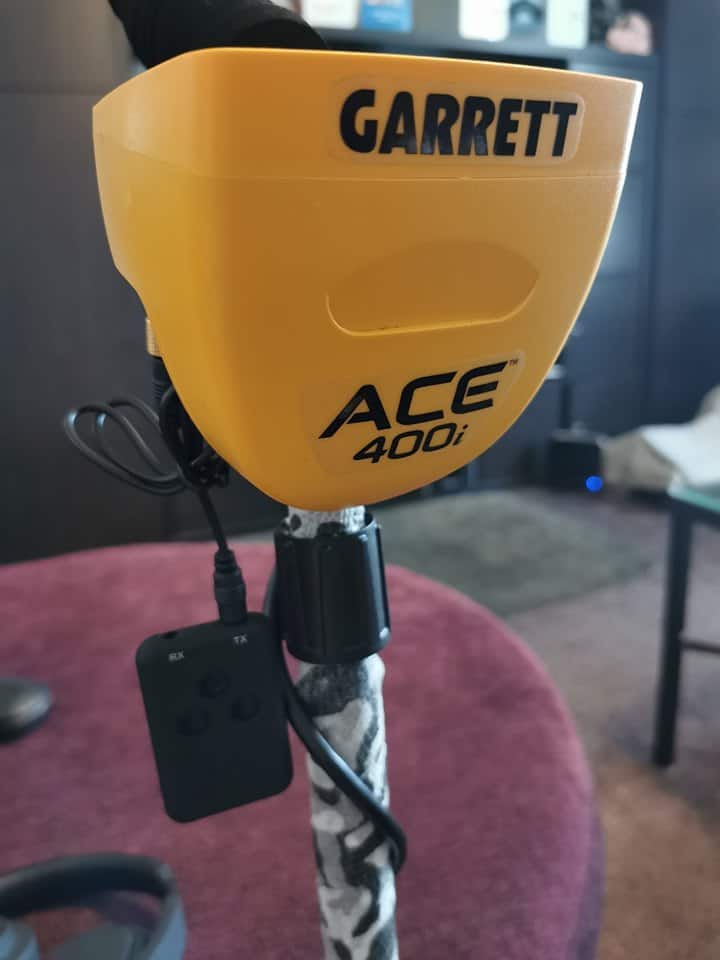 The Garrett ACE 400 (Check it Here on Amazon) comes loaded with a wide range of features such as iron audio, digital target ID, notch discrimination, lightweight design, and many others.
It is definitely the best machine in the Garrett ACE Series!
This model is well-balanced, has a comfortable armrest, and also comes with movable construction units.
Like the ACE 300, the 400 comes with a Double D 8.5 inches x 11 inches PROformance coil and a zero-disk mode to make it stand out from most models in this price range.
The operating frequency is about 10 kHz (Good to pick small targets like earings). It is powered by four AA batteries and has a search time of around 25 hours, depending on what settings you are using.
Finally, the search modes include these:
Zero-Disc: This mode is not a pure all-metal search mode, but it serves a quite similar purpose. Indeed, it allows you to search for every type of metal with zero discrimination.
Jewelry mode: This search mode helps separate a majority of iron trash while honing in on items such as necklaces, bracelets, and rings.
Coins: This mode will eliminate trash items such as pull-tabs, foil, and other junk items to help you search for coins only. However, this mode may end up missing medium-sized jewelry.
Relics: This mode will eliminate any smaller iron items while zeroing in on potentially lower conductivity targets. These typically include items made from

lead

, brass, and bronze (Learn about detecting bronze).
Custom mode: Allow you to enter your own notch discrimination settings. Once you select the custom mode, you can easily use the Accept/Reject discrimination buttons to help you eliminate junk metals. You don't need to enter these settings again and again. The custom settings get saved on their own when you switch off the machine.
4. Garrett AT Pro (Great for Coins, Silver and Underwater Detection)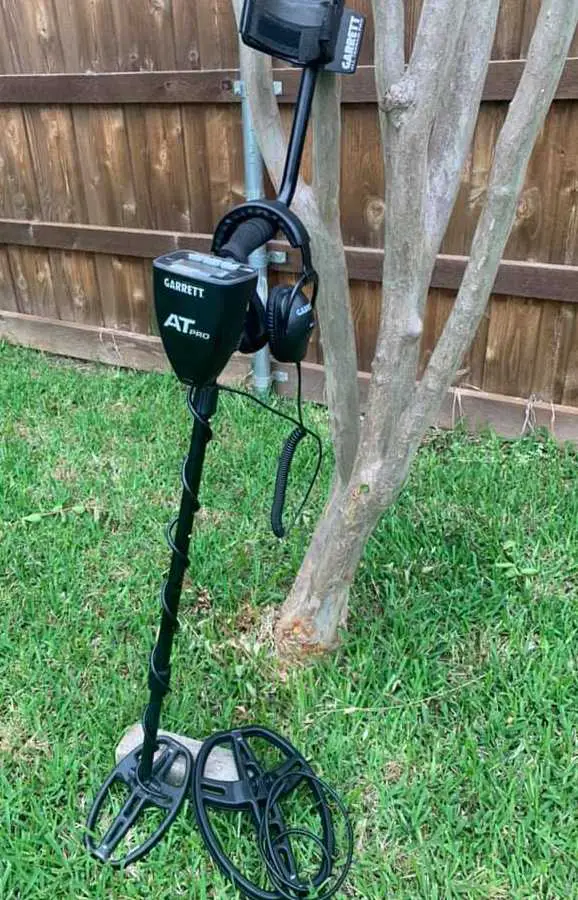 The Garrett AT Pro (Check it Here on Amazon) is a fully waterproof model that comes loaded with many high-level features.
This model is very popular and could be used, literally, across all terrains!
Some of the features of the Garrett AT Pro include:
Notch discrimination
Iron audio
Manual and automatic ground balance
Numerical target ID
Separate pinpointing mode
It is an ideal machine to hunt for coins, jewelry, and relics, and can also make a decent attempt at finding gold coins and nuggets due to the 15 kHz frequency and ground balance settings.
The Garrett AT Pro comes with an 8.5 inches x 11 inches DD PROformance coils which provide excellent target separation and depth for any stock coil.
It weighs about 3.03 pounds, and is fully waterproof and submersible up to a depth of 10 feet. You can use it for detecting in shallow waters such as rivers, lakes, creeks, and even the sea.
Its high frequency (15 kHz) allows detecting smaller targets and provides excellent target separation.
Some of the other features include:
Separate built-in pinpointing mode for more accurate target location.
8 sensitivity segments. This will help you adjust the depth and the size of the target you might be looking for. A higher sensitivity means you can pick even smaller targets.
Coin depth indicator on the right-hand side of the LCD display. It ranges from 2 inches to 10 inches and helps you know just how deep you need to dig to get to the coin.
Good to know that many professional detecorists use this Machine! Beginners could also use it as it is still simple to use.
3. Garrett AT Max (An enhanced version of the AT Pro)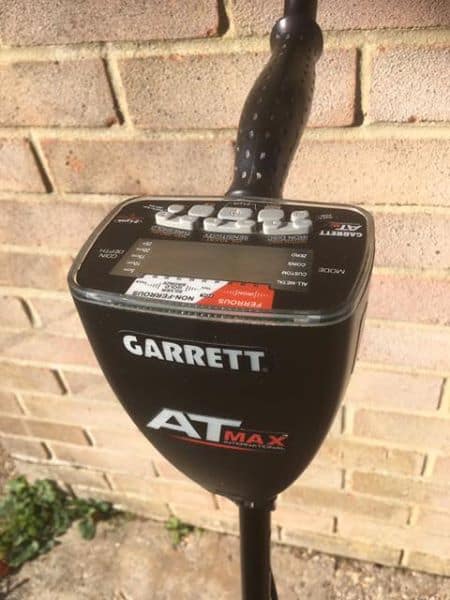 The professional all-terrain Garrett AT Max (Check it Here on Amazon) is another high-quality offering from the house of Garrett.
This is a VLF model that contains all the AT Pro features, and then several newly added features set the AT Max apart.
Some of the features of the AT Max include:
Z-lynk wireless audio
True all-metal mode
Improved electronics to allow for greater depth
Backlight
Digital target ID (Look bigger than the AT Pro)
Both manual and automatic ground balance
Simple to use
Lightweight and weighs only 3.03 pounds
Powered by four AA batteries
Built-in pinpointing mode
It is genuinely an All-Terrain detector and is designed for serious treasure hunters.
Comes with Garrett's 8.5 inches x 11 inches PROformance DD search coil. The search coil not only provides great depth, but also excellent target separation.
Ideal for detecting relics, coins, and jewelry, but it cannot be used to identify gold.
Operating frequency of 13.6 kHz
Fully waterproof and submersible up to 10 feet of water
2. Garrett AT Gold (Great for raw Gold and Proceeded Gold)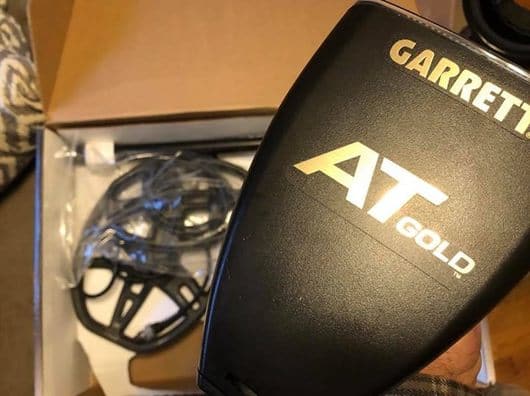 The Garrett AT Gold (Check it Here on Amazon) is a great asset if you are focusing mainly on Gold!
It is also considered an all-terrain detector with an operating frequency of 18 kHz.
This machine has a digital target ID, manual and automatic ground balance, iron audio, and a separate built-in pinpoint mode.
You might need to watch a tutorial to use it and setup it properly, but the detector has real high-quality discrimination capabilities to minimize the trash signals.
Some of the features of this detector include:
All metal iron audio – This feature alerts you to the presence of all types of metals under the ground, but iron has a noticeably different sound so you will be able to tell it apart.
The graphic target analysis feature displays an overlay of the signal the detector receives from the target on top of the discrimination settings.
Ground balance – both manual and automatic ground balance helps you set a window for ground balance. This adjustable feature allows you to set a specific range instead of just a fixed value to take into account poor ground conditions or salt that is rich in salt.
The AT Gold comes with 44 levels of iron discrimination.
An adjustable audio threshold helps you get strong hits and cuts out the background sound. The AT Gold comes with the selectable threshold for audio alerts, allowing you only to hear the targets you are interested in.
Electronic pinpointer – after you find a potential target, this pinpointing feature helps you hone in on the exact location of the target.
Standard Double D PROformance coil from Garrett, which is known to successfully find many targets.
If you are specifically searching for gold, then this detector is great option.
1. Garrett ATX (Great for Treasure Hunting and Gold Prospecting)

The Garrett ATX (Check it Here on Amazon) is a High-end metal detector aimed at professionals!
Since it comes with a steep price point, it is best to only consider this model if you are intending to hunt for treasure at a professional level.
This is a pulse induction detector that comes with an 11-inch x 13 inch DD search coil. It has a superior ground balance system, 13 sensitivity settings, 25 discrimination modes, a fully collapsible shaft, and it is fully waterproof.
It comes with a military-grade hard case to allow you to search even in extreme conditions and locations.
The enhanced sensitivity of the detector allows you to accurately pinpoint the location of even the tiniest gold nugget.
Here are some of the features of this machine:
Mono deepseeker search coil that is 20 inches wide
Comes with its own travel case
Topped with a hard case that is manufactured as per military-grade standards
Powered by rechargeable AA alkaline batteries
Can be submerged fully up to a depth of 10 feet or 3 meters
Ideal for all-terrain use, even in extreme conditions
Comes with both non-motion and motion modes
Has 25 discrimination modes and 13 sensitivity settings
Since it is a PI detector, there are no separate search modes. But it has 25 discrimination settings, and there are two detection modes – motion and non-motion which allow you to search for nearly all metals.
As a treasure hunter, the ATX from Garrett is definitely a powerful tool!
Conclusion
Hope this article will give you a deep idea on the most notable Garrett Detectors in the market today! I've tried to include as much useful information as possible …
… So, if you want to make a purchase decision, you will know exactly the right model you should pick.
If you want to know more about other brands, I highly encourage you to check these Brands Producing Metal Detector! I include 9 different manufacturers; maybe some of them will resonate with you!