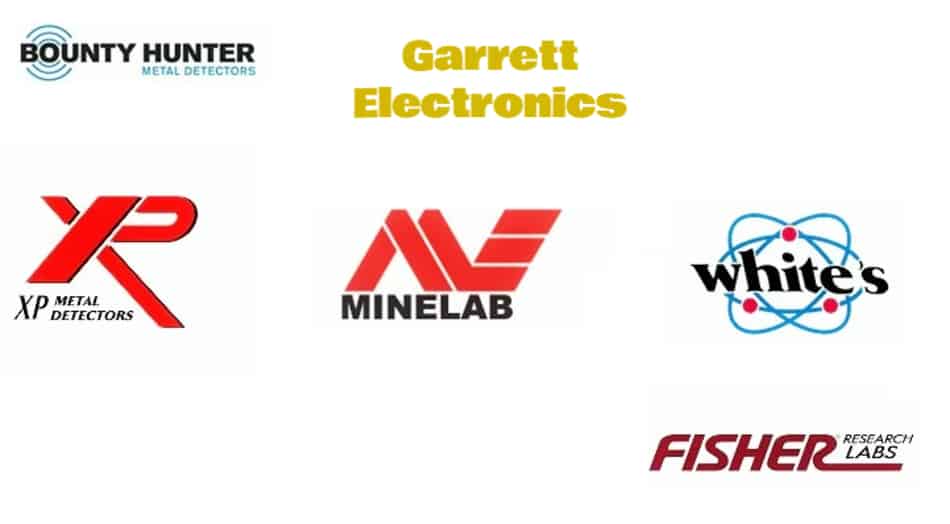 I've noticed before that many people are more aware of metal detector model (which is a good thing anyway) than the actual Brands making these machines! Actually, even those who have a decent experience in this hobby still can't tell you more than 3 or 4 Brands …
Better yet, they don't really know the Best ones that have the best credentials and control over the Market!
I believe that as a hobbyist it is important to know that kind of stuff. Thus you will always have the bigger picture of how the industry works and what machines you should choose depending on the reliability of the Brand …
In This Post, I am listing to you the Best 9 metal detector brands in the market today! Hopefully, you will learn some interesting and valuable info right here …
1. Garrett Electronics
Based in the United States, Garrett Electronics is one of the biggest manufacturers of detectors in the world!
The company began selling and marketing these machines since 1964 (very old!) and is known for having detectors that fit all price points! Right from the high-end professional devices, to the low-priced ones for beginners and children …
Garrett's products are popular all over the world, though it sells most of its equipment in the United States.
The company produces machines that can be used for all purposes! In fact, it is its specialty … Yet it still has specific ones if you want to hunt exclusively for gold or coins/relics or even for other metals like silver …
Most used models!
While it is generally hard to have a detector that will serve for all targets, yet when it comes to Garrett metal detectors, it can safely be said that the Garrett AT Pro (Check it Here on Amazon!) works properly for most purposes.
In fact, it has a water submersible coil, allowing you even detect in rivers or any pool of water. Most of these models also come with rainproof coils, though not many have a full water submersible coil!
It has a decent depth that goes to up to 10 feet. Plus, it is ideal for those who want to explore on the beach, rivers, lakes, and on normal grounds as well.
At the same time, the Garrett AT MAX (Check it Here on Amazon!) can be said to be one of the most powerful and most advanced model from the house of Garrett! It is not only one of the most versatile machine in the industry right now, but it is also an advanced all-terrain VLF detector…
… This means that once you buy this, there will be no real need for you to buy another one for any other purpose. This one itself will allow you to detect wherever you want …
… In addition, it has a new built-in Z-Lynk wireless technology which means that the circuitry is integrated and it simply transmits the audio straight to your wireless headphones.
2. Minelab
Headquartered in Illinois, United States, Minelab is one of the biggest designer and manufacturer of metal detection devices around the world! The company was founded in 1985 and since then has been advancing its technology to meet and exceed customer expectations…
… Its models can be used for consumer purposes, humanitarian demining purposes, and even in military applications!
The company offers specialized devices for finding coins, treasures, relics, and even has separate gold detectors and accessories. The company also makes other accessories such as coils, pinpointers, coil skidplates, batteries, shafts, shaft accessories, headphones and meters, and even bags and covers…
…Basically, you can find everything that you need regarding this hobby under one roof!
Minelab offers its products through a network of dealers worldwide and in the last 30 years, the company has introduced more models and more innovative technologies than any of the other competitor companies.
Worth mentioning that the physicist Bruce Candy is the brains behind the company's technology innovations!
Most famous models!
The Minelab Excalibur II 1000 is known to be of the best (if not the best) metal detectors from the company. It is known for its tremendous underwater performance…
… It has multi-frequency BBS technology which is housed in a rugged platform. This has made this model from Minelab one of the best and most advanced deep-diving underwater treasure detectors today.
When it comes to all-purpose devices, the Equinox 800 (Check it Right Here on Amazon!) is also another versatile and advanced one from Minelab. It is an ideal sniffer for finding gold and has a ton of helpful features…
… Worth mentioning that it has:
Superior Multi Period Sensing (MPS)
Dual Voltage Technology (DVT)
Smart Electronic Timing Alignment (SETA) technologies
All of which allow this one to penetrate mineralized ground better and detect at deeper depths as compared to other basic pulse induction devices.
3. Tesoro
Another famous manufacturer! Tesoro is located in Arizona, United States. The company was founded in 1980 by Jack Gifford and even today the company continues to be owned by the Gifford family…
… The vision of this family was to create a company that will provide tough, but lightweight detecting machines!
The one factor that sets apart Tesoro from its competitors is that its detectors are all covered by a lifetime warranty as far as it is still owned by the original owner! (I personally like that)
There are, nevertheless, some conditions that are not covered by the warranty, such as malfunctions caused by leaking batteries! But overall, this is one of the most generous policies amongst all manufacturers.
Some Solid models!
One of the best models for beginners is the Tesoro Silver UMax! Yet, most of the Tesoro models do not have display screens, and many detectorists find that a detector without a display screen is not really practical!
So you have to decide how important it is to have a display screen before you go ahead and invest in a Tesoro machine. The UMAX operates at a frequency of 10 kHz and also comes equipped with an 8-inch coil…
… It also has built-in mineral rejection and can be considered to be the ideal beginner's detector.
The Tesoro Lobo SuperTRAQ is touted to be the company's most powerful metal detector. Many detectorists swear by the machine and claim that the price is well worth it!
It is entirely about bare-bones appearance with this machine, but this unit has been known to outperform many others that look fancy. The SuperTRAQ is amazing for gold detecting as it operates as high as 17.5 kHz in frequency…
… It also has a 10-inch elliptical widescan coil that helps you cover more ground rapidly. It also offers computerized ground tracking and also has great discrimination, making it one of the best all-purpose detectors from Tesoro!
4. Hunter Industries
Located in Texas, Hunter Industries is known for manufacturing the Bounty Hunter detectors! The wide variety of its machines offer models that are ideal for beginners and also suits the seasoned detectorist.
All the devices from Bounty Hunter are easy to use as soon as you take them out of the box and also come with in-depth instruction manuals…
…The company also manufacturers many all-purpose onces that are capable of finding just about everything – from coins to rings, and relics, there is a detector for anything you want to find.
Most common models!
One of the bestselling models is the Bounty Hunter Quick Draw II (Check it Right Here on Amazon!). It comes with four operating modes and is able to find coins up to 8″ deep and it can find larger items up to 3″.
The machine uses both audio and visual signals to inform you when it has struck upon metal and with the use of the LCD display, you should quickly get to know whether it is anything worthwhile or if it's just trash.
The detector also has three levels of iron discrimination! So that you can easily separate out the rusty nails from the relics that you really want to find.
Apart from the Quick Draw II, the Bounty Hunter Quick Silver is also a decent one. This is more advanced than the other detectors available in the market and it is a good choice for a detectorist who already has some prior experience with this hobby.
The machine has four operating modes and it can find coins that are 8″ deep and larger items up to 3″ deep. This is one of the most lightweight detectors and you can easily change the operating modes with the push button control.
Worth mentioning that it also has a waterproof coil, allowing you to hunt within a few inches of water. However, the handle or the stem is not waterproof, so be careful that you don't use it in very deep water!
Another helpful feature is the automatic ground balancing! It cuts down the worry of having to change the settings for detecting in different types of soil.
5. Fisher
Also Based in Texas, Fisher Labs is another producing leader! It has been in this business for over 85 years…
…The company remains on developing advanced and cutting-edge technology when it comes to the features of their devices. Choosing a Fisher detector proves to be quite difficult since they have a lot of good quality ones available at very decent prices! In fact, they provide detectors for every budget.
A model you may want to use!
One of the best metal detectors from the house is the Fisher F75 (Check it Here on Amazon!). It is known for its wonderful ergonomics and being a lightweight that sits comfortably on your arm.
Another feature that makes this model stand out is the large numeric target identification. You do not need to squint to look at the screen as it features large numeric IDs that appear front and center on the screen.
There is also a double-filter discrimination mode as this feature makes it easy for hobbyists to hunt in junky areas such as parks and old garbage dumps.
The detector also has ground balancing feature, letting the machine do all the work for you. There is also a backlight on it, allowing you to continue detecting well into the night.
6. Whites Electronics
For the last 60 years, Whites Electronics has been manufacturing detecting equipment!
This is a family-owned company based in the US and its Products are known worldwide for their trustworthy and reliable performance. The company manufactures machines not just for recreation, but also for security and industrial purposes.
Established in 1950, the company has its manufacturing hub in Sweet Home, Oregon. There is also another facility in Scotland (BTW, you can learn more about using your metal detector in Scotland), which serves its customers in Asia and Europe.
Two Good White's models!
If you are a new hobbyists and still unsure about what features you want in your device, then the a good pick to begin your journey will be the White's Coinmaster
It doesn't really cost that much and still helps you find some pretty decent targets. Plus, it has all the basic features you need in a machine, including a five range discrimination.
It also allows you to either hear each and every target, or you can also choose just the types of signals you are interested in. The maximum depth of the machine is 8 inches.
Better yet, it is particularly good for finding gold rings or coins!
White's MX5 is also another powerful one from Whites Electronics. This is priced a little bit more priced than the previous one, yet it is much more durable and adapted for hard usage.
It's also pretty easy to use! As it has target ID numbers and also a backlit display that allows you to easily undertake late evening or early morning hunts.
This model is also ideal for beach exploration as it comes with a 9-inch waterproof coil. However, the MX5 is not submersible in water and you can only out the coil in water.
The MX5 also has a volume control, a great feature especially for those who don't like wearing headphones. Anyway, don't get me wrong, I still recommend using headphones …
Other Brands worth mentioning
7. Teknetics
Founded in 1983 in the US, Teknetics is known for producing some of the deepest detectors in the world!
The company's products are available throughout the world and they also have a good presence online.
The Teknetics T2 Classic (Check it Right Here on Amazon!!) is one of the more famous products from the company. What sets this model apart is that it is sold at an unbelievably low price considering that it is such a powerful device.
It also has a large LCD screen, expanded iron range, and it can also be used for basic gold prospecting.
It is popular amongst many detectorists and has proven to be successful in gold hunting.
8. XP Metal Detectors
Perhaps one of the only major manufacturers that is not based in the US!
XP MDs is known for having a wide range of equipment to fit almost every budget. Founded in 1998 in Toulouse, France, XP develops and manufactures high-performance products that are a rage amongst detectorists.
Their products bring together power, selectivity, and also ergonomics. XP introduces is one of those who has innovated completely wireless detectors.
As far as I know, the XP Deus (Check it Here on Amazon!) is the probably the best product from the company! It is a completely wireless model which has modular setup, the ability to change frequencies using a stock coil, and can be paired with XP pinpointer as well.
The model also has option high-frequency coils and you can set pretty high frequencies…
…This one is adapted for finding tiny relics and also for gold prospecting.
9. Nokta/MAKRO Detectors
Established in 2001, Nokta Detectors was founded in Istanbul, Turkey. Since being founded, Nokta has been producing high-quality, high-performance, and innovative equipment!
In 2014, the company acquired the company Makro Detectors!
One of the most popular models of the company is the Makro Racer (Check it Here on Amazon!). It has four search modes, including All Metal, Two Tone, Three Tone, and Beach.
It is an ideal all-purpose device and is best used for challenging terrains. The model also has an optional Bluetooth headphone you can buy. Its depth is really good and can help you to find coins, jewelry, and relics pretty easily.
Conclusion
I am a little bit tired of typing this article! Yet, I really feel fulfilled at the same time; I do really believe that you will, now, have a much better idea on the most reliable metal detector brands in today's market.
And also on their best models that you may want to use at a certain point of your detecting career!
Anyway, if you are aware of any other brand, you are happy with, that I didn't include in this Guide; Please feel free to let me know about it in the comment section below … By doing so, other enthusiasts will learn from you!
Finally, after you've learnt about the most important Brands in the Market, I invite you to check these Cheap Metal Detectors! I've included a goog list of inexpensive but still well performing devices …