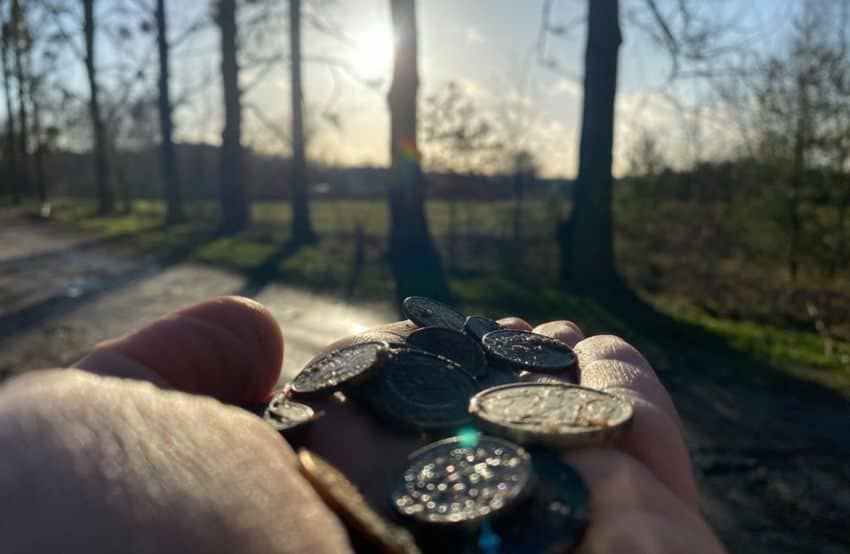 Go and check the finds of any seasoned detectorist out there … Guess what most of his finds will look like? Coins!!
Yes, most of his finds won't be anything other than coins, most of them will be just spendable but some of them will be historical and/or very rare coins!
How did they manage to do so?
Simply by using machines that are designed for coins!
In this Post, I breakdown my favorite metal detectors that will help you pick up even more coins!
1. Fisher F44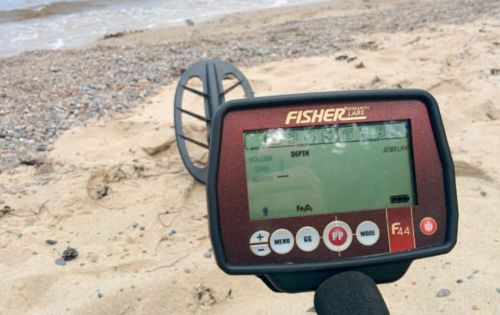 The Fisher F44 (Check it Here on Amazon) is an excellent entry-level model that is priced relatively cheaper than most of its competitors in the market.
It is lightweight and very capable when it comes to coin shooting!
Below its most notable features:
Has an 11-inch elliptical concentric search coil and

a deep search field

. It is also waterproof and submersible, but the control box is only weatherproof for rain
It displays a clear target ID number that corresponds to the conductivity and size of your target.
Weighs just 2.3 pounds
Has adjustable iron audio for quick trash identification
Comes with both manual and automatic ground balance. This makes it able to operate just fine in conductive ground.
Backlight for usage at night
In addition this machine has 5 different search modes:
Coins: In this mode the machine just gets rid of all iron signals, pull-tabs, and other junk signals to focus only on coins and similar targets.
Jewelry: This mode is specially designed to identify jewelry and overlooks iron signals.
Artifacts: This one includes all iron signals, which increases the possibility of finding some valuable historical relics
Custom mode: You can create your own search parameters using the notch discrimination feature.
All-metal mode: This will allow you to search for all metals regardless of their magnetic properties.
For a beginner I would definitely recommend this machine.
2. Garrett AT Pro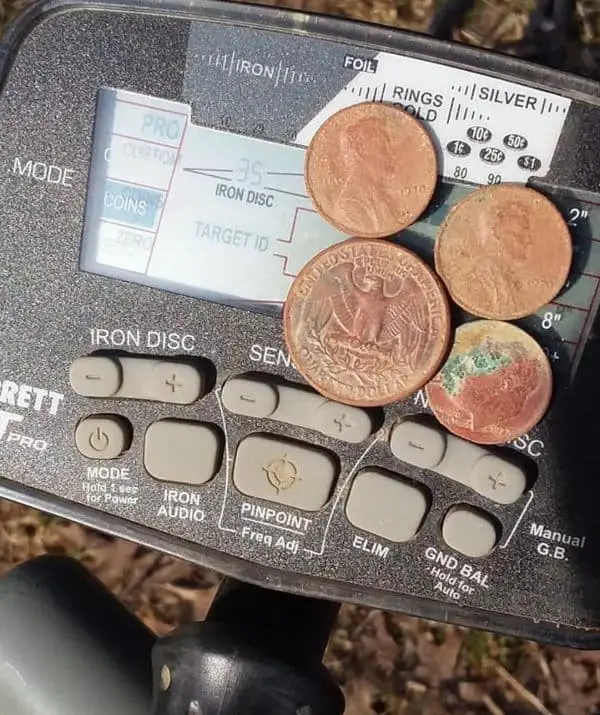 The AT Pro (Check it Here on Amazon) is one of the most popular metal detectors for not just coin hunting, but also for relic and jewelry hunting!
This is the most popular machine ever made by the Garrett House!
Some of its prominent features include:
Iron Audio
Manual and automatic ground balance
Notch discrimination
Separate pinpointing mode
Numerical target ID
Simple to use
What makes it highly capable for coin shooting is that it comes with a pre-set 'Coin' detecting mode. The coin detecting mode already has foil, iron, and pull-tabs notched out so that it helps detectorists go straight to hunting coins.
It also has a target depth indicator on the right-hand side of the LCD display. The indicator ranges from 2 inches to 10 inches.
It can also be decent for detecting gold nuggets since it has a 15 kHz operating frequency and also due to its ground balance settings.
The detector comes with an 8.5″ x 11″ DD PROformance search coil, which provides excellent target separation and depth for any stock coil.  The detector is also fully waterproof up to 10 feet of water.
I highly recommend this model for serious detectorists!
3. Garrett AT Max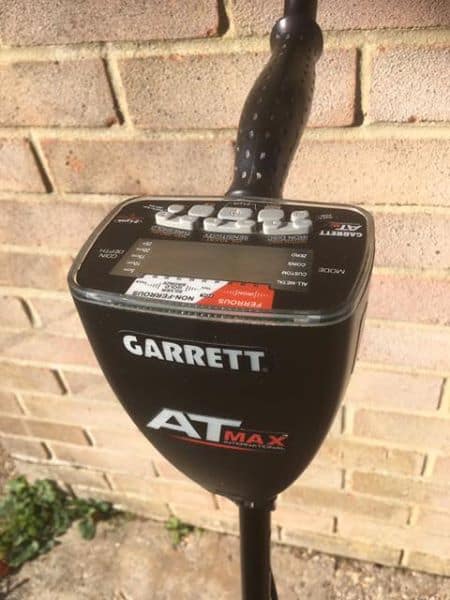 The Garrett AT Max (Check it Here on Amazon) is an enhanced version of the AT Pro!
It operates at an optimal frequency of 13.6 kHz that should help you pick up most of your target!
Below its main characteristics:
Comes with the Z-lynk technology that allows you to use plug-in wireless headphones
The feature of screen highlighting makes it easier to search for treasure in the twilight or the darkness.
Advanced settings of the detector help enhance performance on different soil types.
The detector provides stable and high-quality performance in cold and hot weather, and even underwater.
It is fully submersible in water up to 10 feet or 3 meters. This makes the AT Max ideal for detecting in streams, shorelines, and shallow water. If you are going underwater hunting, then you will need to purchase separate wired waterproof headphones.
It has 44 iron discrimination segments and a higher resolution than the AT Pro.
AT Max also comes with notch discrimination that helps remove iron, foil, and pull-tabs, to make it easier to find coins.
To make it easy for detectorists to find coins, the AT Max has a separate COIN mode. This is pretty much a pre-notched setting that will remove all trash and junk targets from your way and help you hone in on coins.
4. Equinox 800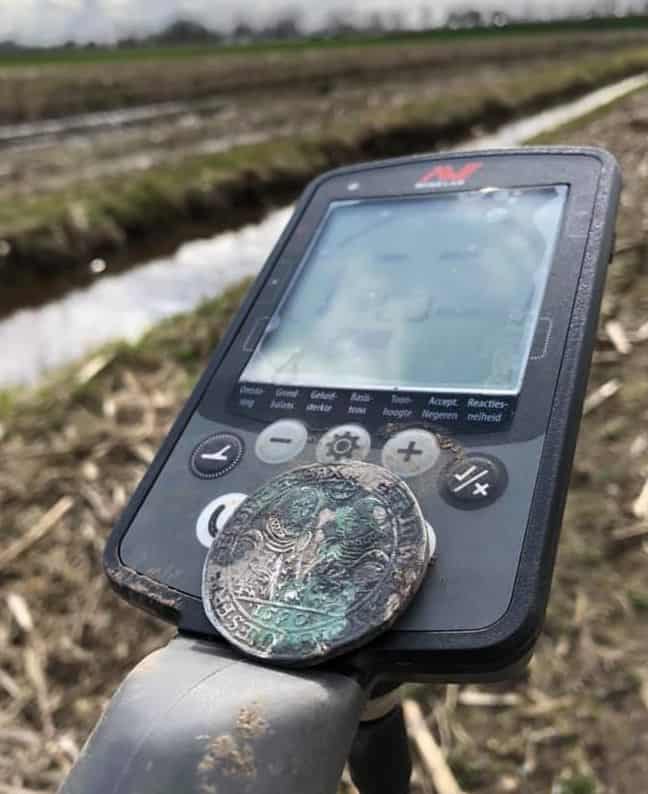 The Equinox 800 (Check it Here on Amazon) is an excellent choice for those who want to hunt for all sorts of targets including coins!
Personally, this is my favorite machine by far!
Manufactured by Minelab, the Nox 800 has the multi-IQ technology … It allows detectorists to search in any location by using the multi-frequency mode.
This sets this machine apart from the single-frequency devices.
Multi-frequency means that the detector is able to create a coil field with all the frequencies available at the same time.
This allows the machine to search a location with low, medium, and high frequencies at the same time.
This provides much higher efficiency of searching and also removes the need to search the same location many times with different frequencies.
The Equinox 800 comes with five different frequencies:
5 kHz
10 kHz
15 kHz
20 kHz
40 kHz
And the multi-frequency mode is separate, which uses all these frequencies together.
One more exceptional feature in the Equinox 800 is that it offers high-quality discrimination of trash and ferrous metals, combined with a high depth of reach. This is what enables it to find both large and small objects, such as coins at different depths.
It comes with 4 preset modes:
Park Mode: This one is highly effective for hunting for coins and jewelry. It provides excellent performance in parks, which generally have a high amount of junk and trash. The use of Multi-IQ mode here makes it easier to detect coins.
Field Mode: This is the best mode to use to detect jewelry and artifacts in a clean non-trashy environment.
Beach Mode: The Equinox 800 works great in dry sand, wet sand, or even underwater. The beach mode only works in multi-IQ.
Gold Mode: This mode is ideal for detectorists who are searching for gold coins and nuggets. The single high frequency of 20 or 40 kHz is used. This is why the Equinox 800 is also known to be one of the best for finding gold coins and nuggets.
If you've got the budget, then I highly recommend you go for this model! It has all you need to find pretty much anything, anywhere!
Final Thoughts …
Hope this short article has given you an idea on the machines that you should be using to pick up coins! Don't forget to give yourself at least couple of days to fully learn your machine before you can really start expecting good results …
… Finally, I highly invite you to have a look at this Guide on Cleaning Coins Found Metal Detecting! You will learn a lot of cool cleaning techniques that won't mess up your coins.