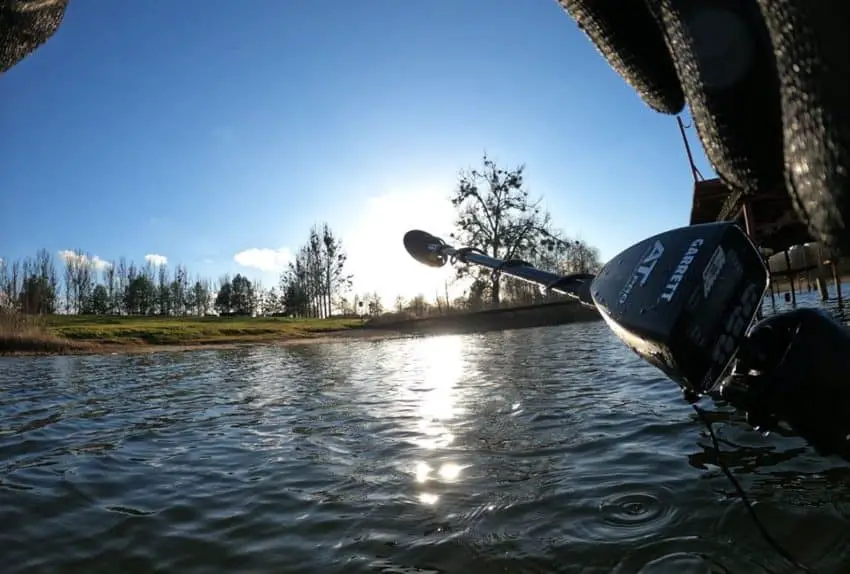 Most of the treasure you can potentially find is definitely located underwater! That's why having a solid waterproof metal detector is crucial if you want to end up picking up those valuable finds …
… In this Post I breakdown 6 waterproof detectors! Each one will serve a specific purpose and will be suitable to a certain level of skills.
Best Waterproof Metal Detector
1. For the Money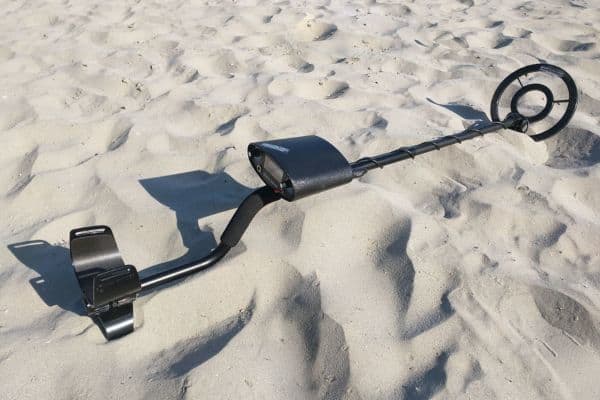 The Bounty Hunter Tracker 4 (Check it Here on Amazon) is a great entry-level machine for both kids and adults. It is lightweight, easy to use, and very intuitive.
This VLF device has an operating frequency of 6.7 kHz, and it comes with 3 pre-defined search modes.
This detector comes with an 8-inch waterproof concentric search coil. Since this is not a Double D coil, so object separation of this detector is not that good in ground with high levels of mineralization.
Nevertheless, the stock search coil does provide a great balance between ground coverage and sensitivity.
Keep in mind that the control box of this detector is not waterproof, so while you can submerge the search coil in shallow water, you need to make sure that the control box does not get wet.
Good to mention that even with its low price, it still has a decent discrimination. This will allow you to ignore, in many situations, the trash so you can only focus on the finds you are actually looking for.
2. For Beginners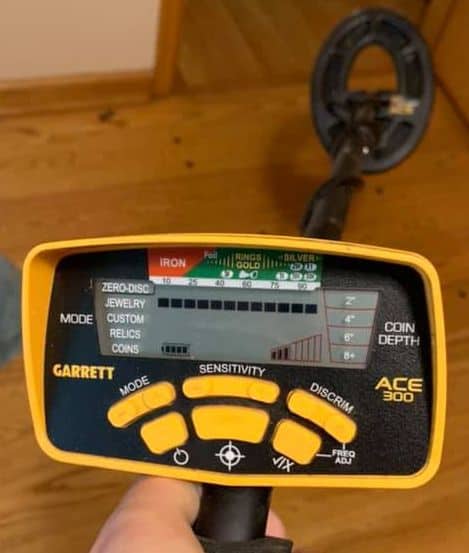 The Garrett ACE 300 (Check it Here on Amazon) is another excellent choice for beginners who are looking for a waterproof model to start with.
This one is easy to operate and reliable! It is a lighter version of the AT Pro (Pretty much an AT Pro at a lower price)
The detector comes with these features:
Enhanced iron resolution to identify and ignore trash.
Large PROformance search coil to cover more space while swinging.
It can find a wide variety of treasures such as coins, relics, and jewelry.
Large digital target ID to allow more accurate target identification.
Higher operating frequency (8 kHz) for more sensitivity.
Cam locks on the stem to allow for easy recording of your hunt
The detector comes with a waterproof 7 x 10-inch concentric search coil. Overall the machine is durable and ideal to use if you are detecting on the beach or on any location that has a watery surface.
However, remember that the control box is not waterproof, and due to this, the detector should only be used for shallow-water detecting.
3. With Waterproof SearchCoil Only!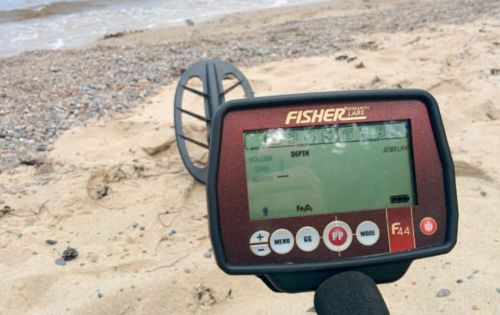 The Fisher F44 (Check it Here on Amazon) is a powerful and versatile waterproof and weatherproof metal detector.
This one is considered as a multi-purpose, as you can use it regardless of your target and ground conditions!
The detector comes with 5 search modes, including an all-metal mode, which helps detect all types of metals.
It also has:
9 segment discrimination scale
Backlight screen
Depth indicator
Battery power indicator
Two-digit target identification
The Fisher F44 comes with an 11 inch coil, which provides very good depth. Even though this is a waterproof metal detector, but this is not a submersible because the control box is not waterproof and therefore, cannot be submerged.
However, it is still a great machine to use as it is loaded with several advanced features and is still far ahead of the other detectors in the market at this price point.
4. For Gold and Silver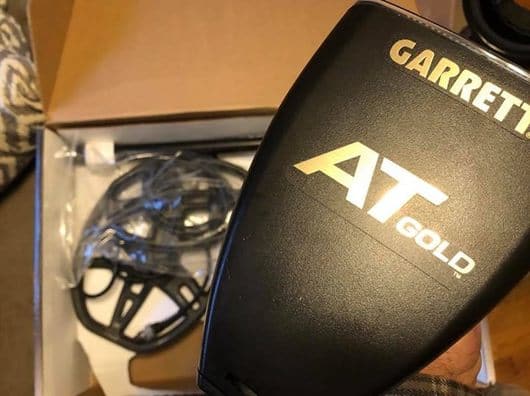 The Garrett AT Gold (Check it Here on Amazon) is an all-terrain detector with high efficiency at finding gold.
So, if you are looking for valuable finds like those made out of gold in water, then this one a such a decent choice. It has:
Digital Target ID
A high operating frequency of 18 kHz
Automatic and manual ground balance
Iron audio
Pinpoint mode to locate your target precisely
Easy to use and easy setup
The detector has a good depth reach so you will be able to find gold & silver not just close to the surface, but also at 12 inches deep or more.
This one is completely waterproof and can be submerged up to 10 feet. However, you will need to buy a pair of waterproof headphones if you want to detect underwater.
Using the Garrett AT Gold has the following advantages:
A reasonable weight which is not more than 3 pounds
It has high-quality discrimination.
Ground balance to deal with changing ground
It has a high frequency for gold prospecting
Proper isolation that can be used to the depth of 9 feet
However, this detector does not function as well in saltwater as slat water can give false signals sometimes.
5. Fully Waterproof (Coil and Control Box)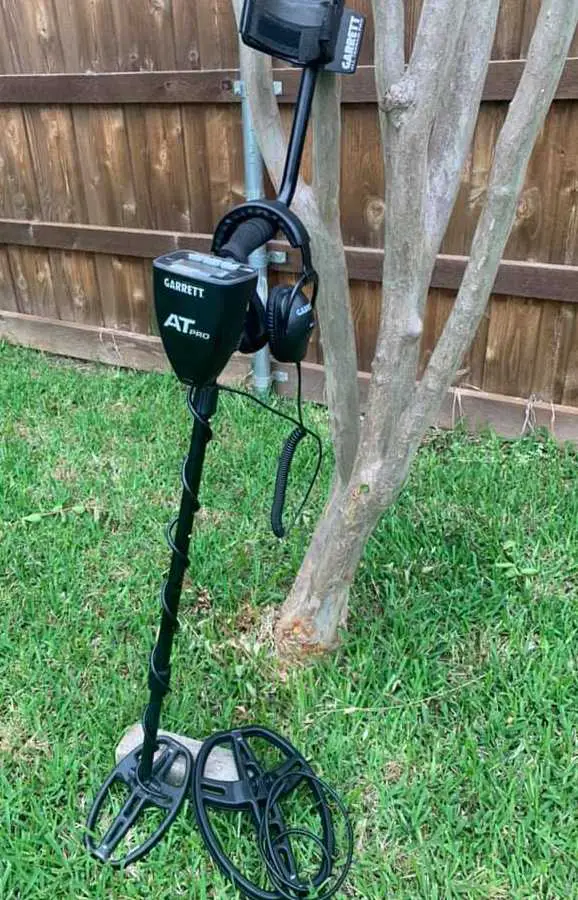 The Garrett AT Pro (Check it Here on Amazon) is another all-terrain detector operating at the universal 15 kHz frequency.
Thus one is very popular!
It has a quick recovery speed, easy to use, fully waterproof and submersible up to 10 feet.
Here are some of the features of the Garrett AT Pro:
Comes with an 11 inches with the DD coil cover.
Pro Mode audio has a tone roll Audio Tm and proportional audio features, which allows the user to find out what type of target has been found beforehand itself.
The high-resolution iron discrimination allows the user to set iron discrimination settings as they require.
The 15 kHz operating frequency helps enhance the detection of all small targets, including gold nuggets and jewelry.
The Garrett AT Pro also comes with both manual and automatically adjustable ground balance.
The AT Pro is not only waterproof, but it can also be submerged up to 10 feet of water, which allows you to easily hunt in ponds, lakes, rivers, creeks, and even the ocean. Both the search coil and the control box are waterproof and weatherproof.
Having a completely waterproof detector is highly beneficial, and the feature that sets the AT Pro apart is that it can also detect on land and water, which is a feature missing in many other detectors on the market.
6. To be used for Underwater Detecting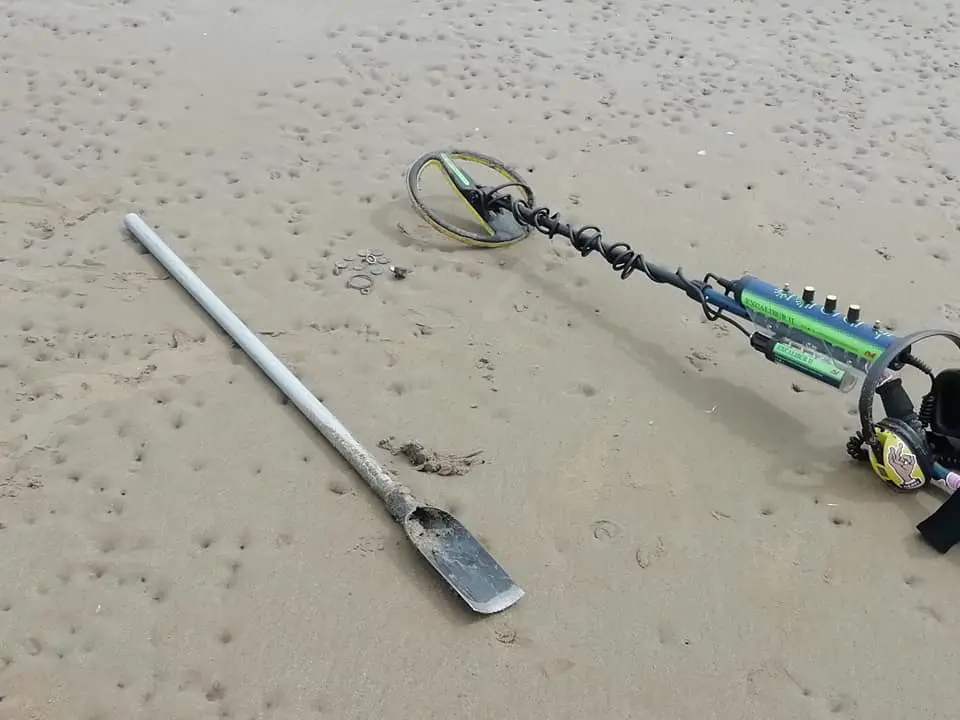 The Minelab Excalibur 2 (Check it Here on Amazon) is one of the most advanced waterproof detectors you can find on the market today.
It comes loaded with Minelab's unique Broad Band Spectrum (BBS) technology, which makes this a decent underwater machine especially on saltwater.
This is an excellent machine for beach detecting, but it is also ideal for wading through shallow waters, and it also will not disappoint you if you want to detect on a shipwreck at 200 feet underwater.
The BBS technology allows this model to operate on 17 frequencies, which ranges from 1.5 kHz to 25.5 kHz. It also has a ground canceling feature which gets rid of any false signals when you are detecting in saltwater.
In addition, this device has automatic ground compensation, a simple discrimination process, and high visibility fluorescent bodywork, which ensures that you don't lose track of it underwater.
The slimline search coil comes in an 8 inch and 10-inch option, to provide for reduced weight and enhanced balance as well.
Conclusion
Hope that these waterproof detectors answer the kind of machines you are actually looking for!
I've obviously tried to include different types depending on their features, budget and reliability.
For more, you can check these detectors that operate well on wet ground!