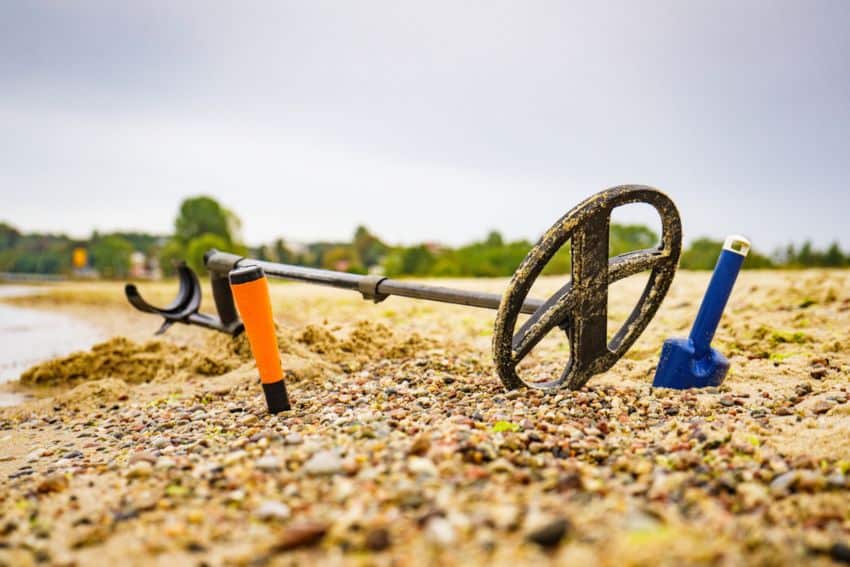 It is no secret that Beaches are the location that yields the most finds for detectorists! That's why, recognizing the right detection tools to use on sand is, obviously, important …
… In this Post, I will focus on the right pinpointers you should consider for the beach.
This should help and increase your chances coming up with good finds, most of the time!
1/ Kuman Pinpointer
This model (Check it Here on Amazon) has a 360° side-scan feature and high sensitivity for smaller objects! Indeed, it comes with 3 sensitivity levels having different LED indicators for each one – light, audio, and vibration alert.
It does a good job detecting hidden coins, silver, gold, trinkets of jewelry, etc. It's a one-touch operation mode that has a quick button press feature that helps to run out the environmental noise while narrowing the field for precise detection.
Being water-resistant till the lights and switches portion, it can be used in shallow waters for a limited extent. Just keep in mind that it cannot be submerged wholly in water but the pointed end can be used underwater for detection.
Finally, its compact size makes it quite handy and portable. The simple operations allow the user to switch operation modes effortlessly. It should tune automatically and comes with a carry pouch having a belt and a holder.
The detection range is up to 4 inches deep that actually helps to unearth hidden targets. It also comes with a retractable hanging wire.
2/ Quest X Pointer Pro
The Quest X Pointer (Check it Here on Amazon) comes equipped with quite advanced detecting technology. It has an ergonomic body that is light in weight and has a sleek body design.
The renowned features are target locking function, lanyard attachment loop cap, and lost alarm. Overall, it is ideal for use in the nursery, landscape, and camping sites.
The battery backup is highly efficient as the device has a light Li-poly battery built inside the shell. The detection mode three types of signal – LED, buzzer sound, and vibration alert. Just pick the type of detection signal you are most comfortable with.
It comes with a submersible shell and is suitable for use in salt water holes or wet sand. It can be submerged underwater up to 200 feet in both fresh-water lakes or rivers and in saltwater bodies.
It is light in weight and comes with a micro USB cable for charging the lithium battery. The LED flashlight reader on the display makes it easy to read even when it is underwater.
It comes with additional accessories like a handy belt clip lanyard, like rubber bands to keep the waterproof cap secured while detecting in wetlands
3/ Minelab Pro-Find 35
This handheld detector (Check it Here on Amazon) is by far, my favorite model out there!
It comes with an Interference Free (DIF) feature. The latter, is known to reduce the interference of the magnetic field of the pinpointer with an operating metal detector.
The lost alarm feature is unique as it beeps after a certain period of inactivity and makes it easy to locate your lost device.
Adding on to the benefits is the Ferrous Tone ID that helps to segregate ferrous junk from valuable treasure by giving different responses.
It has 5 sensitivity levels that can be precisely adjusted to give maximum depth and less noise during detection in all ground conditions
The rugged design of its body is made for use in beach and river pinpointing. It can be submerged up to 3 meters or 10 feet deep. The target recovery is quick and easy, especially underwater
It has a bright yellow color that makes it easily visible even in water. Also, it is light in weight and comes with a holster and a lanyard.
4/ OMMO Pinpointer Metal Detector
This waterproof and dustproof pinpointer (Check it Here on Amazon) can easily search up to 12 feet underwater! There are three modes- vibration, audio, vibration + audio that can be used for detection signals and as the probe nears the target, the signals intensify.
It is suitable for a seabed environment. It has a 360° scanning and deep detection feature that can identify gold, silver, aluminum, bronze, etc even in deep water.
Also, has a good power backup and can be used continuously for 16 hours before the battery dies. It has a low battery indication and auto cut off feature.
The two-tone alarm beeps when the battery is low and if the probe is inactive for 10 minutes it will auto cut
The pinpointer is portable with a LED flashing holster. It comes with a retractable hanging wire for suspension.
A bright yellow colored whistle is also there with the detector that helps to go treasure hunting in a dark environment, dimly lit areas, or outdoors when you are on a treasure-hunting spree with your friends.
Final Thoughts …
Hope these beach pinpointers I've mentioned above will help you pick up your next tool to use on the beach.
Believe me! Recovering your targets, especially in the beach, could be overwhelming! That's, why using such a pinpointer is really a timer saver.
Finally, if you are looking for models that could be used on highly conductive soil, then I highly encourage you to have a look at these gold pinpointers. They are particularly good in highly mineralized soil.