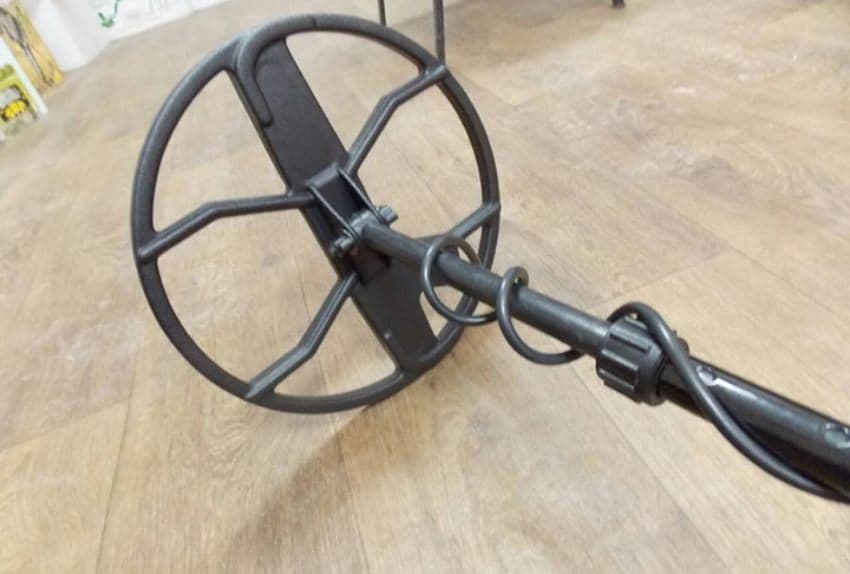 White's in known for its wonderful and highly effective metal detectors! In this Post, I breakdown its best models with all what you need to know about them.
1. White's TreasurePro
White's TreasurePro (Check it Here on Amazon) is a great pick. The machine is not only comparable in price and function to many of the higher-priced devices, but at the same time, the many features of the TreasurePro prove this machine well worth the money spent on it.
This reliable metal detector was created with newbie detectorists in mind and proved to be productive and efficient in bringing in all types of finds. Here are some of the significant features of this machine:
Has an operating frequency of 7.8 kHz
Adjustable shaft length, from 46 to 51 inches
Armrest is also adjustable
Audio output comes with headphones and speaker
Battery life is up to 20 hours
The standard coil that comes with the detector is a waterproof concentric 9.5 inches coil
Additional options of coils are also available with the detector
Five search modes including all-metal, beach, coin, jewelry, and relics
8 Target ID segments for more effective targeting
Four audio modes
Automatic ground balance
Adjustable volume
Pinpoint mode is also included, so you don't need to purchase a pinpointer separately
Machine is lightweight weighing only 2.8 lbs
Comes with 2 years of manufacturer warranty
Device is weather-resistant, and the coil is waterproof
All-metal operation
Five presets
Big, clear LCD display
Ground balance feature is able to easily adapt to the ground conditions, automatically altering the sensitivity and depth to achieve maximum productivity
This extremely affordable detector is not only newbie-friendly, but it is also an excellent machine for those who are already serious detectorists.
2. White's Spectra V3i
White's Spectra V3i (Check it Here on Amazon) is a high-end machine from White's, and the quality of the device is outstanding. The machine comes with multi-frequency detection, rechargeable battery system, and many turn-on-and-go hunting programs that make your life much more comfortable. The search coil is waterproof, but the control box is not.
Here are some of the major features of White's Spectra V3i:
It has 3 optimized Hunting Frequencies: 22.5 kHz for gold, 2.5 kHz for silver, and 7.5 kHz for general use. You can detect simultaneously in all three frequencies for the best target ID, or you can use just one frequency for gold prospecting, relic hunting, or beach detecting.
It has an on-board quick reference guide which serves as a built-in instruction manual
It has a stereo mixed mode audio, where you get all-metal in one ear and discrimination in the other
Languages included are English, Spanish, Russian, German, and Turkish
It has a plot vector screen which lets you see the phase and strength of each frequency on a vector graph
Reliable depth information
Scrollng graphs show the change in ground minerals as you hover over the ground to indicate gold containing spots. Highly mineralized areas are a signal to indicate the presence of gold.
You can select which soil type you are detecting on – Normal or Salt to customize ground rejection to the soil type
Status Bar Mode Indicator which indicates Search, Analyze, or Pinpoint
A full-color HD display
Analyze and 3 Frequency SpectraGraph Screens – Analyze shows a shape based on the frequency strength, and 3 Frequency SpectraGraph shows a bar graph at each frequency.
Wireless SpectraSound Headphones
9 Turn-on-and-go hunting programs including salt beach, relic, coin and jewelry, prospecting, high trash,

deep silver

, hi-pro, mixed mode pro, and meteorite.
Waterproof 10 inch Double D search coil
Adjustable backlight with 20 different intensity levels
Selectable ground filters – 8 different ground filtering levels from 5 Hz Band through 12.5 Hz to tailor to the ground minerals and individual search coil sweep preferences
A lithium-ion rechargeable battery system
Weight is 2.01 kg (or 4.4 lbs) – it is not a very lightweight machine
This detector's high precision quality and the abundance of features it comes it truly sets it apart from all the other high-end metal detectors on the market.
3. White's Surfmaster Dual Field
The White's Surfmaster Dual Field is ideal for beach detecting and much more.
The Surfmaster is typically designed for difficult beach ground conditions, and it combines a turn-on-and-go program with an extreme depth and sensitivity program all rolled into one machine. This pulse induction metal detector allows you to detect at some extreme depths for gold, coins, and jewelry, especially in saltwater, underwater, and mineralized ground as well.
The metal detector is waterproof to a magnificent depth of 100 feet. It comes with a 12-inch dual-field search coil that has almost neutral buoyancy. This ensures that it won't push away from the water or sink down. The machine also comes with Piezo waterproof headphones.
The Surfmaster is highly sensitive to detecting gold, even at the maximum depth. The variable-sweep speed and gain control make detecting easier with this metal detector. Further, the adjustable pulse delay in the device helps cut out noise from black sand and junk, making it easier to identify potentially valuable targets.
Here are the highlights of the Surfmaster:
Pulse Induction operation
Quick target recovery
Completely waterproof
Adjustable pulse delay
Enhanced sensitivity to gold and other precious metals
Gain control
Tuner control
Near-neutral loop buoyancy search coil
12-inch search coil
Manual ground balance
Wireless headphones
2 years manufacturers warranty
While the Surfmaster is a sophisticated equipment, it is still not that complicated to use that new detectorists won't be able to work it out. The detector is ideal for both beginners and professionals, though more geared towards professional detectorists.
4. White's MX5
the MX5 is a durable machine that is built for rough and tough use. It is so easy to use that you will find many detectorists raving about the ease of use of the MX5. This versatile metal detector can be used at almost any type of ground. It has been built for general use, and it has a special coin mode and beach mode, which allows you to detect even in wet salt sand.
Here are some of the features of this detector:
It is a VLF detector
Operating frequency is 14 kHz
It comes with 2 Hunting Programs – Coin and Beach Modes
Search Modes include Disc, Beach, and All-Metal
Search Audio – threshold with selectable tone ID
The stock coil is 9 inches concentric spider coil
Machine weights 3 lbs 9 oz, which is still on the lighter side
It needs eight AA batteries
It has a battery life of around 30 hours with one charge and 24 hours with the backlight on
Comes with 2 years of manufacturer warranty
This is a very powerful machine which can be used across any type of ground condition and is ideal for both professional detectorists and beginners.
5. White's Coinmaster
White's Coinmaster is the ideal metal detector for those who are new to metal detecting.
The LCD screen of the detector comes fitted to show everything you possibly need. It shows you the depth and sensitivity of what target you have found, and there is also a simple button to increase the sensitivity settings easily.
The detector, even at its low price, comes with a fully waterproof control box, which is quite rare to find in an entry-level detector. This allows you to take the machine anywhere, but you cannot go underwater metal detecting with this, but it is perfect for using at the beach.
Some of the main features of this machine include:
Water-resistant control box
Depth reading
Target ID audio
Pinpoint mode, which allows you to locate anything you are searching
Scanning depth of up to 8 inches
However, the only disadvantage to buying the Coinmaster is that it does not have any internal battery, and required two 9V batteries.
The Coinmaster is the best detector on the market for coin shooting, and at the low price it comes for, this is one of the best detectors available on the market today, especially for newcomers.
Final Thoughts …
Hope this post was not too long and was helpful enough for you! Again, I highly encourage you to use White's machines, they are really really good…
… Finally, I highly invite you to check these metal detection tips and tricks! You will learn a lot of useful information.