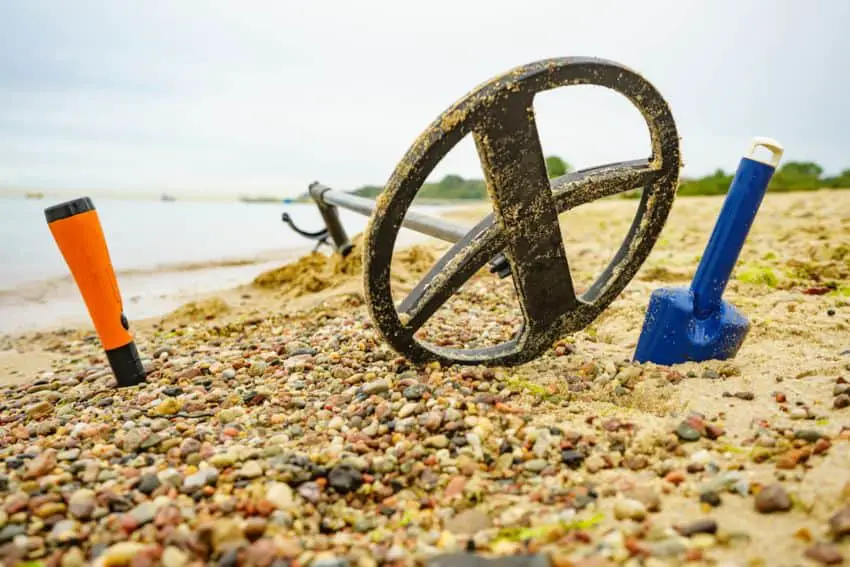 Saltwater is one of the most challenging places where you can use your detector in general and pinpointer in particular! But Guess what …
… Searching in saltwater is one of the most highly profitable places you can detect in!
In this short Post, I list 5 of the Best Saltwater pinpointers you can possibly get in the market today.
1. Minelab PROFIND 35 Pinpointer
The Minelab PROFIND 35 (Check it Here on Amazon) is without a doubt my favorite model in this short list …
… Not only because it operate properly on beach and saltwater, but also, because I love Minelab as a manufacturer and always trust their products!
Let me list below what this model has and is capable of:
It is a waterproof and can go down underwater up to 10 feet
Has 5 levels of sensitivity adjustments! That's probably the highest number of sensitivity levels I've seen so far for a pinpointer.
It is the only pinpointer up to this date (at the best of my knowledge) that comes with target discrimination.
This target discrimination is based on a ferrous tone ID that let you know the difference between non-ferrous targets and iron junk targets.
Comes with a vibration signal
A flashlight is also available
It comes in bright yellow color, makes it still visible when it gets dark out there.
2. Teknetics Tek-Point
This pinpointer (Check it Here on Amazon) from Teknetics is manufactured from such rugged materials that it can last for many years and also resist abrasions.
It operates very well in both saltwater and freshwater.
The major features of this pinpointer include:
Comes with a 2-year manufacturer's warranty – Not many providers suggest such a warranty.
Comes in bright green color to make it visible and easy to find if you lose it.
Runs on AA batteries which allows more usage time per hunt (6 to 8 hours) – But the main package does not include it as far as I know.
Waterproof and can be submerged up to six feet of water
The 3 sensitivity levels are useful to adapt to the target size you might be dealing with – More sensitivity means the ability to pick up smaller targets.
3. TTLIFE Underwater Metal Detector Pinpointer
This pinpointer (Check it Here on Amazon) can be used underwater and also on land. It functions exceptionally well in saltwater as well as freshwater.
You can even dive deep with it and come up with some good stuff down there!
Below the main characteristics of this non-motion detector:
You can literally use in any type of water
It can be submerged up to 100 feet of water – That's quite huge, right?
The pinpointer not only has an LED indication upon finding a target, but it also vibrates to let you know it has found the target
It has a unique sealed design
It's tuning is automatic, which means, that you don't have to perform any adjustments on your side
Low battery sensor that lets you know when the battery is low
On land it come pick up stuff that are buried 5 inches
4. White's Bullseye TRX Pinpointer
The White's Bullseye TRX (Check it Here on Amazon) is a decent addition to your metal detector!
It works just fine and will help you find valuable rings, coins, gold, jewelry, relics, and many more.
Below its key features:
Operates at a solid 12 kHz frequency – This is worth it if you are going to use it pick up raw Gold (By the way

these pinpointers

can help you find gold) – That's actually higher than most regular detectors.
It has both audio and vibrate alert once over a metallic target.
Comfortable and lightweight.
It comes with 2-year manufacturer's warranty
Waterproof up to 10 feet
Keep its same capabilities in saltwater
Its vibration becomes stronger as it gets closer to the target.
Its sensitivity to smaller targets is significantly higher than average pinpointers.
5. Fisher F-Pulse
Fisher F-Pulse(Check it Here on Amazon) is known to function exceptionally well in saltwater, mineralized soil, and almost every difficult condition without sending false signals.
Below some of its features:
Fully waterproof and can be submerged up to 200 feet in both salt and freshwater
Comes with a built-in rechargeable lithium battery
Works on pulse induction technology – That's one of the first models capable of doing so! This mean you can use it for raw gold and treasure hunting, straight up!
Excellent for deep-sea diving
Highly effective on mineralized soil
Very easy to use as you simply need to turn it on and just point
Conclusion
Those models were hand-picked for you! I really hope that one of them will resonate with you …
… Finally, if you are looking for cheaper models, then, you check these cheaper pinpointer detectors!