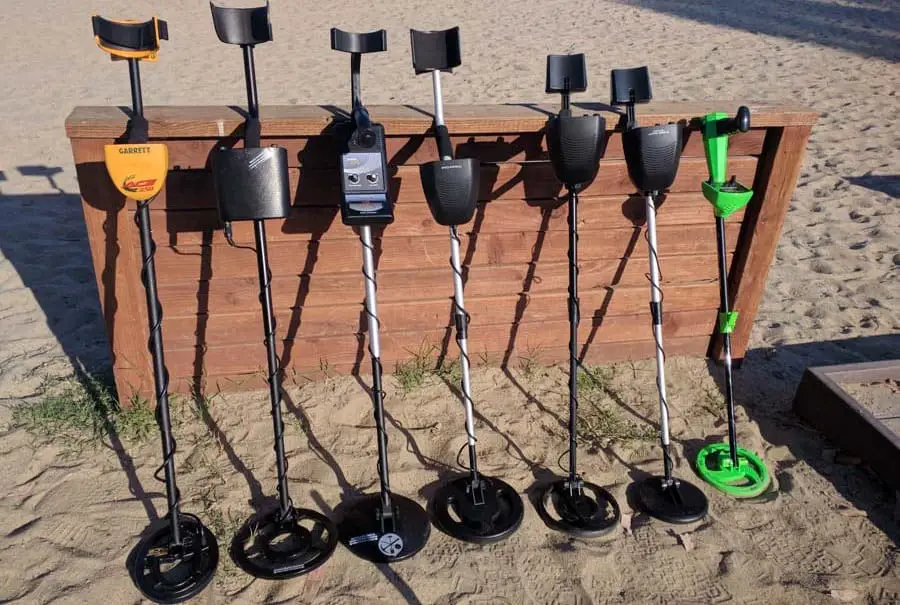 It is normal to see some hobbyists, especially beginners, looking for quality and cheap metal detectors at the same time!
I mean, in general some machines may get very expensive by reaching several thousands of dollars. Thus, looking for cheap choices is always a wise thing to do that no one can blame you for!
In this Post, I am listing 9 affordable detecting machines that still bring a solid performance that will allow you to come across some solid finds!
BUT, Just Let me Save you Time … In case you are a beginner and want to get your first inexpensive machine, Then, according to my Humble experience, you should Start with this Model from Bounty Hunter (Check it Right Here on Amazon)!
1. Best Cheap Metal Detector for Kids
Bounty Hunter Fast Tracker (Check it Here on Amazon!) is one of the more famous models of Bounty Tracker. It is an easy to use one that poses very little challenges to beginner. Better, yet its price couldn't be more affordable …
… This detector can easily be used in a variety of circumstances and applications making it also a good pick for seasoned detectorists!
The default 7-inch search coil allows it to operate at a frequency of 6.7 kHz which will allow you to come across most valuable finds out there! In addition, there are 2 tone audio identification system …
You can keep swinging it for many hours without really feeling a serious exhaustion whatsoever, as it is a lightweight (around 2.5 pounds).
You should find in the package a headphone jack, with the jack size being around 1/4 inch!
The model comes with twin discrimination types and the feature helps the user to hear diverse tones from a wide range of metals. This ability to hear multiple tones of metals provides the user with the advantage of not having to dig into the ground only to discover that it is a piece of junk!
This model allows you to control the sensitivity control. By doing so, you will have a better ability to adjust to the depth in which you are foreseeing your next target!
If you want to detect in rivers or lakes, then you may want to take advantage of the coil! In fact, it is waterproof … Yet, don't allow the water to reach your screen or you may end up messing your machine up.
You can use it in difficult conditions as well as dry or wet grounds! The Bounty Hunter Fast Tracker also does not lose from its sensitivity even when the weather is pretty tough.
Learn more about metal detecting for kids!
2. Best Cheap Metal Detector for Dry Sand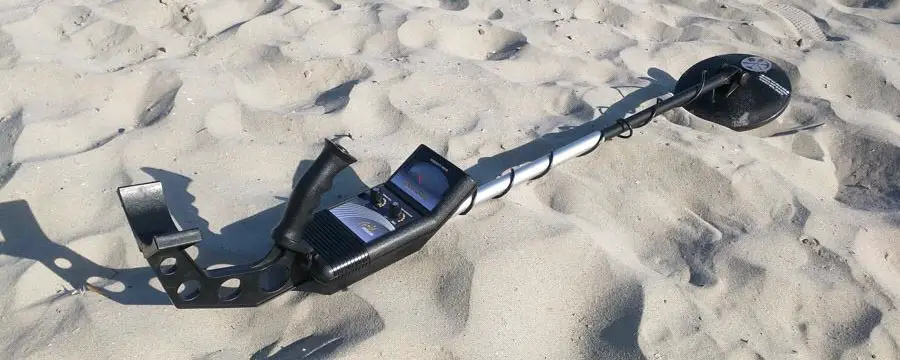 Bounty Hunter Gold Digger (Check it Here on Amazon!) is even lighter than the first one (close to 2.2 pounds)! Its price is adapted for you if you are on a budget …
… With the default pre-settings it comes with, you won't necessarily need to set any further adjustments! You can start using it straightforward in your backyard or you can even take it right away with you to the beach.
It also has automatic ground balance tuning, so you do not need to change any settings for that aspect as well.
The all-metal mode will, obviously, allow you to look for all types of targets. Yet, you can still take advantage of its discrimination feature in case you are looking for a specific metal.
If you have to detect in a trashy area, then you can activate trash eliminator setting! Thus, your machine won't react to things like aluminum and other junk you may come across.
The depth it can reach is not bad at all and could go up to:
6 inches deep for smaller targets
And up to 10 inches deep for larger ones.
Other features for this model include:
A waterproof 7-inch wide search coil allowing you to operate on a 6.6 kHz frequency.
3 different audio tones, to decide on the relevancy of your target.
9 volt alkaline batteries.
Earphone with jack for allowing you complete privacy when you detect
Worth mentioning, this VLF machine is good option for kids too!
3. Best Cheap Metal Detector for Beginners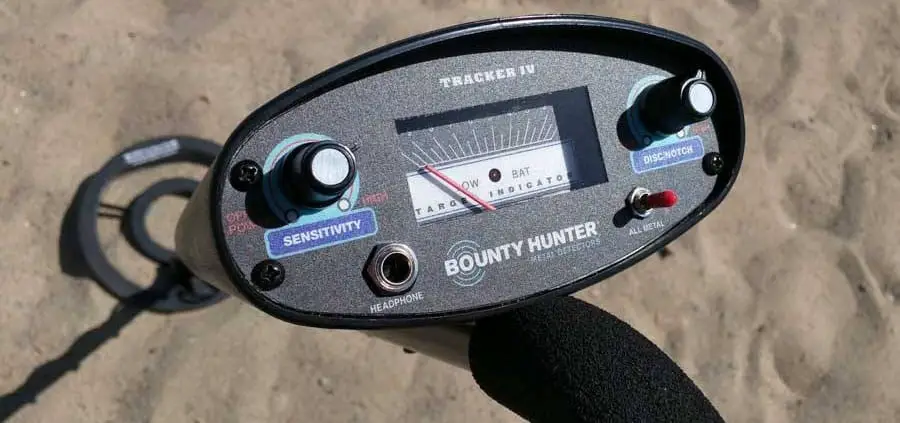 Bounty Hunter TK4 Tracker IV (Check it Here on Amazon!) is a popular machine, it costs a little bit more than the 2 previous ones, yet its price is still very affordable!
It weighs around 2.5 pounds and it is very easy of use! The value for money of this machine has made it very popular especially within beginners.
The Bounty Hunter TK4 Tracker IV has a streamlined appearance and has only two operating controls with a mode selecting switch …
… It is also known for the fact that it has eliminated one of the most difficult aspects of metal detecting – ground balancing. In fact, it has an in-built automatic ground trac which balances for mineralization automatically as you detect.
The Tracker IV is also apt for detecting in extreme ground conditions – from beaches to highly mineralized inland sites. Indeed, you need no operator adjustments to the circuitry during all this. What's more, there is also zero loss of sensitivity.
The model usually comes with a 5-year manufacturer warranty and requires two 9 volt batteries. It has a waterproof 8-inch search coil (operate at 6.7 kHz) and a 1/4 headphone hack.
So, if you are looking to acquire a new detecting device and afraid of the initial learning curve, then this one is decent choice!
If you are struggling while using your machine, then I highly invite you to have a look at this article on how metal detectors actually work!
4. Best Cheap Metal Detector with Ground Balance
You are probably bored that I've only talked about Hunter machines so far! I mean, it is normal as they've got the cheapest detectors in the market …
… Now, let's move to a different manufacturer! I am talking here about Minelab and most precisely about The Minelab Go Find 20 (Check it Here on Amazon!) …
… Actually, it has been designed mostly for newbies as it is simple to use a one-touch device and there is no assembly required. Furthermore, it is fully foldable, making it very easy to carry it around with you wherever you want to hunt.
Since this is a very lightweight model, it is also good for kids. In fact, it is claimed to be the most lightweight detector available in the market today, weighing in at just 2.2 pounds, or roughly one kg!
The unit operates at a frequency of 7.8 kHz and has an 8-inch waterproof coil. It comes with 2 years of manufacturer's warranty and has three notches and levels of sensitivity adjustment.
In terms of discrimination, it has 4 simple to follow icons – foil, nail, ring, and coin. It is also rare to find a machine that has a Smartphone Pro App and allows for USB connectivity like the Minelab Go Find 20.
It has automatic ground balance and needs four AA batteries, allowing for 20+ hours of battery life. Its LCD screen also makes it easy to clearly follow your hunt.
The unit also comes with 5 volume levels, ideal for when you are searching in crowded places such as the beach.
So regardless of whether you are searching for jewelry, coins, or treasure, this unit will help you find it with both audio and visual alerts.
If you are not sure on how to ground balance you detector, then please have a look at this helpful article!
5. Best Cheap Metal Detector for Coins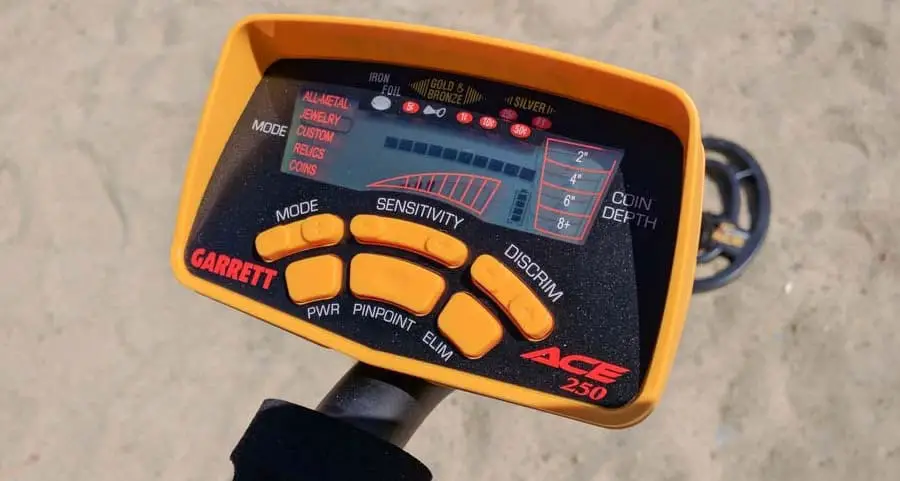 The Garrett Ace 250 (Learn More About it Here on Amazon!) is one of top selling detectors on the market today! It costs significantly higher than the other models discussed previously, yet it could still be considered cheap considering its powerful abilities.
This detector is light on weight (2.7 pounds), but a heavyweight when it comes to features and performance! This has a three-piece S handle design with an elbow rest or stands attached at one end, with a total weight of or around 1.2 kgs.
There is also a 6.5 x 9-inch elliptical coil on the other end and there is a control box that is attached at the top of the handle.
The controls of the detector fall within the finger and thumb reach. This makes it easy to make quick adjustments and also helps to pinpoint in the field easier.
The housing also contains an external speaker or you can use a 1/4 inch headphone jack. If you slide off the top, then you can see that the model uses four AA batteries. The search coil is waterproof and it is also interchangeable to allow you to use other size loops.
Working on a VLF circuitry, the Ace 250 includes:
12-segment adjustable notch discrimination
Trash elimination capabilities
Levels of sensitivity including depth and interference regulation
All-metal non-motion Pinpoint helping you get exact target location.
The coin depth read is 8 inches, it has:
A visual target ID with an LCD screen
As well as five present, but adjustable, search modes including Jewelry, All-Metal, Custom, Relics, and Coins.
A three-tone Audio Target ID
The Ace 250 is known to hunt just at the push of one button. In fact, it is such an intelligent machine that all you need to do is press the power button and it does all the work of setting up the controls for you.
So you can either choose to start out with the factory preset Coins mode with an automatic elimination of signals from common trash or you can adjust the detector according to your own settings.
For more tips on finding coin, I would love you learn about it here!
6. Best Cheap Metal Detector for Relics
Priced almost similarly as the previous one the Fisher F22 Weatherproof (Check its Current Price Here on Amazon!) is the new version of the Fisher F2, which had ruled the entry-level detector market since early 2007.
The Fisher F22, its big brother, was released in 2015 and contains many new enhancements made over the F2. These include:
Additional search modes including artifact, jewelry, coin, and a custom mode that allows you to program the detector to match the type of metal you are specifically searching for.
Iron audio
A notch feature, which helps you exclude the metal of your choice from your search.
Volume adjustment
And a new coil design.
This is a VLF machine that has proven to be a reliable all-rounder and is capable of handling more terrains. It is weighing just about 3 pounds and also provides good depth and has a fast recovery speed.
The targeting depth of coins is at 9 inches, it has a 9 inch triangulated elliptical concentric coil that allows you to hunt underwater as well. Concentric search coils have a cone-shaped search field which is wider at the ground surface and narrows to a point 9 inches deep so keep in mind that it is not really ideal for hunting for deeper treasures.
The F22 comes with 10 levels of sensitivity that you can adjust if you are not picking up anything or if you are experiencing too much feedback.
7. Best Cheap Metal Detector for Parks & Trashy Ground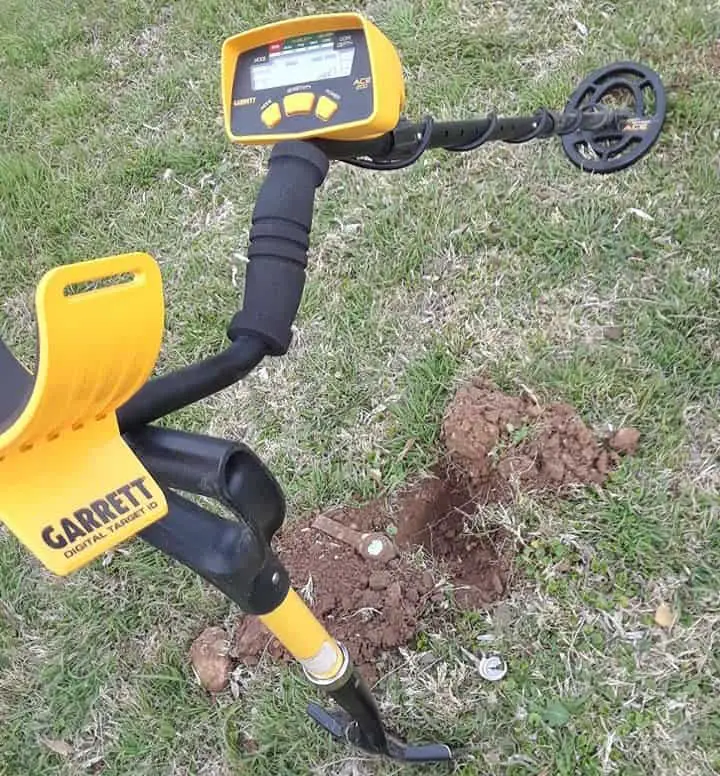 The Garrett Ace 300 (Check it Here on Amazon!) is probably the most costly detector in this list, yet I still consider it affordable! It is an updated version of the Ace 250!
A VLF circuitry machine, the Ace 300 comes with 8 sensitivity and depth adjustment setting. This cuts down many of the false signals, especially when you are working in an area that has heavy mineralization or if you re detecting near power lines.
The Ace 300 comes with electronic pinpointing, which if used correctly, can help you zone in on your target! In other words, you don't have to dig up two holes as you misjudged the exact location of the signal.
The unit also has 5 search modes:
Custom
Relics
Jewelry
Coins
And zero discrimination.
The display screen also provides you helpful data to make the searching task easier for you …
… It has a digital target identification that ranges from a scale of 0 to 99 so that you can determine whether you want to dig up what you have found. The higher the number is on the scale, the more conducive the metal is!
So metals such as silver will be ranked high on the scale, while undesirable metals such as iron, will be on the lower end of the scale.
The detector also has an enhanced iron resolution! In other words, meaning that it will be even better than other detectors at picking up trashy targets…
… Indeed, it has a 7 by 10-inch concentric coil that is waterproof. However, the control box is not waterproof, so you should not fully submerge it in the water! However, you can still detect well in extremely shallow water.
Perhaps the only drawback to this machine is that it lacks adjustable ground balancing! This is an important feature that helps when you are working in mineralized soil.
Other cheap Metal Detectors Worth Mentioning!
8. Teknetics EuroTek PRO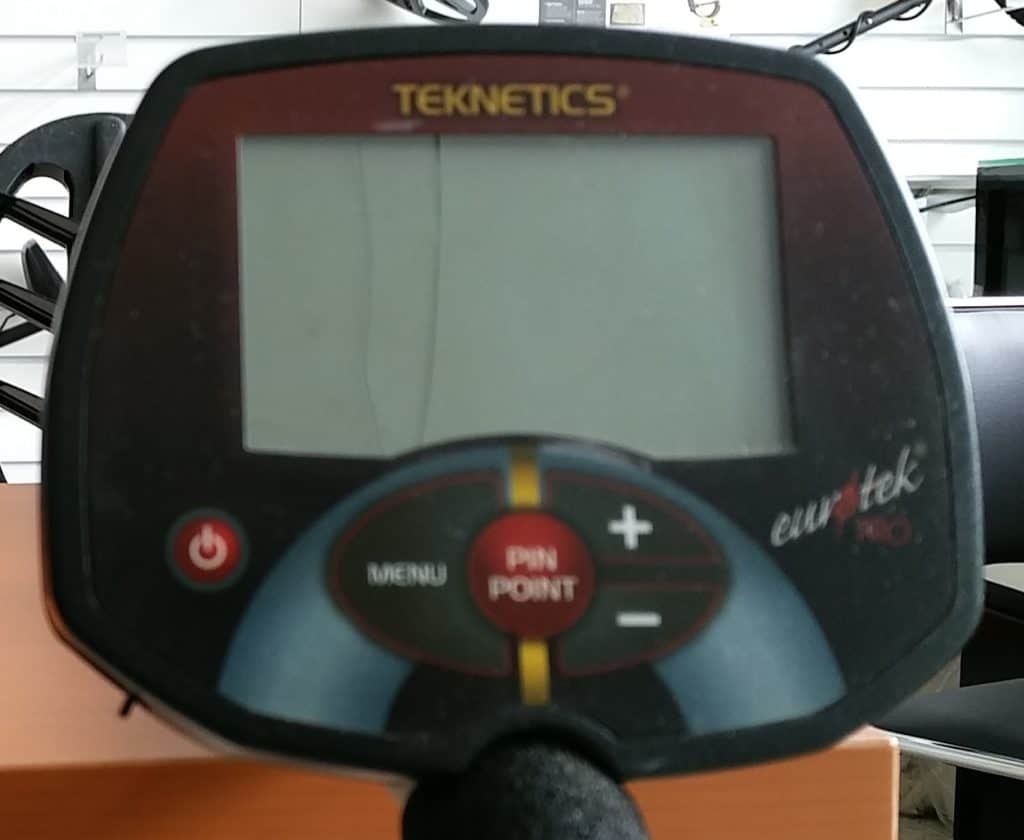 The Teknetics EuroTek PRO (Have a Look at its Current Price Here on Amazon!) is another good and value of money product that comes with a waterproof 8-inch concentric coil.
It is capable of hunting not just in wet conditions and in streams, but it can also help you detect on land as well.
The detector comes with variable iron discrimination that lets you adjust from 0 to 39. It has a FEtone which lets you adjust the tones being emitted from your targets, giving you a better indication of what is there under the soil.
It also has an iron identifier LED that lights up when you are swinging it above trash and more aluminum cans. The equipment also makes pinpointing easy as it has the pinpoint capability that lets you hold the unit steady and locate the target easily.
Its 3 tone audio identification features can ping out any audio tones that you set to different metals. For example, you can set a high audio tone for gold.  This machine weighs just 2.4 pounds and you need one 9 volts battery for using it.
9. Tesoro Compadre
Tesoro Compadre is a good inexpensive detector for serious hobbyists on a budget! It is adapted for adults as well as for kids alike who want to use a detector that is built for high performance and powerful enough to find valuable stuff.
It is possible for you to choose between the 5.75 inches and 8-inch coil – they both are available at the same price!
Weight just 2.2 pounds and can be operated with just one simple knob!
Though there are not many high-end features in the detector, many still prefer using it due to the affordable price.
It offers silent search all-metal and discrimination modes and allows you to choose which signals you will hear and which ones you want to screen out.
Conclusion
This Post was extremely important for me! I believe that the number 1 factor entry barrier to this hobby is its main tool! The metal detector …
… In fact, some people think (without even doing proper research) that all machines are expensive or that cheap machines don't do a good job and to hit the most valuable finds they need to invest in multi-thousand dollar devices!
Hopefully, you realize, now, that this is far from being true and that there are some cheap detecting machines that can perform just fine!
Finally, if you are looking for inexpensive pointer too, you definitely should check these cheap pinpointers! I've included some good performing and inexpensive choices!!