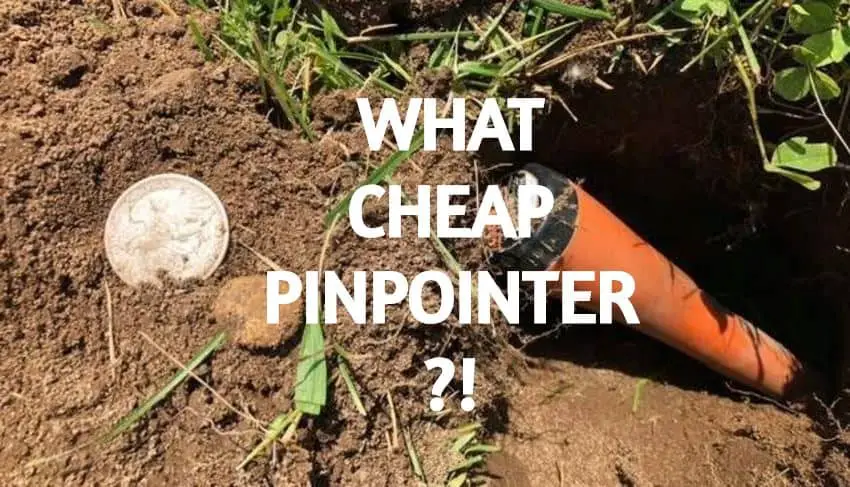 Few weeks after I've started being interested about Metal Detecting I was surprised that many hobbyists don't use a Pinpointer, almost, at all …
… There are actually many reasons behind this attitude! One of these reasons (that I want to address in this Post) is the fact that the most known brands in the market (Garrett and Minelab for example) are relatively pricy.
However, the reality is, there are several pinpointers that you can buy at a very low price tag and that can perform very very well …
… So, what are the best cheap pinpointers in the market today? There are many good options. DR. Ötek is probably the best cheap pointer out there as it has almost all the features that you will actually need. There are also other good inexpensive non-motion detectors like the GP-Pointer S and the PUDIBE Pinpoint MD.
In this Post, I give you all the technical details that you should be aware of regarding all these devices! I am sure, that you will end up making the proper choice depending on your budget and expectations!
1. DR.ÖTEK (The Best Choice)
I truly believe that DR.ÖTEK is simply the best cheap pinpointer in the market (Check it Current Price on Amazon!) as of I am writing this Post. It offers all the features you will need in a non-motion detector with a cheap price!
Below, I list some helpful information about this useful detecting tool …
Underwater detecting
When it comes to cheap detecting products, the main challenge that presents itself is using them underwater! Fortunately, even if this ones is inexpensive it operates very well underwater …
… You can even dive with it up to 10 meters, no problem!
Targets
You can use it to detect all metallic items regardless of their size, magnetic properties and electrical conductivity …
… Also, the 4 LED levels give you a better feel regarding the depth of your target so you won't dig more than necessary. Unlike other similar products, the LED is powerful enough to be well seen even under the sun!
Better yet, if you are using it underwater, the vibration is powerful enough to be felt once an item is detected!
Ground condition
This is pretty much an all-terrain device! In other words, you can use it in clean areas like fields or in relatively trashy locations like parks …
… Conductive soils like sand are no exception to that!
Sensitivity
This model is highly sensitive, even to small metallic items … However, due to its 360 degree detection combined with its good sensitivity you should use it with a ring-free hand so you won't get confused by detecting your own ring!
Users
Regardless of how much experience you've got practicing this hobby, this pointer should fit you:
Beginner: Easy to use, represents no complexity whatsoever … Plus, it will make you have more fun practicing this hobby rather than just using a conventional metal detector.
Seasoned detectorist: As it has most advanced model features with a low price tag … Also as the detection task will get easier due to a faster recovery and better accuracy.
Battery
The battery it comes with has a good autonomy to last for hours … Better yet, this pointer has a good automatic shutdown features after every 4 or 5 minutes of inactivity …
… This will tremendously save your battery's energy!
Overall Quality
As soon as you will have this tool between your hands you will feel that it has decent quality! Indeed, it is the case and its standards are as close as it gets to the leading brands …
Post-Sale Service
Even if the price tag is fairly low, the company still provides a 2 year warranty which is a good thing! The shipping is pretty quick and the product is properly packaged …
… The manual is good and has useful practical instructions!
2. GP-Pointer S
This is probably the cheapest one in the list (Check its Price Here on Amazon!), yet is provides most of what you actually need to improve your detecting performance and to recover targets faster …
Detection
It has 360 degree detection, no dead angles! So, you won't need to orient it in a certain way to get feel your target …
Plus, it has a good sensitivity, even if you are dealing with a small sized target! It will beep and vibrate once you come across a metallic item …
… Also, if you want to have a better feel, especially if you are in a dark place you can press the button, so the LED light will turn on once you pick up something.
Targets
As far as you are targeting a metallic based item, this pointer will do well! Whether you are looking for ferrous or non-ferrous metals … Coins, Brass, Nickel, Gold, Platinum or Jewelry stuff, you should always end up getting the job done!
As I've said before, small sized targets are also in the scope … Let's say you are looking for a needle at home … This device will be a solid asset in this case!
However, you will get a louder response tone if the target is bigger! You can even tell the size of your target before you see it based on the noise intensity.
Water Performance
If you submerge this device fully in the water, then chances are, you will end up messing it up! However, the detecting part is actually waterproof … In other words, you can sink that part into the water and it will perform just fine!
My advice is, if you are using it in calm water, a lake for example, than you can use it there as you have the control by sinking the waterproof part! However, if you are detecting on beach water, then I wouldn't do that … You know a wave might suddently come and mess up your pinpointer!
Battery
The package comes with a 9V Battery that could hold for hours!
Who can use this Pinpointer?
Of course, as a hobbyists who is looking for better results (more accuracy and fast recovery) than this device will certainly be a useful asset that you can add to your gear …
… You can also have it in your home as a tool to look for lost stuff in your home or backyard … In fact, it happened to me several times to lose a needle or a ring … And without such a tool it was hard for me to figure out where I've lost that!
Finally, one of the great ways to get your kids excited about Metal Detecting as a hobby is to offer them such a tool! Just have a look at their face once their pinpointer starts beeping … They will fall in love with the hobby for sure!
More features
There are additional features that this device brings to the table:
Frequency: it operates on a single 12kHz frequency … That's a mid-range freq. which similar or close to leading pointers in the market.
Weight: very light, around 7 ounces … that's fairly less than a half a pound including the battery it comes with.
Manual: It comes with a user manual … There is not much stuff you can learn from it! The tool is straightforward easy to use regardless.
Holster: Once you're done using it, put it back in the holster … it will save it from breaking in case it falls down.
A retractable Hanging wire.
3. PUDIBE Pinpoint Metal Detector
This is another low entry non-motion detector (Check it Here on Amazon!) that works just fine! Below, I list most of what you should know about it …
Ground condition
You can use it in various ground types including sand. The latter generally could represent some difficulties for some detection machines as it has conductive particles that may produce false signals!
In all honesty, this pointer won't give you a similar depth as a Garrett or Minelab machine, but it remains pretty close though …
Targets
This is another 360 degree scanner with a decent coverage … ferrous and non-ferrous items could be found using it …
… Gold, Jewelry, Silver, lead and all this kinds of stuff!
Underwater detecting
Unlike the GP Pointer-S the PUDIBE could be submerged into water … It is totally waterproof! Thus, if you are looking for targets under the rain, in lakes, rivers or on water beach it should operate well …
… Better yet, the LED Light will help you to know once you come across a potential target underwater.
Modes
There are 3 detection modes that you can choose from:
Vibration: each time you detect something the device will only vibrate. Good if you are using it at night.
Audio: it will beep if it comes close to a metallic item.
Both Vibration and audio: Useful in case you are looking for small items and you are seeking for a maximum of sensitivity.
Post-sale Services
As the product is made in China, I thought that the after sale service won't be as good as it supposed to be … Yet, the company seems to be well know there, with a respectable reputation …
… Also, you will beneficiate from a decent customer service in case of need, plus a year of warranty … Within this year you've got about 8 months in which you can ask for a refund in case you are not happy with the product.
Other features
Finally, some additional features for this device:
Comes with a 9volt battery.
It is lower in terms of weight comparing with the GP Pointer-S … Only 5.6 ounces!
Retractable hanging wire.
A user Manual written in English.
Conclusion
There are many similar models in the market these days … However, I didn't want to include a ton of them in this Post! I've preferred to include the Best 3 inexpensive models that have all what you need to be successful with this wonderful hobby …
… Hopefully, this will be helpful for you to make a solid choice!
Finally, if you are also looking for more inexpensive detection devices! You can check this Solid list of Cheap Detectors … I've included many good options that still perform very well!
Also, if you are interested in exploring some US States, then I highly invite you to go detecting in Nebraska and Nevada! These states have a lot of potential! Just follow the rules and you will be just fine!