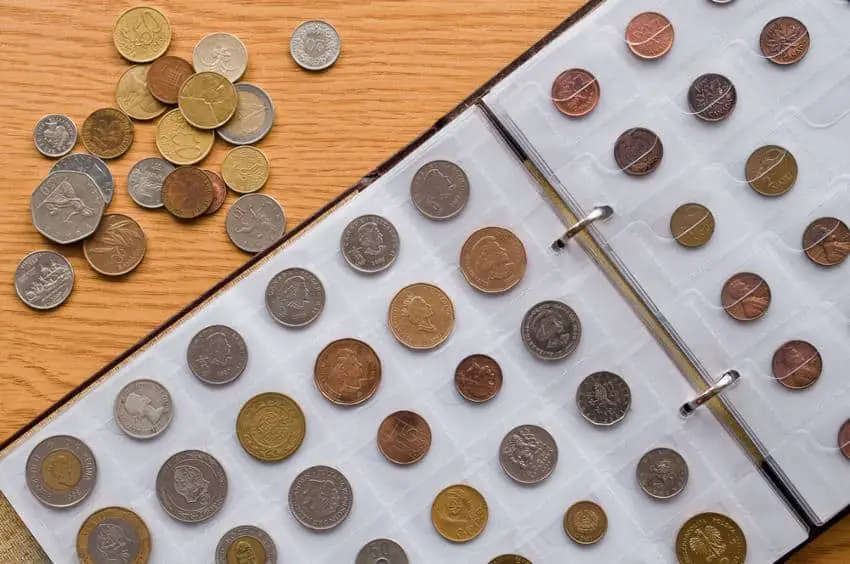 Once your coin collection will start feeling larger you will certainly need to have somewhere to store them without a risk of causing any damage …
… To serve such a purpose, coin collecting albums will be extremely helpful!
Indeed, the main problem with having loads of coins is they easily start to take over any space you give them; and albums will easily help you resolve such an issue.
It will also help protecting your coins so they won't lose in terms of value anytime soon!
Below, I list the very Best albums I was able to find; hopefully one of them will resonate with you.
1. Hobby master Coin and Currency Collecting Starter Bundle
I genuinely believe this is one the best coin collecting albums (Check it Here on Amazon) on the market today. It has all what it takes to serve your storing purposes.
It even includes space for paper money if you choose to expand your collection to other forms of currency.
It has a large capacity from the start. I found the 20 pocket pages useful for holding the standard 2"x2" flips for 300 coins. It features U.V. barriers and is without acid vinyl or PVC, which is an excellent option for archiving coins.
I believe it to be a practical and affordable way of keeping my collection organized and easily accessible, along with being protected.
The ten 4-pocket currency pages are not something I am using, but they may be useful for you. Loose-leaf design is the way to go for easy access to your coins. You can easily flip through your collection, even remove a whole page if you need to reorganize.
Pros
Archival safe
Has a clean, attractive look
Without acid vinyl or PVC
Its U.V. barrier helps more in protection
Features positive locking D rings
Includes a handy coin box
Cons
2. Coin and Currency Collecting Starter Bundle — "Prestige" Album
This is another bundle (Check it Here on Amazon) that will be a good way to start storing your collection properly. It is quite durable and slim at 2½" but still has a large capacity.
Its 15 archival-safe plastic pages can hold almost 300 coins. I found its loose-leaf design very practical and expandable. Plus, it arrives with assorted 150 paper elegant clips with different sizes for various sizes including large half dollars.
Keep your Eisenhower coins safe and secure inside this album. For safe storage of coins in flips, it comes with a handy coin box.
The attractive black coin box is nice to have for storing coin flips externally. It's basically added storage for easier travel.
Also, like the previous album, this one comes with 4-pocket currency pages. The currency pages are also U.V. barrier protected, and its pages are archival safe. You can customize the coin album's front cover frame opening.
Pros
Loose-leaf design
Well made and sturdy
Refill pages available
U.V. design for protection
3 different sizes of assorted paper coin flips
Cons
The 4 per page holder is suitable for U.S. currency only
3. Aitime 180 pocket Album
Collectors with smaller collections rejoice because this is the perfect size for them. Indeed, Aitime 180 pocket album (Check it Here on Amazon) measures at 11.4 inches long, 6.5 inches wide, and 0.6 inches tall.
Definitely the slimmest album on this list. Don't let its compact size fool you though. It still boasts the same durability as the others on this list.
This one offers 180 pages of 1.77 inches x 1.77 inches pockets. Its compact design might be its only flaw. All the pockets are the same size which is ideal coins with a 1.66-inch diameter or smaller.
For what its worth, the coin flaps on the pockets are designed to keep coins secure inside. Although they are small. Also, you may not be able to fit coin flips inside the pockets.
I found this album practical for smaller collections of similar coins that do not need much labeling.
You could probably find small white adhesive labels to fit over the clear pockets.
The construction is made of environmentally OPP materials. Archival safe? Maybe. Slim design and durable? Yes.
Pros
Slim
3 Colors to choose from – Red, Blue, Green
Inexpensive
Dime to half-dollar sized coins
Cons
Not expandable
Difficult for labeling
4. Coin Collecting Starter Holders
This is a high-quality leather album (Check it Here on Amazon) that holds up to 120 coins. Talk about fancy! It features the practical and expandable loose-leaf design and is really easy to carry.
Let me tell you I was shocked it includes 240 pockets and you can fit coins and flags of different countries.
I found it interesting that it has separate pockets for flags and other labels so you can easily mark any information about the coin.
Those pockets make this a must have for coin collections with foreign currency.  The transparent plastic pockets are made from PVC. Kind of a deal breaker if you are planning on archiving coins in this album.
The pocket sizes are 1.6 inch x 1.5 inches. Kind of limited on the coins you can store in this album. It does come with a world flags set to go along with your collection.
Pros
High quality
Amazing design
Lightweight and portable
Includes pocket for flags and other labels
Its refill pages are available
Enables your own unique DIY
Cons
5. Hotop 120 Pockets Coin Holder Collection
Hotop's coin holder album (Check it Here on Amazon) might be the cheapest one on the list. Yet, it provides a good price/quality ratio as it's made of artificial leather.
Due to its size and weight, I bet you will find it quite portable and besides this, it's quite durable for its price.
It's a nice quality build with 120 pockets made of environmental OPP material. Each pocket measures 1.18 inches x 1.18 inches with a flap. These envelope flaps look to be secure which is good since you won't fit coin flips in the pockets.
The 10 total pages can easily store your coins, caps, tokens, medallions and badges. Which is great if you only have a small collection of these items.
You can choose this album as an inexpensive option for a coin album. If you have a particular set to store that doesn't need much space, then choose this one.
Pros
Envelop design
Easy to use and portable
Durable
Provides enough space for small collections
Transparent plastic pocket for viewing
Cons
Not for larger coins than 1.1 inch
6. ULTNICE 240-Coin Collectors Coin Collection Album
This one (Check it Here on Amazon) is simple yet very small and portable. Its best for coins with a diameter less than 1.18 inches as it has all the same size pockets.
My only flaw I see with this coin album is its dimensions. It is wider than it is tall. I know it's a trivial complaint, but when I put an album like this on a bookshelf, I would like for it not to hang off the shelf.
The clear pocket sheets are soft plastic which makes them flimsy. But fortunately the soft plastic is not the kind to rub off onto your coins.
If you like soft plastic but worried it will damage your bare coins, you don't have to worry with this album. I say bare coins because you will not fit flips in these pockets.
The little flaps secure coins fairly well. With 60 pockets and 10 pages, it's a nice coin collection book that can hold up to 240 coins. I would say it sufficiently meets the needs of a coin collector.
Pros
Small and easy to carry
Hold fits nicely
Can easily see the coins
Made of quality and durable P.U.
Serves its purpose well
Cons
Can hold only small coins
Are coin collecting albums for all types of coins?
Well kind of, these albums listed are meant to be for all sorts of coins so you can assemble them and later on enjoy studying them.
The basic use, as I've said earlier, is to protect them as the value of a coin is found in its condition.
Graded coins inside of protective cases will not fit in an album. It's not practical. When you factor in the size of the protective case then the size needed in an album for the case it becomes impossible to fit both together.
If you are using coin flips, you definitely need larger pockets. Loose coins would do best in most of the albums listed.
Do beginners need to use albums?
Every coin collector no matter if they are a beginner or advanced, need them to store their collection and display them properly!
They preserve your coins and keep them away from damaging.
Also, they allow you to view both sides of the coin safely instead of using a cigar box for storage where the coins damaged by rubbing against each other.
So, even if you are a beginner I would still suggest you get a good album to have full control over your coins.
You can learn the coin collection basics! These are really important!
Final thoughts: Are these albums worth it?
Obviously a big YES!  As I said earlier, they secure your coins from dirt and dust and avoid damage by rubbing against each other.
Coins are precious commodities for those who know their value well!
Collectors love to see their coins protected and organized! Not to mention that setting them up neatly in a proper album saves lot of time searching for a given coin you are looking for.
The small investment in a quality album is worth it if you value your coin collection.
For more tool, have a look at this helpful article!