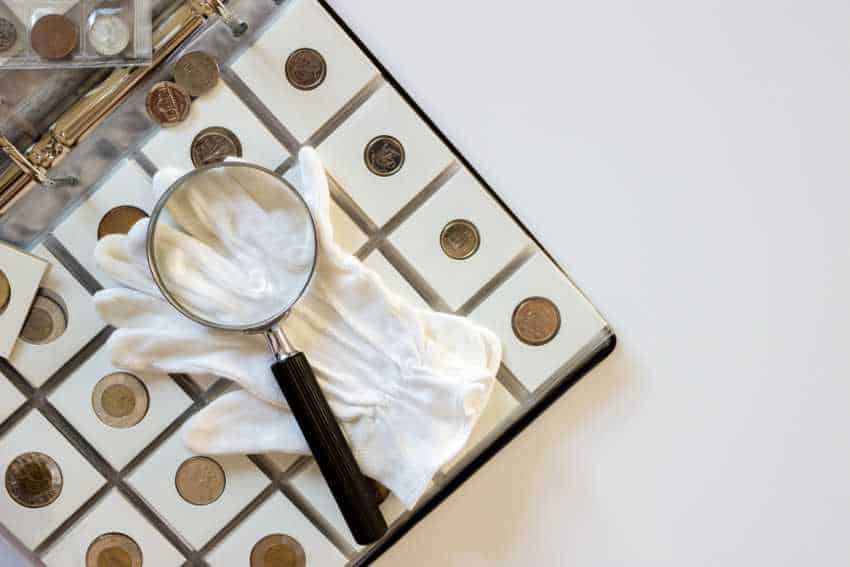 Handling collectible coins with your bare hands is a definite no-no! Indeed, the last thing you want to do is to cause damage to valuable coins …
… To do so, you really should minimize the contact with your hands.
In this post, I walk you through the best coin gloves you should use to look after your beloved coins!
Best Coin Handling Gloves …
1. White Cotton Gloves (24 pairs)
Cotton gloves are essential for handling coins. Cridoz (Check it Here on Amazon) makes a good quality pair of white cotton gloves …
… This pack contains 24 pairs, which is good because you can have a good supply of gloves on hand at anytime. Cotton gloves collect dust and dirt pretty easily and white gloves will show how dirty they are pretty quickly.
Personally, white gloves are the best for easily identifying when you need a new pair. These gloves come in size large. You'll be paying a bit extra for extra large, but the large should fit most hand sizes. The gloves are slightly stretchable. Don't expect too much stretch however!
They are washable and reusable. It should be awhile before you have to wash all 24 pairs, unless you plan on handling coins often. Or, if you have other purposes for these gloves like handling jewelry.
One con about these gloves is how the finger lengths run a bit small. The wrist is a bit wide also.
2. Zealor 6 Pairs Cotton Gloves
Zealor offers 6 pairs of cotton gloves (Check it Here on Amazon) made of thickened cotton. They are made of 70% cotton and 30% nylon. These will stretch better than the previously mentioned Cridoz gloves, but nylon is one of those materials that doesn't last long.
Nylon makes up most of your elastic band material in your clothing. Think of your socks and how they fit snug around foot, yet still able to stretch when needed.
Thickened cotton gloves may make picking up coins from flat surfaces difficult. Which brings me to my next point about these gloves, they fit snug since they are thickened. Those with larger hands will definitely notice the difference if coming from another brand.
Someone with small hands will also notice the snug fitting of these gloves. If you have small hands and most gloves slide off easily, then consider Zealor gloves for sure.
If you are worried about transferring the oils from your skin to your coins, then thickened gloves like these will prevent that from happening. If you have ungraded coins, especially uncirculated and proof coins, then thickened gloves are perfect for you. Oils from your skin, no matter how small of an amount, can cause damage to your coins.
3. Size Small – 6 Pairs (12 Gloves) Gloves Legend White Coin
Finally, a small size on this list (Check it Here on Amazon). Most gloves advertise as a one size fits most. As someone with smaller hands, I can tell you that is not always true. Gloves out on the market either have really long fingers, or they have wide width and fall off easily.
Gloves falling off while handling coins can be frustrating and make accidentally dropping a coin more common.
However, the brand Gloves Legend offers a size small with a premium weight thickness that might fit you best if you have smaller hands. The measurements are:
Bottom of cuff to tip of middle finger measures ~8 3/4″
Widest part of palm measures ~3 5/8″
One unique feature about these gloves is the seperately sewn on thumb for better comfort. This is not something you typically find on white cotton gloves.
The cuff is self-hemmed and the gloves are reversible. They are 100% cotton and stretch minimally since there's no nylon material.
You can throw these in the washer, but will shrink in the dryer. Keep that in mind before washing these gloves.
These gloves are offered from small to extra large. It appears the sizes the company offers run a little shorter than most others. If you are looking for snug alternative, then choose Gloves Legend brand gloves.
4. 16 Pairs White Cotton Gloves 8.6″
Now we go to the opposite end of the spectrum and focus on large size. Paxcoo (Check the gloves Here on Amazon)was kind of enough to add their dimensions of the glove in their listing.
These white gloves are listed as Large, but are better described as Extra Large gloves. It is mentioned that they fit most sizes however those with smaller hands will definitely want to avoid purchasing these gloves.
For a size large, the fingers run a little longer than most listed so far. The full dimensions are 8.3 x 4.7 x 2.9 inches. The thumb is advertised as sewn on separately, which is not the case with these gloves. You'll find the stitching on these tight and secure. Of the 16 pairs, the size is consistent.
They are made from cotton and polyester. Not thick cotton however. As with the other gloves on this list, they are machine washable and should only be line dried.
Dryers will shrink these gloves. Since they do run a little long, maybe it will be worth drying one pair to try to get a more snug fit. It's worth a try if they feel a little too large.
For the price and considering how many pairs you get, it might be worth experimenting on one pair.
5. Amariver 12 Pairs White Cotton Gloves, 9.4"
To round off this list we are going over some of the largest gloves available. These Extra Large gloves (Check them Here on Amazon) measure 9.4 inches. Which is perfect for those who keep finding gloves that don't fit correctly because they are too small.
Although these are longest on the list, the wrist only measures in at 3.5 inches. They are made out of 100% thicker cotton. The thicker cotton will prevent oils from your skin from reaching your coins. As an added layer of protection, the inside of these gloves are lined.
Fortunately, the thumb is sewn on separately on these gloves. They offer a fair amount of stretch for being thickened cotton.
Will they hold up too being thrown in the washer? It appears not. One of the cons of these gloves is the quality. These gloves are perfect for a few uses, and may not hold up after being washed a few times.
If you are looking for a larger size glove that you only need a few times, then definitely buy these pairs. Expect the wrist to fit on tight though. At least you know they won't slide off while wearing them.
Is it safe to handle coins using latex gloves?
It depends! For the most part, handling your coin collection with latex gloves is relatively safe for your coins. However, you will want to be absolutely positive you are only using powder-free latex gloves.
It's understandable you will feel more dextrous with latex gloves versus cotton gloves. The problem is the rubber from most gloves will add sulfur compounds which will tone coins kept in contact or sealed up in airtight containers with them over prolonged periods.
Handling coins with latex gloves is safe in small amounts. Just don't leave them in contact for too long.
Is it possible to use non-cotton gloves to handle coins?
You certainly can. As mentioned, keep the exposure to non-cotton gloves to a minimum. Cotton gloves, especially thicker cotton gloves, add an extra layer of protection from transferring the oils on skin to your coins.
It's best to use any type of clean glove rather than your bare skin. Especially for any coin that is not circulated. If you decide nitrile gloves are best for you, then be absolutely positive it is the powder-free type.
Considering cotton gloves are reusable, it's more cost-effective to use cotton gloves instead. In the long run, you'll have more money for more coins.
Do these gloves always need to be white?
The color of your gloves is ultimately up to you. If they are cotton and you want to dye them to your favorite color, then there is no set rule saying you can't. White on the other hand is going to be the best color for you to determine how clean your gloves are.
It will be difficult to tell how dirty your gloves are if they are any color other than white. You want to minimize the amount of dirt and oils you add to your coins. White gloves give you the clearest indication of how clean or dirty a glove is.
How to wash/clean these types of gloves?
Since most of the white gloves listed so far on this list are 100% cotton, you can wash them the same as you would with your white loads you put in your washing machine.
There's another method too. This one works well for a pair or two at a time. Wear rubber gloves to protect your hands while doing this.
Fill up your sink with warm water and add about five drops of mild detergent and a fourth of a cup of bleach. Immerse your pair and swirl around the water solution squeezing lightly as you do. Do not wring or twist them.
Rinse under warm running water. Gently squeeze out the water left in the gloves. Next, wear the gloves so they form to your hands. Leave them out to air dry.
Do all types of coins need to be handled by these gloves?
All kinds of coins could benefit from being handled with cotton gloves. Regardless of condition, cotton gloves are the best for protecting coins.
Circulated coins are the only coins you could handle with bare skin. If you want to prevent any further changes to your circulated coins because of the oils on your skin, then choose to use cotton gloves.
For your uncirculated and proof coins, you will protect them but also keep from smudging them with your fingerprints. Handle these coins with cotton gloves if want the best shine out of your coin collection.
Conclusion
Really hope you've got a better idea on the right coin gloves you should be using to look after your coins …
… Handling coins with white clean gloves brings a beautiful feeling, really!
But in case you are considering some coins from your collection as an investment, then these gloves are absolutely a Must!
Finally, I highly invite you to have a look on: