Lot of hobbyists think that the most challenging part about metal detecting is learning their machine or dealing with hard ground conditions!
Indeed, while this could be somewhat true, it is very important to highlight that researching metal detecting sites is considered by many seasoned detectorists not only as the most challenging part of the hobby, but also the most critical step for a successful hunt …
It is very hard to argue with that as proper preliminary research before targeting a specific location usually makes all the difference by increasing the odds of finding valuable targets and by saving you a ton of time and energy.
In this article, I give you some ideas of where and how you can properly research metal detecting sites.
1. Online Research
This is pretty obvious nowadays as most people have access to the internet, yet I want you to pay attention to what I am about to share …
Of course, the easiest thing to do in today's online world is to start Googling or conducting online research to find nearby places of interest to metal detect.
You will be able to find many interesting news stories or old town records, images, and even maps from the olden days that may give you a clue about a nearby spot to start searching.
However, don't rely only on Google!!! Indeed, Facebook Groups is a GOLD MINE when it comes to metal detecting research. I rely on Facebook groups a lot myself, not only to research new locations to metal detect but also to ask questions about metal detecting/detector topic I feel I need to learn more about. You can check this group example.
The good news, is that for each US state and even each country there are at least a couple of metal detecting Facebook Groups that you can join, ask question and share your finds. Some of them organize events periodically that you can join; this gives you the opportunity to network and interact with other hobbyists.
2. Local Historical Society
Visiting the local historical society of the town may get you a bit more information on old sites to potentially metal detect.
Using a historical society as a local resource is good idea because not only do they showcase artifacts and relics unique to the area, but usually, the person working or volunteering there have a vast knowledge of the local history and can be a great reference to talk to about places to metal detect.
However, keep in mind that many locations where valuable artifacts were found were markets as historical sites. And these are in most cases forbidden from any metal detecting activity.
So, make sure that you are aligned with the rules beforehand!
3. Libraries
Never discount the importance of going to the local library of the town. Most libraries have a local history section that contains a wide collection of books that recount earlier times and often show a collection of pictures with excerpts that you can begin to reference for new places to go metal detecting.
Side Note: If you are looking for books that are actually helpful and that can leverage your abilities, then I highly invite you to have a look of this solid metal detecting book collection. I think you will find it useful.
Depending on what you're looking for, these photos may include old parks or picnic areas, battlefields or encampments, schoolhouses, swim beaches, etc.
You can also use these old photos to compare the areas with modern times. Cross-referencing exact locations can help you narrow down the locations where you might find treasure.
Other references found in the library may contain information such as old ghost towns that are now gone.
4. Old Maps
Of course old maps could be Huge when it comes to researching metal detection locations. They will give you an illustrated historical snapshot of when a State, region, city or even an area looked like a long time ago …
Obviously, you would be interested in potential targets dropped or lost from that time.
The nature of the activity mentioned in the map could help you predict the potential finds. For example, an area where there were goods trading is probably a place where you can find old coins or even old valuable goods like old jewelry.
Of course, this won't always be as easy as this example, but overtime, you should get good at it.
You can check oldmapsonline.org where you can find a huge library of old maps that you might find helpful!
5. Plat Maps
Plat maps have been in use for hundreds of years to find out land ownership, locations of homes, schools, churches, fairgrounds, lumber mills or old grist, picnic groves, natural springs, and many other places.
All these are potential locations where you can find some amazing finds
It is highly likely that your local library will carry several versions for you to use, some even from the 1800s.
Learning to read a plat map takes a little bit of practice, but once you understand how you can overlay it with recent maps and cross-reference the two, it becomes very easy to pinpoint potential search spots in relation to how the land looks now based on current maps from new construction over the years.
6. Use Drones
It is possible to get a live aerial view of a location by launching your own drone and flying it across a field, swim area, or any point of interest.
Using a drone with camera (Like this one) is beneficial as it gives you real-time data, whereas Google Earth might be having images from some time ago, depending on when the last satellite image of that area was taken.
Keep in mind that drones aren't always allowed, so make sure to check your state rules using it.
7. Research locations for Gold (Tips)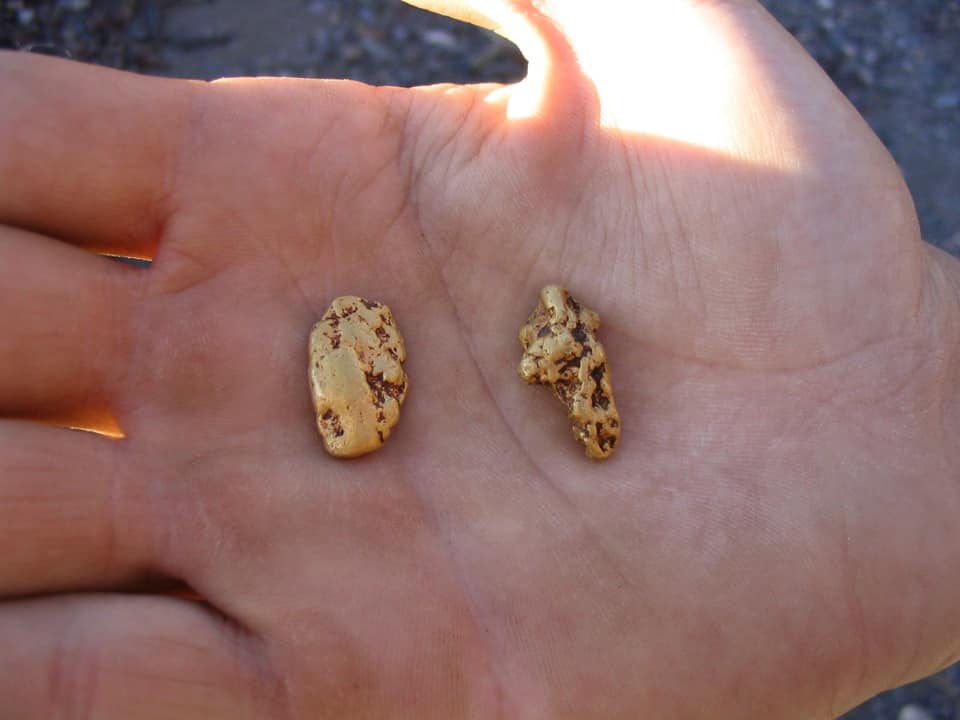 For those who are interested in finding gold, the first step to start your research is to find out about old mines, rivers, and creeks of the particular area you are interested in.
Find out places where the early miners were known to search. You are much more likely to get success on such sites.
Nevertheless, finding such places can take some time and experience. There are some indicators that you will learn to recognize over a while …
Some of these indicators are more obvious than others. For example, an open mine is obvious, but a small stream that was hand-placed hundreds of years ago might not be prominent.
Many beginners tend to dismiss searching at historical mining sites. It is important to understand that experienced detectorists know and recognize the importance of such places.
You also need to learn and familiarize yourself with the mining region, especially if you are searching for gold.
Several natural gold indicators are there in most areas that produce gold. Learning to identify the types of rock that are associated with gold in your particular area will help.
Remember that gold is difficult to find, but knowing what kind of rocks are usually associated with gold and what types are not associated will help you find the best areas to metal detect.
Learning the general geology of the particular mining area is important. For example, color changes of soil tend to be pretty good indicators of a contact point.
Ground changes can also be obvious or subtle hints to whether gold is there in that area. At the same time, researching and finding out how to identify natural gold indicators is also important.
Of course, the internet is the first place to begin your research. An exceptional amount of historical material is available on the internet about every region, including detailed geological maps of each area in the US.
You can also use Google Earth to find old mines and other areas of interest. Using a satellite image layer on Google Earth can help you look for evidence of previous mining activities in the area.
It can also help you search for old mining shacks, tailing pipes that may hold some gold, creeks, rivers that have been placer mined, hydraulic mine pits, etc.
Another website that can help is mylandmatters.com. This website is used to find current and past mining claims, and it gets updated regularly. Mapping software can also help you navigate around remote or old mining areas.
Final Thoughts …
You can further enhance your research by searching through various materials, including historical reports from old newspapers, the US Geological Survey (USGS) website, and other government sources.
Many states also have books (or ebooks) that include details on places where valuable items like gold and silver could be found.
Though books might not contain too much detailed information, they are a great starting point.