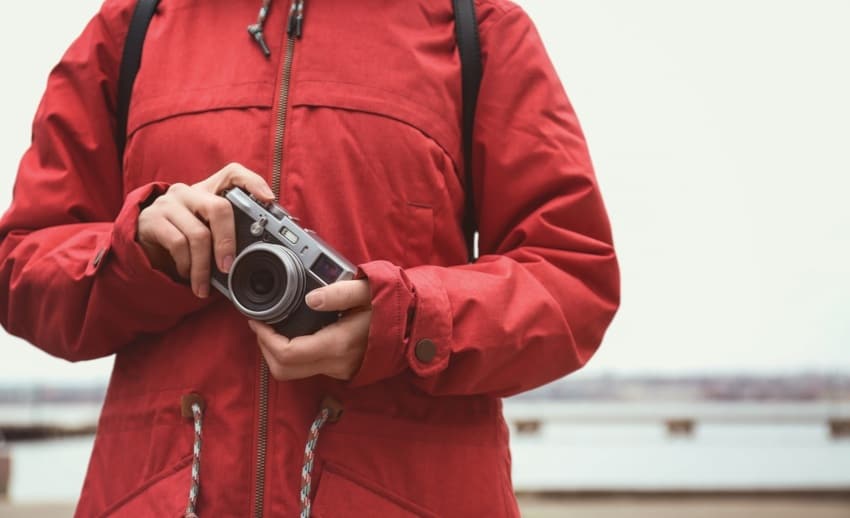 Documenting your Metal Detecting Journey is extremely important! This will help you go back each time to what you've recorded, learn from your mistakes if any and enjoy watching your work with your family, friends, kids …
… For that you will certainly need a quality camera to record your journey, your finds and the places you visit while detecting!
In this Post, I list 5 High Quality Cameras that you can use to document your Metal Detecting Journey.
1. GoPro MAX
If you are a fan of photography and want to indulge in both your hobbies of metal detecting and photography, then the GoPro MAX (Check it Here on Amazon) is the ideal choice for you.
This model can be thought of as three cameras in one. Instead of wondering what all you can do with the GoPro MAX, you should ask yourself what it cannot do!
The hyper smooth camera makes shooting stable 360 degrees videos super easy. Combined with this is the 360-degree audio pickup, which adds a totally new dimension to the videos you shoot.
The brand new Hypersmooth image stabilization that this model is equipped with allows you to shoot stable images in even the roughest of all terrains.
You can capture 5.5K 360 degree videos using the MAX's 180-degree cameras. With the hypersmooth stabilization technology, walking and shooting images have never been easier.
Being a GoPro, you can mount it on just about anything. This is a sturdy and waterproof camera that will come in handy whenever you are out detecting in extreme terrain and weather conditions.
2. Olympus Tough TG-6 Waterproof Camera
The Olympus Tough TG-6 Waterproof Camera (Check it Here on Amazon) is one of the easiest and intuitive cameras to use for metal detecting.
The image quality is good, not particularly outstanding to be honest. This is a decent camera for detectorists who want to record their finds and journeys, but don't want to spend a bomb on cameras.
It has an internally stacked zoom lens, provides video recording in 4k resolution, and the best feature is that the camera is intuitive.
The camera comes with a 3-inch LCD screen, which is better than the previous TG-5 model. It comes with 1.04 million dots and with a new anti-reflective coating that is placed in front of the sensor.
This new Olympus model also comes with new underwater shooting capabilities and allows the user to use the 1cm close focusing ability outside of the Underwater Macro setting.
Raw shooting and 4K video capabilities of the camera are excellent. The camera is entirely waterproof up to 50 feet (15 meters) of water. It is also shockproof up to 7 feet (2.4 meters) and crushproof to 200 lbf (100 kgf).
For detectorists working in icy conditions, this model is also freezeproof to -10o Celsius.
The attractive body design and large buttons make it convenient for you to operate underwater, and you can easily use the camera while having your metal detector in your hand as well.
3. Panasonic Lumix LX5 review
The Panasonic Lumix LX5 (Check it Here on Amazon) comes highly recommended by many detectorists.
This one is perfect for taking macro shots for finds and produce quality images. It is capable of making high definition videos as well.
This model comes with a clickable control wheel, and there is also an easy-to-use slider present around the lens for changing the aspect ratio.
Panasonic has also added a simple movie-record button, making it very easy to record 720p HD videos while detecting at the same time.
It has a 10.1-megapixel sensor wand a new 2.8x 24-90mm zoom lens. It also has a 10 megapixel CCD sensor.
You will also have an:
Anti-shake system
Intelligent Resolution technology
Optional electronic viewfinder.
It is the ease of use of the LX5 that makes it ideal for metal detectorists.
4. Canon EOS Rebel T1i Camera
The Canon EOS Rebel T1i (Check it Here on Amazon) is another excellent choice for outdoor activities in general and metal detecting in particular.
This is Canon's first DSLR camera that features both full HD and 720p video capture in the same camera. This camera provides some exceptional HD video as well as high ISO shots.
The model comes with features such as a 15.1-megapixel sensor, an impressive DIGIC 4 image processor, a 3.0-inch high-resolution LCD, and full manual control over exposure, which is ideal for fans of photography who want to have their own settings.
This camera include everything from sports to night portraits. The night portraits scene mode makes it easy for detectorists to take pictures for their targets at nighttime as well.
The Canon EOS Rebel T1i is known for providing some of the highest quality still images when compared to other cameras from Canon and Nikon.
It can shoot full HD videos at 20 fps or 720p videos at 30 fps. This sets apart this model of the camera from many others. At the same time, the T1i can also capture a standard-definition video and also has a monoaural built-in microphone for better sound capture.
Another feature that is ideal for metal detecting enthusiasts is that the model comes with the Peripheral Illumination Correction, or in-camera lens correction, helping you improve the overall quality of pictures.
5. GoPro HERO7 White
GoPro HERO7 (Check it Here on Amazon) is one of the best entry-level action cameras for metal detection hobbyists who want a no-hassle camera that will simply press and shoot.
It provides a solid 1080p video quality with excellent stabilization. It is easy to use and is completely waterproof. However, this model does not have 4K shooting capabilities, and some detectorists have also claimed that the operation speed seems to be a bit clunky.
It has a 10-megapixel 4:3 sensor and electronic image stabilization. It also at 10-ATM water resistance and voice control.
The Water Resistance Capability of the camera is rated at 10-ATM, meaning that it is strong enough to allow those beautiful underwater shots, and you won't need a diving case also.
You can choose from two resolutions in the HERO7, which is the standard 1080p or the 1440p, which extends the vertical axis to use the entire 4:3 aspect sensor.
So while the HERO7 is not a professional level camera, but it works great for those who don't want to deal with a hundred different settings in a camera.
Conclusion
Really hope that these Cameras I've included will resonate with you, and maybe one of them will sound interesting for you!
I am really glad that you are searching for a Camera to document your detection journey. This shows that you are really in the hobby and that's a good thing overall.
For more tools, I highly recommend you check this metal detecting gear list! You will get to know other tools that you probably should be using.