Belgium is one of the best attracting countries in Europe hands down! Its rich culture and history brings literally Millions of tourists from all over the world …
… Better yet! For Us as Detectorists, the country represents a huge opportunity to discover the countries by digging its ground and coming across some of its historical finds!
However, you should not sleep on the regulating laws for this hobby so you won't have any problem with the local authorities …
… Indeed, in this Post I clarify many aspects that you should learn about before heading to the country:
Some Good Locations that you should Explore.
Laws that organize the hobby in Belgium.
A machine recommendation for the type of soil you're dealing with.
Beaches to explore.
Process to get a detection permit.
…
So, before further ado, let's get into the subject …
What are the metal detecting Laws in Belgium?
There is a lot of confusion regarding the regulating laws for the hobby in there. Generally, private individuals are not allowed to search for archaeological artifacts with a detector, but searching on the beach is permitted.
Belgium is divided into four regional governments, including Wallonia, Flanders, Brussels, and in the East of Belgium, there is the German Community…
… All the four regions have, more or less, the same law regarding detection activities – "It is forbidden to use a metal detector to search for archaeological artifacts and archaeological sites."
However, in April 2016, Flanders adopted a law that allowed only registered detectorists to search for archaeological artifacts and on archaeological sites! This new law was adopted after complaints from many detectorists that they were mistreated by police and law enforcement if they were caught with their machine.
However, the other three regions do not have any such laws in place.
Good places to metal detect there!
While it is forbidden to swing your machine in many of the regions of Belgium, you still can metal detect in Flanders and surrounding areas…
…If you want to, nevertheless, try your luck in Belgium, then here are some good places to eplore:
The Blue Forest in Halle
The Doomed City of Doel which a ghost town
Gravensteen
Castle of La-Roche-en-Ardenne
Farm of Poesele
John McCrae Bunker
Haunted house in Bruges
Miranda Château
The Empty Tower
The Dying Horses of Goed Ten Briele
Le Château de Noisy on the outskirts of Namur
Recommendation: Decent Metal Detector for Belgium Soil …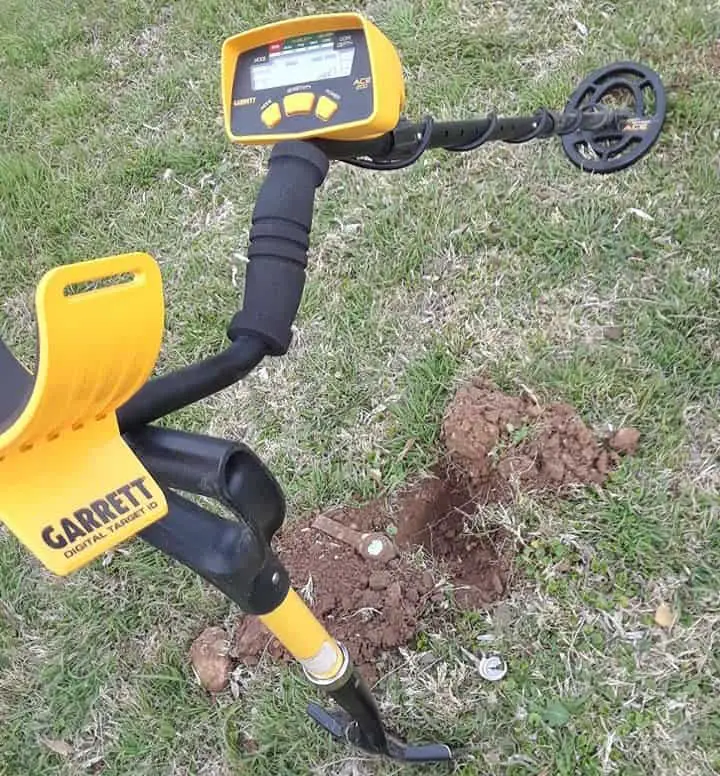 Belgium is known for its flat and diverse landscape! There is a variety of soil present throughout the country!
As compared to the rest of Europe, Belgium has cooler and wetter conditions due to the North Sea and Flanders is known to have mostly clay and sandy soil types since it is located near the sea…
…Wallonia, on the other hand, has a more hilly terrain with the soil being primarily composed of phyllites, limestone, quartzite, sandstones, and shales.
In such kind of soil conditions, one of the best detectors will be the Garrett Ace 200 (Check it Right Here on Amazon!)
Ideal for both beginners and professional detectorists, the Garrett Ace 200 is easy to use and has unique modes that will prove to be convenient to users when they are out hunting for metals.
It has a unique feature that sets it apart from its competitors. This feature is the bell tone, which is present apart from the other three basic audio beeps as well that sound when a user moves the detector over targets.
There is an extra fourth tone that will play when the device comes across something like a coin. This is named as the bell tone.
It also makes it easy for the detectorist to easily identify metal from the trash. This entry-level VLF detector has a 6.5 kHz operating frequency, making it a great asset for coin shooting and also works great for jewelry or relic hunting…
… However, this detector is not ideal for gold prospecting!
The ACE 200 weighs just 2.37 pounds and being such a lightweight detector, you can carry on detecting comfortably.
Finally, if you like using more advanced devices! You can Check this Minelab Machine Here on Amazon! It brings lot of new advanced features to the table!
Is Metal Detecting Popular in Belgium?
The hobby is not as popular as it should be in the country! This is primarily because there have been many incidences where law enforcement officials have harassed and troubled detectorists upon being caught searching…
… From threatening detectorists to roughing them up, there are such cases that were reported! While the hobby is still a bit more popular in the Flanders region, the hobby is yet to catch on in the country…
… However, I won't be surprised if this activity gains more popularity in the next few years!
Best Beaches to explore in Belgium …
The entire Belgian coast has a wide sandy beach, and you can pick any of the towns along the coast to visit the beaches there. For example, Blankenberge is a family-oriented beach, while Knokke is considered to be very upmarket.
Metal detecting is allowed on the beaches of Belgium, but with a permit! You can ask at the local police station about how to obtain a permit and also enquire about the legality of beach detection in that area.
Here are some of the best beaches in Belgium that you should explore:
Ostend Beach
De Panne Beach
Blankenberg Beach
De Haan Beach
Oostduinkerke
Nieuwpoort
Middelkerke Beach
Knokke-Heist
Koksijde Beach
Zeebrugge
Getting a detection permit there …
Only in Flanders is it possible to obtain a detecting permit! In the other regions of Belgium, it is not possible to get a permit in most cases … Sometimes it is possible, yet it is not easy at all!
…In Flanders, you can put in a request to become a registered detectorist at the Flemish Heritage Agency. However, it is not easy to become registered with them!
I am not trying here to scare or faze you, I am just trying to give you a realistic image on what to expect!
Once the request gets granted by the Agency, then you receive an official permit which serves as a personal identification card and has your name and number on it…
… From the day that you receive this permit, you are allowed to search for archaeological artifacts on Flemish territory only. Make sure to keep the permit with you at all times while swinging you detector!
Are there Detection Clubs there?
There are some clubs including:
NVD ANP MD Club
MD Belgium
But due to the hobby popularity which is not quite up there … There is not lot of clubs out there!
However, there are some online forums where you can discuss about detecting in Belgium, share your finds, learn some tips, get advice on where to detect … Yet, there is not a lot!
What popular Targets you can find there?
There are many potential finds that you can come across there:
Old coins: There are many old coins you can find there, including, B. Leopold 1 or 2 or 3 (5, 20 or 50 Francs), Belg. Boudewijn is another old coin you might find even if it is pretty rare.
Relics: All sorts of relics are possible to find there, including old spoons, old bottles, old little toy cars …
WW aircraft: It is possible to find there all sorts of ammunition.
Jewelry: Finding gold, platinum even gem jewelry is pretty common there … Of course I recommend returning that to the owner as this is an ethical thing to do.
For more finds, just have a look at this article I've recently written!
Conclusion
Belgium has a solid history that attracts lots of people consistently! That's why going there, getting a permit and swinging your detector in the country soil is totally worth it …
At the end of the day, this hobby is all about having fun! And there is nothing cooler than stepping foot in a different country to finding valuable items there …
So, have fun!
Finally, if you are looking for more fun countries to explore! Then you definitely should have a deep look at these Countires in which you can metal detect! There are some countires that could surprise you!