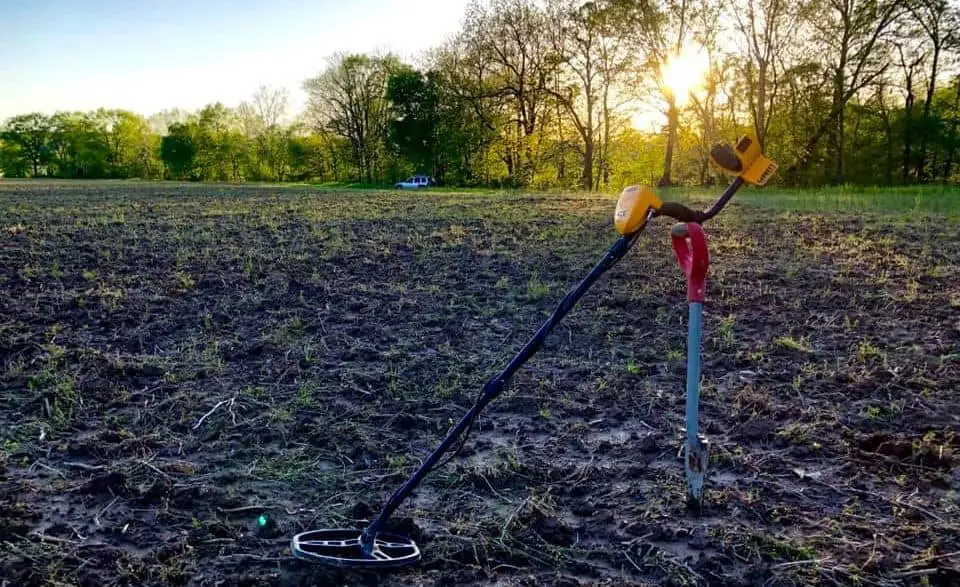 They always say, if you want to Metal Detect always start fromyour backyard! There is nothing wrong with this statement since this will allow you to get used to the hobby to a certain extent …
… However, if you want to take this activity, literally, to the Next Level, then the best thing you should do is to take your Metal Detector and use it in different countries … By doing so, you will have the chance to discover new finds, explore new territories and witness different cultures!
In this Guide, I share with you the Best 15 countries in which you will have, certainly, a great Metal Detecting experience … In each paragraph I will walk you through most of what you should know for each one of them … Especially when it comes to the regulating laws and the places that you may want to target …
… Hope you will find that useful!
1. United States
The US is perhaps one of the best countries where you can swing your machine. Most states grant you the possibility to enjoy the hobby without much restriction …
… However, you will need a permission to use your machine in national forests and state parks from the actual manager of the place! This also applies to private properties…
… When it comes to the beaches and other places within the country, you can continue to detect without any limitations!
Colorado, Florida, Pennsylvania alongside with Alaska, Michigan (Learn about detecting in Michigan), Alabama are all great states that you can head to.
The hobby is seriously very popular in the US, and there are many online forums and clubs dedicated to help each other to identify finds, choose a new machine, suggest new locations as well as many other things.
Some of the most popular clubs in the US include:
Desert Gold Diggers
Arkansas Treasure H.unters Club
Coinshooters of San Diego
Ocala MD Club
Tri-State Relic H.unters Club
Mid-Western Artifact Society
Great Lakes MD
Personally, the state that I appreciate the most is Pennsylvania! I've written this article on detecting in Pa that you … Check it out!
2. Australia
Detection and prospecting for gold nuggets activities are both allowed along with beach detecting in Australia … The latter is the most favorite among locals!
There are not many archaeological finds to be found there as compared to the US and Europe in General … However, most states, though, require you to have a Fossicking License or a Miner's Right permit!
In addition, National parks are mostly forbidden unless they are covered under your fossicking license. Some of the ideal places that you can explore in Australia are old goldfields and other mineral exploration areas, ghost towns, historical sites, sports and camping ground, around piers and of course on the beaches.
This activity is backed up with a ton of dedicated clubs as a result of its growing popularity. The Brisbane, the Victorian Seekers and the Busselton Collectors are all solid clubs that you can join there …
… If you have any intention to head to the country, just have a look at this Detection Australian Guide! You will get all sorts of helpful information.
3. UK
In the United Kingdom, it is illegal to use your detector at a protected scheduled ancient monument without having the proper permission. In addition, the Permit could be obtained from the Secretary of State for the Environment …
… The Treasure Act 1996 is the primary law that governs the activity in the UK.
Detecting at the many beaches in the UK can prove to be very rewarding, but you still need a permit before you can try your luck.
All the beaches in the UK are owned by the British Crown Estate, and you can get your permit pretty easily from the website of their official website…
…The permit will allow you to detect on the shore only and does not include permission for the riverbed, seabed, or any other land that is owned by the Crown Estate.
Some of the best spots for treasure hunting in the UK include Norfolk, Coventry, Bristol, City of York, East Anglia, Lincolnshire, and many other places are ideal for trying out your luck.
This UK Metal Detection Guide will walk you through all what you should know! Trust me, it is the most complete guide regarding the hobby that you could find.
4. Canada
There is no law against the use of detecting equipment in Canada! The only restrictions are related to the use on private properties … That is, you need to get the permission from the landowners first…
… National and provincial parks are not allowed for you by default. However, some local hobbyists confirm that except at registered archaeological sites, there are no serious restrictions to explore national and provincial parks as well.
In addition, Beaches have no regulating rules and you can search them pretty freely across all the Canadian beaches.
Halifax Common and other public parks are known to yield valuable items. Plus, Places like Nova Scotia and Ontario are all popular locations where you will find many hobbyists in public places.
There are many clubs across Canada that you can head into … The most active ones are:
Calgary MD Club
The Rainbow's End
Canadian Treasure Seekers
Canadian Heritage Seekers from Niagara Peninsula
Chatham Kent MD Club
Lower Canada Metal Detectors
Thames Valley MD Association
I've put together this Post about detection in Canada that you should check out, especially if you have the intention to go there!
5. France
In France, it is allowed to detect, but with prior permission! You don't need permission beach detecting though!
Having a rich culture and history, France is one of the finest countries that you should discover. But, before that, you need to get a permission from the prefecture according to the Article L542-1 in the Code du Patrimoine…
…However, many local detectorists often claim that the permission is not always given, and due to this, many people just go ahead without bothering to get the permit. Just Keep in mind that if you are caught without a permit, you may find yourself with the obligation to pay a fine.
All the items that you find need to be declared to the local authorities, especially when it comes to something historically valuable. In fact, Since France has witnessed many wars, it is very much possible for you to actually find something historically important …
… Generally, you can freely detect on France beaches! However, it is important that you understand that many of them are designated as war graves. Therefore, you should check that with the local authorities or police beforehand.
Leisure detecting that is done at 100 meters away from any of the known historical sites does not require any license. So except for the main beaches that witnessed invasion during the World Wars, other beaches in France are perfectly fine if you want to explore them.
For more details just have a check at this France Detecting article! Very thorough, and you will learn more …
6. Spain
There is a lot of confusion regarding the legalities of metal detecting in Spain. The use of a metal detector for searching for archaeological items in Spain is not allowed without a permit/license.
There is a huge problem of illegal treasure hunters in Spain, and due to this, the authorities are quite strict in cracking down on detectorists who are detecting without a license.
However, when you are in there, it is important to know that the laws might vary from region to region! So while in some regions, the hobby can be completely forbidden, other regions allow it as far as you've got your permit.
Any detection of historical or archaeological sites is not allowed. If you have any doubts about a particular region, then you can always check with the regional office of archaeology.
Spain has some of the most beautiful beaches in the world, and they are one of the most preferred destinations for tourists in general and hobbyists in particular…
… Please note that in most cases you will need a one year permit to detect on Spanish beaches. In addition, beaches in the Andalucía region do not that. In fact, the received permit is only applicable to one particular region so if you want to explore other regions, then you will need to apply for another permit there again…
… The good news are, once you've received your first permit, getting the other ones gets easier and quicker!
Some of the best beaches that you should explore in Spain include:
Es Trenc beach
Playa de Ses Illetes
Cala Mesquida
La Concha Beach
I invite you to check this guide about detecting in Spain! I've tried to explain more aspects about the hobby there …
7. Germany
You can use your machine in Germany lands without much issues! However, if you find a very large or a very valuable item then you need to turn it over to the state.
Also, you can only do so with a proper license or permit. Keep in mind that detecting on any historical grounds in Germany is illegal…
… Indeed, if you get caught with no proper permit or having a permit and stepping foot at archeologically important places where it is not allowed to detect, then you might face a fine or have your device confiscated in certain extreme situations!
Being the site of some of the bloodiest battles in the history of the world, there is no dearth of places in Germany. In fact, from battlefields to even the open fields, there is some or the other historical treasure buried almost at every nook and corner in there.
Another excellent caserne you can detect is the one in Baumholder. This place is a paradise for any detectorist. It has rows upon rows of old four-story German barracks as well as an old church.
There are some clubs there known for their good reputation, though language tends to be a problem here as most of the communication on their website is also in mostly in German. One of the bigger clubs is the Verband Deutscher Sondengänger und Heimatforscher (VDSH).
I've put together this Post about detection in Germany that you should check out, especially if you have the intention to go there!
The Netherlands is also another cool/close country that you can check out!
8. Italy
Italy, one of the most beautiful countries in Europe, is also one of the best places to practice your beloved hobby…
… The country has a rich history due to which there are many archaeological and historical sites all over the place. However, if you want to have a go with your detector at these historical sites, then you will be disappointed to know that this activity at any ancient and archaeological site there is strictly forbidden.
However, when it comes to lands that fall outside of the Italian laws, then the local authorities won't have any issue with you as long as you have taken the landowners' permission (wherever needed)!
If you have a doubt about whether it is legal to detect at any particular place, then it is always a good idea to consult the local police or the local authorities and confirm from them because sometimes it happens that there are certain specific laws that govern a particular area.
If you find any ordinance left over the Second World War or anything of significance or archaeologically significant and related to the War, then you need to alert the local authorities about your find.
There are some places in Italy where the hobby is completely prohibited include:
Sicily
Tuscany
Calabria
Valle d'Aosta
Coming to beach detection on Italian soil, you don't have much to worry about there! Some of the best beaches that you can target include:
Spiaggia Dei Conigli or Rabbit's Beach
Cala Goloritze
Tropea Beach
This guide about detecting activities in Italy will be very helpful for you, if you want to learn more details!
9. Ireland
In Ireland, you can only use your machine to search for any type of historic artifacts after getting permission and approval from the concerned government agencies and the landowners when searching on private land.
The country has a rich history due to which there are many places that are hiding some exciting and valuable treasures. However, the law regarding metal detecting is very strict in the country, so always make sure that you have the required licenses before you start anywhere.
There are also many success stories of people finding really valuable things with just with their devices. Some places you can think of visiting include:
Hill of Tara
Giant's Causeway
Dunluce Castle
Dromberg Stone circles
Glendalough
County Wexford
Dun Aengus
The Rock of Cashel
The Burren
Shannon Pot
Due to the rich and varied history of Ireland, there are many locations in the country where you can find gold.  In fact, there are many townships and even mountains there that have gold in their names as well. And even the ancient places were usually named for having a presence of gold. Here are some of the places where you can prospect for gold:
Coom-an-ore (Hollow of the Gold), between Bantry and Dunmanway, Co. Cork
Lug-an-ore (Hollow of the Gold), near Clonmel, Tipperary
Glan-an-ore (Glen of the Gold), Co. Cork
Using your machine on the beach in Ireland is perhaps the only place where the law states that you don't need to have a license. Though many local detectorists are often of the opinion that beach detecting is also a gray area in the country, with many facing fines …
… I provide more details in this article about detecting in Ireland! You can consider it as an initial reference whenever you are ready to explore this country.
10. Scotland
In Scotland a permit also required! You need to get prior permission from the Archaeology Service, and even then, no detection is allowed within 20 m of any historical monument!
Under the present Scottish legislation, exploring any historical or archaeological site is treated as a criminal offense and has an associated fine of up to GBP50,000.
The beaches in Scotland are owned by the Crown Estate and therefore does not require any kind of prior permit. However, it is possible that some parts of the foreshore are owned by the landowners. In such scenarios, you must get the landowner's consent beforehand.
Any finds you come across need to be reported to a museum or the local authorities as almost all finds located in Scotland are subject to the Treasure Trove Law.
The areas that have the highest activity among hobbyists in Scotland are:
Perth and Kinross
Fife
Dumfries and Galloway
The hobby is not a very popular in Scotland, though it is gaining ground over time!
In this Scotland Detection Article, I provide much more details ….
11. Japan
In my opinion Japan is one of the best countries where you can metal detect, in fact, there is no particular law restricting the practice of the activity!
However, it is said that everything that you above the ground in Japan, needs to be turned over to the police. In return you will receive 10 percent of the find value which is cool!
Buddhist temples and active castle sites are strictly out of bounds for any kind of detecting activities in Japan, as are the old Shinto shrines.
There are no regulations that prohibit the hobby in parks and beaches so you can detect freely in these places.
Many people prefer to head to the mountains or to the upper reaches of the many rivers flowing through Japan. One place that keeps coming up in discussion with local detectorists is Yamanashi. Osaka, Okinawa, Shinjuku, and many other places are there where there are high chances of finding valuable items.
The weird thing is that the activity is not really very popular there, maybe Japanese people being too conservative society is a reason.
There are no listed clubs in there! You can find certain online forums, but other than that, there is not much information available on what you should expect…
… However, I've tried my very best to gather these info about M. Detecting in Japan! Hopefully, you will find that helpful.
12. Portugal
I will start with the bad news here; M. Detecting is officially illegal in Portugal! However, even though there are a couple of treasure h.unting clubs in the Portimao and Lagoa districts, members of these clubs need only to get permission to use their machines! So why not be one of them!!
Furthermore, beach detection is very rare and that too only allowed for locals, who also need to obtain special permission from the local authorities before taking your machine to the beach.
While it is prohibited without a permit which is very difficult to get, the activity is most common in the region of Algarve. It is the southernmost region in Portugal, known for its golf resorts and Atlantic beaches.
If you want to get a permit, then you need to apply for the same at the Ministry of Culture. You will get to know the cost of getting the permit over there itself. There are offices of the Ministry at each city and you need to fill out the form for the permit and submit it at the nearest office.
There are a couple of clubs in there, but very few. The lack of clubs in Portugal is simply justified by the prohibition on the hobby in the country and the difficulty in obtaining a proper license.
Some of the clubs that are there organize activities especially at some of the beaches in Carvoeiro and surrounding areas. However, you can only join them unless you have a permit.
I've given some more details in this Post about detecting in Portugal! You can check it out once you're ready to go there …
13. Turkey
There is a lot of confusion regarding what the exact laws are in Turkey. The lack of clarity has made many people shy away from using a detection machine in the country!
While officially not forbidden, Turkey does require that you get a permit if you want to use a metal detector, even on the beach. Do not rely on only verbal permission from your hotel administration as the police will come and confiscate your metal detector away and there are also reports about detectorists being put away in jail due to this.
You can apply for getting a permit in the nearest museum administration or the nearest government office. The administration generally issues a certificate and also provides a witness officer who will accompany you during your searches.
There is also a rule about bringing a detecting machine into the country. While any detector that is valued up to EUR 430 and is for your personal use can be brought into the country without having to pay customs duty or any other tax, if your equipment is costlier, then you might have to keep it at the customer department's warehouse and collect it back when you are leaving Turkey.
For more info, you may want to check this Turkey Detecting Post!
14. India
The hobby in India is an activity that falls in a grey area! Simply because it is still governed by an age-old law known as the Indian Treasure Trove Act from 1878…
…This Act lays down all the laws that govern buried treasures, defining treasure as 'anything of any value hidden in the soil or anything affixed thereto'. This Law is not at all user-friendly and pushes metal detector enthusiasts or professional treasure hunters to be professional and hand over all finds to the local government or to the local authorities.
However, new reforms are being sought in this law as metal detecting is growing in popularity in the country.
Some of the artifacts you can find in India include old coins, ancient relics, old utensils (many people have hit upon several types ancient kitchen utensils), jewelry, precious stones, etc.
Goa is one of the most popular beach destinations where hobbyists and treasure searchers flock to for exploring at the beach. India has some beautiful beaches and it's not necessary that you only go to Goa for this…
…However, as the Goan beaches are full of tourists, it is more likely that you find certain valuable lost items.
Rings, coins, jewelry, and other precious metal items are usually found here. Many people have found gold jewelry on the beaches of India, some of which turned out to be quite valuable.
It is legal to explore Indian beaches, but again there are certain laws that you need to abide by, such as informing the local Collector about your finds.
I can say that this activity is still in its infancy in India. Though it is gaining popularity and growing steadily, there are not many clubs in there! However, there are many online forums that bring together enthusiasts and hobbyists from across the country.
I've tried to include more details in this guide to detect in India! You will learn lot of good stuff…
15. Greece
Using detectors is legal in Greece provided you get the required permissions! More than that, you need to obtain a license for owning the equipment…
… This license is issued by the Greek Ministry of Culture! Unlike other countries, in Greece, if you want to detect on the beaches, then you need to take the Mayor's permission. It is also prohibited to search for archaeological objects in Greece and you could be jailed if you are caught detecting without the proper license.
The process of issuing of the permits can take anywhere between three to seven months, which is a long drawn out process. What I am saying happens in most cases, but in some cases it is possible to get it in few weeks, better yet, in few days!
Greece has some of the best beaches in all of Europe and they are always full of tourists. If you want to indulge in exploring on those beaches, then I recommend that you avoid the peak tourism season between May to October as the beaches are simply too crowded during these months!
Some of the best beaches in all of Greece are at:
Crete
Paros
Naxos
Milos
Los
Mykonos
Rhodes
I've put together more info in this Post to metal detect in Greece! You will find out more …
Conclusion
These were the best countries where you can enjoy metal detecting as a hobby! Of course there are some restrictions but as far as you are following the rules you will do just fine.
The most important thing for me is that you discover new territories and different kinds of finds!
Hope you've found this post helpful and wish you good luck!
Finally, if you are looking in the US for some amazing states to explore, then check my list of best US States for metal detecting!