Colorado, known for its beautiful mountains and breathtaking landscapes, is a good place of attraction for many detectorists who are looking for valuable finds!
Nonetheless, it is seriously important to understand the laws that regulate Metal Detecting in this state! By doing so, you will make sure you will enjoy practicing this hobby and coming across exciting finds without having any trouble whatsoever with local authorities …
… In this Guide, I list what you should generally be aware of before you start using your lovely metal detector in Colorado soil … I speak about …
The laws regulating this hobby
Some lovely locations you definitely should explore
Machine recommendations for Colorado type of soil
Approaching Gold Prospecting there
Some good clubs that you should join
In addition to some practical tips …
So, Let's get into the good stuff!
Is Metal Detecting allowed in Colorado?
This hobby is generally allowed and there is no serious prohibition regarding the use of detectors in there. However, you should keep in mind that this activity is governed by the ARPA (Archeological Resources Preservation Act) Law …
… In other words, if you plan on detecting in Colorado, you should have a permit and follow ARPA updated guidelines, especially when it comes to digging!
This permit won't allow you to detect in state parks … the only possibility you have is to ask for permission from the park manager!
Indeed, you should always check with each and every park manager before using your machine there…
… In fact, as of right now, there are 41 state parks in Colorado and you will have a great time exploring these sites, but only if you consistently keep asking for permission!
There are also 11 national forests in there as well as two national grasslands. You can detect in national forests as well as on other properties of the Bureau of Land Management (BLM).
Where to go detecting in Colorado?
There are many great places that you can explore there! Most people usually begin their adventures from the Colorado Western Mountains…
… Furthermore, there are many historical sites located in and around Grand Junction in there that also draws a fair share of detectorists in search of gold and old coins.
There is also a place that lies just outside of Delta, around 10 miles west towards Grand Junction. You can take highway 50 East of the Grand Junction and look out for the road sign called Rattlesnake Gulch. Take a right there to head towards the bottom of the hill. You will soon reach the area…
… This area is especially popular with detectorists who are looking for gold as there have been many instances where people have been lucky and struck gold there.
Another place you can head to which is again close to Grand Junction lies around 12 miles south of Gateway on the Colorado River…
…There are also some sites on the old Black Bridge on the Gunnison that you can aim for!
Best Metal Detector for Colorado gold …
This state is a great place for gold prospecting!
Detectorists from all over the US flock to Colorado to try their luck at finding gold … If you are not sure about which machine you should use, here is 2 good suggestions …
1. Fisher Gold Bug Pro
This Fisher Machine (Check it Here at Amazon!) is one of the best gold finders on the market. This device operates on a frequency of 19 kHz and can detect even a small trace of gold above any other metals such as a coin.
The search coil allows for fast re-tuning and biaxial coils that pinpoint gold over the other metals. The search coils in this detector are the standard 5 inch DD round closed coils…
…They are waterproof, which is a special feature because not every gold detector has this feature. If the 5″ coil does not satisfy your expectations, then the device also offers an option for an 11″ DD waterproof search coil attachment to be able to go deeper and cover more space while swinging …
… However, you will have to buy it separately as it does not come as part of the original package. The audio on the detector is also excellent and has a variable breakpoint discrimination system, known as V-Break …
…This allows you to get to control the device with a computerized multi-tone audio that has accurate precision.
2. Garrett AT Gold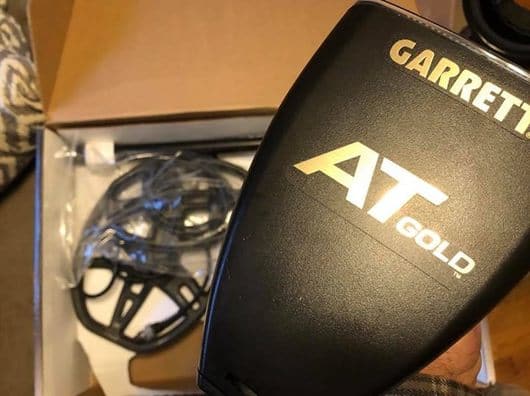 The Garrett AT Gold (Check it Here at Amazon!) is also another high-tech detector that is ideal for gold prospecting!
It has been specially designed to uncover tiny gold nuggets in all terrains, especially in shallow freshwater regions…
… The machine is waterproof up to a depth of 10 feet and is equipped with a 5×8 DD search coil, which is quite big in size to pick up gold signals with utmost accuracy.
It has a true all-metal mode and can discriminate various metals (especially ferrous) with ease. The device also has a top-notch ground balancing system, though it is a bit heavier than other gold detectors.
If you want to know more about this topic, you should definitely check this gold prospecting guide that I've written! You will learn a lot of helpful information …
What finds should you expect there?
You can find many valuables there using your beloved machine!
From gold mines to gemstones, Colorado has many treasures that make it a very popular destination for hobbyists in general…
…There are also many treasure tales there that make it extremely exciting to detect in the state. For example, there are rumors of a treasure buried in Costilla County. This is said to be the treasure of the paymaster of Fort Garland and is said to be buried in the Trinchera Creek.
Another treasure is rumored to be present in the El Paso Country, between Colorado Springs and Denver, near Monument.
Other than that, in Colorado, you are likely to find old coins, gold nuggets, gold dust, jewelry, and many other valuable and treasured items.
Are there detecting clubs?
Because of the popularity of this hobby in Colorado, there are many metal detecting clubs there. Some of the most popular ones include:
Eureka Treasure Hunters Club Denver
Durango Diggers Club
P.O.C. Gold Prospectors Of Colorado
P.A.A Colorado Springs Chapter
Chaffee County Prospectors Club
Pikes Peak Adventure League
Uncompahgre Treasure Club
Durango Diggers
Colorado Gold Diggers Association
Gold Prospectors Of The Rockies
Rocky Mountain Prospectors & Treasure Hunters
Exploring Colorado national forest
The national forests are managed by the US Forest Service. There are many old mines and early settlements that make national forests ideal for this activity!
According to laws, the Forest Service allows detecting on most national forests; however, you should always take note of any of the special restrictions which might be in place at some of these lands…
… For example, some of the forest lands are specially designated as wilderness areas and therefore in these areas, this activity is not allowed!
There are also some areas where private mining claims are found. In such areas you should be careful and take note that you avoid any encroaching on private claims.
There are 11 national forests in this state and also two national grasslands. Some of the national forests that are perfect for our hobby include:
Arapaho and Roosevelt National Forests
Gunnison N.F.
Rio Grande N.F.
Uncompahgre N.F.
San Juan N.F.
White River N.F.
Exploring in Colorado State Parks
The state has many state parks that are spread out all over the place!
Activities that involve any recreational use of the park, such as metal detecting, are determined by the park managers…
…Due to this, many state parks allow people to use their machines inside the park, while there are many state parks that do not allow that. Most state parks require you to have a permit before they give you their permission!
Remember that it is important to respect any rules that state parks have in place and also be respectful of the area, filling up your holes and leaving things in an even better condition than how you found them.
Some state parks are also known to restrict certain areas where you can metal detect, even though the permit allows you to carry out detecting within the park.
Some of the state parks in Colorado that are best for this activity include:
Golden Gate Canyon State Park
State Forest S.P.
Mueller S.P.
Castlewood Canyon S.P.
Eldorado Canyon S.P.
Chatfield S.P.
Navajo S.P.
Detecting in Colorado ghost towns
There is a good number of ghost towns there and all of them are excellent places where there is a potential to discover some real treasure.
The key to exploring these ghost towns is to do thorough research before you head out to these abandoned places…
…You should read up about the local history, visit local libraries, search online and also join forums online that can help you find information related to these places.
Be mindful of the fact that many of these ghost towns are private property and therefore, you need to get the permission of the owner before you can start exploring them…
… In some cases, ghost towns can also be located on public land and you will need to then follow the government laws that govern the activity in these places.
Some of the popular ghost towns there include:
Independence
Elmo
Tin Cup
Vicksburg
Winfield
Carson
Capitol City
Animas Forks
Ashcroft
Teller City
Tomboy
Goldfield
Ohio City
Pitkin
Exploring Colorado's Springs parks
While detecting in the city parks of Colorado Springs is not exactly prohibited, there is also no law stating that the activity is allowed in these parks.
Rules can often be found on a wooden sign located at the park entrance, or you can also find the rules by searching on the city's website or checking the municipal rules of Colorado Springs.
If there is no information on the issue, then make sure that if you are detecting, you leave no trace of your presence. It is of utmost importance that you respect the parks and leave them just as you had found them.
Some of the parks in this area where you can detect are:
Sandstone Park
Monument Valley Park
Cottonwood Creek Park
Bear Creek Regional Park East
Detecting in Colorado Mountains
Commonly referred to as just the Rockies, the Colorado Mountains attract a lot of detectorists who come up here looking for gold and other valuable treasures…
…Again, before you head up to the mountains, it is best to do thorough research and read up about the area…
…Try to learn some indicators that you should look for in order to find a particular place. There are many online forums where you can get to know about helpful tips that will go a long way in helping you find treasure on the Colorado Mountains.
Are there Equipment Stores in there?
There are many stores that sell metal detectors and other related equipment in Colorado. Some of these stores are:
Broadway MDs
Golden Detectors
Detector
Sidewinder Sluice
Cripple Creek & Victor Gold Mining Company
Sunny Mountain Prospectors
Conclusion
If you are a detecting practitioner who lives in Colorado or at least with a plan to visit this state and some time there soon, then you should be conscious of the huge opportunities and potential finds that you can find there …
… That's why; you probably should not miss on this chance … No matter what!
Just respect the rules as much as you possibly could and you will be OKey!
Finally, if you know any information I didn't list in this Guide; then just let me know about it below in the comment section …
…Certainly, other people will learn from you!
Also, if you are interested in exploring California as well! Then, I've written this thorough California Detection Guide! I am sure that you will learn some good info!!