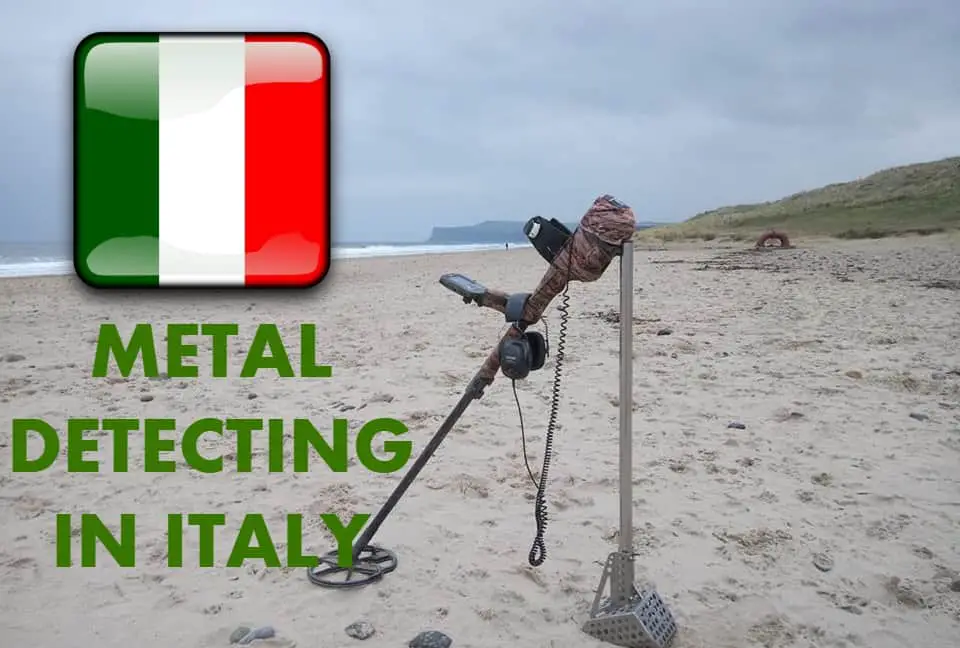 Italy, aslo called the beautiful country, is one of the best places you can opt for not only to enjoy your honeymoon with your beloved one. But also to practice the best hobby in the world "Metal Detecting".
In my opinion, many people who had the chance to visit this country didn't get the opportunity to discover it to its full potential!
This is not the case for hobbyists …
… Indeed, they take the time to learn about the country's laws, history and the best places to enjoy their time and find some valuable targets.
By doing so and actually practicing this activity right there, the resulting experience is much better and richer!
Below I share with you all what you should know regarding Metal Detecting in Italy …
Are metal detectors legal in Italy?
There are many important historical and archaeological sites in Italy. However any kind of detecting activities on these ancient and archaeological sites are strictly forbidden.
Yet, when it comes to lands that fall outside Italian laws seem quite accepting this activity; As long as you have the landowners' consent, wherever applicable, then you should be able to carry out detecting without any interruption or trouble.
Nevertheless, it is always a good idea to find out from the local police or local authorities. Indeed, sometimes there are specific laws governing specific areas that you may opt for.
Generally, this is related to ordnance left over from the Second World War and due to this there are specific laws governing these areas. That's why, check with locals, and better yet, with local hobbyists …
In addition, if you find anything archaeological or anything of significance, then you should consider alerting the local authorities as sometimes it may land you in trouble if anybody comes to know.
It is important to note, though, that there are some regions where the use of metal detectors is completely prohibited. These include places like:
Calabria.
Valle d'Aosta.
Sicily.
What Machines Will Work Best for Italian Soil?
The ground in Italy is basically a huge piece of rock, and the types of soil that can be found here vary throughout the peninsula.
Some types of soils found there range from clay loams in Bologna, friable acidic sand in Dolomite Mountains in the Northern part of the country, and dry calcareous crusts in Tuscany along the coastline.
So, in general, Italian soil could be categorized as a mid-range to difficult regarding the ground conditions …
If you are a hobbyist (I am sure you are lol), you must have an understanding of how certain types of soils affect the performance of your metal detector.
Indeed, the electromagnetic properties of different soil types have an influence on detector performance.
That's why it is important to make sure that your machine is able to keep the same performance regardless of that …
… When it comes to Italy, according to recommendations from local detectorists, some of the best sites in Italy have the worst soil conditions.
The soil in these areas is highly mineralized with a large amount of iron nail contamination. When the mineralization is so bad you will need to use one of these detectors!
Also, there are some cheap detectors such a the Fisher F22 (Check it Here on Amazon!) and the ACE 200 (Check it Here on Amazon!) that can provide decent performence in such type of mineralization.
These devices are able to successfully cut through the mineralization, pushing deeper than any other VLF detectors available on the market.
You can also opt for all-purpose machines that can operate on multiple frequencies. A good example of that is the Minelab Equinox 800 (Check it Right Here on Amazon!)
Metal detecting in Italian beaches – What you should know
Italy is indeed a Beautiful country! It offers not only a wonderfully rich historical experience to tourists, but at the same time, some beautiful beaches with breathtaking views that worth embarking on.
Especially if you want to do a spot of metal detecting! It is a well-known fact that Italians love their bling, especially gold.
This just increases the chances of you finding some exquisite pieces of lost jewelry on these beaches …
… Italy has more than 5,000 miles of coastline, and its beautiful beaches are the best place not just to rejuvenate, but also successfully conduct detecting hunts.
Some of the best beaches to head to if you want to metal detect in Italy are:
Spiaggia Dei Conigli – also known as Rabbit's Beach, this beach is a popular destination for honeymooners. And if you are lucky, you may even get a chance to see the endangered loggerhead turtles.
Tropea Beach – One of the most popular beaches in Italy, this offers a lot of water activities, which is what makes it ideal for finding lost jewelry, watches, and other valuables. Also a perfect spot for underwater metal detecting.
Cala Goloritze – This is a UNESCO world heritage site, so better to find out once if you can carry out metal detecting there. It is a pebble beach so make sure you are wearing sturdy shoes and carrying the right equipment for metal detecting on such a rocky beach.
What finds should you generally expect in Italy?
Like other European countries, Italy has a rich past, and the state is steeped in history. There are many rumors about many buried treasures around the country.
However, while many hobbyists carry out responsible detecting, at the same time many treasure hunters and detectorists pillage the important archaeological sites, and there has been a sharp increase in the trade of antiquities coming out of Italy.
The biggest hunt ongoing there is the search for the tomb of King Alaric, who was a Visigoth chieftain and is believed to be buried with his treasure around the town of Cosenza, in Southern Italy.
It is thought that nearly 25 tons of gold, along with precious gems and silver are also buried in the general area!
For more info about this Topic, you should definitely have a look at this Post for Gold Detection! You will learn some good and helpful info …
Apart from this treasure also, Roman historians believe there are many other valuable treasures hidden around Rome that date back to AD70 even.
The village of Mendicino and several cave systems in Southern Italy are said to contain critical archaeological treasures and relics.
It is suggested that you read up and research the history of Italy and these smaller towns before you head over to metal detect in this country.
This will increase your chances of hitting upon a significant and valuable treasure.
Is Metal Detecting a Popular hobby in Italy?
This hobby is quite a popular in Italy, and there are many enthusiasts present all over the country. Metal detecting is especially popular on public beaches (you will soon notice that).
Some detectorists also carry out detecting on private beaches, but you should be aware that these private beaches are watched over very carefully by guards.
According to many local detectorists, this hobby is controlled by the mafia and the police. However, many tourists have reported that they were able to carry out their detecting activity without any problems from the local authorities.
It seems that the experiences are quite different …
Nevertheless, it is an established fact that mafia treasure hunters are active in Italy. The competition amongst local metal detectorists is very high here, and many areas are divided into areas that are under the control of different mafia clans.
It is possible to hunt in some regions where this activity is prohibited, but detecting in regions of archaeological importance is a strict no-no.
Many hobbyists also prefer to hunt on the mountains. But as per reports from the local online forums, there is not much to search for in the mountains.
Metal detecting in Rome – What you should know …
Rome, the capital city of Italy, is such a beautiful city that offers many places and secrets for metal detectorists to unearth.
Before opting for Rome as a detecting site, keep in mind that archaeological and historic sites are strictly out of bounds for any types of treasure hunting and metal detecting.
If you are new to the city, then you can also consider joining a group of detectorists. Indeed, hunting in groups is quite popular in Rome.
Many of these enthusiasts go in search of the legends of Rome, the hidden corners and secrets. Rome has many architectural wonders which are also popular sites for hobbyists.
Some people also like to follow the route taken by the fictitious character of Robert Langdon in the novel Angels and Demons by Dan Brown. The mystery clues hidden within Rome's monuments are a big draw for enthusiasts.
Are there Metal detecting shops in Italy?
There are many metal detector & equipment shops spread all over Italy!
Apart from the actual machines, these shops commonly sells parts and accessories, clothing and apparel, books and reference material to help you find the best place to hunt, digging and recovery tools, headphones, pinpointers and probes, prospecting equipment, scoops, diving tools for underwater metal detecting, manuals and guides, maps of the local areas, security products, and even tumblers.
The shops sell these items at a moderate price, though in the smaller towns you may find the prices to be higher.
Apart from purchasing from these shops, you can also buy equipment from many online retailers in there.
Are there Metal Detecting clubs in Italy?
There are many detecting clubs there. Right from the Alto Adige region Trento City to all the way to Rome, you will find many detecting enthusiasts thronging the familiar hunting places.
One of the most known clubs out there is Italia Metal Detector Club. They've got a page on facebook that you can check for more information …
If you are looking to join a detecting club there, then your best bet would be to start participating in the online forums that are very active.
In fact, you will be able to find out information about these clubs! Where they meet, whether they carry out group detecting activities, how often they meet, and whether there are any charges to become a member.
Are there Metal detectors made in Italy?
At present there are no metal detectors that are manufactured in Italy. However, there are many shops and resellers of the leading detectors in the world.
From the Garrett AT Pro to the Fisher F75, to even the popular Hunter TK4 metal detector, it is possible to find a huge variety of machines in there.
If you are looking for a specific device, then it is a good idea to get in touch with a shop selling these items and direct your query to the shopkeeper.
Chances are, even if the particular shop does not stock the required item. They will be able to guide you to the correct place.
Sites that you should visit for Metal Detecting in Italy
Italy is a mixture of both modern and ancient architectural sites that make from it an ideal spot for you.
From the lush fields to the white sandy beaches in Italy, you will be spoilt for places to decide on metal detecting.
For example, if you are in Naples, you can try heading to the Fountain of Neptune, the Piazza San Domenico, Piazza Plebiscito, Maschio Angioino, and many other fascinating sites.
Conclusion
I've did my best to share with you all valuable information about this hobby in this beautiful country. I hope you've learned helpful information that you can use for a better experience there …
If you have any additional information, I didn't include this this Post, PLEAAAASE let me know in the comment section below …
Thus, other people will learn more from you experience!
Finally, Greece is another good and close country to Italy! So if you are also interested in it, you can have a look at this Greece Detecting Post! You will learn some great info in there …