Nevada is the home of the fighting capital Las Vegas, but also is a decent place for metal detecting hobbyists who are looking for the best possible finds …
… Yet, due to the strict laws, you really should pay attention to the regulations and respect them so you won't put yourself into unnecessary trouble!
… In this Post I address that, in addition to the following topics below:
The Best locations you should aim for especially at the beginning
I include a decent machine, I think you should use for the state soil
How you should approach Gold Prospection in there
Detecting in Forests and Parks
Some Clubs you may want to join
So, let's get into it …
What are the metal detecting laws in Nevada?
The hobby in Nevada is governed by some strict regulations! The state is one of the most popular ones when it comes to gold prospection, and there are many opportunities present for hobbyists to discover something of serious value …
… The activity there is governed by the Archaeological Resources Preservation Act (ARPA) and the Antiquities Act. In order to detect anywhere in Nevada, you need to get a written permit.
Apart from the ARPA law, you also need to follow the regulations of the National Historic Preservation Act (NHPA), which does not allow you to dig up anything that is older than 100 years.
Both ARPA and NHPA are pertaining to State and Federal lands!
As far as Nevada state parks are concerned it is required to have a written permission! This is not only required for the state parks, but it is also required for detecting on the beaches, and park trails.
Also, if you find any item hailing back to 1900, for example, old coins, buttons, tools, guns, jewelry, and other things, they must all be turned in to a park supervisor.
You also need to get a permit for detecting in any old ghost towns or mining settlements in there.
Best Places to Detect in Nevada!
There are many excellent places that you can explore, and apart from gold, there are many other things to discover with your beloved detector.
These include buried treasure, lost coins, and other relics. Here are some of the places that you should think about visiting:
1. Ghost Towns and Old Settlement
There are many ghost and semi-ghost towns in the state that trace their origins right back to the early days of mining and ranching. These are excellent places for discovering artifacts and relics …
… Some of these places include:
Aurora
Belmont
Bermond Station
Bristol Wells
Broken Hills
Bullionville
Cactus Springs
Charleston
Coaldale
Colorado City
Crystal Springs
Daveytown
Dixie Valley
Eagleville
Johnstown
Old Railroads
2. Old railroads and Stations
There are many old railroads and abandoned railroad stations, including old transport channels, in Nevada that present an excellent opportunity for finding hidden treasures, ancient coins, and other valuables …
… Some of these include:
The Barnwell Branch
The Blue Diamond Branch
Caliente to Prince
The Desert Hills Branch
The Candelaria Branch
The Metropolis Branch
Historic Railroad Tunnel from Lake Mead to the Hoover Dam
3. Footpaths and Hiking Trails
Footpaths and hiking trails in the state are known for yielding some precious old coins and other treasures.
Some of the hiking trails and footpaths have been in existence for hundreds of years, and many of these old trails are also good spots to hunt for Native American artifacts.
Places you can search at include:
Nevada Falls Loop from Yosemite Valley
Sentinel Dome – Taft Point Loop from Curry Village
Columbia Rock – Rosemite Falls Loop
Tuolumne Cove – Tunnel Tree Loop from Tuolumne Grove
Glacier Point – Half Dome View Loop from Yosemite Village
Merced River Loop from Yosemite Valley
You should use this Detector for Nevada Type of Soil!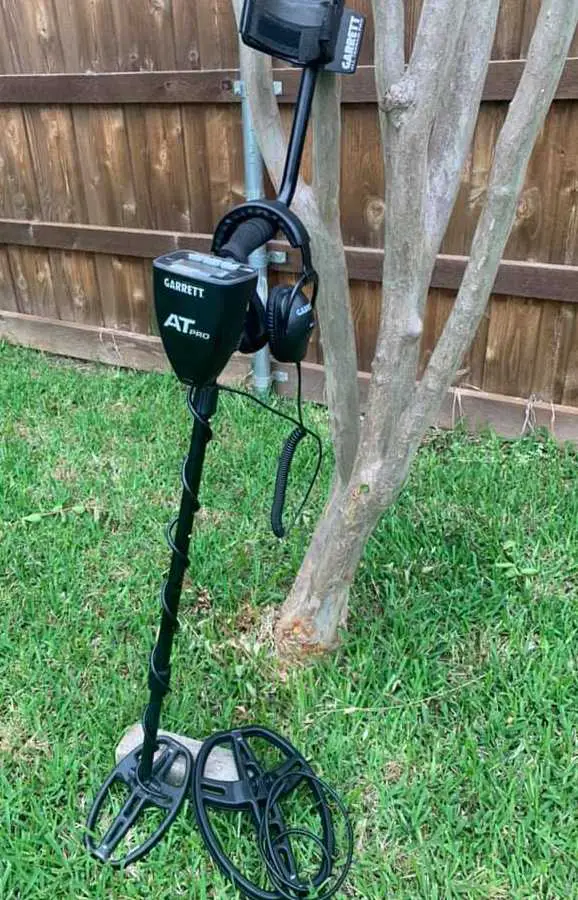 Orovada soil is the primary type found in the state! It is also the official state soil of Nevada …
… Orovada soils can be found throughout northern Nevada and is a typical soil that is found in semi-arid rangeland with sagebrush grass plant communities.
In such conditions, one of the best detectors you should probably be using is the Garrett AT Pro (Check it Right Here at Amazon)!
The AT Pro comes with a manual and auto ground balance, a pinpointing mode, numerical target ID, notch discrimination, and Iron Audio.
This detector is relatively simple to use, so even beginners who are just starting out could easily use this device.
This is a VLF machine comes with an 8.5″ x 11″ DD PROformance coil! This Search coil provides a good target separation and along with excellent depth for a stock coil. This is the perfect choice for a coil that performs in almost all situations.
This is also a lightweight machine that allows you to continue detecting for hours without your hand getting tired due to the weight of the device. It weighs only 3.03 lbs, a factor that ensures you will not get fatigued when using it for long periods.
It is also fully submersible in water, up to a depth of 10 feet. This makes it perfect for detecting in shallow water, such as rivers, lakes, creeks, and even the sea if needed.
If for some reason this model doesn't fit you current budget, you may want to Check this Cheaper Model Here at Amazon! It belongs to the Garrett ACE series and is decent too …
… You can also have a look at these metal detectors with fast recovery capabilities!
Prospection for Gold in Nevada …
We are talking here about one of the best states for gold prospecting as it is the number one gold and silver producer in the US.
The state has a long history of gold mining, and due to this, there are plenty of areas where it is possible to easily find gold nuggets and fine gold using a decent detector.
Some of the best places to search for gold in Nevada include:
(Always make sure you've got the required license and permission to do so!)
1. Humboldt County
Many detectorists have previously found large gold nuggets of great value here in Humboldt County. This county is also home to some of the oldest settlements, increasing the chances of discovering some really ancient relics. Some of the best districts in Humboldt County to search for gold nuggets include:
Winnemucca
Dutch Flats
Varyville
Rebel Creek
2. Elko County
Elko County has a rich mining history and is home to many major mining districts of Nevada. Most of the places you can find gold in this region lie around Mountain City. Some of the major districts and sites in Elko County to look for gold in Elko County include:
Alder District
Aura District
Charleston District
Van Duzer District next to Mountain City
Coleman Canyon
Hammond Canyon
Bruneau River
3. Pershing County
There have been many reports of quite seasoned hobbyists finding gold nuggets throughout the county. The most popular places to find gold in this county are:
Rye Parth Placers area
Dun Glen Creek
Willow Creek
Rabbit Hole
Sawtooth Diggings
Seven Troughs
4. White Pine County
White Pine County is located in a remote area, but it is the perfect place for finding gold. Some of the historical places in this county for finding gold are:
Bald Mountain District
Dry Gulch within the Osceola District
5. Nye County
This is one of the most mineral-rich places in Nevada. The county is home to the largest gold mine in the US, the Round Mountain Gold Mine. You can find gold using a mine or gold detector in the following districts of Nye County:
Bullfrog District
Jackson District
Union District
Manhattan District
Johnnie District
Tonopah District
Tybo District
What other finds should you expect there?
The state has obviously witnessed a fantastic history, and it is indeed the Wild West! There are many uninhabited and abandoned parts of the state that are ideal for detecting and exploring…
… Apart from the popularity of finding gold nuggets in Nevada, the other treasures you can expect to find here are ancient coins, Native American relics, and buried treasure. Many detectorists flock to Nevada in hopes of finding buried treasure in the state.
Here are some of the best places to search with a detector if you are looking to find buried treasure in there:
Spanish Spring – Located near the old ghost town of Manhattan, it is said to contain buried treasure hidden by Spanish miners.
Coyote Springs – An old ghost town, many buried treasures are said to be here as this area was a famous outlaw hideout in the 1870s.
The Lost Gunsight Gold Mine – The gold mine was lost in 1850, and if you find it, there is supposed to be an entire cache of gold still there in the mines.
Detecting in Nevada Forests!
The use of detection devices in the forests of Nevada is generally allowed, provided that you have written permission beforehand…
… Indeed, you will need to get this permission from the local Forest Service office.
Some of the forests in Nevada that you can explore with permission include:
Humboldt-Toiyabe National Forest
Toiyabe National Forest
Rose Wilderness
Nevada National Forest
Are there detection clubs in there?
Due to the trending popularity of the hobby in this state, there are many detection clubs and dedicated online forums in Nevada … If you are a beginner I highly encourage you to join them, you will learn quite a lot!
Some of these include:
Las Vegas Antique Bottle & Collectibles Club
Reno Prospecting and Detecting Club
Silver State Treasure Hunter's Club
American MD Association & Colorado River Treasure Seekers
Nugget Digger Detecting and Prospecting Club
Southern Nevada Treasure Hunters
Nevada State Treasure Club
Comstock Gold Prospectors
P.A.A Pahrump Nevada Chapter
Gold Searchers of Southern Nevada
P.A.A Las Vegas Chapter
Detecting in Nevada Parks!
To be able to explore state parks it is required to have a written permission! The law clearly states that except for being authorized by the park supervisor, nobody can use a metal detector in any state park in there!
Some of the parks you can target are:
Valley of Fire State Park
Great Basin National Park
Cathedral Gorge State Park
Spring Mountain Ranch State Park
Fort Churchill State Historic Park
Beaver Dam State Park
Cave Lake State Park
Berlin-Ichthyosaur State Park
Getting your detecting permit
The activity in Nevada is not allowed without a written permit! You can get a license from the local offices of the Parks and Recreation department.
There is an online form available on their website, which you can print out and fill up. You can then mail it to their offices. You usually hear back from their office within a week.
Conclusion
I really hope that this Post has brought exactly what you were looking for in term of information! My main goal here is simply to encourage you try swinging your beloved machine in different places …
… This will make you the best and most unique finds!
So, don't ask too many questions and hesitate too much and let's go have some fun …
… For more states to explore, I invite you to check this article on where to metal detect in Idaho!