New Hampshire, a very small US state, but has all what it takes to be great place to enjoy metal detecting as a hobby and come up with some seriously interesting finds!
However, my main advice for you is to stick to the rules as much as possible so you want get into unnecessary trouble … I give more details about the regulating laws in this post!
… In addition to that, I talk here about:
The Best locations that you should explore
Approaching Gold Prospecting in there
A good machine for New Hamp type of Soil
Some relevant clubs that you should join
As well as other additional helpful hacks …
So, without further ado, let's get into the good stuff!
What are themetal detecting laws in New Hampshire?
In this state the hobby is governed by the Archaeological Resources Preservation Act (ARPA) of the US. You should refrain from metal detecting on any areas that are off limits in New Hampshire because people have been arrested in the past for the same.
The areas that you should be concerned about are certain State and Federal lands. Furthermore, do not dig up anything that you believe might be an artifact or any item that is older than 100 years, especially if you are exploring on any State lands.
The laws of New Hampshire also allow you to use a detection machines in state parks. If some parts of the park do not allow its usage, then there will be signs put up that state the rules …
… It is also permissible to use your detector on state park beaches and athletic fields, playgrounds, parks and any other areas that are not historical sites or natural areas.
Where to go detecting in New Hampshire?
There are many areas in this state that are ideal for this wonderful hobby! In fact, New Hamp is dominated by the White Mountains, and this makes it a very lucrative location!
Also the state is full of tree-covered forested lands as well as many glacier covered lakes and rivers. The Merrimack is the longest river in New Hampshire, and the land along the river is known to yield valuable treasures from time to time.
Some of the best places for treasure hunting in there include:
The Seabrook beaches that are located around 14 miles sour of Portsmouth are known to contain a treasure of Spanish and English coins hailing all the way back to the 1700s. These coins are known to have washed up onto the Seabrook beaches from the various ship wrecks that took place along the shores of New Hampshire.
John Cromwell Treasure – this is a treasure story that revolves around an Indian trader who is said to have buried a large treasure on his trading post and the post is said to be located somewhere on the Merrimack River (west side). It is said to be near Merrimack, just about two miles north of the Cromwell Falls.
On the west side of Appledore Island is said to contain the gold treasure of John Quelch, the famous pirate. The treasure is said to contain nine pounds of gold and 190 pounds of silver.
The Isle of Shoals treasure is said to be located around ten miles southeast of Portsmouth where it is said that a group of seven islands contain treasures buried by the Spanish during the 1800s.
Best Detector for New Hampshire soil!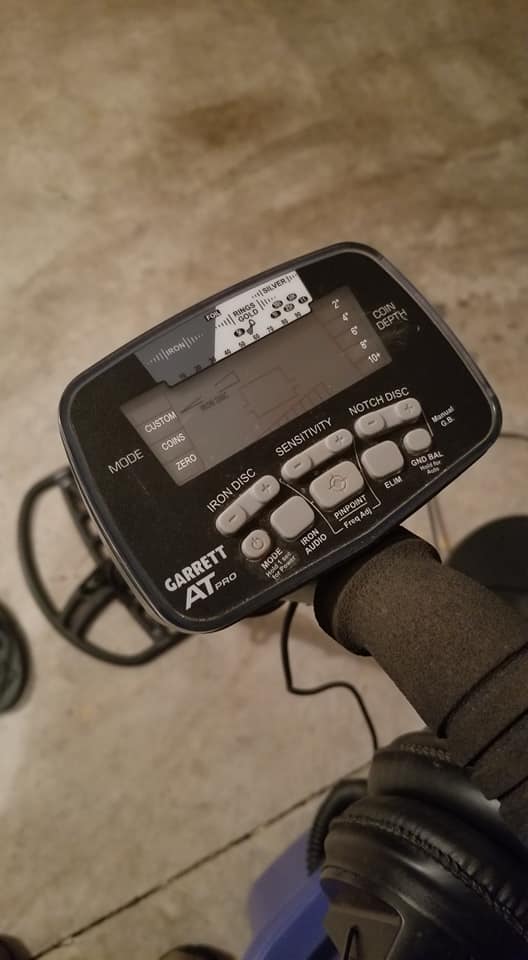 The state is known for its Marlow soils. In fact, it is smooth, rounded and one of the most productive soils for agriculture. Many detectorists in New Hampshire prefer using the Garrett AT Pro (Check it Here at Amazon!), which is a well-known detector for both professionals as well as beginners.
Some of the outstanding features of the AT Pro equipment include notch discrimination, Iron Audio, manual and auto ground balance, numerical target ID, and a pinpointing mode. It is a fairly simple device to use and is also a waterproof device which makes it easy for you to use it around the Merrimack River.
This is a VLF detector and has been designed as an all-purpose machine. Since it is rugged and durable, it is ideal for use on the mountains in New Hampshire as well as the rivers and lakes of the state.
Finally, if you are looking for a different model which brings more technological features, then I encourage you to Check my Favorite Minelab Machine Here at Amazon! It can operate on several frequencies all at the same time …
Beach detecting in New Hampshire …
The state does not have a very long coastline – only 13 miles. However, it still has plenty of beaches throughout, and its beautiful beaches are popular tourist spots.
There are no laws that prohibit detection activities on the beach, and you are allowed to use your beloved detector in there …
… Some of the best beaches that you may want to explore include:
Hampton Beach
Weirs Beach
Wallis Sands State Beach
Jenness Beach
Echo Lake State Park
Detecting in New Hampshire state parks
The hobby is allowed in the state parks of New Hamp! If any state parks do not allow the activity, then there will be signs posted regarding the same.
To be on the safe side, it is better to consult the State Park Superintendent to confirm whether metal detecting is allowed in the said park. Here are some State Parks where you can use you detector:
(S.P. stands for State Park)
Franconia Notch S.P.
Hampton Beach S.P.
Crawford Notch S.P.
Monadnock S.P.
Bear Brook S.P.
Ellacoya S.P.
Pawtuckaway S.P.
Jericho Mountain S.P.
Pisgah S.P.
Odiorne Point S.P.
Gold Prospecting in New Hampshire …
The state has definitely a lot of gold, but till date, only small quantities of it have been found so far by prospectors!
Most of the gold is found in the waters of New Hampshire, especially in the Northern and Western parts of the state. Nevertheless, some scattered gold deposits have been found by detectorists throughout the state, but in limited quantities only.
A small gold rush happened in the state in the 1860s after discovering a small quantity of gold. However, it was quickly understood that the gold found in there was nothing compared to what has been found throughout the other states of the western United States.
Most of the gold in New Hampshire did not form here but has been transported by glaciers. This is why it is highly unlikely that you will find any large gold nuggets in there! Larger flakes and fine placer gold are the more common finds.
The area around the Ammonoosuc River is known to be one of the most popular places for gold prospectors as it contains placer gold along the river, especially the small tributaries that feed into the river. The towns of Monroe, Bath, Lyman, and around Lisbon, Landaff, and Littleton are all known to be a popular place for finding gold.
The laws regarding detecting for gold are the same as other metal detecting laws in the state …
… Finally, if you want to learn more about this Topic, I encourage you to check this Gold Detection Post! I've put in it a ton of helpful info to, hopefully, lead you to this valuable metal in an efficient way!
Most common finds in this state …
Most of the buried treasure in the state of New Hampshire is known to be pirate treasure and treasures from the Revolutionary War…
… Some of the common finds that have been found in the state with a detection machine include:
Ancient coins (usually Spanish or English)
Gold and silver coins
War relics
Are there detection clubs there?
The hobby is fairly popular in there, and there are many enthusiasts in the state. Due to this, there are many detecting clubs present in New Hampshire. Some of them include:
Granite State Treasure Hunter's Club
Professional Treasure Hunters Historical Society
Capital Mineral Club
Yankee Treasure Hunters Club
Recreational Detecting & Prospecting Club
D.P.C. – Recreational Detecting & Prospecting Club
New England Search & Recovery Team
North East MD (Forum)
Granite State Treasure Hunters Club
If you want to join any of these clubs, you should contact them through their websites or Facebook pages and send a message for joining.
The rules of joining and membership vary from a club to another. Many of these clubs also organize group detecting activities and some allow non-members to join in these activities as well.
Are there metal detecting stores there?
There are some equipment stores in New Hampshire, but not many. Here are the leading ones in the state:
Streeters Treasure Hunting Supply
Seacoast Coin & Jewelry
Treasure Quest Supply
Detecting in New Hampshire rivers …
The hobby is allowed the shoreline of the rivers of New Hampshire! There are many stories about finding gold flakes in these rivers, so it's always a good idea to detect at rivers…
… Some of the best rivers that you should explore there include:
Connecticut River (Learn more about

detecting in Connecticut

)
Merrimack River
Androscoggin River
Saco River
Magalloway River
Contoocook River
Pemigewasset River
Getting your detection permit there …
If you want to get a permit in there, then you need to contact the offices of the Bureau of Land Management. You can also fill up the form on their website and submit your documents. It usually takes 2-3 days to get the permit.
If you have a doubt on how to get a detecting permit, then you can always contact the local authorities to find out the exact and updated procedure to follow!
Conclusion
My main purpose from this short guide is to encourage you as much as possible to go out there and explore different locations! The best finds that you possibly come up with are the ones that are in places far from being close to home …
… New Hamp is a state that deserves to be visited and explored using your machine!
Finally, if you are searching a new continent/country to explore, then have a look at this metal detection article in Turkey!