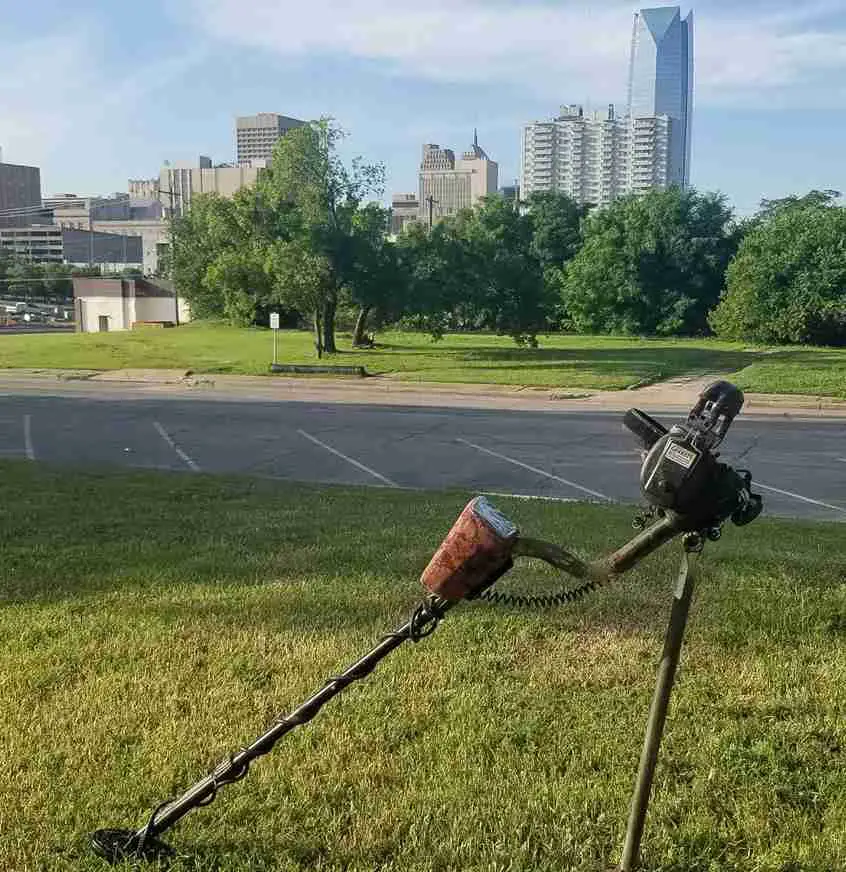 Oklahoma, a state known for its deep history and nice people, is a great place for metal detectorists to experience a magnificent journey full of highly valuable finds!
Nevertheless, it is as important as it comes to stick to the regulating rules regarding the hobby, so you won't put yourself in a bad position with the authorities in there …
… In this Article, I address these different topics:
The regulating metal detection laws
What places should you go for there?
I recommend a good detector for the state type of soil
A little taste on Gold Prospecting and searching there
Relevant clubs to join
Some rivers worth exploring …
… As well as more helpful info!
What are the metal detecting laws in Oklahoma?
Oklahoma is located in the south-central region of the United States. If you are a metal detecting enthusiast, make sure to have this country on your bucket list!
But while exploring this state, you should be careful regarding the laws. As breaking any law, whether you do it knowingly or unknowingly can make you face serious charges…
… So, here are a few rules and regulations that you should be aware of before detecting in there:
2 laws regulate the hobby – I am talking here about the Archaeological Resources Prevention Act and Antiquities Act of 1906.
Both of these laws were designed to protect American artifacts and historical monuments. It states that it is illegal to remove or destroy any human-made object, which has been buried for more than 100 years.
You are not allowed to detect in state-owned parks unless you have a permit from the park management
You cannot detect or dig up the remains of a historical monument without permission. Even if you detect with permission, and find anything of historical value, it will be taken up by the archaeological department
Exploring a private property is allowed with the prior consent of the landowner
Where to go detecting in Oklahoma?
This state has witnessed several migrations, and settlement of people from various cultures, and communities.
The geographical surroundings make this place a perfect getaway for vacations. While vacating here, you may come across a number of people who are sweeping the ground with their metal detectors.
Below some places that you may want to try your chance at:
Three Forks is the Eastern region of Oklahoma, located near Muskogee. It is the point where the Verdigris, Arkansas and the Grand River converges. The place is known to yield a considerable amount of metals
Ghost towns of Oklahoma like Clesmcott, Fort Arbuckle, Hoxar, Texola, Ingalls, and Lenora. These places have been abandoned since ages. You can find various things amongst the buildings left behind
Wichita mountain is one of the best places for avid detection hobbyists. As any precious metals and treasure have been found in this region
The buried treasure which is known to be hidden in various parts of Oklahoma. Three most famous places to go for treasure hunting are Fort Sill, Mill Creek, and the Blue River.
Apart from the public parks and private property, these places can be detected to find some valuable coins, jewelry, or artifact.
A Decent Detector for Oklahoma Soil!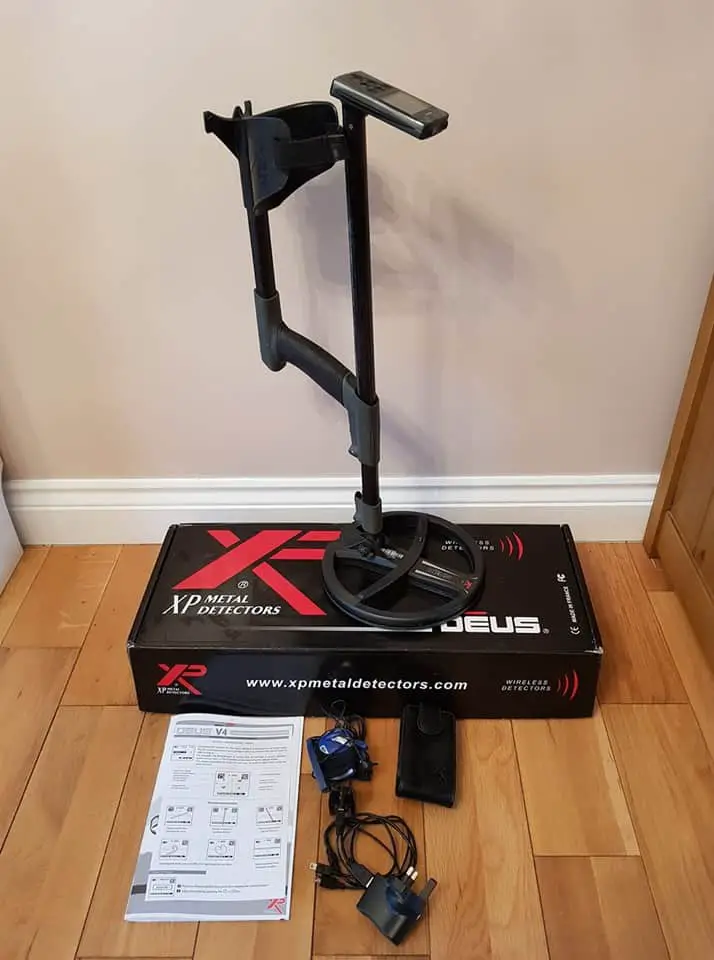 Metal Detection in Oklahoma is either primarily on the old and isolated remains of the ghost towns or the mountains and the coastline of the rivers flowing from the hills.
Your best companion for chasing the pure thrill of metal hunting is XP DEUS (Check it Right Here on Amazon!).
This machine is a breakthrough in technology with an innovative design. Its leading-edge technology of this device provides unmatched speed, power, precision, light weightiness, and compatibility.
The device comes with remote control and audio headphone. They allow you to communicate with your fellow detectors through a radio link. The main features and functions of this detector are:
Wireless Operability
Weatherproof
Foldable and ergonomic
Built-in operational controls
Discrimination
Sensitivity
Reactivity
Frequency shift
Ground Balance
Ten factory programs and eight user programs
Tracking
All these features are highly useful and suitable for working on moist soils like mountains and river banks.
Finally, if this model doesn't fit your budget, then you may want to Check the Cheaper Detector Here on Amazon! It is a Fisher model that brings several good features to the table …
Searching for Gold there …
The history of this state reveals the rich culture of the abandoned cities which are now known as the Ghost towns!
Many reports say that detectors have found gold jewelry, left behind by the former inhabitants. Some cities you can go for gold hunting are as follows:
Texola is a virtually abundant town, widespread among explorers and treasure hunters. The rich past that their streets speak of is sure to get you some gold.
Ingalls, a town in Payne, lies empty with wooden buildings. You can find some chunks of gold jewelry in the old remains of the city.
Lenora was known as the cultural and trade heart of Oklahoma. Reports suggest a finding of many valuables including Gold in this city.
The areas of buried treasure mentioned previously in the article can be a lucky spot for people detecting Gold
Apart from the ghost towns, there are two central locations where Gold could be found!
You can carry on with your gold prospecting in the Ouachita Mountains and the Wichita Mountains!
These Mountains are known as reservoirs of gold grains and chunks. The river coast along the mountains have deposits of the washed away minerals and precious metals. Your luck can strike there …
… Finally for more info about this interesting Topic, I highly encourage you to check this Guide for Gold Detecting! I've spent several days putting it together to help you come up with this valuable metal in an efficient way …
Detecting in Oklahoma Rivers…
This state has a city Three Forks which is a perfect sport for quenching the metal detection thirst. The geographical surroundings of The Three Forks are flanked by three rivers, the Grand River, the Arkansas River, and the Verdigris River.
The confluence formed by these rivers had evidence of a rich history. The flowing rivers carried a lot of lost priceless items and deposited them on the river banks. Thus, there are high chances of finding coins, lost jewelry, and other things.
Another famous river for detection activities is the Blue River! There are many folk stories which speak of hidden treasures along the Blue River. The most famous story says that once a band of Confederate soldiers ambushed and looted a Federal wagon of supply. The loot consisted of two large barrels of gold coins.
After the loot, they left the city, but while passing through Oklahoma, they were attacked by robbers. To protect their looted gold coins, they buried the entire treasure in a cave near the Blue River.
Researchers report that various buried pieces of arts and crafts, jewelry and articles of Gold have been found along the rivers. Thus, the river beds are an excellent place to detect, while in Oklahoma.
For more info about this topic, I invite you to check this Rivers Detecting Post! I've put there several practical tips on exploring rivers the proper way …
What other finds to expect there?
People take up this hobby to spend their leisure time. But while pursuing their hobby, they develop an interest in collecting various valuables items.
Some people start collecting coins while others are interested in collecting arts and figurines. For some people, they are a prized possession of their findings while some people use them as a source of some income.
While detecting in Oklahoma, you are likely to find coins of an ancient civilization. The coins could be made out of iron, bronze or even silver.
Another thing that you can commonly find there is straight jewelry or pieces of jewelry. Also, another priceless one that you can come across in there is the old arts and crafts that have been buried deep in the ground.
Many valuables items of daily use have been found in the remains of the ghost cities. The old relics of these abandoned cities were once rich and has flourished economy.
This is the primary reason you are likely to come across various hidden treasures and trinkets in Oklahoma.
So, do not get upset if you are unable to detect the great hidden treasures or the gold chunks in the mountains, there are various other items which can be of great importance.
So, grab your machine and bark on your journey to unearth some priceless items.
Are there good clubs in Oklahoma?
The state is inhabited by a great group of people who are in love with the hobby and treasure, hidden beneath the ground.
Their primary purpose is to serve gathering people who are interested obviously in the hobby! They educate and share their knowledge of historical facts and locations, promote the interests of the activity.
They also work to preserve and protect the rights of people who love to detect in search of metals and other valuables.
Usually, they organize various events to perk up the interests of the members. Also, they organize treasure hunt competition, meetings to reward significant findings, etc.
Below a list of the most relevant detection clubs out there:
(T.H. Stands for Treasure Hunter)
Twin Territories T.H.
Cherokee Strip T.H.
They Town T.H. Club
Indian Territory T.H. Club
Three Forks T.H. Club
Oklahoma City Dirt Diggers
Town and Country Metal Detector Club
Getting your Permit to Detect in Oklahoma!
It is essential to obtain permission before you start detecting in there!
It has been already mentioned in the article that several places are prohibited for detecting. But some other places allow people to search for metals if they have prior permission to do so.
For searching in parks, you need to ask the park management for approval. Archaeological Resources Prevention authority should be approached if you want permission to discover in the ancient remains.
If it is private property, you should ask land-owner for permission. It is advisable not to trespass restricted areas without consent, as it can have legal consequences.
Conclusion
If you are a hobbyist who lives in Oklahoma or have plans to go there pretty soon, then keep in mind that we are talking about a state with serious opportunities in terms of finds …
… That's why; you really should fully take advantage of that! Just consider the regulations and you will be A-Okey!
Hope this Post has made you, even a little bit, pumped to use your beloved detector there …
… If so, then have fun and don't forget to come back to this post and let me know about your finds in the comment section below!
Finally, you might also be interested in using your metal detector in South Dakota! Indeed, I've put together this article that you might find useful!