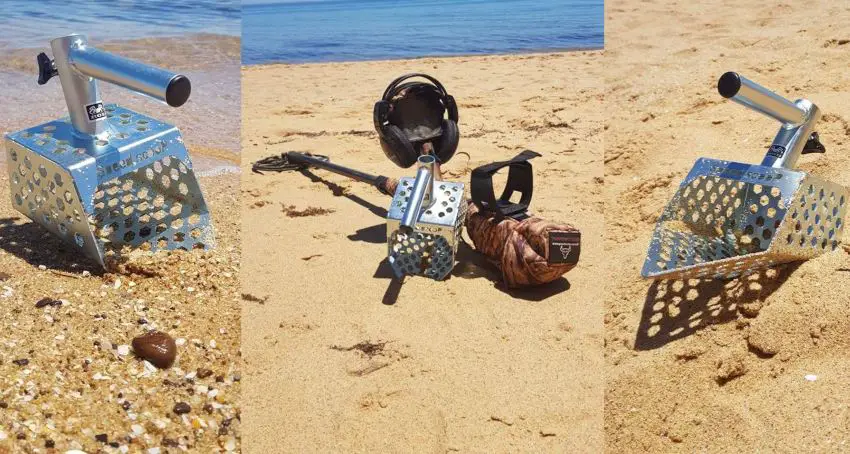 I can say for sure that you are about to go to the beach and enjoy some metal detection in there! That's why you are looking for a reliable Sand Scoop that will help you to recover your find quite easily …
… That's great as in this Post I am about to share with you 6 worthwhile models that you can choose from!
Hopefully one or few of those will resonate with you …
Best Metal Detecting Sand Scoops
6. Garrett 1600970 Metal Sand Scoop
Sand is difficult to maneuver. That's why a sand scoop such as this Garrett model (Check it Here on Amazon) is essential to detect on the beach. The rugged steel construction of this tool should stand up to many uses out on some of the sandy beaches you frequent.
Keep in mind that there is no rust protection for this scoop. That's why I don't suggest you use it in any place other than the beach …
… The dimensions are 21 x 10.5 x 5 inches, and it weighs about one pound. You should have no trouble using the scoop frequently sifting the sand.
The oversized green rubber handle is molded to fit ergonomically in your hand. A good handle, like this one, is important to have because it reduces wrist and hand fatigue.
It really can cut through sand like butter (love that feeling by the way). But I wouldn't use it in any other type of terrain. It wouldn't hold up well to scooping through anything besides sand.
5. CKG Sand Scoop
This model could have a higher price tag (Check it current price Here on Amazon) but it is worth its value for what it offers …
… I want to mention first the smaller 7mm hexagonal holes this sand scoop offers. One issue you'll find when out scooping is really tiny items can slip through holes on a scoop. It will be difficult for much of anything to fit through these holes which is a good thing for maximum finds.
CKG's sand scoop is made from stainless steel and weighs 1.6 pounds.
What I like is the base of the scoop can be attached with a longer handle. Most hardware stores will sell a shovel handle and a Clevis pin. You can easily turn it to a full size scoop.
Keep in mind that you should avoid the edge of the scoop because it can cut fairly deep. Other than those minor flaws, it is a well made tool that will hold on to even the tiny treasure you find.
4. Prospector's Choice Black Sand Scoop
Moving away from metal sand scoops … Don't think because it's not metal it won't be as durable, in fact Prospector's Choice (Check it Here on Amazon) is known for making sturdy products that could last quite longue as it is made from hard plastic sand scoop.
Anyone that is concerned with the amount of weight they bring out with them will definitely want to consider a plastic hand scoop over a metal one.
Indeed, it is half the weight of the previous two mentioned. It weighs only 8.5 ounces and measures 8.5 x 5 x 6 inches. Slightly smaller than most, but large enough to sift through a lot of sand.
My only complaint is the larger holes down at the bottom for the sand to come out. Unlike the smaller CKG 7mm holes, these are close to half an inch or around 12 mm. That might seem like a small difference to you, and in that case choose this scoop.
Overall, it's a lightweight choice that is relatively inexpensive.
3. RTG Pro Aluminum 47" Mini Water Scoop
This scoop shovel (Check it Here on Amazon) is probably the largest on the list, and even then it's not really that large.
The RTG Pro Aluminum Mini Water Scoop is great for sifting through sand without having to bend over.
It's perfect if you don't feel like crawling all over the beach. You could lift up the 40 inch handle up close for further inspection of what's in the basket.
It weighs 3.3 pounds (heavier than the previous models) yet, I don't see it to be that heavy to be honest.
The overall dimensions of the scoop are 46 x 9.5 x 5 inches. Fortunately, this one has a bright orange rubber handle with ergonomic finger molding. The handle is welded at 20 degrees so you can use your foot on the back of this scoop to push it into the sand.
2. Dune Anaconda
This model's unique design (Check it Here on Amazon) makes it perfect for cutting into sand easier than the rounded edge models shown so far.
Why would you want a point instead of a rounded edge scoop? For dried and compacted sand that is difficult to dig through. If you catch yourself constantly sifting through sand during low tide then you'll want something that can cut through the compacted sand easier.
The Dune Anaconda is the right scoop for drier terrains.
It is made out of heavy duty gauge stainless steel and designed, literally, to take a beating, hence the design to cut through dry, compacted sand. The holes are round and measure 8mm wide. They are a reasonable size that won't let much get away.
You get a rubber handle attachment with this shovel, but there are two different configurations. However, similar to the CKG Sand Scoop, you'll need to find a 1.25 inch diameter shovel handle and Clevis pin.
1. CooB Beach Sand Scoop Shark V7
The Coob Shark V7 (Check it Here on Amazon) will round off the list, not only as the most relatively expensive but versatile as well.
It is made of stainless steel 1.5 mm AISI 304. This steel is lightweight, but tough. Real tough! The scoop features the pointed edge over the rounded, which as mentioned is perfect for wet and dry sand.
The dimensions are 11.5″ x 8″ x 4.3″. It's a fairly large basket, but the hexagonal holes measure at a small 7 mm. Depending on preference, smaller holes are more favorable. It weighs 3.53 pounds making it the heaviest on the list.
There is not a handle on the shovel, but it does come with a 2-piece "D" handle carbon fiber attachment with a fully extended length of 43". The handle attachment is nice to have, but it would have been better if the basket offered another handle option like the others on the list.
Why Sand Scoops are important for Metal Detecting?
Sand scoops are essential for beach detecting! For example, dry and compacted sand can be very difficult to dig and sift through. A scoop like the Dune Anaconda makes it easier to dig through sand and get the treasure out easier.
Additionally, this tool is capable of thoroughly inspecting sand you dig up versus using your band hands. You not only cover more area but avoid damaging your beloved hands in the process.
If you choose a sand scoop with a longer handle you will also avoid unnecessary bending down further tiring yourself out. You will have more energy for more treasure hunting.
A sand scoop is an investment into this hobby that will pay off in the long run.
How to Use a Sand Scoop?
How to Make a Sand Scoop for Metal Detecting?
Final Thoughts!
If you are looking for more accessories you can check this complete list of Detecting Tools! I list all what you will need regardless of any situation, ground condition you will find yourself in …
… I don't suggest you overwhelm yourself with tools, just get what you will need depending on the situation you will detect in.