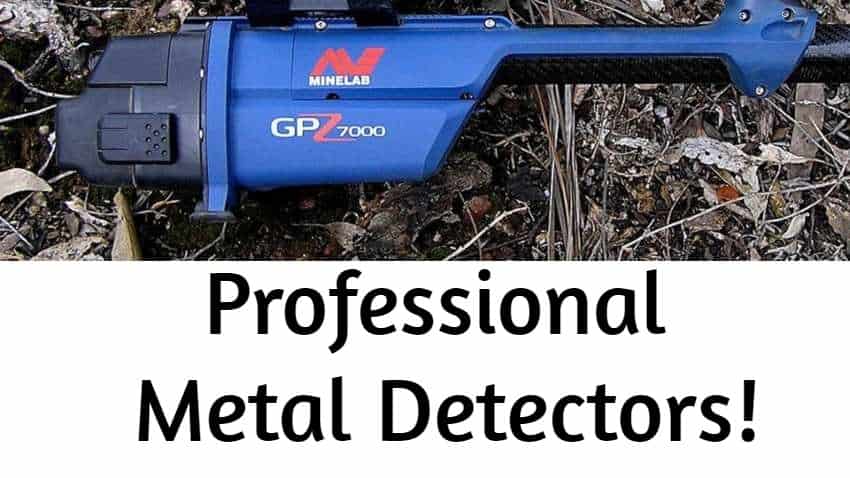 Metal Detecting is a fun hobby without a doubt; however, there is nothing wrong doing it at a professional level as long as you have the time, passion and necessary resources to get the job done …
… For that you will need a professional metal detector! They are generally highly reliable and better suited for tough terrains.
In this Post I breakdown the best professional detection devices depending on the purpose you are looking for.
Best Professional Metal Detectors
1. For Gold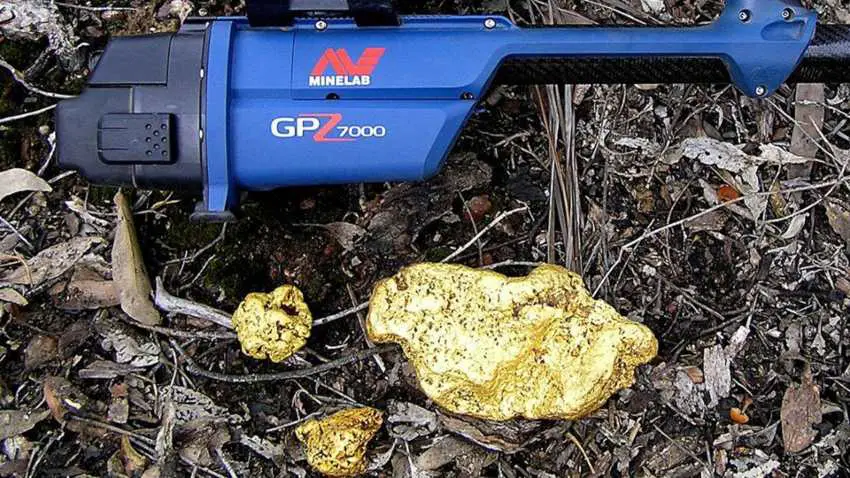 Gold Prospecting could be the most challenging aspect of this activity overall! That's why, using a regular machine won't be that helpful …
… Gold Detectors on the other hand have got specialized sensors to screen out gold from other metallic items.
For me, the most capable model is the Minelab GPZ 7000 (Check it Here on Amazon). Below I list some of the features it has that you should be aware of:
Highly Deep Detection:

It can go even deeper by 40% than the previous models

! For example the GPX 5000 (Check it Here on Amazon) Could go deep up to 59 inches, this means that the GPZ 7000 can go deep up to 80 inches which just Huge!
ZVT technology: This is a technology introduces by Minelab to allow you maximize the detection depth.
Waterproof Super D coil: Super D coil is highly sensitive and can detect even very minimal quantities of gold. Thus, with GPZ 7000, chances of missing out even small nugget to gold dust are extremely minimal. Also, the coil is waterproof and submersible up to 3 ft. So no tensions even when you want to go detecting during rains or wish to dig the hidden treasures dug on the shorelines.
Precise ground balance: Most of the treasures are found dug in the mineralized uneven ground where most of the detectors tend to fail. However, with GPZ 7000 there is accuracy even on difficult grounds.
Immunity to noise: It comes with 256 Noise cancellation channels and thus picks up very less atmospheric noise. Overall, the gold detecting experience with GPZ 7000 is very smooth and quiet.
Intuitive User Interface: The menu system in this detector is very easy to understand and operate. It also has wireless audio freedom with WM 12 wireless module. Further, GPS mapping offered by this detector is an additional advantage.
Finally, if your main Goal is Gold, then this professional device is the way to Go!
2. For Treasure Hunting

For all types of treasure hunting, the Garrett ATX (Check it Here on Amazon) is a complete package.
This treasure hunting device includes:
Higher sensitivity level in rough terrains due to high-end technology.
It enables detection of all targets without any need to switch between different modes.
The ground balance of Garrett ATX is amazing with balance even on seawater to mineralized grounds
Adjustable audio threshold feature makes it easier to hear targets
The electronic pinpointing feature can enable locating the target position very precisely
Overall, the ATX is a real solid asset for professional treasure hunters.
3. For Deep Search
Makro JeoTech Deep Seeking Metal Detector (Check it Here on Amazon) is the best detector used widely for treasures dug deep underneath the ground!
It is equipped with the Target Signal Identification System which is a unique feature of the Marko JeoTech. Other features include:
With its inbuilt microprocessor-controlled digital led system the user can analyze multiple signals simultaneously and can identify different types of items easily.
Comfort joystick grip design– JeoTech is equipped with a smart flash Led display system that is mounted on a comfortable joystick-style control shaft. The panel displays metal targets on the right-hand side, in the middle gold, silver, and other precious metals are displayed. It is also equipped with an audio identification system that doesn't require any other software to operate thus making its operation very easy and handy.
Advanced microprocessor technology– jeotech is designed with ease of use in mind so it can easily be operated by both amateur and professional users. The visual LED display and intuitive controls make this detector easy to use and understand.
Overall, if you think that most of your targets are going to be buried deeper than usual, then this Pro Detector is a Smart pick!
4. With Best Discrimination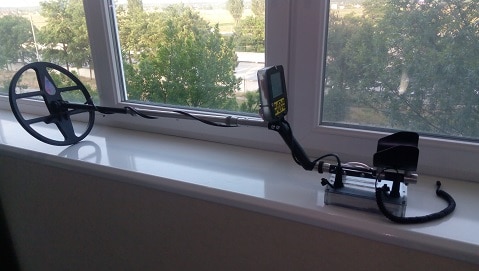 White's has included top Professional features on the Whites Spectra V3i (Check it Here on Amazon) to maximize your chances to pick up better finds as it has superior discrimination capabilities.
It is equipped with a beautiful full-color HD display which clearly explains the depth and metal type of detected objects. The V3i is always ready to go with its rechargeable batteries with very little charging time as compared to the other products on the market.
Ease of use– If you are just starting, the V3i has 9 presets giving user turn-on-and-go versatility that fits almost all terrain's and targets whether its coins, jewelry, relics of the past.
The V3i is equipped with 10″ (DD) waterproof detecting coils which makes it very easy for river-bed detecting operations. Expert users also find it very easy to switch between dozens of operational settings which can be changed in real-time via dashboard controls .you'll experience unparalleled depth and sensitivity even in previously-hunted areas
With wireless Spectra Sound headphones, V3i lets the user hear every signal better with astonishing clarity and without the worries of tangled chords which can break very easily
How to differentiate between a regular detector and a professional one?
Initially, people invest in basic detectors and carry out detecting as a hobby. However, once the passion elaborates upgrading to professional detectors becomes a serious possibility.
The main differences between the 2 are:
Operating Frequency: Most detection devices operate in a low to mid-range frequency of 5-15Khz. Professional detectors operate on much higher frequencies that can reach up to 70 kHz or even more.
Targeted metal: General detectors provides positive indication for all metals without any discrimination. However, professional detectors are designed to detect non-ferrous metals by filtering all ferrous junk by default.
Ground balance: In contrast to basic detectors, professional detectors have a great ground balance and can operate even on rough terrains (highly conductive soil …)
Coil size: The coil size is the more or less constant size for general detectors while in professional gold detectors for example, the coil size is significantly smaller to ensure maximum sensitivity.
Is it possible to make a good ROI on your Pro Detector?
Pro detectors aren't cheap and should be used in most cases by professional practitioners. So it is an investment but you can expect great returns if you detect in places with high potential.
Look for virgin grounds where chances of finding the hidden treasures are much higher.
Searching in Gold Hot Spots a great way to go too!
Beaches could be lucrative too!
When should you Opt for a Professional machine?
There are couple reasons why I think you should opt for a Pro detector:
If you simply have access to a high budget, then why not?
You are close to gold or mine hot spot with high potential and have already the permission to detect there.
If you love the hobby and want to scale up the quality of your finds.
You live in a State or a Country that allow the Hobby to high capacity, if that's the case, then the ROI on your machine is almost guaranteed.
Conclusion
Hope that you've liked the professional models I've suggested to you! Even if you don't intend buying on of these machines these days, this will at least give you a good idea so you can pick one of those in the future …
… Finally, if you are not sure what detector you should choose, I highly invite you to check this article on how to choose a metal detector! You will learn some useful info.