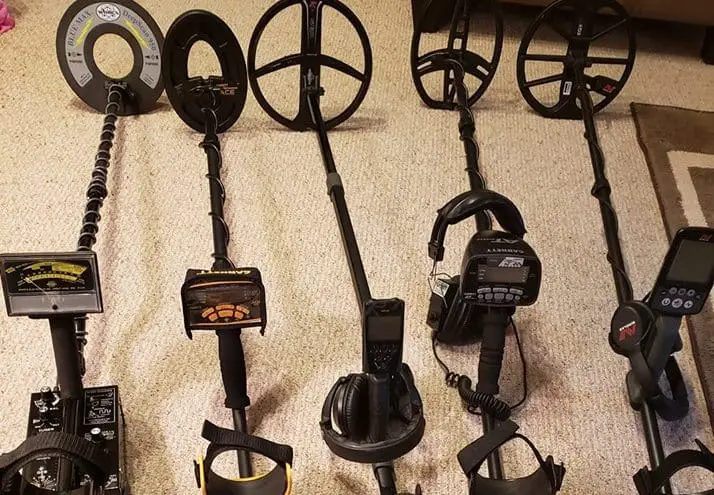 I've noticed lately in many groups and forums that people don't have a clue when it comes to choosing the proper metal detector! Especially at the beginning, even though some of them have access to pretty high budgets …
… Thus, these new hobbyists tend to not make the right choice most of the time!
So, How to choose a Metal Detector? There are several factors that you should consider before selecting your detector; these include obviously your budget and your level of experience. But also, you should definitely, consider picking a machine from a reputable brand that has good durability and that could operate on difficult ground conditions.
… In this Guide I give much more helpful details regarding these factors … I am sure after that you won't make a bad choice!
Finally, in case you are a Beginner in this Hobby, then I have 2 Trustworthy and Easy-to-Use Options for you:
This Bounty Model (Check it Here at Amazon) if you are on a Budget.
This Garrett Model (Check it Here at Amazon) if you are willing to Invest some more money!
Minimum features that a Metal Detector should have!
First, it is important to know the minimum features that your future machine should have! I mean, most modern detectors generally have most of the features I am about to share with you …
… Yet, you never know what to expect! You may find in the market some creepy or fake models that don't have that!
So let's dive in into some of these features:
1. Coil Configuration
The coil is one of the most important parts, it controls many detection variables like the:
Frequency
Sensitivity
Discrimination
You need to understand that the coil should have one of these configurations:
Double-D coil: also called DD coil, it has a form of 2 reversed overlapping D's. This one operates very well for highly mineralized soil and could reach high depth even for small targets.
Concentric coil: It has 2 circles, one inner and one outer. This one usually doesn't operate ideally for mineralized soil, yet it allows strong pinpointing capabilities.
Monoloop coil: This one is pretty special and used for Pulse Induction machines. Maybe this is not a good beginner option, yet it is interesting to know about it. The signals coming from these types of search coils are generally very high in terms of frequency and could operate on heavy mineralized soil.
So, here you go, your machine should have one of theise coils!
2. Coil Size
The diameter of the coil is directly proportional to the depth of the search!
In other words, if the coil is large, this means that it could go to a high depth (above 9 inches).  A medium sized coil allows you to go generally between 7 to 9 inches. And for the small ones they won't allow you to go deeper than 6 inches!
So, that's it, if you are expecting deep targets, you can opt for machines with larger coils, otherwise, you may want to only have a smaller one.
3. Discrimination
Your future machine should have some sort of discrimination capability! This feature simply means the ability to ignore the metals that you are not looking for …
… For examples, it is common to find aluminum caps while detecting, this happens all the time…
… By setting the proper discrimination setting, your device won't pick up those signals and you will only dig for the good stuff!
So, if you are living in trashy areas, then you should definitely consider opting for a detector with good discrimination.
4. Sensitivity
To make this concept simple to understand for you, it simply means how capable your machine to pick up smaller targets is. Or how sensitive is it to small targets!
So, if you are looking for regular sized targets, then you may not need a machine with high sensitivity. Otherwise, if you are looking for little gold nuggets, for example, then you should definitely have a detector with high sensitivity.
Learn more about the most sensitive detectors in the market!
5. Operating Frequency
Each metal detector operates on a frequency or a set of frequencies! This generally influences both sensitivity and depth …
… In other words, when the frequency is low, your machine tends to be less sensitive to smaller targets, but it can go deeper. On the other hand, when the frequency is high, your machine will be able to react to the small items, but it won't go very deep.
To understand more this feature, have a check at this in-depth article about the best frequency for metal detectors.
6. Target ID
This is a feature that will help you to identify your target! Based on that you will be able to decide on the value of the detected object!
Generally, you should opt for a detector that offers a wide range of target ids. Thus the recognition will be much easier …
… In general, the elements that have more electrical conductivity display higher values! Yet, you should always refer to the constructor manual.
Speaking of manual, make sure your metal detector package include a manual on it! It is very important for things like troubleshooting!
For more information about this topic, you should check this helpful article on identifying the difference between metals!
How knowledgeable are you about this hobby?
If you've never used a detector before (Learn about more about the hobby), it would probably be a mistake to jump on machine designed for experienced or seasoned detectorists …
… In fact, such machines represent a significant learning curve that will take you lot of time to figure out. Thus, you may end up giving up on this hobby!
That's why, opting for an entry level machine at the very beginning is the proper choice to do! When I speak about entry level devices, there are lots of examples (For those that I like the Most, I will include a Link to Amazon!):
Bounty Hunter Tracket IV (

Check it Here

at Amazon!)
Minelab Go-Finds
White's Coin-Master
If you think that you've got a better understanding of how that works and you've gained more confidence. Then you may opt for machines like:
However, if you are a detectorist with many years of experience, then, yea you probably know what machine will suit you the most. Generally, according to what I see, experienced people usually opt for devices like:
So, here you have it, hopefully, you have a better idea on what machine to pick!
How often are you going to use it!
Using your detector once month it is not like using it every single day! In this case, you should have a profound look at the durability of the machine you are intending to buy …
… In fact, in case of excessive usage you definitely need a much durable machine with a higher lifespan!
Maybe, you are asking how I shall know how durable a specific machine is? Very good question …
… For that there are several indicators, I will list 2 of them:
Warranty:

A machine with a long time warranty

is most often a synonym of a durable one! For example, Minelab Go Find 2 with its 2 years of warranty is not like a Bounty Tracker IV with a 5 years warranty and is not like the Tesoro machines that have sometimes a lifetime warranty!
Reputation in the market: This is something that you will understand over time! At the beginning, you will think or feel that all machines are the same, but after learning about other people using different machines watching youtube videos or interacting with other hobbyists, you will soon realize that there are some detectors that are more reputable than other. As simple as that! For example, Garrett AT Pro has a better reputation than most of the other machines that have a similar price tag.
Choose a reliable Brand!
There are a lot of brands producing detecting equipment, especially in the US! There are some Brands that are better than others …
… For example, Garrett Electronics (historical detector manufacturer) has proven time and time again that it is a leader in the market! In fact, this company is pretty old in the market (since 1964) and produces not only detecting machines, but also pinpointers, headphones as well as other related equipment!
When it comes to Post-Sale services, I believe that Tesoro offers probably the best services!
However, if you are in love with the latest and flashy technology, then opting for Minelab machines like the CTX, or Nox 800 would be great for you.
To have a complete idea about this topic, you should definitely have a check at these leading metal detector brands! You will learn a lot of helpful information …
Wait! … What is your Budget?
While trying to choose a metal detector, most people will ask you about your budget! I didn't want to include that at the beginning of the post, simply because focusing on that will distract you from the important factors that I've listed above …
… I remember, I've seen in some forums that some newbies have access to large budgets and want to start with multi-thousand dollars detector! If you are in the same situation, just don't buy an expensive machine … I mean, the main goal (at the beginning) is to get used to the basics and have a feel for this hobby, thus you will start being passionate about it little by little!
After, gaining some experience and with having the access to significant budget, then why not, opting for a machine with a much higher price tag would be totally worth it!
Did you identify your target?
I've hinted this earlier in this Post … Now, I want to address this a little bit more in-depth! If you are looking for coins or relics, this has nothing to do with searching for Gold or Platinum for example …
… And if you are looking for WW relic ammunition, it is not like looking for WW little buttons!
Fortunately, there are some machines called (all terrain, all purpose …) that are designed to search for most types of targets …
… So, if you don't really have a clear preliminary idea on what you are actually looking for, then opting for these kinds of machines won't be a bad idea at all! Examples of these include:
However, let's say you are living in or close to gold hot spots (lucky you!), then investing in a pricy gold machine like the AT Gold could definitely be worth it!
If you are opting for old coins, and want to accumulate a solid coin collection, then you probably will need a device with great coin shooting capabilities and that can operate pretty deep … Why? Simply because old coins tend to be located fairly deep underneath the ground …
… For that it is very hard for me to recommend any other machine than the AT PRO!
Want to learn more about how to identify your targets?! Check this Helpful Article!
Don't take the ground conditions for granted!
I've said this, simply because hobbyists don't pay too much attention to the ground conditions there are dealing with …
… In fact, it is a huge factor … just have a look at this article in which I explain the hardest metal detecting conditions!
Below, a list of some ground types that you may need to deal with:
Grass: detecting in the grass is generally easy yet you may have some difficulties when it comes to ground balancing when the grass is tall. That's why choosing a device with reliable ground balancing is the proper choice. Other than that, just don't use a monoloop coil in grass …

Rivers/Lakes/Creeks

: Generally, these kinds of places have proven time and time again that they are very profitable! Yet, to get the most out of it, you definitely need to detect underwater, thus, in this case, you need to choose a waterproof device.

Mineralized soil

: Whether you are dealing with ferrous ground or conductive salty ground or both of them at once, you should use an adapted machine! In other words, it should operate in high frequencies with solid discrimination and sensitivity … Otherwise; you will continually get false signals that won't help you, by any means, to find what you are looking for!
Hopefully, I've made that point pretty clear enough… If not, please ask me questions in the comment section!
When should you upgrade your current detector?
Maybe you already have a machine but you are not satisfied with its results or you just want to try something new!
There is nothing wrong with that as far you know what you are doing …
… First of all, you really need to write down all the limitations that you've noticed in the current one … Don't list what people are saying about your machine but list what you are actually noticing based on your own experience …
… Maybe your detector don't pick thing as deep as you want or lacks in terms of sensitivity for smaller targets! I mean whatever, just note it down …
… By doing so, you will have a crystal clear idea on what you should look for in your next device!
Conclusion
I've tried my very best to give you a clear idea on what machine you should choose, based on many relevant factors …
… I just don't want you to spend a significant amount of money on something that doesn't respond to what exactly you are looking for! So, better know it now than later …
If you are still not sure on what machine you need to pick, let me know, right now in the comment section below … by giving me all the details that you are looking for … I will do my best to help you!
Finally, if you are curious about what these detectors can actually detect … Then I've written this List of Targets that detection machines can Find … You will learn there a ton of helpful Info …