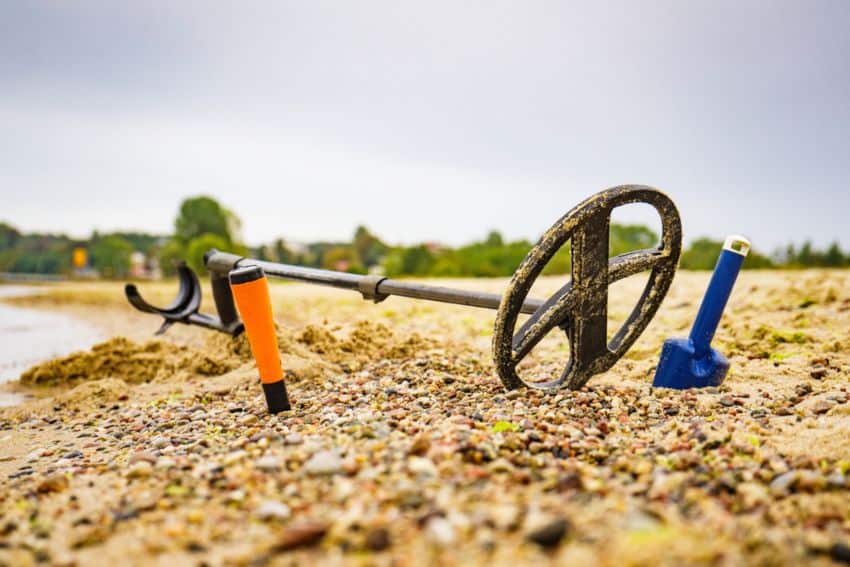 Metal Detecting is, without a doubt, a fun hobby that could be really profitable on some capacity! But, the reality is, targets you can find on water are much more valuable than those on land …
… That's why, having an addition waterproof pinpointer is very useful to be able to locate these targets precisely!
In this Short Post, I List the Best Waterproof Pinpointers you can possibly get.
1. Garrett CSI Pro-Pointer AT
To be honest, any product with the Garrett Brand on it, is simply trustworthy! And this pinpointer (Check it Here at Amazon) is no different …
… It is fully waterproof that can operate well even on saltwater.
Below some of its features:
Available in bright orange color, making it easily visible if you are detecting on dark conditions.
It has a lost device feature, in fact, if no button pressing for about 5 minutes, the pointer will emit periodic warnings.
Comes with 3 sensitivity levels, this will allow you to adjust to the target size you might be dealing with.
It can go 10 feet deep under the water.
If you don't like hearing sounds once you find a target, you can turn it off and have your device only on vibrating mode.
Keep in mind that you should turn it off once you are not using it! Otherwise, this could suck off your battery charge. Turn it on only while actually using it.
2. XP Deus MI-6
XP Deus MI-6 (Check it Here at Amazon) is an underrated waterproof pointer that really can function in all conditions.
Let me list its features here real quick:
Comes in with a bright red color
Has a built-in alarm for finding it if it gets lost
It is one of the few pinpointers that has a rechargeable lithium battery built in it. That's really good, as you won't really worry at all about changing your battery each few hunts or so.
Can operate for 90 hours on just one charge
It can connect to its full-size metal detector, the XP Deus (Check it Here at Amazon), giving you enhanced adjustment levels and flexible tones.
You can be safely used underwater and submerged up to 20 feet.
3. Garrett Pro-Pointer II
This waterproof pinpointer (Check it Here at Amazon) is manufactured by the leading company Garrett, which is known to be highly reliable!
To be honest, each time I hear about a new Garrett Product, I was never disappointed by what it brings to the table.
Below some of its features:
Comes with a built-in lost pinpointer alarm
Its capabilities are not influenced by the beach or saltwater.
It has a LED for better illumination especially during dark time
Helps you zero in on your target more quickly due to its accurate tip detecting
I really consider it to be easy to use for beginners!
Very sensitive not only to smaller targets, but also metallic items with lower electrical conductivity like those made of lead for example.
4. Teknetics Tek-Point
Teknetics Tek-Point (Check it Here at Amazon) is pinpointer that is manufactured from rugged and stable materials that make it resistant to abrasions, thus much more longevity than average similar devices.
Below, some of its features:
It is one of the rare pointers that uses pulse induction technology! This means that even if you are dealing with highly conductive soil, it can still look for your find right through that soil and pick up the target you are actually looking for!
Ideal for saltwater.
Comes with a 2-year manufacturer's warranty
Runs on AA batteries
It can be submerged up to 6 feet – That's deep enough for shallow water detection, yet you should not consider diving with it.
If you are looking for real treasures or actual raw gold, then this model is a solid asset! By the way you can lear about these

high performing gold pinpointers

!
5. Deteknix Xpointer
The Deteknix Xpointer (Check this Similar Product Here at Amazon) is excellent for accurately honing in on your target.
That's not as high performing as the previous ones, yet it still has some useful features:
It is waterproof, but only the tip can be submerged
Comes in an eye-catching and extremely visible color
Easy to spot
Tough to lose as it comes with a holster and a lanyard
It can function in a wide operational temperature range
Has ridges on the handle to allow you a good firm grip
6. White's Bullseye II
The White's Bullseye II  is another excellent waterproof pinpointer. It is not really very popular, yet it still has good features that will help you pick up more finds:
Has excellent sensitivity! This means that even low conductive targets could be easily seen.
Comes with a separate handle that makes it easy to grasp
Comfortable to use for extended hours
Allows around 20 hours of use from one 9 volt battery, allowing you to be out all day without worrying about the battery life
There is no tuning required
It features both vibration and audible beeping modes
Conclusion
As you might know, pinpointers are not that complicated in terms of features and usage! However, they are extremely useful as they help you locate your targets accurately and quickly …
… And as you will certainly need to detect at a certain point in water, then having a fully waterproof model is necessary!
Hope there choices are as close to your expectation as possible!
Finally, if you want to learn more about this hobby, then I highly recommend you have a look at these metal detection tips and tricks! You will end up learning a ton of useful info …