Detecting in the rain is one of the most underrated times that hobbyists opt for! Indeed, at that time your chances of coming up with fantastic finds increases significantly …
… To be able to do so, you definitely need a weatherproof metal detector! The latter will resist the rain and will continue to operate under those circumstances flawlessly.
In this post, I breakdown 4 weatherproof models that do a good job!
1. Fisher F22
The Fisher F22 (Check it Here on Amazon) is a decent entry model that beginners should have a look at!
This simple 'turn on and go' model that comes with several useful specifications that are all housed inside a compact weatherproof control box.
This means you don't have to worry about getting your detector wet in the rain. However, remember that the control box is weatherproof, but not submersible since it is not waterproof.
The F22 comes with a 9 inch triangulated, elliptical concentric coil. This narrower and smaller coil is excellent for finding out targets even amongst trash and iron.
Below its modes:
Coin: This mode discriminates all iron targets and also pull tabs and other trash items
Jewelry: This one discriminates against all iron targets.
Relics (artifacts): This mode discriminate significantly less to increase your chances of picking up old relics.
Customized mode: This allows you to set your own pattern using the notch discrimination feature.
Also it has:
Excellent iron audio
Fast recovery or processing speed
Volume adjustment
Triangular search coil design
This model is a good choice for beginners, but keep in mind that it will come up short in highly conductive soil, since it doesn't have ground balancing capabilities.
2. Fisher F44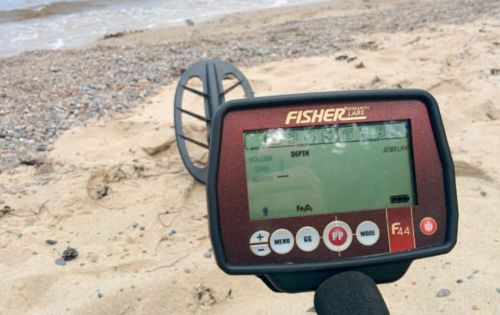 The Fisher F44 (Check it Here on Amazon) is a better version of the F22!
This is also a weatherproof, versatile, and sturdy metal detector that could be used by beginners and even those with experience in this hobby.
The biggest advantage of F44 is that it comes with a large screen and a superior power supply that includes two AA batteries.
Nearly everything you need while you are out detecting is displayed clearly on the F44 screen. It comes with nine segment discrimination scale, a target depth indicator, a battery level indicator, and also the chosen search program.
Here are some of the key features of this machine:
Fully weatherproof
Has an iron tone adjustable iron audio
Manual ground balance to deal with mineralized soil
Pinpoint mode for more accuracy
An 11 inch triangulated concentric elliptical search coil that is waterproof
This machine is a serious competitor of most of the Garrett ACE series! That's why many people prefer this model over them.
3. Garrett AT Pro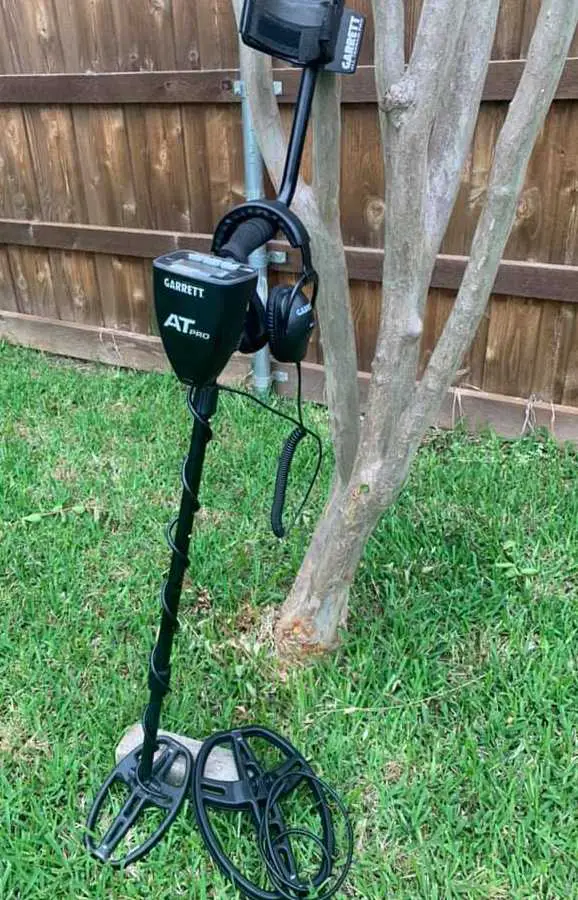 The Garrett AT Pro (Check it Here on Amazon) is a VLF single frequency weatherproof and waterproof detector.
This is one of the most popular releases of the Garrett House!
It has a sensitivity range of up to ten feet of water. The AT stands for 'All-Terrain,' meaning that this device can be used in the most extreme of environmental conditions.
Below some additional features:
Has a high-resolution iron discrimination and includes 1 to 40 iron targets
Comes with a quick recovery speed, which allows you to distinguish valuable targets from the trash objects.
Comes with both manual and automatic ground balance.
Many veterans who had decades into this activity still prefer using the AT Pro! This is for a reason!
4. Garrett AT Max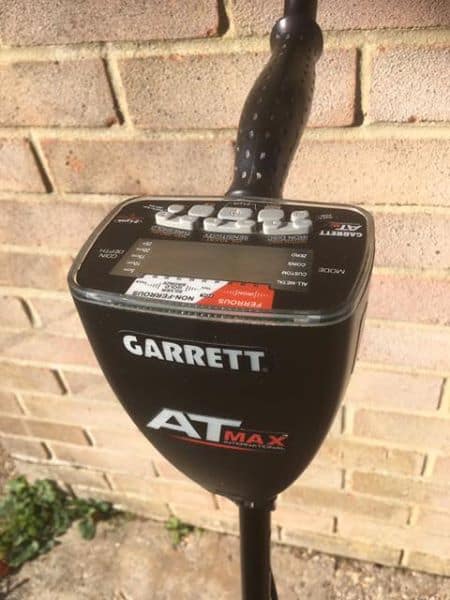 The Garrett AT Max (Check it Here on Amazon) is the AT PRO big brother so to speak! This machine is weatherproof and also fully waterproof…
… Below its most notable characteristics:
Has the Z-Lynk wireless technology that allows you to plug in wireless headphones
Comes with screen highlighting to make it easier to look for treasure in the darkness
The excellent battery charge enables the device to perform for two days without needing to change the batteries
Submersible to 10 feet, and being weatherproof, it allows you to hunt in shorelines, streams, and anywhere in shallow water.
Runs on 13.6 kHz operating frequency, making it perfect for detecting a wide range of targets, including jewelry, coins, and brass relics.
Has both manual and automatic ground balancing.
It has a sharper audio signal than the AT PRO.
A larger display means it also has bigger display numbers, including the iron discrimination numbers and the digital target identification numbers.
High-resolution iron discrimination up to 44 points to help avoid trash and junk like nails
It comes with four search modes, including true all-metal mode, a coin hunting mode, zero discrimination mode, and a custom mode.
If you've got the budget, then this model is probably the best pick!
Final Thoughts …
Hope this short article has given you enough ideas on what weatherproof detecting machine you should go for! Again, I highly encourage you to detect in the rain using one of these or similar machines …
… You will be astonished with what you might come up with!
Finally, I highly invite you to check this metal detection in the rain guide! You will learn a lot of useful information and tips to make your hunt successful in those conditions.