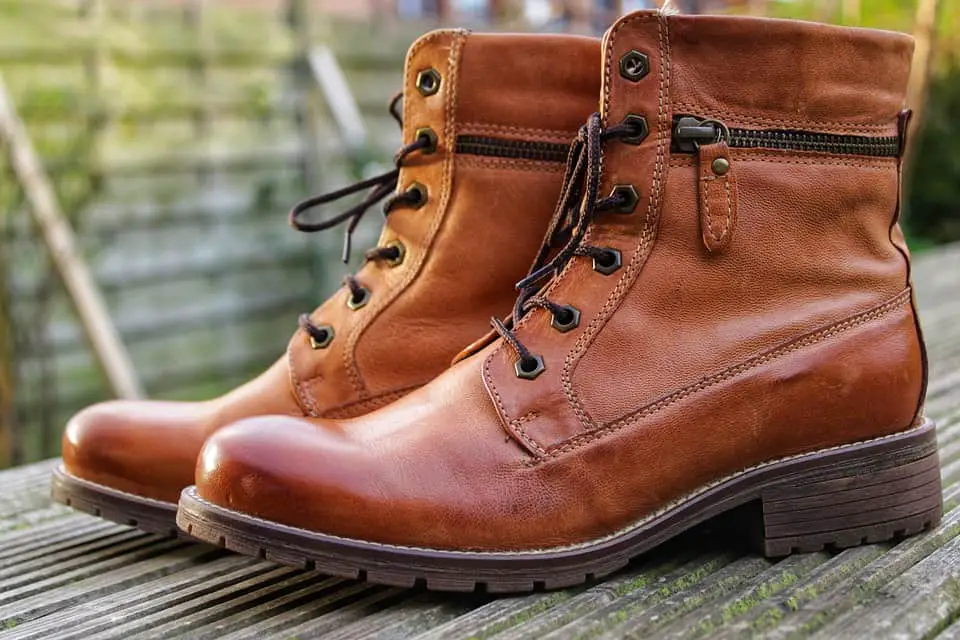 Wearing decent boots with specific features may not seem seriously important for some hobbyists. However, reality is, choosing metal detector friendly boots with a significant quality is a detail that you should not overlook.
In addition, if you use to dig in difficult ground conditions, like soaked or muddy soil. Then, wearing quality boots is not a luxury, it is a must for sure!
In this post I will share with you few recommendations to hopefully guide you to make the best possible choice.
Best Metal Detecting Boots for Men (2 recommendations)
Smith & Wesson Footwear: If you have a normal budget and you are not willing to spend a lot as for now. This pair is almost a perfect choice to start with as it is metal detector friendly. Check it here on Amazon!
Thorogood Men's Waterproof Composite Safely Toe Boot: If you have access to a significantly higher budget then I couldn't find any better shoes than these one. Very easy to wear, waterproof, non-metallic and made out of durable elements. Check it here on Amazon!
Best Metal Detecting Boots for Women (2 recommendations)
Before writing this Post, I did some searches to know what people are suggesting. Indeed, no one has proposed or even thought about what a great option could be for women. That's why, I really wanted to make some researches for you girls hopefully I would suggest something that will fit your expectations!
Soda Vegan Women Military Boot: Very comfortable and adapted for longue hours of walk. If your budget is limited, these shoes are a sweet choice for you. Check it here on Amazon!
Ariat Women's Tracey: Generally women love their feet and look always to spoil them using all sorts of techniques. Women detectorists are not an exception! That's why if you have an access to a pretty higher budget it would be really a great choice. Check it here on Amazon!
Why I've made these Choices?
I've spent a decent time analyzing and asking people (Men and Women) directly who have practiced this hobby for years and their preferences and what worked for them. Thus, I've came up with these recommendations for several reasons I am about to share with you …
Smith & Wesson Footwear (For Men on a Budget)
To begin with there are 2 different colors Black and Coyote brown that match with whatever you could be wearing. They are made mainly of leather and nylon to ensure a certain level of comfort and protection and the same time.
As a detectorist, protection and comfort are a must before you go out digging! In fact, many times you will stop detecting not because you are bored, but because you are just feeling fatigue on your feet.
This pair is designed to prevent slipping using a specific rubber. Thus, you won't be too much worried in some kinds of slippery soils. This is an important point considering the possible injuries that this kind of ground would cause for you.
The shoes have a pretty handy side zipper that makes wearing and removing them just easy.
In wet circumstances, you won't notice too much leakage, yet these kinds of conditions could demean them. That's why, if you want to ensure a considerable durability make sure to avoid using them in water unless you have to.
Even if you are flat footed, they will still fit in your feet. You don't even need thick socks whatsoever to feel comfortable.
If you want to order them, just order your exact size. No need to order a half size bigger or something like that. Their size judgment is really accurate.
If you are the kind of person to go out digging once or twice a week in normal conditions, these shoes would be almost perfect for you. Otherwise, if you go out every single day in harder soil conditions, these shoes will work, yet after few mouths you will notice that they won't be the same.
Another advantage that I see is the cost which is affordable! Have a look at its current price on Amazon!
Thorogood Men's Waterproof Composite Safely Toe Boot (Best pick for Men)
This pair costs a little bit more than the first one, yet it is totally worth the cost difference! The manufacturer relied on composite toes, leather and a rubber sole as a main composition. It is totally free from any metallic element that could potentially confuse you while detecting.
One of the advantages that thorogood has is its ability to transmit a minimum of heat or cold to your feet. This keeps them isolated from the weather condition. Not to mention their very low weight comparing with their size.
Their high lack of electrical conductivity makes them undetectable, not only with your machine. But also with the most sophisticated detecting devices out there. This was actually tested and verified by the manufacturer.
It has also an interesting ability to absorb shocks in case you fall or jump. Plus it is pretty much water resistant!
Even if this pair is marketed as a waterproof product, actually it is not! That's the only con I see for them along with the suggested color which is Brown. Yes it fits with most of what you can possibly wear, but they should of add at least a couple of color options to satisfy all tastes.
I don't want to talk about the comfort they bring to the table too much, because seriously they are as comfortable as it comes. Not to mention the ease you will have to wear and remove them!
You can check them here on Amazon.
Soda Vegan Women Military Boot (For Women on a Budget)
This is the kind of pair that you may not like at the beginning for whatever reason, yet right after wearing it once or twice you will like them for sure.
It is almost bizarre how comfortable they are comparing to their price. Yet, their design is just OK.
For the size, don't think too much, just order yours if you already know it! You won't be disappointed on this regard …
The leather quality is fine and pretty durable. Yet, they are not designed for rough conditions and excessive usage! Avoid using them under Snow and Rain not because they won't work fine, but just for durability purposes.
You might question the zipper as most boots of that price don't have a good one, however it is very handy.
You can have a look at its current price here on Amazon!
 Ariat Women's Tracey (Best pick for Women)
Do you love western style? Is so, you are going to love this one!
Mainly based out of high quality leather with a sole made of clean rubber. This pair has great capabilities to protect your feet from fatigue even after longue hours of standing or walking.
You can go out digging in muddy or soaked soil without being concerned about the water touching your feet whatsoever. In fact, these boots are Waterproof as the leather is reinforced to not let any liquid to penetrate.
They will feel extremely comfortable regardless of your feet form. That is even if you've got low arches this won't matter at all.
Another big advantage is that instead of steel toe these shoes are equipped with composite safety ones. This makes them not only much more metal detector friendly but also much lighter.
Keep in mind that from time to time they lower the price of this pair … You can check the current price tag here on Amzon.
More Metal Detector Friendly Boot Options …
What I've written above are my recommendations, yet I've chosen to include in this post other options. I don't really want to confuse you, but maybe if what I've recommend doesn't resonate with you for whatever reason, below more suggestions and ideas that might be helpful …
Generally tactical boots or mongrel boots are very suitable for your hobby. They last for a long time they are metal free and super light.
Redback UBOK even if they cost a considerable amount of money, they are fine. With no metal at all.
You can get a pair of Timberland and a pair of Karrimor (trainer type boots) treat both with Nike wax. They don't cause any problem even with hard conditions.
Blue steel boots. They have one in the range that bosted "leaves detectors speechless". There is one tiny bit of metal on the side zip. It won't affect your machine at all. 
They are a lace up with aide zip as well and are very comfortable. Worth the price.
You can opt for Danish Desert combat boots for summer and Bundeswehr Combat boots M2007 for winter. Can't go wrong with surplus army boots, cheap and durable.
Waterproof rugged hiking boot, they don't have any metal on them and are pretty durable.
Airsafe waterproof boots. I know someone who has worn them for years. They are very comfortable and most importantly no metal in them at all as all composite reinforced.
Muck boot Co. They make excellent boots. Loads of styles and lengths.
KEEN Men's Targhee Waterproof Hiking Boot
Muck Wetland Rubber Premium Men's Field Boots
A good pair of Hunter wellies, keep the feet dry and warm.
Haix goretex army boots
You can try Decathlon stores if you have one nearby, they do some fine deals and reasonably priced.
If you go hunting only in beaches, probably sandals are just fine.
Conclusion
I really hope that this post helped you a little bit to make your choice regarding your next pair of shoes for metal detecting. The most important things are the comfort, durability and being friendly to your machine.
Happy hunting 🙂
Now I really want to hear from you! What boots do you normally use for detecting? Are you happy with them? After reading this post, what pair of shoes you are probably going to buy? Let me know in the comment section below …
… Finally, After you've protected your feet, it's time to protect your head properly! For that, you really should check these decent hats for detectorists! I've included choices depending on whether it's Hot or Cold!!