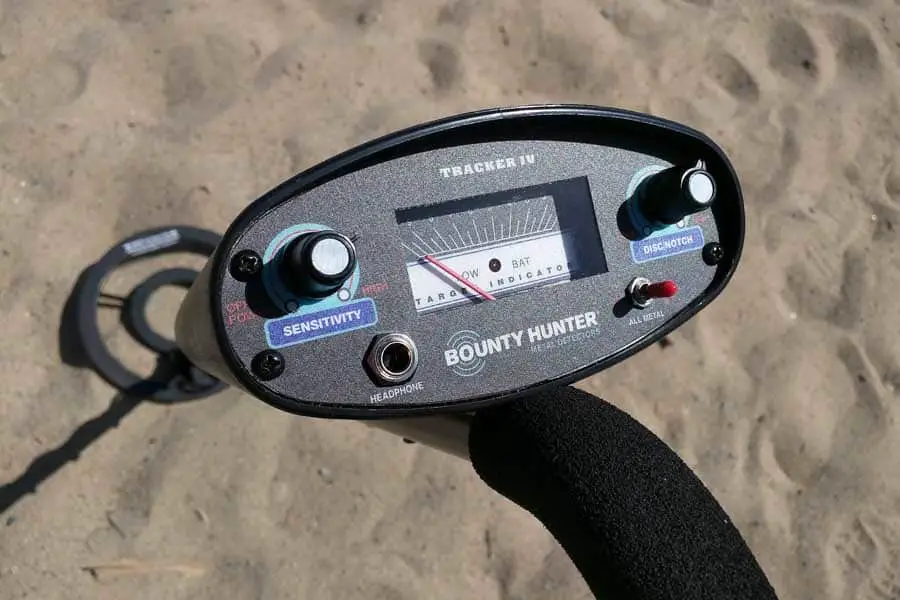 When it comes to Metal Detector manufacturing, Hunter Industries are probably not the most famous company out there! However, this does not mean that their products are lower quality …
… Not at all! I personally really like Bounty Hunter Metal Detectors for 2 reasons:
The Price tag they sell their machines for are very affordable, probably the most affordable in the Market.
Most of their detectors are intuitive and very easy to use!
That's why I've decided together this Post to talk about the Best Bounty Hunter Detectors out there!
1. Bounty Hunter QSI Quick Silver (Beginner Level)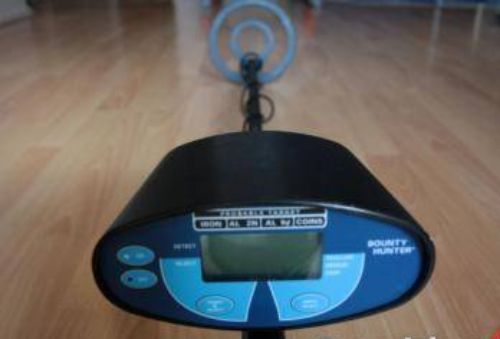 The Bounty Hunter QSI Quick Silver (Check it Here on Amazon) comes with a large LCD display with 4 segment digital target identification. It also has a 3 tones audio feedback to identify your targets even more.
Below its most notable features:
Require two 9-volt batteries
Depth detection is 8 inches for coin-sized objects
It has a separate low battery indicator
Progressive discrimination
Motion all-metal mode
There is an internal audio feed and headphones can be attached, but they are not included with the detector
It weighs 8 lbs
Operating frequency of 7 kHz
It has fully automatic ground balance with squelch-technology to eliminate any false signals
For those starting out in the hobby or those who want to move up from a starter detector to a slightly more advanced one but on a budget, the QSI Quick Silver is nice choice.
2. Bounty Hunter Tracker 4 (Entry Level)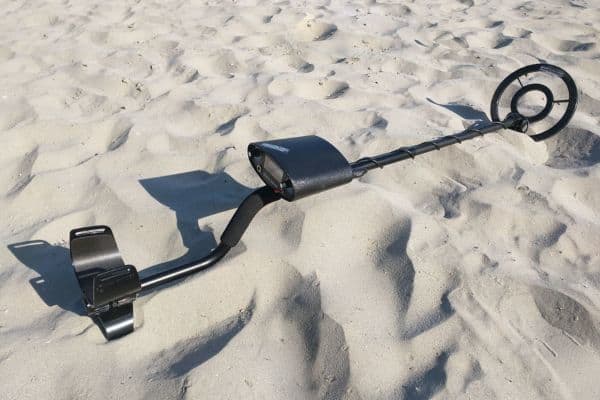 The Bounty Hunter Tracker 4 (Check it Here on Amazon) is a beginner level all-purpose device, which is very popular BTW!
It is easy to the point that even children could use them without much complexity.
However, it is still good for finding all types of metal targets, even gold, and silver.
It comes with an adjustable height to allow kids of all ages to use this machine. The controls of this detector are as straightforward as it comes with only two knobs and a switch. The knob on the left of the control box is the power control and can be used for sensitivity adjustment.
The knob on the right is for discrimination. There is a switch below that allows for mode selection. There is also an analog meter in the center that measures your signal strength when you pass the detector over a target.
Here are more feature to keep in mind:
Comes with an 8-inch search coil that helps detect at a considerable depth.
The best part of this detector is that it has a waterproof search coil to allow some detection in shallow water.
It requires two standard 9-volt batteries.
Comes with a five-year manufacturer warranty.
Keep in mind that this model is easy to adjust, takes few minutes to assemble!
3. Bounty Hunter Gold Digger (Entry Level & for Kids)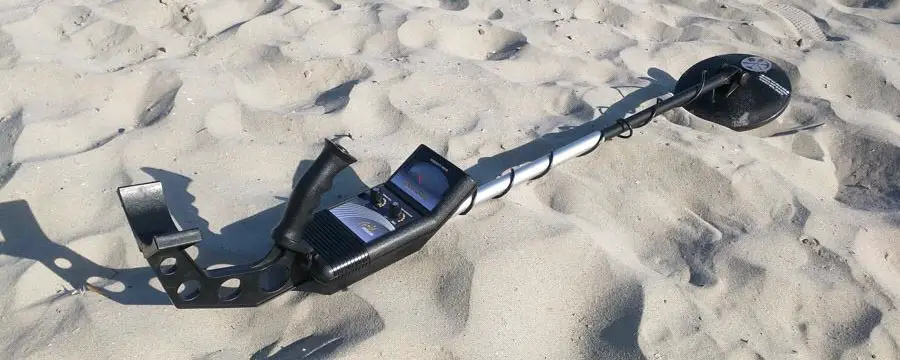 The Bounty Hunter Gold Digger (Check it Here on Amazon) is another good entry level model!
Children love using this device as it is very intuitive and user-friendly.
Here are some of the features I've noticed for this machine:
The length is adjustable and could be adapted to the kids size.
It can find coins up to 6 inches under the ground.
Comes with 2 knobs: One knob controls the sensitivity and power level, while the second knob is the trash eliminator. This allows you to set the discrimination level at places where you are expecting to find a lot of junk signals.
The detector comes with headphones to sense better signals.
Has a 7-inch search coil that covers enough space while swinging.
It has 3 different audio tones, these tones depend on the target electrical conductivity.
An operating frequency of 6 kHz, which is powerful enough to pick up most metals.
4. Bounty Hunter BHJS Junior (Mainly for Kids)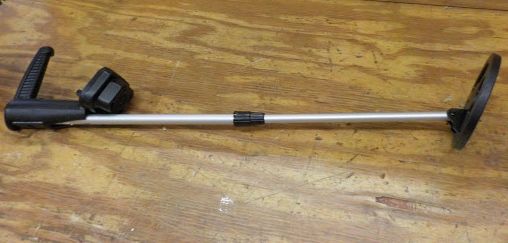 The Bounty Hunter BHJS Junior (Check it Here on Amazon) is another cheap entry level machine which is ideal for Kids.
Very simple to operate! You can simply put in the 9-volt batteries, and you can power up the metal detector. Lightweight material, which makes it convenient for children to carry it around.
However, keep in mind that this detector is primarily designed for amateurs or beginner detectorists and not for professional treasure hunters.
Here are some of the most notable features of this machine:
Operates on just 1 mode with a beeping sound.
Comes with earphones to listen to the sound of any target clearly.
Has discrimination control to eliminate junk.
The target meter helps measure the target strength with just a beep. This meter is calibrated to a specific level, helping you know for sure if you are going to find the metal you are looking for.
Could be used efficiently to detect any metal target that ranges from a coin-sized object up to 5 inches deep and larger objects can be detected up to a depth of 3 feet.
5. Bounty Hunter Discovery 3300 (Beginner to Intermediate Level)
The Bounty Hunter Discovery 3300 (Check it Here on Amazon) is a precise model with 4 different modes, deeper trackers, and it is also waterproof.
It has many custom programs you can choose from, plus a manual ground balance to adapt to the ground you are dealing with.
Weighing at just 2 pounds, this is a lightweight machine as compared to other metal detectors in the same range. This also allows you to use it for an extended amount of time without feeling tired.
The controls are intuitive and the screen helps you locate your targeted metal easily, it will also give you a feel to identify the metals you have found and about to dig for.
Finally it has a 3 digit target ID and a separate all-metal mode.
6. Bounty Hunter Land Ranger Pro (Beginner to Intermediate Level)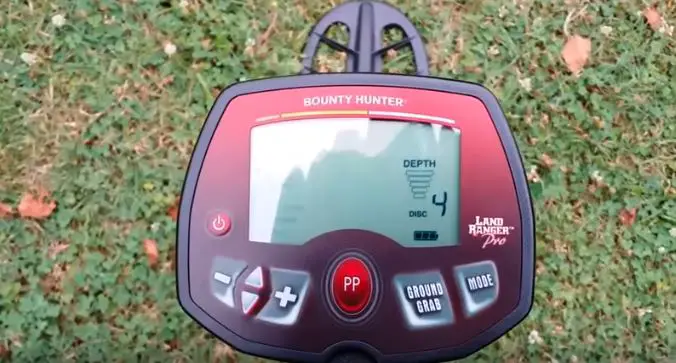 The Bounty Hunter Land Ranger Pro (Check it Here on Amazon) is a very solid model that you can use as a beginner or even as a seasoned detectorist!
Indeed, it has a separate pinpointer mode that helps you hone in on the exact location of your target.
The iron audio tone will help you ignore as much trash as possible so you could mostly focus on non-ferrous targets. The unit also comes with 4 audio tone identification.
The ground balancing feature is decent and helpful if you are dealing with slightly conductive soil!
Keep in mind that the screen display is quite large; this will make the readouts much easier.
The detector weighs 2.4 pounds, I am totally OK with that as far as a detector weight doesn't exceed 3 pounds.
The 11-inch waterproof search coil will allow you to detect well in shallow water. The coil size is ideal for covering a lot of ground quickly. It also has a 0 to 99 target ID: That's wide enough to help you determine quite easily the target you are about to dig for.
This detector Operate on a frequency of 7.69 kHz, making it ideal for relic hunting, coin shooting, and even jewelry hunting. However, it is not great for gold prospecting, but it can still manage to find the bigger pieces of gold or even preceded gold, such as golden coins.
The Bounty Hunter Land Ranger Pro is able to detect coins at a maximum depth of 10 inches.
Finally it works effectively in dry sand, but it loses a bit of its efficiency when used in wet saltwater sand.
Conclusion
Hope this little tour over these bounty hunter detectors has gave you a global idea on what machines this company provides!
If you want to know more about other brands, I highly encourage you to check these Metal Detector Brands! I include 9 different companies; maybe some of them will interest you …