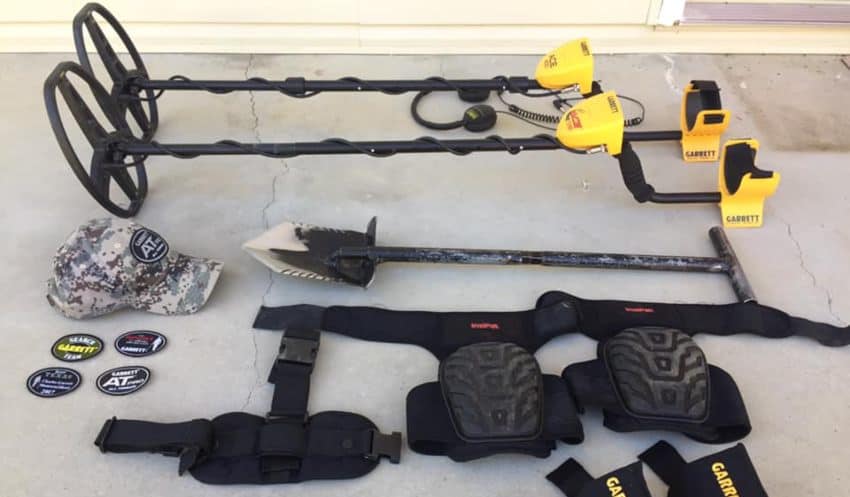 Many hobbyists consider the metal detector weight as an important factor before buying one! And guess what? They are totally right about that …
… Indeed, using a heavy machine won't be convenient at all for hunts that could last many hours!
In this short Post, I breakdown 5 Lightweight metal detectors that can do a fine job finding valuable targets.
1. Bounty hunter tracker IV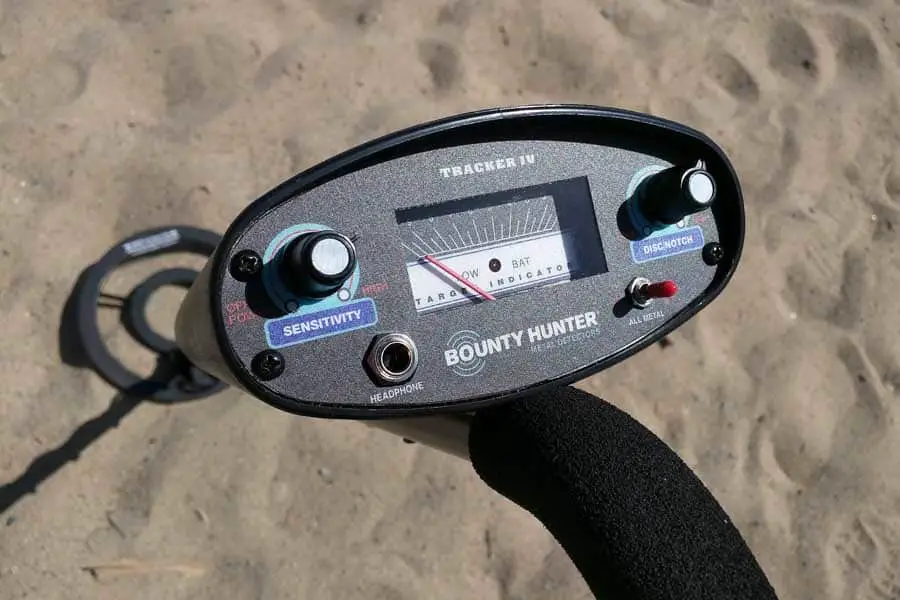 The Bounty Hunter Tracker IV (Check it Here on Amazon) is a very easy to use model very adapted for beginners.
Below its main features:
Total weight:8lbs
Discrimination: It is really decent and does a good job ignoring junk metals.
Coil: 8-inch search coil that can go up to 6 inches in depth. It is also waterproof.
Batteries: You will need 2 standard 9-volt batteries to run this machine
Dimensions:2 x 10 x 6.2 inches
Shaft: Adjustable in length, helping you carry out detecting in difficult to reach places
Warranty: Usually it comes with a five-year manufacturer's warranty. But this could also depend on the vendor!
2. Bounty hunter ranger pro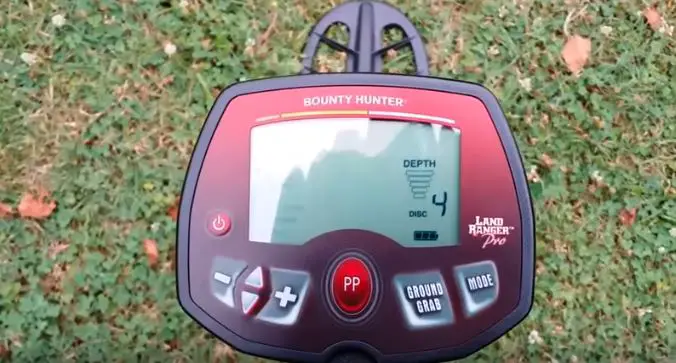 The Bounty Hunter Ranger Pro (Check it Here on Amazon) is a better version of the Tracker 4, as it comes with several additional features:
Total Weight:5 lbs less than the tracker 4.
7 Search Modes: Including coins, jewelry, relics, three custom modes with two, three, and four tones, respectively, and an all-metal mode.
Adjustable shaft length
Operating frequency of 7.69 kHz
Coil: Double D 11-inch coils
Battery: Powered by a 9-volt battery
The device also has a separate pinpoint mode
Comes with both automatic and manual ground balance Allows it to keep operating in conductive soil
Headphones are not included in the kit, so remember to buy it separately
3. Fisher F44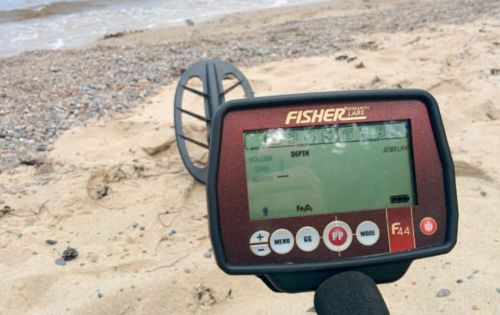 The Fisher F44 (Check it Here on Amazon) is one of the best models from FisherLabs and ideal for Beginners and experienced hobbyists.
It is a serious competitor of the Garrett ACE Series!
Below some of it characteristics:
Total weight:2 lbs
Minimum Length:5 inches
Maximum Length:5 inches
Coil: 11 inches Double D search coil
Operates on VLF single frequency of 7.69 kHz
Five search modes, including a customizable mode for improved convenience of the detectorist. The other search modes include artifact, coins, jewelry, and custom
20 levels of sensitivity and volume range
Weatherproof, in other words,

rain resistant

.
Both automatic and manual ground balance
It has an

iron tone

adjustable iron audio that allows you to discriminate between iron and trash targets
Runs on two AA batteries
4. Garrett ace 300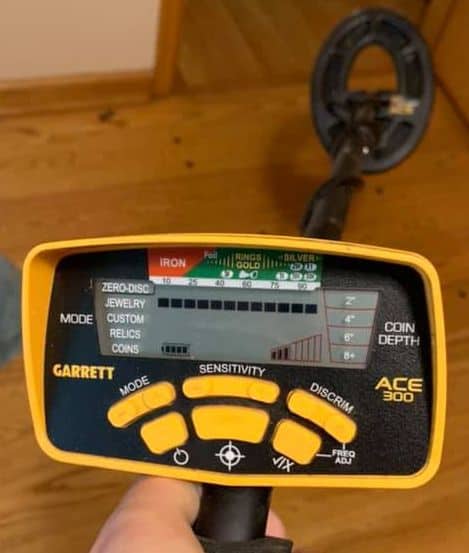 The Garrett ACE 300 (Check it Here on Amazon), is one of the first low cost models introduced from the Garrett  House.
Generally, it has all what you would need to find most metallic targets:
Total weight:75 lbs
Minimum Length: 42 inches
Maximum length: 51 inches
Batteries: Four AA batteries
Search Coil:5 inches х 9 inches mono search coil
Operates on VLF single frequency of 6.5 kHz
Comes with five search modes – all-metal mode, coins, relics, jewelry, and customized
Has an adjustable shaft and armrest
Electronic pinpoint allows you to locate your target to an exact degree and also reduce the digging involved
The device has a continuous coin depth indicator to allow you to determine your target depth more precisely and help the recovery of your target
Battery condition indicator helps you have continuous monitoring of your battery life
5. Minelab equinox 800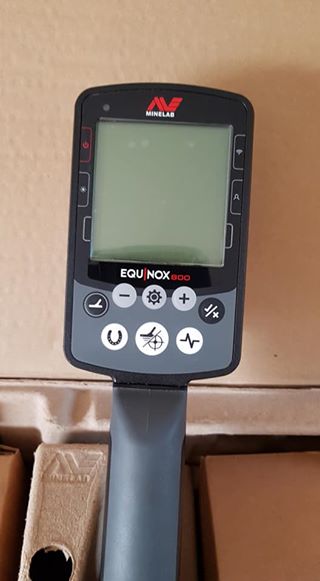 Finally, let's move on to my favorite machine by far, which is the Minelab Equinox 800 (Check it Here on Amazon).
This model was a real shift between old school detectors and the new generation of detecting machines!
In fact, it leverages the software capabilities to help you bring up the most out of every one of your hunts.
Below its main features:
Total weight: 3 lbs
Minimum length: 48 inches
Maximum length: 56 inches
Multi-frequency: The machine has an intelligent multi-frequency feature that allows you to simultaneously use multiple frequencies to scan the same location. Apart from this, there is also a wide range of single frequencies that can be used individually.
Fully Waterproof: The Equinox 800 is a waterproof machine that can be submerged underwater completely. You can use it at the beach, in lakes, rivers, and streams. It is submersible up to 10 feet.
Compatible with high-speed wireless audio.
Comes with eight search modes, and each search profile has two custom search mode, allowing you to save your favorite settings for each mode.
Fast and accurate target identification rate, along with a high recovery rate. The machine's accurate identification ensures that you do not miss any valuable targets.
Has a Separate gold search mode, which uses a single high frequency of 20 kHz or 40 kHz to search for gold nuggets even in highly mineralized soils.
Automatic and manual ground balancing
Comes with Double D 11 inches search coil
3 years manufacturer's warranty.
For more machines like these, have a look at these Minelab metal detectors!
Final Thoughts …
As you've might noticed, all the machines I've listed here are really lightweights, 3 pounds or less! Obviously I made sure to make all these adapted to any budget, hope you've found that useful …
… Finally, I invite you to check this Post where I breakdown how much do metal detectors weigh! I've included many examples to give you a clear idea.