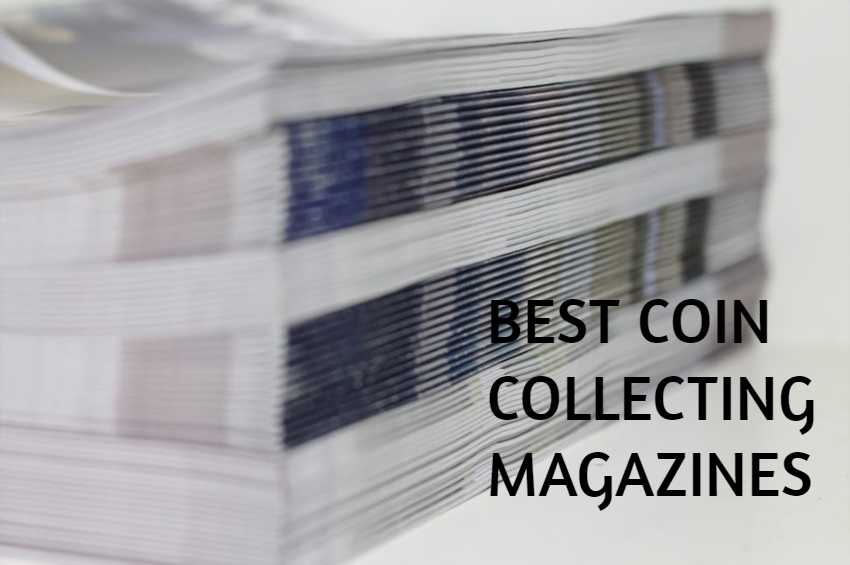 When you fall in love with a hobby like coin collecting, you will, soon, end up with a big urge to consume all sorts of valuable information related to the topic …
… And without a doubt Magazines are a Great medium to do so, and also to keep yourself up to date regarding the latest news, coins, collecting techniques, products, discoveries …
In this Post I will walk you through the 7 best coin collecting/numismatic magazines you should check in order to boost your overall knowledge about this wonderful activity!
BTW, if you are new to the hobby, I highly invite you to check these Coin Collecting Tools! Many of them are really useful and will help you develop and maintain a solid collection.
1. Coin World
This magazine is published in the United States and is perfect for beginners to advanced collectors. Coin World covers current trends and up to date news on coins in the US and around the world.
Their professional editorial staff consists of five writers that all contribute to the magazine. They take their topics and go in-depth with each one.
Coin World is comprehensive, when it comes to numismatics. It's been published since 1960, and has made itself the staple of coin collecting news.
There are two subscriptions choices, one is weekly and the other is monthly. The weekly option will definitely keep you up to date in the world of money. However, the monthly magazine might be more digestible if you plan on spending time on their website.
There are plenty of resources available online from Coin World including downloadable current pricing PDFs for coins and paper money.
The magazine is available digitally and print. Shipping is free in the US to all 50 states, but Canada and foreign countries will be paying a steep price for their subscriptions.
Additionally, if you love Coin World and can't get enough of their content, you should also give their podcast a listen as well.
You can check the magazine right here.
2. Canadian Coin News
Canadian Coin News is Canada's premier source of information about coins, notes and medals only.
Unlike Coin World, Canadian Coin News is only focusing on Canada. They chose to do one thing, and that one thing correctly. Those interested in Canadian money should definitely be reading Canadian Coin News.
It has been 40 years since this magazine was formed by Chet Krause. He has built the largest hobby publishing companies worldwide out of Iola, Wisconsin.
Don't worry though, over the years the magazine has switched owners and now is produced by Canadian natives who share a passion for Canadian money, and current news.
Canadian Coin News is available in print and digitally. Each issue releases every two weeks. If you choose the print magazine, you can add on the digital option very inexpensively.
Subscriptions for one year is available worldwide, but longer subscriptions are available only for Canada and the US. Kind of odd, but that's the way it is.
If you are a collector of Canadian money, then you can't go wrong with Canadian Coin News. You get up current news and articles on a bi-weekly basis for a reasonable price.
Also, the publication is active in events, which is always a huge plus for collectors.
You can check the magazine right here.
3. The Coin and Banknote Magazine
We are travelling all the way down to the outback to talk about the only coin collecting magazine available for Australia, The Coin and Banknote Magazine …
… But first, we have to talk about Australian Coin Review. Back in 1964, Australian Coin Review was the only available magazine in Australia. It ran till 2001, which was then bought out by rival company The Coin and Banknote Magazine.
Don't worry though, because there is an effort to keep ACR magazines available by The Coin and Banknote blog. The current publication is a monthly subscription, and CAB (as it's better known as) offers Australians coverage for all aspects of numismatics:
Australian coins and banknotes
World coins and banknotes
Error coins and notes
Selected medallic items
Australian and international numismatic auction reviews
Reviews of numismatic books
For those interested in Australian coins outside of the country, be prepared to pay a steep premium price for this magazine.
Even if you are local, it is still a significant price for the subscription. Unfortunately, being the only Australian coin collecting magazine, options are limited to one.
CAB does promise "big" issues, which should keep you occupied from month to month. If only there was a digital option, then maybe more would subscribe.
You can check the magazine right here.
4. Coin Collector
Coin Collector has become the UK's number resource for all things coin and paper money related information.
Similar to Coin World, this one is an all in one resource. The first issue was released March 2018. This gives you the unique opportunity to collect all the issues without the hassle of a giant back catalogue to worry about.
You can begin a relatively small collection with the current seven issues.
Although "Coin Collector" covers worldwide coins, the main focus is all about the United Kingdom and its rich history involving numismatics. The website, allaboutcoins.co.uk is an excellent resource for guides and prices and where you go to sign up for a subscription.
Those in the UK will benefit the most from all the site and magazine has to offer. The site has giveaways you will want to keep up with you. Who knows, maybe you'll win?
It is available worldwide, both in print and digitally. Unlike the others on this list, this one has a limited run of magazines yearly…
… Indeed, the publisher decided a quarterly release is best for them. I guess they want to keep people on their website and have the magazine as a bonus!
Either way, this magazine is worth reading if you live or in the UK or just have an interest in collecting their coins.
You can check the magazine right here.
5. The United States Mexican Numismatic Association
This one is a little different from the rest listed so far, but it definitely a resource you might want to look into. The United States Mexican Numismatic Association, USMNA, is a group of over 300 members dedicated to collecting Mexican coins, currency and other historical items.
The reason the USMNA is on the list is because the group publishes a quarterly journal with articles on a wide variety of topics. Although they are called journals, you can consider them magazines. Essentially, journals and magazines are the same thing.
According to the site usmex.org, "The U.S. Mexican Numismatic Association publishes quarterly journals with articles on a wide variety of topics and serves as an educational forum for its members. Each quarterly journal is in full color and around 32 pages and is filled with insightful articles and stories." Also, if you visit the site you will find a sample of one of their journals in full. Personally, I would encourage you to read through the sample. For it being a journal, it reads as though it were a magazine.
You can clearly tell this a close group. The membership is reasonably priced, and the journals are available worldwide and digitally. There is a section at the beginning of the publication highlighting new members.
Hopefully this gives the idea that each issue is personalized to the group and mass produced for a general audience.
6. Coinage
Since 1964, Coinage has been publishing six issues a year focusing on investing in gold and silver!
Will beginners get useful information out of this magazine? Yes. Will they benefit as much as the coin collector looking for investment opportunities regarding coin collecting? Maybe.
Coinage is more for those already invested in the hobby. I believe this magazine is more for those who collect and what to turn a profit out of their collection.
For example, Coinage recently did a story about gold prices rising because of an Iran crisis. To the beginner collector, this may not affect them. Someone investing in gold will definitely want to read that article.
The magazine ships free within the US, and is available digitally. The digital version is an exact copy of the print, except has clickable links within the article.
In this digital world we live in, that is a major plus. You get permanent access to all your issues, plus you can print out only what you need from each one.
When subscribing there is an interesting option for the print magazines. You can pay an additional cost for a polybag. If you have ever subscribed to a print magazine, then you'll know how amazing polybags are.
If you choose to subscribe to any magazine, always choose the polybag option. It adds an extra layer of protection that is essential to ensuring your magazine is not damaged during delivery.
You can check the magazine right here.
7. Coins magazine
Back in 1955 the first Coins magazine was released. Since then, it has become a staple in the coin collecting hobby covering all important and timely news for coin collectors. Their goal is to help guide collectors in wise decision making involving what and how to collect. Needless to say, this is helpful magazine for the beginning coin collector.
Monthly contributions from leading hobby experts keeps this magazine going strong all these years. You can expect to get information on market trends, buying techniques, and historical perspectives on all aspects of coins. This is one of the more traditional style magazines with passionate hobbyists pouring their love for coin collecting into this publication.
Each issue goes deep in analysis of topics and even answers reader questions. In this day and age, it is good to know people are keeping the reader mail write-ins available.
It may be easier to go to an online forum, but the opportunity to say you had your question in a magazine is cool. If you are looking for old-school type of experience, then Coins magazine is the one you need.
Coins magazine is strictly print. Some might consider it a drawback, but again this is an old-school experience and those not so tech savvy won't mind.
Each monthly issue will be full of insights from other collectors all sharing the passion for coin collecting.
You can check the magazine right here.
Conclusion
My main goal behind writing this article is simply to encourage you as much as possible to start reading or, at least, to have a look at some of these coin magazines…
… That's one of the best ways to enhance your knowledge, skills and love for the hobby.
So, give it a shot!
I invite to have a look at these coin collecting mobile apps! You will get to know many helpful apps that will make your collecting tasks easier.
Finally, if you are new to the hobby, I highly invite you to check this beginner friendly coin collection guide! You will learn the proper basics!