… That's why, I highly invite you to add mountains to your detecting hit list!
In this Post, I talk about the best detection devices you can use for mountains, in addition to some useful tips …
Best Metal Detectors for Mountains …
1. Minelab Equinox 800 (Best Choice)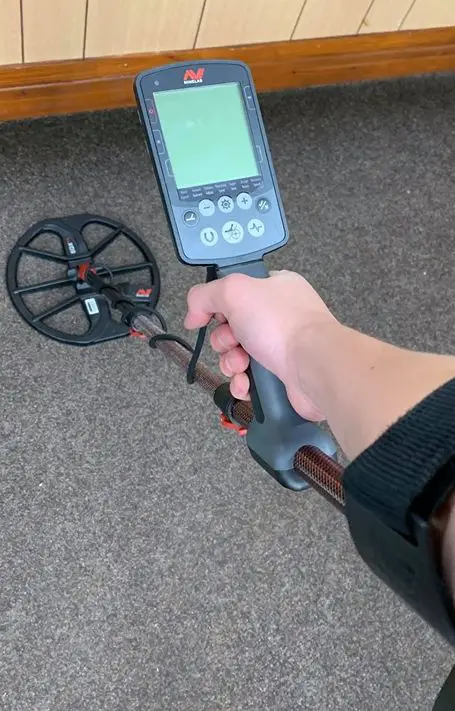 The Equinox 800 (Check it Here on Amazon) is an ideal choice in the mountains owing to its simultaneous multi-frequency technology.
This technology has made it one of the bestselling models for those who are interested in treasure hunting in the mountains.
This is an all-terrain and all-purpose detector that can detect in the most extreme of conditions, which is why so many detectorists choose it for mountain treasure hunting.
It operates at 5, 10, 15, 20, and 40 kHz when in multi-mode, or you can also select any one of these frequencies depending on the situation you are dealing with.
Here are some of the additional features of this model:
It has an 11 inch Double D smart coil with a skid plate.
Comes with a built-in loudspeaker and wireless headphones.
It has a multi-language screen protector.
Comes with its USB charging cable.
It has a fast and accurate target ID.
Its built-in lithium-ion battery runs for nearly 12 hours.
Has both automatic and manual ground balancing.
It is a lightweight detector that weighs only 2.96 lbs – this especially comes in handy when you want to lug the detector up a mountain.
Minelab has other models that you can check them Here!
2. Fisher F44 (Beginner Friendly Choice)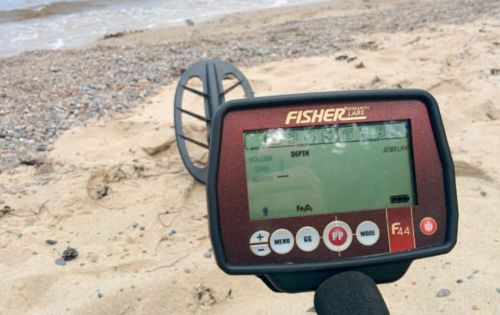 The Fisher F44 (Check it Here on Amazon) is another good option. It comes with a large screen and power supply that only needs two AA batteries.
The best feature of this device for any mountain treasure hunter is that the shaft of this detector can be disassembled into three parts. The locking collars available on the shaft of the Fisher F44 are still not there in many of the higher-end metal detectors.
Furthermore, the armrest of the Fisher F44 is very comfortable and provides excellent support when you are detecting for longer hours.
Not only does this detector have a large screen, but it also has an adjustable screen backlight, letting you detect in the twilight as well. Nearly everything you need to see while detecting is clearly displayed on the screen, including nine segment discrimination scale, the chosen search program, target depth indicator, VDI, and even the battery level indicator.
Other great features of this metal detector include:
Search programs you can choose from
Ground balance
Sensitivity adjustment
Volume control
Separate pinpoint mode
With a unique egg-shaped search coil, the Fisher F44 easily picks up more targets. The coil type is concentric and very lightweight, just 350 grams.
Even the 11-inch search coil is lightweight – these are features that come in handy when you are taking your detector up the mountain.
3. Bounty Hunter Tracker 4 (Cheaper Option)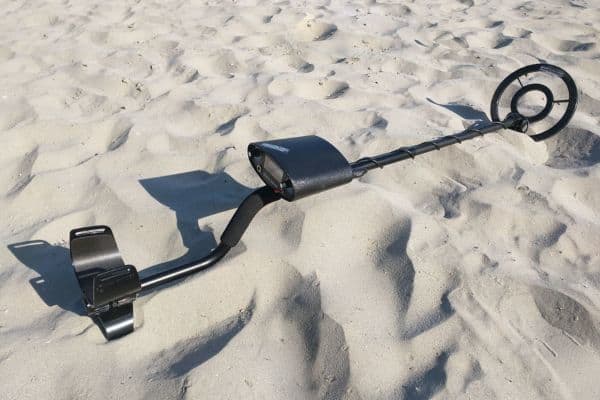 The Bounty Hunter Tracker 4 (Check is Price Here on Amazon) is a budget friendly option if you want to search in mountains owing to its lightweight design, simple control panel, and an affordable price.
Here are some of the main features of this detector:
A simple, convenient, and handy design ideal for carrying up the mountains.
Its ergonomic design and lightweight body make it ideal for hours of comfortable hunting.
It comes with an 8-inch waterproof search coil that can help you detect in considerable depth and also makes it easier to find things.
Since the search coil is waterproof, it can come in handy when detecting in the rain or if you come across a waterbody during your hunt.
It needs only two standard 9-Volt batteries to function.
The shaft of the detector is adjustable in length, allowing you to carry it easily.
Weighs only 4.2 lbs., again making it an ideal option for mountain treasure hunting.
Easy to adjust, and it takes only five minutes to assemble the detector and begin detecting.
Has a downloadable tutorial and manual, which can come in handy if you run into a tight spot while outside.
Has two-tone audio feedback, which helps you differentiate between different metals.
Has an in-built Automatic Ground Trac, which automatically balances the device for any soil mineralization while you continue detecting.
All these features set this detector apart for mountain treasure hunting.
What are the challenges when Metal Detecting in Mountains?
There can be many challenges that you could be facing in mountains!
That's why many hobbyists avoid detecting in the extreme environments of a mountain, even if those challenges are what make it fun!
Some of the common challenges that you should be aware of:
Sudden changes in weather – you never know what to expect and the higher up you go, the colder the weather becomes.
Unpredictable rain or snow
Higher chances of the detector getting stuck in nooks and crannies as you detect
If by chance you get stuck, then rescue can be difficult
If you have a respiratory health condition such as asthma, then it is not at all recommended that you metal detect on mountains.
The higher you go, the risk of developing breathing difficulties increases. So if you are expressing these kinds of issue, I wouldn't advise you to go there.
Conclusion
What do you think about this Post? Hope you've got your questions answered! If not, let me know how I can help you …
… If you are a beginner and want to know exactly how to pick your first machine, then you definitely should have a look at this metal detector selection guide! You will learn some good info …