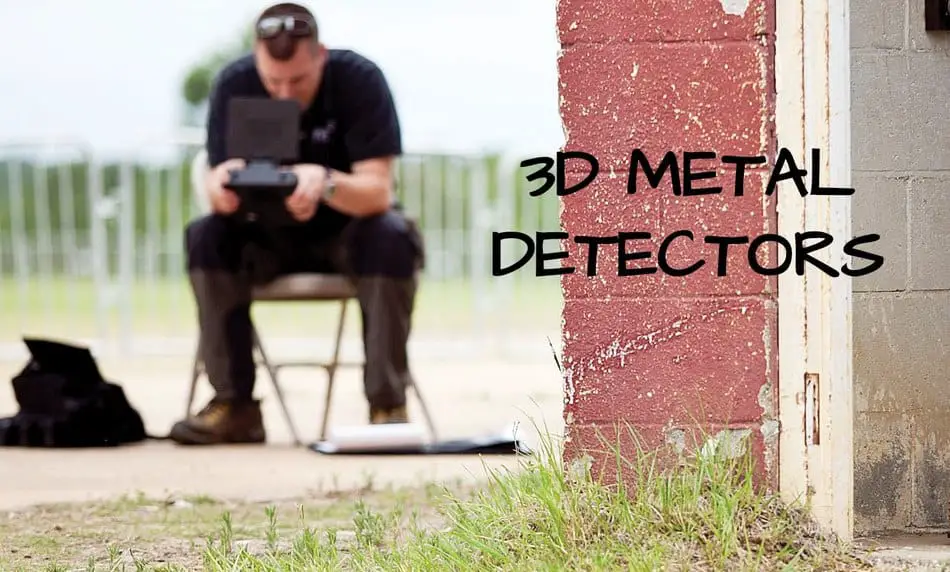 Underground metal detectors are totally different from conventional models! They might cost you significantly more, but their detecting capabilities are really superior …
… In this Post, I give my take on 5 of the best underground metal detectors available on the market today.
1. GER DETECT Titan 1000
The GER Detect Titan 1000 (Check it Here on Amazon) is known as a long-range model that comes with five search systems.
It does a good job finding gold, precious metals, buried treasures, caves, and underground tunnels.
Also, it has five separate highly specialized systems. These include:
System 1: Long-distance locator: When the detector finds a target, the direction in which it is located will appear on the screen. You will then need to walk in that direction. It is possible to select the type of metal or the gemstone to look for. The machine has an impressive capacity of up to 2500 meters of distance and 45 meters of depth.
System 2: Ionic System Search for Ionic Fields: Gold, treasures, and burials suffer from damage over time. Also, consider the effect of soil and the emission of North-South magnetic lines form a field of ions that affects the buried treasures. By running the ion system of this highly specialized detector and pointing the machine, it will emit a sound when detecting the target.
System 3: 3D Imaging System: The Ger 1000 geolocator scans the earth's layers and displays them in 3D images. It also shows the targets detected as gold, silver, other valuable metals, treasures, and caves (Learn about metal detecting in caves). This detector will show you the depth at which each target is buried.
System 4: Magnetometer System: This system of the detector allows you to search for magnetic metals such as iron and iron derivatives. The magnetometer system lets you know if there is a non-precious metal buried up to a depth of 45 meters.
System 5: Pulse Induction System: It also works with pulse induction frequency that allows it to penetrate the ground to depths that are difficult for other detectors. The device comes with the features of automatic ground calibration to ensure that the detector will not be affected by mineralization, wet earth, and hard earth interference.
2. Ajax Detection Primero
Another great underground metal detector is the Ajax Detection Primero (Check it Here on Amazon).
It also contains a high level of operating programs and configurations that will enable you to control the general plans of your detecting trips until you find your target.
Here are the nine advanced search systems of this detector and how much distance and depth they can detect up to.
Long Range Search System (Manual)
Distance: 2250 meters
Depth: 50 meters
Press Spectrum Analysis System
Long Range Search System
Distance: 2250 meters
Depth: 50 meters
Live Scan System
Depth: 30 meters (for Large Treasures)
Gradio-Meter System
3D Scanning System
Depth: 30 meters (for Small and Large Treasures)
Long Range Ionic System
Distance: 200 meters
Depth: 20 meters
Induction Pulse System
Geophysical System (Groundwater Search)
Area: 50 meters
Depth: 50 meters
This metal detector has especially been designed for those who want error-free performance for detecting metals, treasures, and gold underground.
3. Nokta Makro Invenio
The Nokta Makro Invenio is an excellent detector if you want the best underground reach.
This multi-frequency model with its imaging system comes with three waterproof Double D search coils, a system box, carrying bag, and headphones.
It can also show you the depth, shape, and dimensions of subterranean metals in real-time.
Here are the main features of this highly advanced detector:
Search coils: INV28 Waterproof 11×7 " DD (28x18cm), INV40 Waterproof DD 15.5×14″ (40x35cm), INV56 Waterproof 22×19 " DD (56x49cm) (included in pro package only).
Search modes: 3 no movement (including earth/cavity anomaly), 3 movement.
Depth: 10-12 meters (33-40 Feet)
Operating principle:
Ground balance: Automatic, manual, tracking.
Operating Frequency: Pro Pack – 5 kHz, 14 kHz, 20 kHz.
Warranty: 2 years.
Weight: System Box – 3.7 lbs (1.7kgs) (with 5500 mAh battery), shaft and handle – 5.3 lbs (2.4kgs).
The Nokta Makro Invenio is a solid choice for treasure hunters, utility companies, archaeologists, municipalities, and even law enforcement agencies.
4. OKM Evolution NTX
The OKM Evolution NTX (Check it Here on Amazon) is a 3D underground detector that can process 3D graphic images of underground treasures and detected anomalies.
Therefore, it allows you to determine the size and depth of your potential finds even before you start to dig. The capacity of deep penetration of the OKM Evolution NTX is 10 meters.
The most unique feature of this detector is the OKM Evolution NTX's 3D ground scanner, which supports two modes of operation. This allows you to investigate underground soils for hidden objects and structures.
It also comes with a live sound feature. Live sound activates the VLF metal detector to find shallow metal objects such as rings, coins, and other jewelry. Along with an acoustic output, you are also able to see a simple graphical indication of the signals.
When you operate the detector in the 3D scanning mode, then you can easily use it for all 3D graphical explorations. All the scanned data is stored in the memory of your detector itself. You can also transfer this information to the Visualizer 3D software from OKM to generate 3D graphical images of whatever underground objects and structures you have found.
5. Makro Deephunter 3D
The Makro Deephunter 3D (Check it Here on Amazon) has made a name for itself as being one of the most notable underground detecting machines out there!
It includes mainly 2 modes:
Mode 1: This is a motionless detection mode that is specifically designed to locate precious metals and cavities.
Mode 2: This is a motion detection mode that has been designed to locate gold, coins, and other small objects buried in highly mineralized soils.
It also comes with a brand new standard system that allows you to view your findings as you spot them in the ground. The detector provides you with full-color 3D images that show you a real-time analysis of the depth, shape, size, and type of object you have detected underground.
Using these 2 modes of operation, the Makro DeepHunter 3D is also able to search through various challenging ground conditions and help you locate treasures that are not commonly detected by other metal detectors.
Using an exclusive signal identification system, this unique and cutting-edge detector lets you know by using LCD lights to indicate whether the target you have found is a ferrous metal, non-ferrous metal, or a cavity.
The other main features of this detector include:
Frequency: 12.5 kHz, 17.5 kHz
Battery: Lithium Polymer
Battery life: 4 hours, 25 hours
Ground Balance: Manual
Total weight: 2 pounds (0.85 – 6.45 kgs) (depending on which coil you use)
Warranty: 2 years limited
Final Thoughts …
Hope these models has given you a clear idea on the highest performing underground metal detectors dominating today's market …
… If you are a total beginner, then this won't be the best choice. Indeed, having a prior experience with like these metal detectors is a plus before using the high end ones!