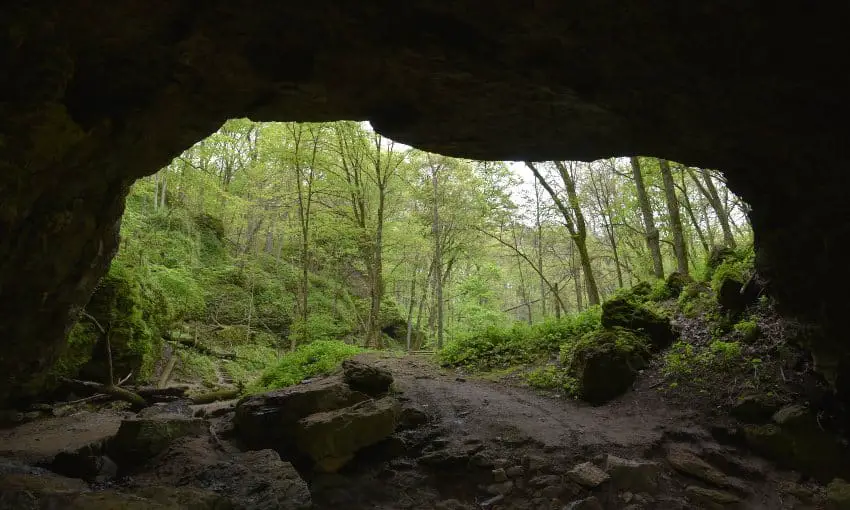 Beaches, parks, fields are not the only places where you can metal detect! There are many other places that you can go for …
… One of these places is caves!
In this article I will reveal as much helpful information as possible about metal detecting in caves so you can approach it properly …
… Let's dive in!
Is Metal Detecting in Caves Worth it?
Metal Detecting is definitely worth it anywhere including caves, especially because the latters have a fantastic ability to preserve whatever has been lost in them in almost near perfect condition!
However, cave detecting can prove to be very risky if you are not careful. First and foremost, you should never go cave detecting alone.
It's always better to take a partner along and always let people know where you are going and when you will be back. Also, carry at least three sources of light.
Remember that there are underground rivers in many caves, so always be careful. Also, ensure that there is no rain predicted for that day as caves tend to fill up without any notice
The water can end up being quite deep, and many people have gotten into challenging situations due to water filling up.
Caves are also very slippery, so you should wear proper shoes while detecting inside caves.
There have been many incidences of people falling and hitting their heads on the sharp edges of rocks. By the way you can check rocks tha can be detected by a metal detector!
Best Metal Detector for Caves …
1. The Cheaper Choice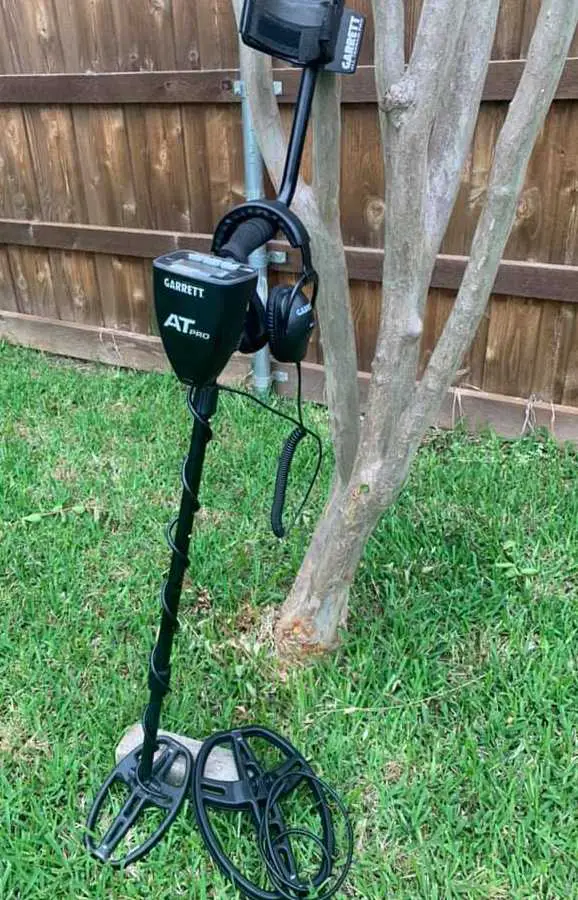 One of the detecting machines that you can use for caves is the Garrett AT Pro (Check it here on Amazon)!
It is a fully waterproof and comes loaded with many high-level features, which make it an ideal choice for taking to the caves.
Some of the features of the Garrett AT Pro include:
Notch discrimination
Iron audio
Manual and automatic ground balance
Numerical target ID
Separate pinpointing mode.
It can also make a decent attempt at finding gold coins and nuggets due to the 15 kHz frequency and ground balance settings.
It comes with an 8.5 inches x 11 inches DD PROformance search coil, which provides excellent target separation and depth when the purpose is to search inside caves.
The detector has an operating frequency of 15 kHz, which is higher than most other VLF detectors available in this price range.
There are many advantages to using a high-frequency metal detector in a cave as it can not only easily detect smaller targets, but it also provides excellent target separation.
This higher operating frequency also means that the detector is more suitable for searching gold nuggets than the other VLF detectors on the market.
The detector comes with two audio modes, Pro and Standard, and both modes can be used with the three search modes of the detector.
2. The Best Choice
If you are looking at a more advanced and high-end metal detector, then the Makro New JeoHunter 3D Dual System (Check it Here on Amazon) is the right choice.
It has been manufactured with the most advanced technologies. It is considered to be the world's superior-most metal detector for locating precious metals, gold, and also for detecting hidden cavities. This makes it the ideal choice for cave detecting.
Apart from accurately detecting metallic objects, the Makro New JeoHunter 3D Dual System is also extremely capable of detecting underground cavities such as cellars, tunnels, shelters, graves, and of course, caves.
It has the most advanced graphical imaging system, and it is also capable of drawing two-dimensional signal graphs of the detected targets in real-time.
This feature comes in handy when you are detecting in a cave so that you only have to dig when you are sure that there is a valuable item underneath.
It provides exceptional depth, perfect discrimination for metallic items, and precise analysis of the target size and depth.
What Detection Finds to Expect in Caves?
If all precautions are taken, then cave detecting can really profitable!
For example, in 2015, amateur detectorists in Palestine discovered a rare cache of silver coins and jewelry dating all the way back to the time of Alexander the Great.
Even as far back as 1940, French teenagers discovered the Lascaux cave paintings. In fact, even the Dead Sea Scrolls were found inside a cave.
Even as recent as March 2019, a long-sealed cave was found full of many Mayan ruins in Mexico.
All these exciting finds show that if you follow all the necessary precautions, then metal detecting in the caves can yield some precious treasures.
Best Caves to Search in the US …
In the US, the Mammoth Caves in Kentucky is one of the best caves for treasure hunting in the country.
This cave system lies underneath the Mammoth National Park in central Kentucky (Learn where to metal detect in Kentucky). These limestone caves are known to be the longest cave system in the world, with only 365 miles of the cave being explored to date.
No one actually knows just how far the cave system extends till, and new caverns and recesses are being discovered regularly as more and more detectorists flock to these caves to try their luck.
The Grand Canyon cave system is another treasure-filled destination for metal detectorists in the US. There are many rumors about hidden Egyptian treasures within these cave systems.
In Missouri, the Meramec Caverns is a seven-layer limestone cave system that was once believed to be the hideout for Jesse James and his gang of criminals. There are rumors that this criminal gang's treasures are still hidden in these caves.
In the northwest of Arkansas is the Old Spanish Treasure Cave, which is believed to hold treasure buried by the Spanish conquistadors around 350 years ago. The cache has still not been found, but many detectorists can be seen trying their luck in these caves.
Best Caves to Search outside the US …
If you want to detect in caves around the world, then here are some great options to try your luck with a metal detector:
Son Doong Cave in Vietnam: This is the world's largest known cave system, and there are said to be 150 caves within this cave system. The cave system is believed to be five million years old, and there are endless opportunities to detect here.
Waitomo Caves in New Zealand: This cave system is said to be formed over 30 million years ago, and it is famous for the thousands of glow worms that are unique to New Zealand. This cave system is also known for its stalactites, stalagmites, and many other naturally formed limestone formations. Many detectorists are found here, and underwater cave detecting is also possible here.
Caves of Heaven and Hell in Turkey: Also known as the 'Chasm of Heaven,' this cave system is formed both above and below the ground. However, as it is also a popular tourist destination, it is always better to confirm from authorities if you can use a metal detector here.
Conclusion
Hope this short article gave you some good insight on how to approach using your beloved detector in caves!
Now, I want to hear from you:
Have ever been in a cave before?
What makes you think that is a good place to detect in?
Shoot me an email and let me know!
For more places to explore, I highly invite you to check this guide to metal detect in New Mexico!