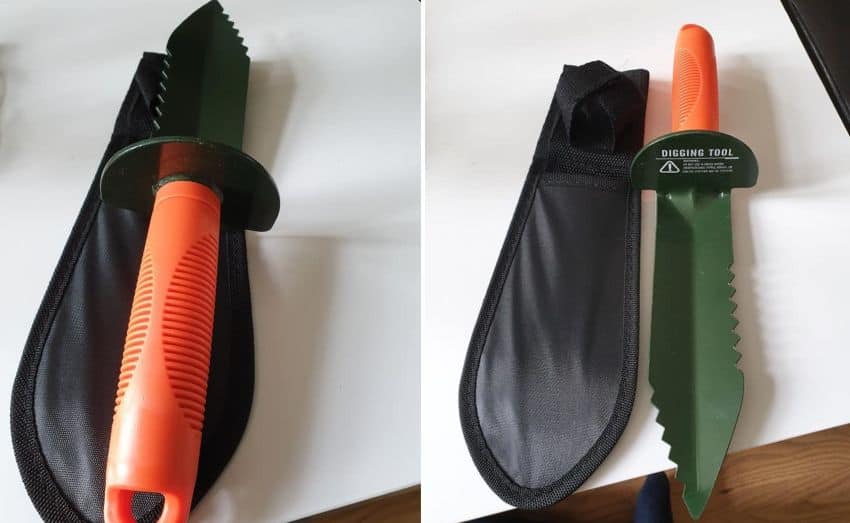 Hand shovels are an important element of your toolbox as a metal detecting hobbyist …
… It will help you recover your finds, especially those that are not buried very deep, pretty quickly without the need to dig with your hands each time!
In this Post I will help you decide the best one you should use.
Best Metal Detecting Hand Shovels
1. SE Prospector's Choice Serrated Edge Digger (My Favorite Choice)!
This hand shovel (Check it Here on Amazon) is, in my opinion, the best one you could possibly get as of right now!
The company understands the needs of the needs of the hobby and offers a hand shovel made of high-quality heat treated carbon steel.
Heat treated carbon steel is tough. How tough? Tough enough to break through concrete, hard soil, and roots. Speaking of roots, this hand shovel features serrated edges that will help aid in tearing through tough soil and tougher roots to get down deep. You'll be cutting clean and deep plugs easily.
One of the pros of this one is the convenient sheath it comes with. That will prove useful when out exploring. You can easily attach it to your belt using the belt loop on the sheath and have your shovel by your side for easy access.
Featured on this list is the shovel only, but you can also choose the option to get the probe tool and scoop bundle. This will help you maximize your chances of coming with more coin finds.
2. Fiskars Ergo Trowel
Fiskars (Check it Here on Amazon) is an easy recognizable brand known for its quality, and it shows in this small hand shovel. It is a good pick even for those with a small budget in mind.
This hand shovel offers an ergonomic design which helps reduce hand and wrist fatigue while digging down to reach your hidden treasure. It cuts through tough turf and polished aluminum head prevents rust…
…The rust resistant head will preserve the life of the shovel up until you decide to replace it.
As far as I am concerned, this one is pretty hard to break while shoveling, even with a tough soil.
Also, as it is very compact you can pack it quite easily for your next expedition. Actually, it measures 13 x 4 x 2 inches and weighs 6.2 ounces.
The only thing I don't like about this product is that it contains lead. This also explains why it is that hard.
3. Edward Tools Garden Trowel
Next up is the garden trowel from Edwards Tools (Check it Here on Amazon). This hand shovel is built from heavy duty carbon steel and is both break and bend proof. This one is a good option for digging through heavy clay and hard soils.
As you get out in the field with your metal detector, you'll come across many different terrains. Dry climates lead to hardened surfaces where you'll be exploring. You'll need a shovel that can dig through these hard surfaces and Edward Tools garden trowel is perfect for this purpose.
The Ergogrip handle on this shovel is made of rubber; this makes it more comfortable and prevents hand and wrist fatigue.
Additionally, there are depth markers on the shovel. Let's say you take plenty of notes, well the depth markers will help you determine just how deep you were digging while getting down to your target. That's quite useful!
4. Kemaier Garden Trowel
This all black stainless steel hand shovel (Check it Here on Amazon) is durable and lightweight. It offers a large wide shovel surface and can cover lots of area.
This is useful if you are dealing with places that could have target finds you are looking for among loads of trash.
It also has a streamlined rubber handle design, which should fit ergonomically in your hand.
A pro of this tool lies in the construction. Kemaier chose to add a black baking varnish process to the construction of their hand shovel. This makes it anti-rust proof, and anti-corrosion proof.
However, I don't consider this one to be as tough as the previous ones on this list. But being stainless steel it should hold up to most applications, but may not last as long if you plan on digging through hard clay and heavy soil.
5. SUNHOO Collapsible Shovel
This model (Check it Here on Amazon) offers the backbone and leverage of a larger shovel, but is still small enough for easy transport. First off, Sunhoo collapsible shovel is fully made of high carbon steel, heat treated, high-strength and wear-resistant, also features heavy duty green powder coating.
Needless to say, it's tough!
The spade of the shovel has a sharp, serrated edge made for cutting roots and dirt.
It folds down to 8″L x 5″W and comes with a carry bag. The overall weight is only 1.5 pounds. Unfolded measures 18.5″ long. It's a relatively small shovel when compared to the previous, but offers a good amount of leverage.
One con I found is the lack of a rubber ergonomic handle like the kind you would find on all the other hand shovels listed. Without one, you run the risk of fatiguing faster. That's the trade-off here.
Nonetheless, it's a solid hand shovel that folds up for added convenience.
Why Hand Shovels are important for Metal Detecting?
As I've mentioned in the beginning of this article, hand shovels are an important tool for detection activities because digging without one will be difficult…
… You will often find yourself in situation where you need to dig pretty often, so you need such a tool to serve such a purpose.
A hand shovel not only digs through the soil, but you can bring up the soil closer to your eyes making it easier to identify whether or not you found what you were looking for.
If you find yourself in a situation where you have to dig deeper, then you should have a look at these digging shovels!
Conclusion
Hope this short Post was helpful for you and that one of these tools will resonate with you and help you pick up more finds …
… You can check this metal detection tools list, for even more accessories and gear!