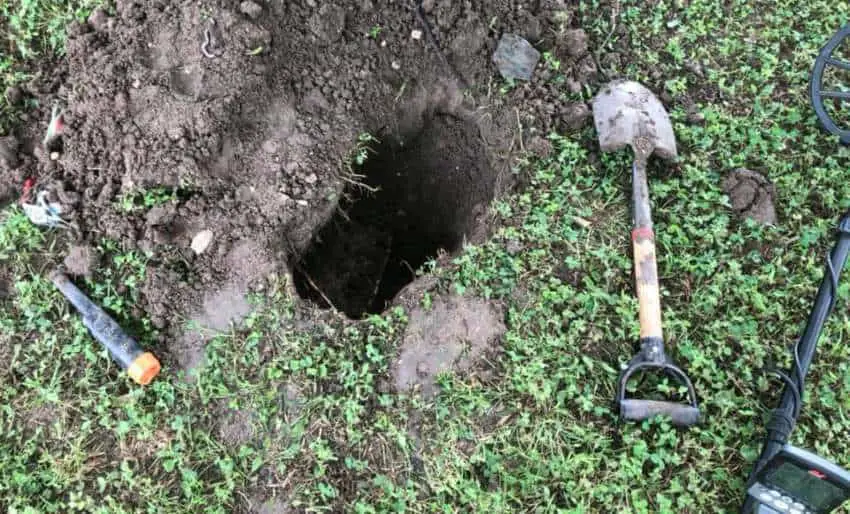 I am pretty sure that you are about to go out enjoy some metal detection and eventually some valuable finds! That's why you are looking for a reliable detection shovel that will help you to dig efficiently and recover your find pretty quickly …
… Sounds good for me as, in this article, I am about to share with you 6 worthy models that you can choose from!
However, as far as I am concerned, this is my favorite Shovel Period (Check it Here on Amazon).
Best Metal Detecting Shovels
6. Fiskars PRO Shovel
Fiskars (Check the Shovel Here on Amazon) is a well known brand for a good reason. They make high quality products and that's why you can't start such a list without skipping a Fiskars brand shovel.
Indeed, it includes an extruded aluminum handle and double-bolted connections for even more strength and durability. It also includes heavy-gauge steel which will make your able to stand up to pretty much any detecting task.
The extended shank offers a strong backbone and the spade has an optimized angle for digging and prying. Additionally, the spade has a wide footing area for added stability when you have to get down deep.
The teardrop-shaped shaft fits the contours of your hand. Also, the softgrip touchpoints enhance comfort and control, reducing repetitive fatigue. For me that's very important as while detecting it is easy it find yourself in situations where you dig very often.
Please note that the overall weighs is about 5.6 pounds!
5. TABOR TOOLS Shovel with Straight Blade
This shovel (Check it Here on Amazon) has a straight edge blade with a slightly rounded end, rather than pointed. What makes it still good? The square edge of the digger is perfect for digging into hard soil…
…If the area you plan on using your metal detector on is made up of hard soil, then a square edge will be best for you. Compact grounds are difficult to dig through. The square edge will make your task a little more easier when trying to dig.
The head of the shovel is heat-treated and comes with a rust-resistant powder coated paint.
A sturdy,steel collar reinforces the head to the handle which ensures it won't come apart while you are using it.
The blade of the shovel features a forward turned-step for so you'll have a secure foot placement when you have to force the shovel down deeper.
It has a fiberglass handle, yet it is strong and sturdy like a traditional wood handle. It also features a non-slip rubber grip on the handle and is also wide enough to accomodate if you are wearing gloves.
4. HARVET Portable Shovel
Let's move into the Harvet multi-purpose portable shovel (Check it Here on Amazon). This is a folding shovel that can go from 15 inches to 28 inches and has various uses beyond just shoveling.
Harvet designed this shovel to be used as hammer, saw, knife and even a screwdriver. In total, you get 16 uses out of this shovel which I consider to be a good thing …
… Of course, you may not use all these functions while you are out metal detecting, but if the occasion arises you'll be glad you have a tool that can do the job.
The stainless steel construction is durable and rust-free. I would have liked it to be heat-treated for added durability though.
For the purpose of metal detecting, this is a well-designed portable shovel that comes with a carrying pouch. It folds up nicely into it with room to spare.
I personally like this model!
3. IUNIO Military Portable Folding Shovel
Sticking with the tacticool shovels, next on the list is the multi-purpose IUNIO military portable folding shovel (Check it Here on Amazon)…
…If you enjoy the great outdoors, then you'll appreciate this one as much as the last one because it also offers multiple uses beyond just digging.
It was designed using high-carbon steel which is high-strength and wear-resistant. This guarantees it will be strong enough to dig through the toughest soils you need to dig through.
Also, the grip on the handle is made of rubber with an antiskid design. The handle is the only con of the shovel because it is not the "D" design. Instead, it's a straight handle.
The shovel is 35 inches when fully extended and folds down to 14.17 inches. It comes with a high-quality tactical waist pack with a belt loop to carry at your side.
Other than the handle, I will be surprised if you find any other con with this shovel. If you think you'll be out in the wilderness metal detecting, then consider a shovel like this one.
2. Tyger Shovel
Tyger shovels (Check it Here on Amazon) are forged to last from military grade solid carbon steel and aerospace grade anodized aluminum tubes.
One unique feature about Tyger shovels is the instant switch mechanism. You simply pull a slider to switch modes in seconds.
The slider positions the spade in three different positions,  45/90/180°. It can extend from 24 inches, to 30.5 inches, and all the way up to 36.6 inches. As you assemble the shovel, you'll find all the various tools within the shovel.
It includes Extra tools like: knife, ice pick, screwdriver, and fire starter. Also, you'll get a convenient pouch that has a belt loop. The pouch measures 12.2 inches tall and 7.7 inches wide.
Considering the design of the shovel, you would expect a MOLLE type bag. Unfortunately, Tyger opted for a lesser bag, but the belt loop seems to be attached quite well to the pouch.
1. LIANTRAL Shovel Axe Set
To round off this list, here is Liantral's shovel axe set (Check it Here on Amazon). Another multi-purpose shovel, but with the added dedicated interchangeable axe head…
…Why would you need an axe head for metal detecting? Well, it depends on where you take your detector. Heavy brush could be between you and your next find and a dedicated axe head could make light work of that brush.
Liantral shovels are made from high-quality carbon steel which is high-strength and wear-resistant. The handle and extension bars are made from aerospace grade aluminum alloy.
This shovel axe set includes the following functions: shovel board, axe, hoe, hexagonal wrench, saw, bottle opener, fish scaler tool, emergency whistle, fire bar, ice breaker cone, safety hammer, and knife. All of this fits into a pouch that has a sling instead of a belt loop.
The max shovel length is 2.5 feet and with the pouch fully packed it weighs 4.76 pounds. Both the shovel and axe head have an included sheath.
Why Shovels are important for Metal Detecting?
Shovels will make your life easier especially when you are dealing with deep targets!
Technically, you could go out in the field without a shovel. However, you won't have much fun doing that because it would be very difficult digging down into the soil.
If you are near heavy soil or hard clay it will be even more difficult to get to your treasure. Besides your metal detector, a high-quality shovel is essential to you being as successful as you can be out in the field.
Whether you will opt for a full length shovel like the ones listed or hand shovel it is up to preference.
Regardless of the size, it is essential to have one on hand the next time you go out looking for your next hidden treasure.
How to Make a Metal Detecting Digging Shovel?
Final Thoughts!
If you are looking for more gear you can check this Thorough list of Detection Tools! I list most of what you will need in every and any situation, soil condition you will find yourself in …
… I don't suggest you buy all the possible tools under the sun, just get the ones you will need depending on the conditions you will detect in.