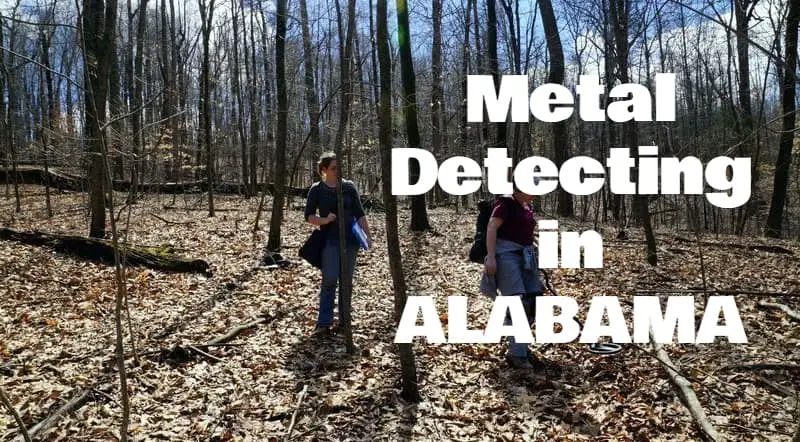 Alabama is one of the US states in which Metal Detecting is a very popular Hobby! Indeed, it holds lot of experienced hobbyists and many clubs that you can join. Not to mention that the potential finds that you can come across.
Yet, it is crucial to understand more about the main laws regulating this hobby in this State. Indeed, if you fail to do so, you might face some law issues that you can easily avoid…
… Other than that, in this article, I list some useful tips and information that you probably should know about. This generally includes the locations that you should opt for, in addition to the types of finds you may get there.
What are the metal detecting laws in Alabama?
If you want to metal detect in Alabama and you are unaware of the law, then it might just get you in a heap of trouble.
In fact, the problem arises when hobbyists venture into federal lands to practice this hobby. This is because there is one specific law that governs these lands that you probably should pay attention to.
The laws of the state of Alabama first and foremost follow the laws of the ARPA (the Archaeological Resources Protection Act). Both federal and state laws govern this activity.
One of the most important factors to keep in mind is that metal detecting on historical grounds is prohibited. Furthermore, it is not allowed for any person to excavate, remove, or damage any archaeological resource that is located either on public lands or on Native Indian lands.
The law in Alabama, however, exempts the collection of coins for personal use, but only those coins that are not in any way archaeologically important.
Any excavation or digging on any aboriginal mounds, burial sites, and any earthworks, are also strictly prohibited. And if any objects are found or located at these places, the ownership belongs to the state of Alabama.
In addition, it is absolutely prohibited to metal detect at any of the state parks in Alabama.
If you are confused about where you can detect in there without doing anything not permitted by the law, then it is usually a safe bet to consult and ask the local authorities.
By doing so, you will clarify whether you need to fill a form for getting a permit for the location you want to target.
Best metal detecting sites in Alabama?
The places in Alabama where you choose to detect will determine what you find, and of course, how much you find.
Some of the good places to target there are:
The abandoned houses in general
Abandoned parks such:

Canyon Land Park near Fort Payne
Lake City Amusement Park in Guntersville
The Styx River Water World in Loxley
And the Space City USA near Huntsville
In fact, the Space City USA makes for an excellent place to enjoy this hobby since it was abandoned way back in the 1960s. Even before the construction was completed.
Apart from this, you should also conduct some research on the old wagon train routes and the Native American trails that are prevalent in Alabama and go detect along these routes for testing your luck.
Some of these include the:
Great Indian Warpath
McIntosh Trail
Great Southern Trading and Migration Trail
Federal Road and many others.
You can also think of using your beloved machine in the ghost towns of Alabama…
…Indeed, this state is pretty full of such ghost towns. Some of them include:
Aigleville
Arcola
Barnesville
Beaver Mills and many others which you can first research about and then proceed.
For more ideas, check these general locations!
Best Detector for Alabama Soil!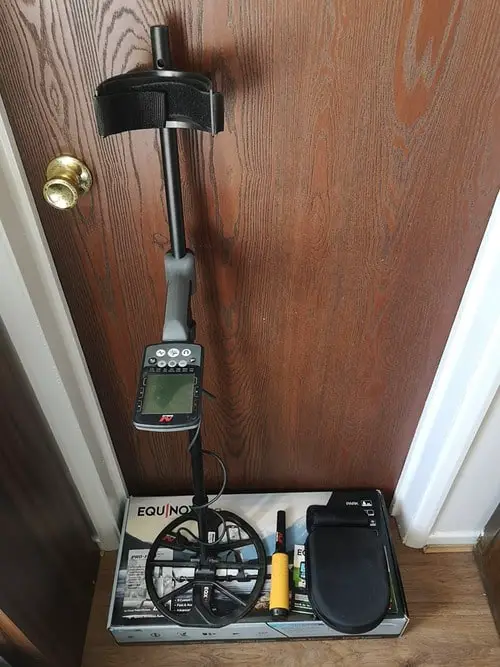 Alabama is known for its diverse types of landscapes! There is a variety of soils that you might find yourself digging in throughout the State … I don't want to list them, simply because I just don't want to sound boring!
Anyway, that's why it is better to use a multi-terrain device that can perform pretty well on most types of grounds! The Fisher F22 (Check it Here at Amazon!) is a very good example especially if you are on a budget … Otherwise if you are willing to spend more, then I couldn't recommend any better then the Equinox 800 (Check it Right Here at Amazon!)
This is a Minelab machine that has a multi-IQ technology … This means that it can operate on 5 different frequencies at the same time or separetly depending on the electrical conductivity or your target, its size and also the trashiness of the soil you are dealing with!
Detecting in Alabama state parks – what you should know
It is illegal to detect in any of the State Parks in Alabama with the purpose of finding and removing any items that do not belong to you.
However, the law also states that you cannot metal detect without taking permission from the Park Manager…
…So you can try your luck by requesting permission from the Park Manager and by ensuring that you cause no damage to the Park and surrounding areas.
Many of the state parks in Alabama, though, allow practicing this hobby on the swimming beach. Yet it is still better to ask for permission first.
For example, some state parks such as DeSoto State Park is not really friendly towards hobbyists.
So not only do all state parks in Alabama prohibit this activity but keep in mind that all sites that are designated as 'Historic' also do not allow you to metal detect. Some of the state parks in there where you cannot metal detect include:
DeSoto State Park
Bladon Springs State Park
Cheaha State Park
Lakepoint Resort State Park
Lake Lurleen State Park
Oak Mountain State Park
Brierfield Ironworks Historical State Park
Tannehill Ironworks Historical State Park
Monte Sano State Park, located in Huntsville
Yet, again, even if it is the case, don't hesitate to try your luck by requesting permission from the Park Manager. You never really know …
Metal detecting on Alabama beaches – what you should know
You will surprised to know just how many hobbyists flock to the beautiful beaches of this state for detecting.
These treasure hunters investigate through the waters off the Alabama coast to look for silver, gold, and other valuable treasures that got lost in the sea.
Due to Alabama's rich Civil War and Native American history, chances are very high that you will end up finding something valuable while exploring these beautiful beaches.
Some of the most popular beaches that attract practitioners include:
West Beach: One of the most popular beaches for hobbyists. The West Beach extends from the Fort Morgan peninsula to the Mobile Bay.
There are many luxury hotels that dot the coastline here, increasing your chances of finding some valuable jewelry or watches (Of course what you should do is to return them to the Police Station or to their owner if you know him/her)
Orange Beach: This is perhaps one of the most famous beach destinations in Alabama and it draws mostly family goers. The beach is popular for water sports and flyboarding. Fishing is also in great demand there and you can also use your machine at the adjoining Adventure Island Amu8sement Park and Arcade.
Finally, have a look at the best beach detecting practices! You will learn more …
Are there metal detecting clubs in Alabama?
Metal detecting is a very popular activity in Alabama. Thus, there are many clubs throughout the state…
… Some of the major metal detecting clubs in Alabama include:
Alabama Gold Camp
Central Alabama Artifacts Society
South Alabama Historical Research & Recovery
Southeast Treasure Hunters
Tri-State Coin & Relic Hunters Club
Warrior Basin Treasure Hunters Association
P.A.A North Alabama Chapter
Rocket City Relic Hunters
Madison County Coin Club
(Tips) Metal detecting for Gold in Alabama …
Alabama is a popular choice for those prospecting specifically for gold. Below some helpful tips if you want to maximize your chances to come across it there …
To begin with, make sure you have the right machine that is geared towards searching for gold nuggets. A multi-frequency (multi-purpose) metal detector like Minelab Equinox 800 would do the job properly.
Once you acquire the right equipment, then you can start detecting for gold at exposed bedrock areas. In fact, gold is usually found on bedrock or in any exposed crevices.
Remember to check areas where other hunters have earlier detected gold – this increases your chances of finding it.
Detect at any exposed bedrock areas along the sides of rivers and streams.
If there are any old mines, then look through the tailings piles and in and around the old stamp mills.
Hope these few tips will lead you toward interesting finds … However, if you know about any other hacks, let me know below in the comment section.
For more Hacks about coming up with Gold, I highly encourage you to check out these Gold Detection Tips! You will learn much more additional and helpful stuff for sure!
Are there metal detector dealers and stores in Alabama?
Alabama is a state that has a rich history of metal detecting and therefore there are plenty of stores and dealers that sell metal detecting equipment. Some of the major shops and dealers that sell metal detecting equipment in the state include:
Alabama Prospecting Supply
Alabama Southern Skin Diver Supply
White's Metal Detectors of Alabama
John's Detector Sales of Alabama
Alabama Metal Detecting Gold Refinery
Southern Treasures of Alabama
Hanceville Guns & Ammo
Hinote Martin A Coins Stamps & Jewelry
Werner's Trading Company
Metal detecting in north Alabama- What you should know
North Alabama includes several counties like:
Blount
Cherokee
Colbert
Cullman
DeKalb
Etowah
Franklin
Jackson
Lauderdale
Lawrence
Limestone
Madison
Marion
Marshall
Morgan
Winston
Amongst these counties, the practice of this hobby is a very popular and you will find many enthusiasts who actively metal detect in the hilly and mountainous lands.
The Cumberland Plateau, which is an elevated and somewhat flat region in north Alabama, draws many treasure hunters as it is further dissected by the huge Tennessee River system and its many tributaries, which are known to hide many types of valuable treasures.
If you are a beginner, then heading to the Cumberland Plateau area will be a good place for you to start with.
Detecting in Athens – Useful information
Athens is one of the bigger cities in Limestone County, Alabama. It has a good collection of enthusiastic detectorists and many clubs and dedicated online forums that are all dedicated to this hobby there.
The Limestone County is characterized by the presence of the Tennessee River and the Elk River. Both of which are very popular destinations for many hobbyists from Athens.
Another popular place for metal detecting in and around Athens is the Wheeler National Wildlife Refuge. It draws practitioners from all over the state, not just for a spot of detecting, but also for a vacation in the wild.
Detecting in Dothan- Helpful Info
Dothan is one of the largest city in the Houston County of Alabama. The city is a major transportation and commercial hub for the Southeastern region of the state. That's why you are likely to find many equipment stores and dealers located there.
If you want to enjoy detecting in Dothan, then some of the places you can head to include:
Landmark Park
Dothan Area Botanical Gardens
Water World
Adventureland Theme Park
Wiregrass Museum of Art
Forever Wild Trails
There are also many other places in Dothan. However, keep in mind that you should always have a check whether a prior permission is required before you target a specific spot.
Metal detecting in Baldwin County and gulf shores
Gulf Shores is a very popular tourist destination. It is a resort city in Baldwin County. The geography of this area is particularly favorable for treasure hunters.
Furthermore, the large population of tourists that come here regularly also increases the chances of finding something valuable that has been lost.
The beach at the Gulf State Park, in particular, is a big draw for metal detectorists not just from Baldwin County, but from all over the state of Alabama.
Detecting in Lawrence County
Lawrence County is situated in the northern part of Alabama and includes many practitioners who are very active on online forums. They also have frequent get-togethers for detecting together.
The Tennessee River and the Sipsey Fork of the Black Warrior River are two of the most popular places there that you can target, in hopes of finding some Native American relics and artifacts.
However, keep in mind that metal detecting is prohibited in the William B. Bankhead National Forest.
So steer clear from that area!
Conclusion
I've tried in this Post to give you a global idea on how to deal with metal detecting as a hobby in Alabama. Not only from the law perspective but also when it comes to the different regions and locations that you should head to.
If you have any additional information, I will be enormously grateful if you let me know about it in the comment section below. By doing so, other hobbyists from or coming to the region will learn from you as well.
Another cool  State that you may want to explore is Oregon! If so, I invite you to check this Oregon Detection Guide! Hopefully, you will end up learning some cool info! Arkansas is another state that I like too!