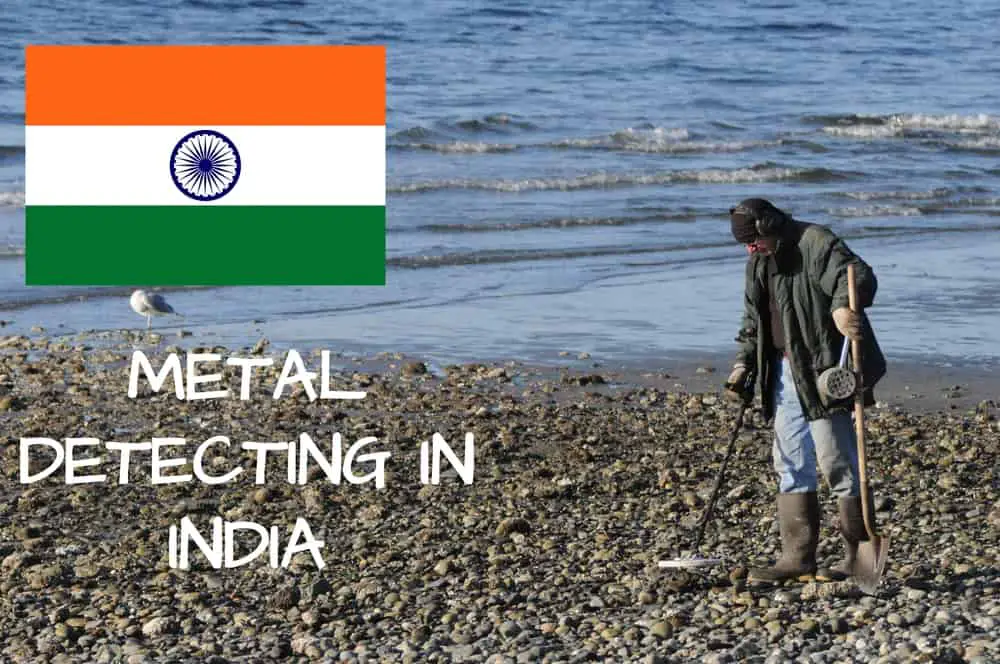 India is without a doubt one of best countries you could ever visit! It has an insanely rich culture and one of the deepest civilizations of all time that's worth discovering. This could be much more interesting if you choose to travel to the country of Indus and metal detect in it.
Trust me, by doing so; you will enjoy your travel much much more!
Actually, it is a unique opportunity to discover this Big country from a totally different angle and perspective.
It is also a huge opportunity to come up with finds that, probably, you won't get the chance to collect in your home country.
Yet, you need to be aware of some few things! This is more related to some laws that governs this activity and also (which is the most important thing) some locations where you will have better chances to collect something unusual and with great value …
In this Post I talk about several topics related to Metal Detecting in India. I really hope you will find this Post useful …
Are Metal Detectors legal in India?
Metal detecting in India is a hobby that falls pretty much in a grey area. This is because the activity in India is still governed by an age-old law known as the Indian Treasure Trove Act from 1878.
This Act lays down all the laws that govern buried treasures, defining treasure as 'anything of any value hidden in the soil or anything affixed thereto'.
This Law is not at all user-friendly and pushes metal detector enthusiasts or professional treasure hunters to be professional. In other words, they should hand over all finds to the local government or to the local authorities.
However, new reforms are being sought in this law as this leisure is growing in popularity in the country of the Indus.
Any and all major metal detecting, treasure hunts, and excavations, that has to be carried out in India, has to be done without the permission of the modal agency set up for this purpose only, the Archaeological Survey of India.
Metal detecting in India is still thought to be of a hobby for the rich. In fact, many people are unable to afford the high priced metal detectors still.
Metal detecting for Indian artifacts
The land of India has already been ravaged by repeated conquerors over the years. That's why it would be difficult to find anything of value that remains.
However, India is a country that has witnessed the rule of many emperors and dynasties. Therefore nearly the entire country has some kind of ruins buried here and there.
Hunting for buried gold is everyone's obsession and there are many forts and temples in India where you can start your search. For example, the 15th-century fortress of Dhamoni, located in the state of Madhya Pradesh, is a paradise for any metal detectorist.
Located in the Bundelkhand region, this area is dotted with forts, rich in history, peppered with old temples and many other historical monuments.
Though the fort at Dhamoni now lies in ruins, the area is extremely popular with detectorists and other treasure hunters. They actually flock there to search for buried treasure.
Some of the artifacts you can find in India include:
Old coins.
Ancient relics.
Old utensils (many people have hit upon several types ancient kitchen utensils).
Jewelry.
Precious stones …
Best Detector for Indian Soil!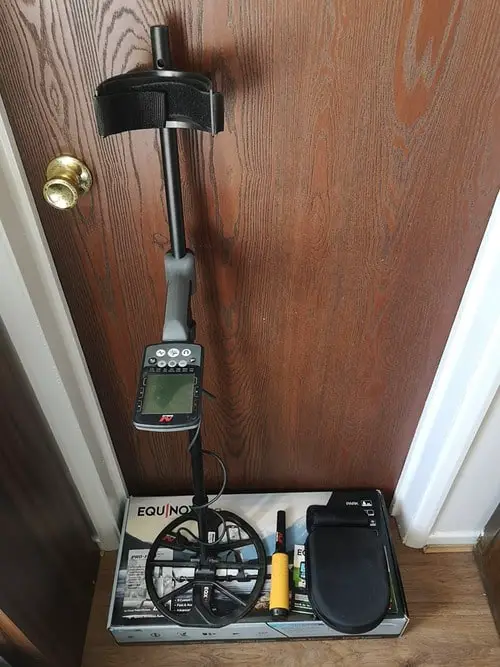 India is a very large country and known for its diversity when it comes to landscapes! There is a variety of ground types that you will certainly deal with while swinging your machine throughout the country!
That's why it is always better to use a multi-purpose device that can operate on most kinds of grounds! The Fisher F22 (Check it Here on Amazon!) is a very good pick, especially if you are on a budget … Otherwise, if you are willing to invest in a solid model, then I highly recommend the Minelab Equinox 800 (Check it Right Here on Amazon!), it is really my favorite machine by far!
The latter can operate on 5 different frequencies at the same time!
If you are rather interested in cheap models, you can check them here.
Beach metal detecting in India
Goa is one of the most popular beach destinations where metal detectorists and treasure hunters flock to!
India has some beautiful beaches and it's not necessary that you only go to Goa for this. However, as the Goan beaches are full of tourists, it is more likely that you find certain valuable lost items.
The beaches at Goa find all types of people gathering here and there are many types of water sports and other beach activities also that go on here. This makes it more likely that you will find lost belongings on these beaches.
Rings, coins, jewelry, and other precious metal items are usually found here. Many people have found gold jewelry on the beaches of India, some of which turned out to be quite valuable.
It is legal to practice this hobby to the fullest on the beach in India. Yet, again there are certain laws that you need to abide by, such as informing the local Collector about your finds.
There is not much use in visiting the beaches at Andaman and Nicobar Islands as these beaches do not get that crowded due to the government's restrictions on tourism in this area!
So, to make it a bit easier for you … you can try hunting at:
Agonda beach in Goa.
Cavelossim beach in Goa
Or even the Puri beach in Orissa.
You can learn more about metal detecting in the beach by clicking here!
Gold Metal Detecting in India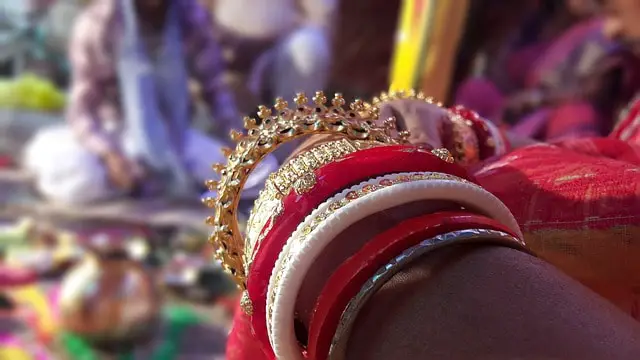 Indians love their gold! Be it rings, necklaces, bracelets, or any other jewelry. Both men and women in India wear tons of gold jewelry, and at some point or the other end up losing these valuable pieces of jewelry as well.
However, the issue that arises is that if you find anything valuable. Then under The Indian Treasure Trove Act of 1878, you will have to follow the entire procedure and also submit the amount to the local authorities along with the details of where you found it in writing.
Apart from gold, you can also find valuable silver and other precious stones in India.
Silver is also another popular metal that is used in jewelry and you can find silver jewelry while detecting.
You may also come across some precious stones if you are lucky, especially if you are digging at an archaeologically important site.
To begin with, you can start with a professional entry-level metal detector that will help you search for both gold and silver.
Most of these models, though, fall in in a high price range (it is still worth it). Nevertheless, there are some detectors that are available for much cheaper prices, though they might not be as proficient in helping you reach a greater depth.
Some Indian Metal detecting Sites
For any enthusiast of this wonderful hobby, after purchasing a metal detector, the next step is to find the best place to hunt for treasure.
In India, there are many great sites where you have a greater chance of finding treasure. However, before you set out with your metal detector, try and do your research.
It is good to be aware of all the old and archaeological sites. Try to look for mining reports and local town plans in order to understand which is the best place for you to hunt.
India is a country of temples and temples are one of the best places to start your search. Temples are also the ideal place where you can find some of the oldest coins where people offer donations frequently.
Every morning and evening worshippers gather in these temples and carry all types of offerings, not just coins, but other treasure as well.
You can try searching near the boundary of the temple or under old trees. Sometimes in the backyard of temples, you can also come across some old relics.
Apart from temples, you can also search through the many fields that dot the landscape of India. During the process of plowing and motivation, many of the ancient buried things are brought up closer to the surface.
However, there is a possibility that some damage might happen to the artifacts during the farming and digging machinery.
Are there Metal detecting clubs in India?
Metal detecting is still in its infancy in India! Though the activity is gaining popularity and growing steadily, there are not many detecting clubs in India …
… However, there are many online forums that bring together metal detection enthusiasts and hobbyists from across the country.
The online forums are typically abuzz with discussion on the new and different types of machines available, the latest sites to explore, and what new items have been discovered by the existing club members.
This leisure is pretty much a lonely activity and mixing with like-minded people can increase the joy of detecting together.
A metal detecting club comes in handy in such cases. You can run a quick search of detecting clubs in India, especially around your area, and you can find out such clubs and their joining procedures easily.
And as there are not much of them in the country, you can definitely consider creating one! This would be a great idea as far as I am concerned …
What Metal Detecting Equipment are available in India?
Apart from the metal detector, you will need certain other basic equipment and accessories when you want to begin practicing this hobby in India or any country in the world. Some of the key items you will be needing include:
Digging trowel or a beach sifter scoop to allow you to easily recover your targets on the beach or in the grass.
Finds Pouch, ideally zippered, to carry all your digging tools and also for storing your recovered treasures such as jewelry and coins
Pinpointing probes to easily and precisely locate the target
Headphones to better hear the deepest and oldest targets and also for blocking out any external noises
You can find these equipment and others not only on online sites such as Flipkart and Amazon in India. But there are many retailers and wholesalers as well who are selling these equipment in the country …
Some Metal detector finds in India
Hobbyists in India are most likely to find gold jewelry or gold coins while hunting.
One of the primary reasons why gold finds are so popular in India is because of the love for the gold metal amongst Indians.
Be it gold jewelry, gold coins, or gold artifacts, the chances are highest that you will find something related to gold while you are out hunting in India.
Even on the beaches, there is a huge likelihood that you will end up finding some gold jewelry such as a bracelet or a ring.
Is Metal detecting a popular hobby in India?
This activity is not one of the most popular options as a choice of hobby. However, more and more travel enthusiasts in India today are becoming hooked on metal detecting.
People are turning towards this activity majorly due to the thrill of treasure hunting.
There are many shows being broadcast on TV these days related to treasure hunting, there is no wonder why people in India have started becoming interested in this hobby.
In fact, bounty hunter metal detectors are today one of the most purchased machines in the country these days.
In the next two to three years, this leisure is probably going to become one of the most preferred activities in this country.
Metal detector Suppliers in India
There are many suppliers of metal detectors in India!
Being a huge and upcoming market for metal detecting, you can find all types of metal detectors in India these days, from the most expensive gold and underwater metal detectors to the cheaper entry-level metal detectors as well.
While you may not find metal detectors in all the markets, there are certain areas which are known for selling equipment.
Delhi and Mumbai are the ideal cities to find the exact model of devices you might be looking for!
Smaller cities and regions such as Bundelkhand would tend to have more limited options especially when it comes to model choices.
Conclusion
I am not from India, but I have an Indian friend who has helped me to write this article. So I will provide you with the most accurate and helpful information out there!
India has a tremendous history worth discovering! Therefore, you should absolutely not hesitate to use your device in Indian soil. It is totally worth it!
Just make sure that you are doing nothing against the law! And also, that you have the permission in your pocket if you digging in a private land …
I've recently written this article on how easy to use metal deectors really!